---
POE'S GARDEN JURIED ART EXHIBITION
Oct. 9 – Nov. 7, 2020 | OPENS OCT. 9, NOON
SUMMIT ARTSPACE ON EAST MARKET
MAIN GALLERY
Edgar Allan Poe—his writings, his mystique, his life and his death—is the inspiration of the Poe's Garden juried show. Summit Artspace often sees the fascination among local artists with the mysterious, the unearthly, fantasy of the unknown and the distortion of the known.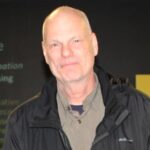 Poe's Garden opens at noon, Friday, Oct. 9, 2020. Artist awards will be announced by our juror, artist Andy Tubbesing of Seville, on Summit Artspace social media–Facebook, Twitter and Instagram–starting at 7 p.m. on Thursday, Oct. 8. See the winners on this page after Oct. 9.
YOUR VISIT TO POE'S GARDEN
Tickets are recommended but not required to visit gallery shows at Summit Artspace on East Market in Akron during public hours.
Artists with studios in the building will each have their own open hours and guidelines.
All visitors are welcome to stop by without a ticket to check on open gallery times.
Summit Artspace will be following state directives for social distancing. Visitors may choose to register for a timed, ticket here at Eventbrite. See ticket information below.
POE'S GARDEN…A SECRET REALM
Back for a second year, Poe's Garden showcases high quality, local art that leads the imagination to pull back a curtain from the darkness and investigate the unsettling and fantastic places our minds can go.
Poe's Garden is a place where the deliberate, wide-ranging variety of visual art will thrill, astonish, create dread and awaken and provoke the viewer with images, imagined worlds and artistic technique. The accepted work will be the artists' creation of new, mysterious or secret realms or the exploration of past, present or futuristic realities through a creative yet skewed lens. Art will be judged on its power to sustain mystery, leaving the garden gate open to imagination, wonder and even a little fear.
Andy has earned a number of awards in Summit Artspace juried shows.
---
TICKET CENTER
CLICK HERE TO REGISTER FOR FREE, TIMED TICKET.
It is recommended that visitors register for a free, timed ticket at Eventbrite. Please choose a date and time and complete the registration. If you have questions or are experiencing difficulty, call our office at 330-376-8480.
SUMMIT ARTSPACE ON EAST MARKET
140 E. MARKET ST., AKRON
GALLERY HOURS: 
THURSDAYS,12-7 P.M. WITH 12-3 P.M. RESERVED FOR VULNERABLE POPULATIONS
FRIDAYS, 12-7 P.M.;
SATURDAYS, 12-5 P.M.; OPEN Nov. 7 FOR ARTWALK, 5-8 P.M.
---
POE'S GARDEN AWARD WINNERS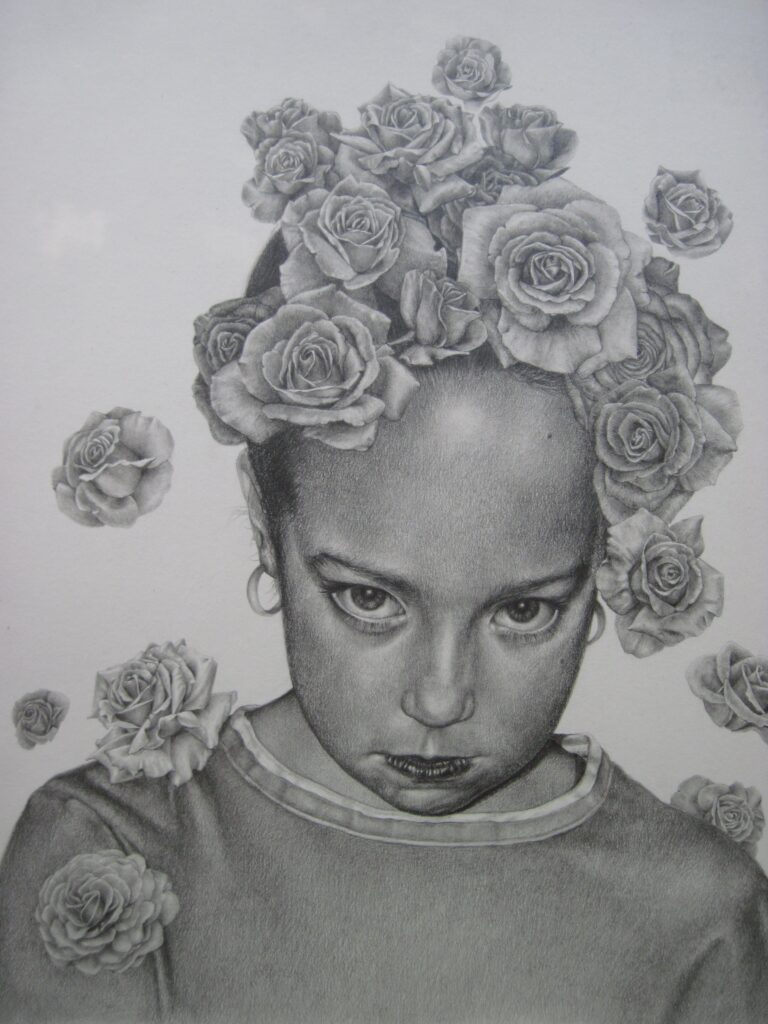 Graphite/colored pencil
This drawing was inspired by the grief of a young girl by the death of her parent. The flowers depict her innocence and death, however, her expression belies her anger, sadness and betrayal of all adults involved who were not there for her to take care of her.
---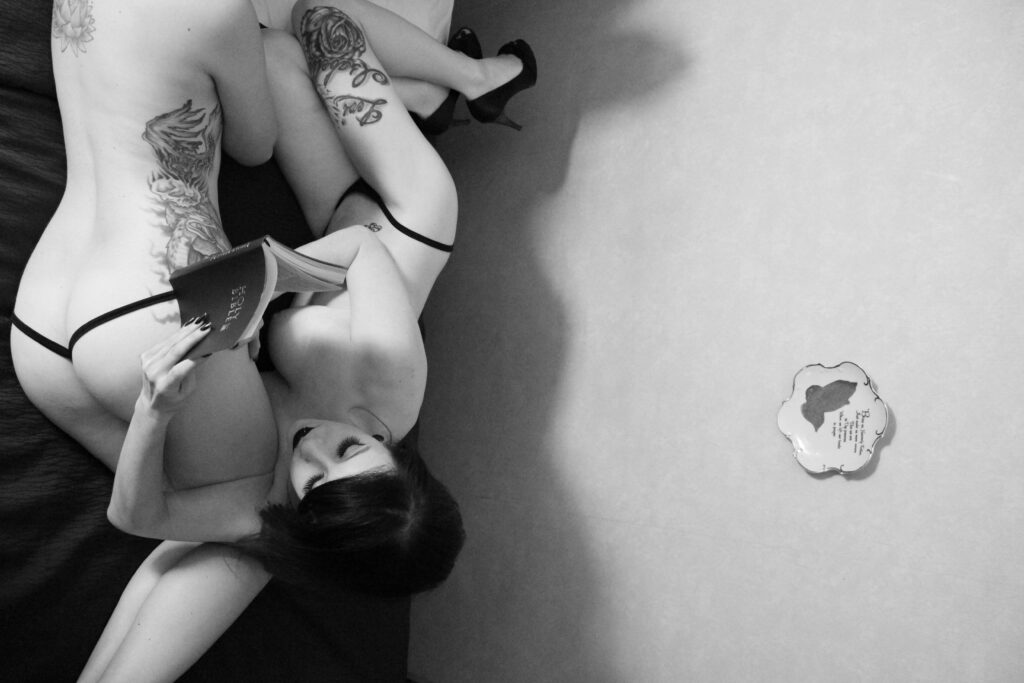 Photography
Though often told to concentrate on one medium, one subject matter, or even one style, I just can't help but constantly expand my range as an artist, follow my heart and do what I want. My biggest passions in life are the environment, my hometown of Cleveland, as well as fighting for causes I believe in. Much of my work would fall under these categories. But my interest in music has led me to create work for bands such as Flogging Molly and Murder By Death; my interest in horror and the macabre has led me to use antique photographs as canvas's for paintings, as well as create a series of dark, creepy, risque photography for a new book. Though my work varies greatly, one thing it all has in common is that it comes from my heart and reflects a deeply held passion of mine.
---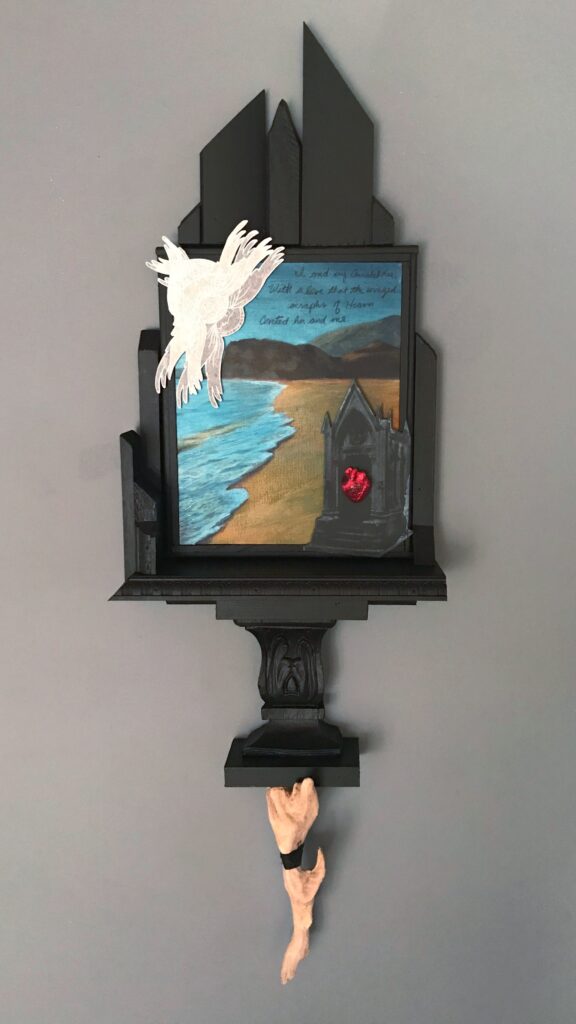 Assemblage
This piece features the poem Annabel Lee. The viewer is put in the place of the male lover, on the beach, looking at the sepulcher of his deceased lover, mourning her death. Their love was so great that the seraphim (featured above her sepulcher) were jealous and killed her. He finds solace in knowing that their love is eternal (represented by the living heart in her tomb). While she was alive, they experienced a deep love that some will never find. While he is looking at her physical tomb, he is peering out of a metaphorical tomb of grief and loss. The driftwood at the base represents the location of her sepulcher. The driftwood is somewhat bone-like, representing her physical death. He is left to wander the world without her. A part of him died with her and a part of her lives within him.
---
Ink
This piece showcases certain creatures that can unnerve me, the different fronts I put on the try to calm those feelings, and ultimately a representation of when I fail to do so.
---
BELOW ARE THE GUIDELINES FOR VISITING SUMMIT ARTSPACE ON EAST MARKET.
VISITORS MUST WEAR MASKS.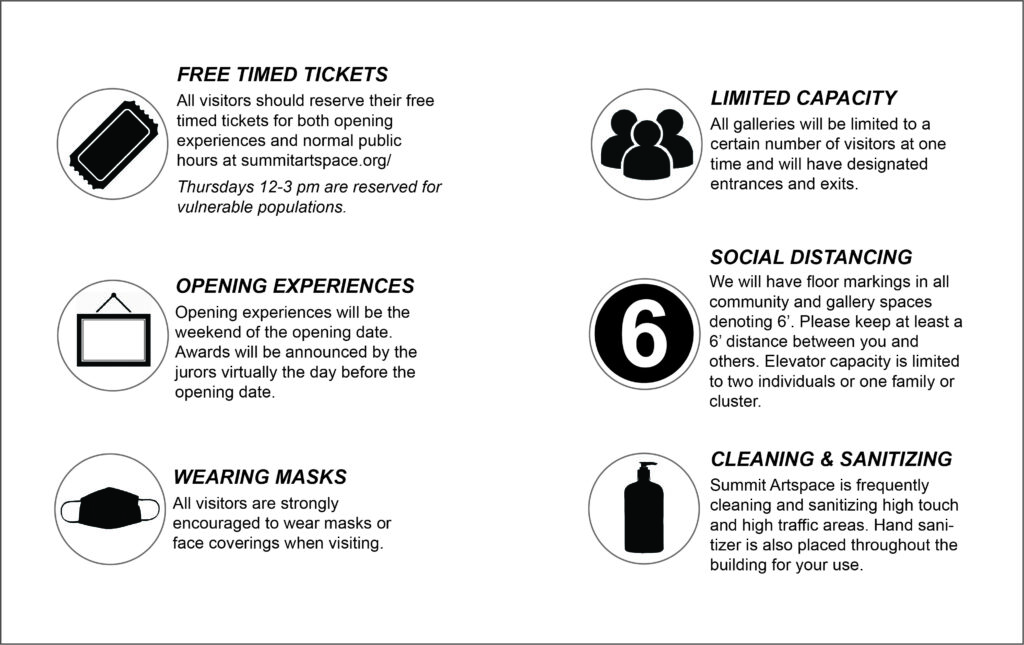 ---
FREE PARKING BEHIND BUILDING.
HANDICAP ACCESSIBLE.
ELEVATOR AVAILABLE.
See the Summit Artspace exhibit calendar for show details.
Plan your visit by clicking here.
Have questions? Here is our Frequently Asked Questions page.
Please Note: All exhibits are subject to becoming virtual at our website, summitartspace.org, due to the global pandemic.
Show image by Amie Cajka.