The ARTS ALIVE AWARDS were created to recognize gifted artists, talented art educators and change-making advocates and volunteers at an inspiring celebration of achievement. They bring art to life and help shape our community's culture. 
See our event photos on Facebook.
 The Arts Alive Awards and Fundraiser Committee and 

Board of Summit Artspace 

are proud to announce the 2019 honorees and finalists.
HONOREES
Summit Artspace Champion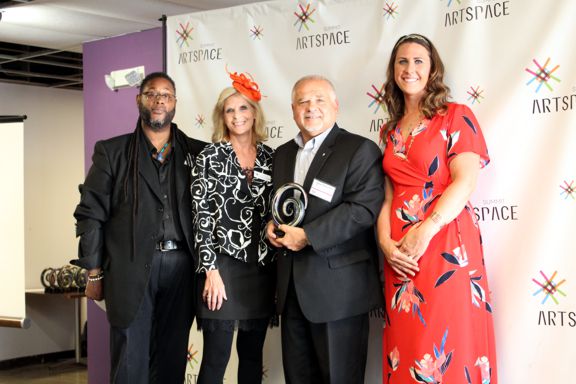 Akron Community Foundation
is where generous families, individuals, companies and nonprofits make charitable dollars go the furthest for the permanent good of our community. They are a 501(c)(3) public charity composed of more than 
640 charitable funds
 begun by people. Those funds, and the gifts that started them, bear the mark of many donors, not just a select few, which differentiates them from a 
private foundation
. They are committed to building a civic 
endowment
, a permanent source of funding to benefit all of Summit County, helping fundholders plan, carry out and celebrate their 
charitable giving
 in Greater Akron, the region and across the country, partnering with fundholders and agencies, including 
nonprofits
, funders, government groups and businesses, to gain and share knowledge that improves the community, and encouraging philanthropy among Summit County residents of all means and backgrounds
Arts Alive Award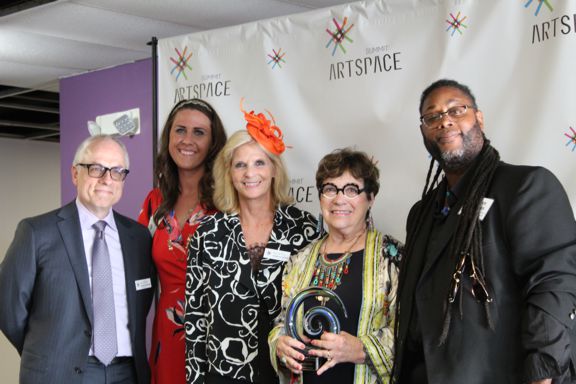 Barbara Feld grew up in St. Louis, graduating with a degree in English from the University of Missouri. She & her husband Denis, children Rebecca & Lucas, moved to Akron in 1978. During her 40 years in Akron, arts & culture have been her major focus, wishing to give back to the community she loves.  She spent 24 years with Tuesday Musical Association, retiring as its executive director. Today Barbara serves on several boards, including Akron Roundtable, Project GRAD Akron, Blossom Committee & Apollo's Fire Akron Advisory Board. She was president of the Summit Artspace Board and Akron Roundtable's Board. She has also served on state boards and been involved with national committees relative to the arts. She is currently on Summa's Healing Arts Leadership Council and chair of its Music Committee.
Lifetime Achievement Award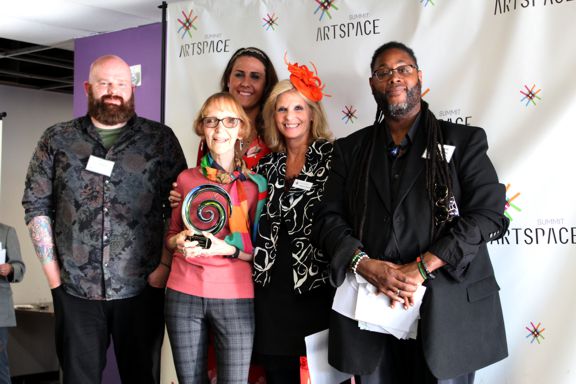 Artist Joan Colbert works in mixed media with an emphasis on printmaking, collage and painting. Inspired by literature and influenced by her environs, she often creates works that are thematic, frequently including references to her favorite motifs: blackbirds and bare trees.  In all of her work Joan strives to reach a balance between design and idea and hopes that in each piece there is just enough left unstated to evoke more personal interpretations. A graduate of the University of Akron, Joan currently paints and exhibits and has won numerous awards in both juried shows and art festivals.  Her previous experience includes graphic work for both the City of Akron and the Akron-Summit County Public Library.
Outstanding Visual Artist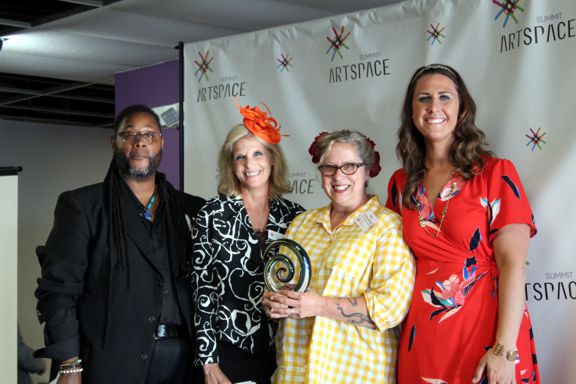 2019 HONOREE Amy Mothersbaugh is an artist, illustrator, curator and teacher based in Cuyahoga Falls, Ohio with a passion for supporting and developing creative communities. Mothersbaugh is well known for her work and her gallery Studio 2019 in the Falls. She is a co-founder at Akron Soul Train, an art educator at Mobile Art Classes for Everyone and works on projects including murals with local organizations like the Akron Zoo.
Judith Gaiser muses, "I am a product of Cleveland, born and raised there. I like to think that I was born with a pencil and a sketchbook in my hand." Judith has had artwork in shows at Kent State University; The Mather Gallery, Case Western Reserve University; The EdgeGallery in Cleveland, St. Paul's Gallery, Jack Richard Gallery, group shows at the Coburn Gallery, ColoradoCollege; Canton Museum of Art; Cleveland Museum of Art May Show, Massillon Museum of Art, Summit ArtSpace and a variety of pieces accepted in local and National juried shows, along with a number of pieces in private collections here and abroad.
Micah Kraus  is an artist and educator living in Akron, Ohio. As fine arts department chair of Archbishop Hoban High School, he is proud to contribute to the arts culture at the school. He has shown his work in group and solo exhibitions regionally and nationally and is art director of Akron Coffee Roasters.
Outstanding Artist in Music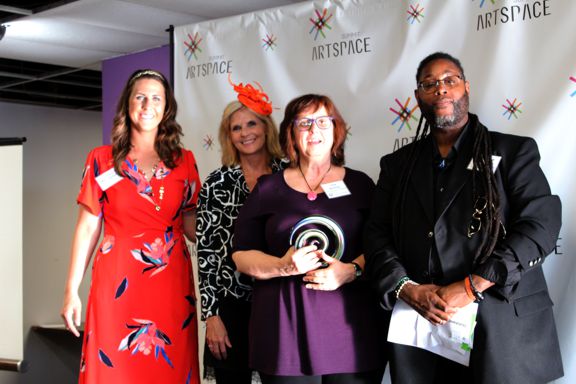 2019 HONOREE Jane Berkner is the founder and flutist of Urban Troubadour, bringing roving concert events to venues all around Akron. She has played in the Akron, Ashland, Canton and Youngstown Symphonies, the Ohio Ballet Orchestra, the Botzum Summer Festival Orchestra, and for touring shows at EJ Thomas Hall in Akron, Playhouse Square in Cleveland, and Blossom Center's Porthouse Theater. She is currently the Director of a summer Flute Choir Camp for adults at the Interlochen Center for the Arts.  
Zach Friedhof is a Troubadour of Peace from Akron Ohio. His music is an uplifting blend of folk & soul immersed in love. He is a yogi, leads meditation and is co-director of the Yoga Summit of Ohio. He also co-created and is the Executive Director of the Big Love Network, which seeks community uplift and engagement through neighbor led neighborhood initiatives involving arts, skills, and gatherings. Zach performs a variety of shows, from solo to an 11 piece band! Performances with his high energy band Zach & the Bright Lights get the body and soul moving!
Brad Wagner is a Soprano, Alto, Tenor, and Baritone Saxophonist, Woodwind Doubler on Flute, Piccolo, Clarinet, and Bass Clarinet, and also spends time as a composer, and arranger. Brad Wagner has been a member of many jazz groups including: Ernie Krivda and the Fat Tuesday Big Band, The Hendectet Jazz Collective, The Cleveland Jazz Orchestra, The Cincinnati Contemporary Jazz Orchestra, Moustache Yourself, Sam Blakeslee's Large Group, The Black Dog Octet, Red Rhinoceros, The Signal Ensemble, The ABC Trio, The Brad Wagner Nonet, and more.
Outstanding Artist in Dance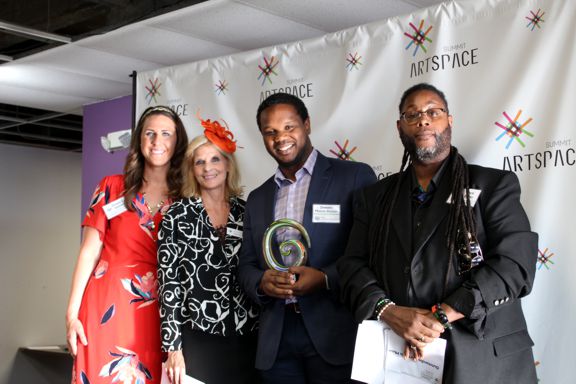 2019 HONOREE Dominic Moore-Dunson, Assistant to the Artistic Director of Inlet Dance Theatre, has received numerous recognitions as a choreographer including: being named a 2019 "New Agent" by MOCA Cleveland, receiving a 2018 Commission from the Akron Art Museum, named a 2018 Breakout Artist by the Devil Strip Magazine, a 2016 National Arts Strategies Creative Community Fellowship, and a 2016 IPAY Collen Porter Fellowship.
Jane Startzman has over 50 years of experience in the field of professional dance, including work as a principal dance artist, operations coordinator, Executive Assistant to the Artistic Director of Ohio Ballet, Heinz Poll as well as company/tour manager. Jane is currently director and co-founder of the Heinz Poll Summer Dance Festival, which began as Ohio Ballet's Summer Festival in 1974, and is also the Director of Events at the Akron Civic Theatre. Jane was one of the first eight dancers that comprised the initial class of the School of Dance, Theatre and Arts Administration at the University of Akron in 1970. She was on the part-time dance faculty of the University of Akron from 1995 through 2008. 
Outstanding Artist in Theater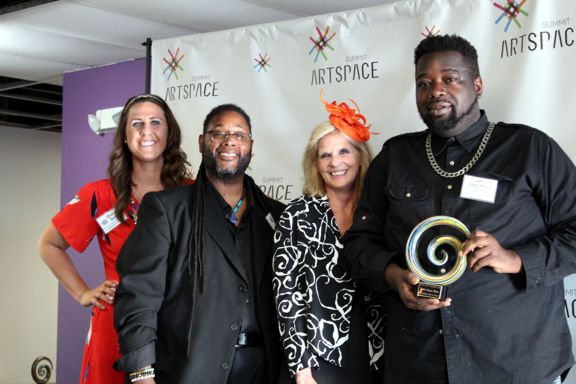 2019 HONOREE John Dayo-Aliya is active in the Akron and Cleveland communities with his unique band Church of Starry Wisdom. He and his sister began Ma'Sue Productions as an homage to his Grandmother.  John brings excellence and truth to the world through this African American theater company and his writing which puts you in the middle of the emotional, spiritual and intellectual lives of his characters. His dialogue is authentic and often speaks truths both universally relatable and specifically engaging in the important justice issues of our time. The past few years his has won a Knight Foundation Challenge Grant and other grants to support his amazing art. He has mounted "Or Does It Explode", a collection of experiences of African American men from NEO. In edition, he mounted a new production of "Day Breaks Children" and "Blue Miss Billie". All of these are original works. "Day Breaks Children" examines life as effected by drug abuse, depression, and financial challenges of the American Family. "Blue Miss Billie" imagines the world of Billie Holiday through the eyes of a writer.
Jairo Cuesta is a Colombian actor and director and an instructor in the Case Western Reserve University/Cleveland Playhouse MFA Training Program. For NWPL, Mr. Cuesta has directed The Dybbuk and has performed in Mother's Work; The Recital of the Bird; Epiphany; The Phantoms of King Lear; The Book of Saints and Martyrs; Woyzeck; Electra; HamletMachine; Love in the Time of Lunatics; Deathwatch; Angry Gods and Lost Marbles; Frankenstein; Alice…Down the Rabbit Hole; Action; Gilgamesh; Orlando; The Devil's Milk Trilogy; and Don Quijote. 
Dane CT Leasure is the Artistic Director of Rubber City Theatre (formerly Rubber City Shakespeare Company) which he founded in 2013. As Artistic Director he primarily directs shows for the company but also acts on occasion. He has directed many of Shakespeare's plays including A Midsummer Night's Dream, Macbeth, and Cymbeline as well as musicals such as AIDA and Pippin. When not working at Rubber City, Dane is a full time lecturer at Tri-C in theatre where he teaches a range of classes.
Outstanding Arts Volunteer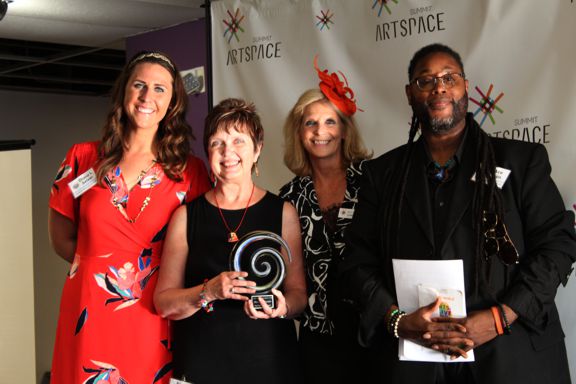 2019 HONOREE Brenda Schneider's lifelong commitment to a successful arts community exemplifies her active engagement and volunteerism. Recognizing the importance of art in education, she volunteered for 6 years as the "Picture Lady" at Tallmadge primary school. Brenda did presentations on an artist and their works; designing an interactive activity for the children (cubes, shapes, colors with Picasso, etc.). Her "Picture Lady" experiences served her well as a volunteer Docent at the Akron Art Museum, sharing art with school age children and guiding adults through exhibitions. Brenda recognizes a need for art, which is why her volunteerism and participation in the art community is diverse: volunteering in visual and performance arts, across age groups, among people with a range of abilities.
Yoly Miller is a freelance writer and a citizen journalist. She is a live videographer for The Akronist and The Devil Strip news publications that serve Summit county. She is also an avid content producer, sharing her views, videos, and photographs of the art and music scene with her friends and followers, inspiring them to become better patrons of the arts in their home town. She began volunteering in Akron in 1998 at The House of Peace on Princeton Street and continues to volunteer her time and efforts with various organizations, including the Pechakucha Akron Speaker Series.    
Lizzie Lukens Conrad is a visual artist working in egg tempera, silverpoint, and colored pencil. She is the author of Willow Dances, a book of poetry, and the children's book Where's Mommy's Mommy?. She is on the planning committee for the All Abilities Art Expo and is developing a program to teach art to special needs children.
Collaborative Project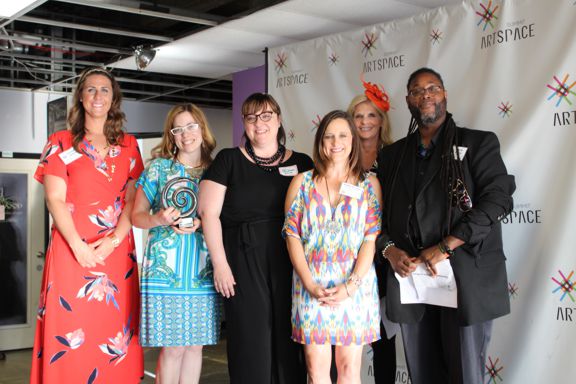 2019 HONOREE The PNC Penny Art Project was a collaboration between PNC Bank, Western Reserve Hospital, the City of Cuyahoga Falls and Collide: Cuyahoga Falls. Major coin collections took place at Cuyahoga Falls City Hall, Falls Downtown Friday Events, Woodridge and Cuyahoga Falls High Schools and Western Reserve Hospital. Area residents, employees and students were asked to donate spare pennies for the PNC Penny Art Project, a project with the goal of seeing the "change" of Cuyahoga Falls. Students from both high schools designed and created a unique art display that now travels around the city for the public to see. Woodridge High School called their project "The Cost of Education" reflecting on the financial burden it puts on communities. Most importantly the scene represents the funding problems in the adult world which directly impact each student, the curriculum and resources used each day. A wooden desk and bust of a child, bring to life the depiction of this struggle. "The Falls of Change" highlighted the most notable things in Cuyahoga Falls including the river. The students at Cuyahoga Falls High School wanted to showcase the positive changes made by the city. Therefore, large sculpture reflects the exciting changes and renovations of downtown Cuyahoga Falls. Complete with lights and white sculptural sails, the piece resembles the currently renovated downtown area.
The Akron Art Library is an innovative and unique collaborative project  between the Akron Art Museum and the Akron Summit County Public Library. It merges outreach and education with local, national, and international artists through a collection of artworks bought by the museum and circulated – like a library book! – at the Akron Summit County Library Main Branch. This project is funded in part by various local and state donors and not only supports the artistic economy by paying the artists for their work, but makes work accessible on a unique level to *anyone* with an Akron Summit County Public Library card! The idea that anyone can experience living with art in their homes is truly inspiring. It is a masterful project of collaboration that makes fine art accessible and engages the community in the arts.
The Akron Center for Art, Music and Performance has pulled together a number of performance art groups (like Wandering Aesthetics, Dunamis Theatre and Gum Dip Theatre) to activate a previously vacant space for consistent programming that caters to many disciplines (theatre, poetry, music, dance). Along with regular theatre performances, the collaboration also offers workshops for children and a host of community engagement activities. The EP Cooker open mics offer a vehicle for performers to grow, and events like storytelling and poetry readings tap into a socially conscious audience. The Center is an example of true and effective arts collaboration in the community.
Community Outreach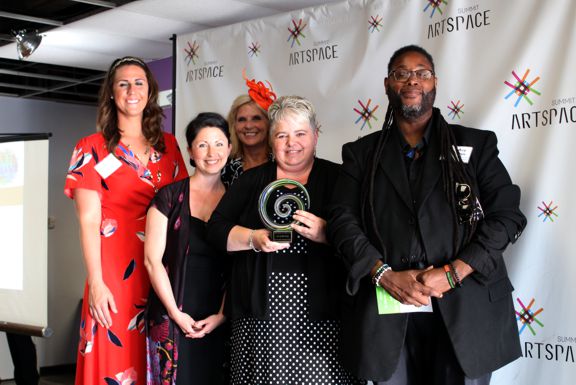 2019 HONOREE Art of Recovery: Among the many innovative and life-changing treatments offered by CSS is our art therapy program, which offers a creative outlet to express thoughts and feelings that may be difficult to put into words. The walls at CSS are filled with a diverse collection of drawings, paintings and other art created by clients of the agency. Art therapy uses the art media, the creative process, and the resulting artwork to explore feelings, reconcile emotional conflicts, foster self-awareness, manage behavior and addictions, develop social skills, improve reality orientation, reduce anxiety, and increase self-esteem. This program has allowed the agency to create a mission-focused fundraising event, The Art of Recovery, now in its fourth year. The Art of Recovery has raised significant dollars to support the Art Therapy program, but perhaps more importantly, 75% of the funds raised by the sale of the artwork goes to the artist. In addition, the event helps ease the stigma of mental illness by allowing our clients to interact with our Board members and the public at large, while experiencing the pride in hearing the praise for their artwork and seeing it being displayed and purchased.
Christa Boske and the Social Justice Project: As the founder and President of her new nonprofit Art for Resistance Through Change (ART-C) and Associate Professor of PreK-12 Educational Leadership, Christa works to encourage school leaders to promote humanity in schools, especially for children and families from historically disenfranchised populations. Christa's line of inquiry focuses on the intersections of the cognitive and affective domains of school leadership with a particular focus on how school leaders transform their sense of self to lead for social justice and equity in schools. Since 2010, Christa curated leading for social justice art exhibitions at renown galleries including, but not limited to the Summit Artspace, Akron Art Museum. and the Cleveland Museum of Art. Her one-of-a-kind community-based work has reached over 11,000 audience members.
The Center for Applied Drama and Autism is located in Akron and has been working with youth and their families since 2014. Its goal is to meet its students where they are now and help them to recognize their own abilities and gifts through empowerment and making connections. The program sees the uniqueness of each student, helping each one deal with social and emotional situations that will occur throughout their lives. CADA provides individual and collaborative applied drama techniques such as theatre games, improvisation, role play, character study, voice and body work, mask work, puppet plays, playwriting and video production. Visual art, dance and music are all key components in theatrical productions and give CADA students an opportunity to expand their artistic gifts and interests.
Arts Educator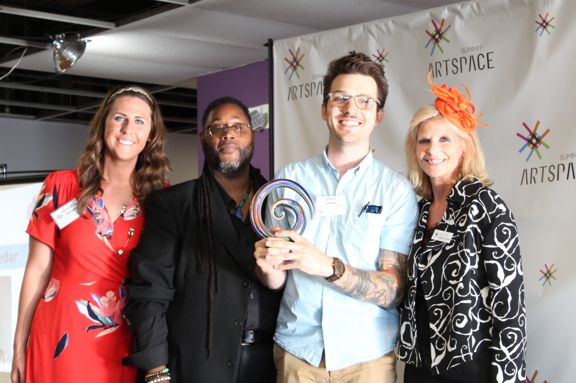 2019 HONOREE Dillon Sedar is currently educating students in Tallmadge City Schools and also teaches art classes on Thursday evenings to youth who are incarcerated at the Summit County Detention Center. Just follow this guy on Instagram and Facebook, and you'll see why his students love him. The creative projects he designs in order to engage and challenge his students' creativity are amazing. It's easy to be pulled into the educational doldrums, but Dillon has demonstrated that he's going to dedicate his youthful energy to the minds and success and fun of his students, all by appreciating the arts.
Dara Harper teaches art to Kindergarten through 8th Grade learners at Emmanuel Christian Academy. She is a graduate of the University of Akron with a bachelor degree in Art Studio Emphasis and minor in Art History. Completing a master's degree in Curriculum and Instruction in Education Dara Harper continues to be passionate in teaching her students to love and appreciate art. She believes to fully live life in color and the more you draw the more you learn.
Creativity, compassion and enthusiasm for the arts, are abundantly evident when meeting Ashlynn Schindler. Having been a science teacher at Cuyahoga Falls High School since 2014, she serves to foster creativity, enthusiasm and positive change in her students. Her love of science and technology brings a unique perspective to the arts. Utilizing a hands-on, experiential interdisciplinary learning strategy with a community context, Ashlynn finds interesting ways to keep her students engaged all the while having real impact on world problems and producing outcomes that are beneficial to all.
Emerging Artist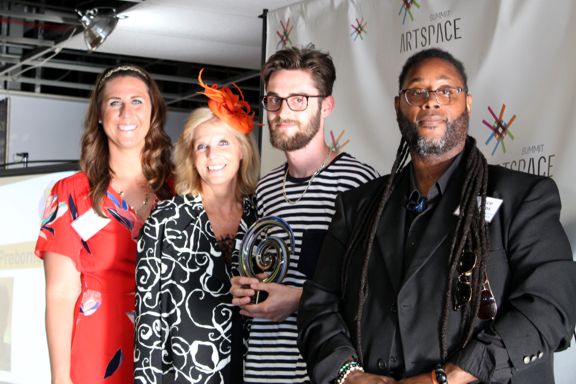 2019 HONOREE Nathan Prebonick has a trajectory that is aimed at making a significant mark in the art world. Nathan's paintings help us translate the complexities and challenges of life. He writes, "Painting is a way for me to begin to visualize and communicate a sense of place with the multifaceted world we navigate today." You can see from the paper trail of his life the past five years that he is in control of that trajectory in a way that impresses and impacts his art. He is producing art in the studio that has definitely transformed in its power to affect the viewer through a range of emotions, moods and challenges.
Victoria Rose is an artist who believes in experimenting and trying new things. I blend feminine & masculine into my steampunk jewelry, while incorporating the strange and whimsical into my three-dimensional sculptures and paintings. Sometimes I use paint and a brush, while other times I work with found objects and give them new life.
River Berry is a budding young artist with a strong relationship with her community. She has been in many local shows and has participated in many volunteer opportunities in Akron. River's work focuses on dismantling the current perspectives of art and design culture. "My work speaks to art in its purest form — a visual interaction." She believes that this should be a private conversation between the viewer and the artwork itself.

Rising New Leadership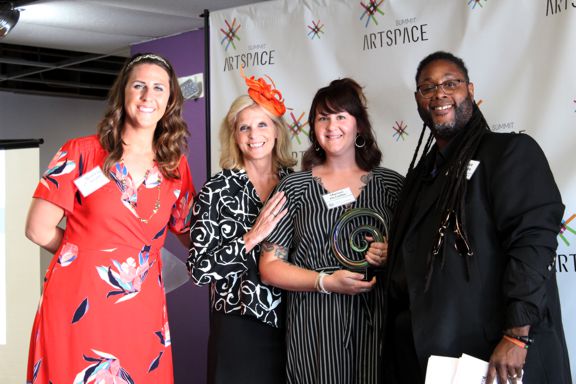 2019 HONOREE Marissa McClellan is a star of the local arts scene and she is involved in some of the city's most beloved, high profile artistic endeavors. She is the Executive Director for Crafty Mart where she develops and implements programming for Akron entrepreneurs and artisan makers. Marissa is also the Co-Director and co-creator of Art Bomb Brigade. Serving as Co- Director, she manages projects, and supports artists and the community with public art initiatives. Marissa is Project Manager for Highland Square Neighborhood Association and is currently working on the Highland Square Film Festival and PorchRokr.
As part of Curated Store Front, art displayed in empty storefronts, Courtney Cable has wrangled artists from near and far to create an expansive display of art, brightening a somewhat blighted downtown. Curated Storefront has made downtown Akron a cool place to visit both during the day and at night. It has opened the doors to art and highlighted artists for many individuals who at some point got the idea that art just wasn't for for them. She is both artist and administrator, understanding that artists need to be treated with respect regardless of their medium and social standing.
As Executive Director of the Peninsula Foundation (a 501c(3) with mission in historic preservation and education throughout the Cuyahoga Valley), Karen Walters has nurtured a unique "roots music" performing arts and education program called "Voices in the Valley", hosted in the Peninsula Foundation's historic G.A.R. Hall in heart of the Cuyahoga Valley National Park. This program has grown quickly to become a nationally-recognized, premier opportunity for acoustic roots and traditional American music genres including folk, bluegrass, blues and jazz in an inmate setting offering acclaimed acoustics by national artists such as Sierra Hall and the Steel Wheels band. In addition to the root music awareness, preservation and exposure Karen's program provides, workshops for music students of all ages and proficiency levels are provided by Voices in the Valley program.
Outstanding Patron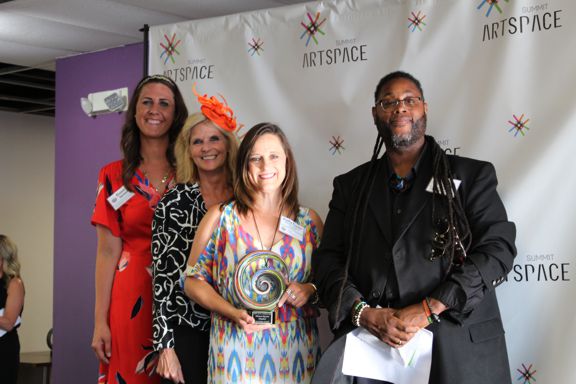 2019 HONOREE Western Reserve Hospital

has a long history of supporting arts and culture. Through donations and sponsorships, the hospital has funded a multitude of organizations. Local artists, school systems and area non-profits have benefitted from their financial contributions. The hospital's leaders recognize that arts and culture are vital components for a healthy and thriving community. Western Reserve Hospitals involvement through donations, sponsorship, and support includes but is not limited to  Collide: Cuyahoga Falls, Dynamics Community Theater, Art After Five, Crafty Mart, Falls Downtown Fridays, Vibrant Pallete Celebration, CVAC, Angel ART Auction, Andrea Rose Teodosio Memorial Foundation, Cuyahoga Falls Art and Accessibility Forum, Collide Spoken Word, and CFHS All City Art Walk.
Bounce/Hazel Tree Design Studio: Last May, Bounce CEO Doug Weintraub outlined a vision and made a commitment that the new, 27,000 square foot first floor renovation of the Bounce building would be of, for and about Akron. It would honor Akron's past, present and future, taking the 150-year-old former BF Goodrich tire plant and transforming it into a modern, exciting and functional facility for not just entrepreneurs, but the Akron community.A key part of this vision was that the design and feel had to be comfortable, but professional; unique, but functional and, most importantly, it had to incorporate local talent – from artists and designers to furniture makers. Bounce supports all entrepreneurs, including creatives.  Bounce teamed up with Karen Starr of Hazel Tree Design Studio, who is known throughout Akron as a fierce advocate for local artists and is a patron, collaborator and talented designer and artist. It was imperative to Bounce and to the team at Hazel Tree that the new coworking, event space and café and coffee shop at Bounce use locally sourced materials and talent as much as possible – and that everyone be paid in full at fair, market value for their work. From five original murals to custom tables and lighting to original poetry, Bounce is like nothing else in Akron, and possibly northeast Ohio. At Bounce's opening on May 22, the first floor will feature the original works of 78 northeast Ohio artists, and more than 160 pieces of original artwork, furniture and furnishings. As far we know, this is the biggest effort of this kind in our area's recent history. And the result is breathtaking – in scope and design.
When Dr. Saroj Sutaria retired from the Kent State University College of Education faculty in 1992, she began to seek out new ways to become involved with the community at Kent State and, more broadly, in Northeast Ohio. It was then that she learned of the opportunities to become involved with the College of the Arts and, particularly, the School of Music. A long-time lover of Western classical music, she was thrilled to find a plethora of high-quality recitals and concerts in her own back yard. She's been attending as many as she can ever since, including countless ensemble concerts and faculty, student and guest artist recitals. In 2009, she established the Dr. Saroj Sutaria Scholarship in Music, which has since supported the studies of two pianists.
See the award descriptions below.
AWARD CATEGORIES AND DESCRIPTIONS
Arts Alive Award – recognizes an individual or individuals who give selflessly to the cause of advancing arts and culture in the community. An artist, arts manager, volunteer or patron, this individual is a true lover of all arts who gives willingly and does so without seeking recognition.
Lifetime Achievement – recognizes an individual artist, arts manager, advocate or other who strengthens arts and culture in the community through decades of service.
Summit Artspace Champion – recognizes an individual, group or organization that has been a true champion for Summit Artspace; who has provided extraordinary and ongoing support for its mission as a place for the creative.
Outstanding Visual Artist – recognizes a visual artist with at least five years working in the discipline, professionally or as an amateur, whose work makes a significant impact on his or her discipline through outstanding creativity and growth. 
Outstanding Artist in Music – recognizes an artist in music with at least five years working in the discipline, professionally or as an amateur, whose work makes a significant impact on his or her discipline through outstanding creativity and growth. 
Outstanding Artist in Dance – recognizes an artist in dance with at least five years working in the discipline, professionally or as an amateur, whose work makes a significant impact on his or her discipline through outstanding creativity and growth. 
Outstanding Artist in Theater – recognizes an artist in theater with at least five years working in the discipline, professionally or as an amateur, whose work makes a significant impact on his or her discipline through outstanding creativity and growth. 
Outstanding Arts Volunteer – recognizes an individual or group who has shared significant time and/or skills volunteering for arts and culture in the community.
Outstanding Patron – recognizes individuals and other entities that financially support arts and culture in the community.
Community Outreach – recognizes an individual or group who has helped bring a voice to underrepresented artists in the community or who has been a catalyst for bringing the arts and culture to underrepresented populations
Arts Educator – recognizes an elementary, middle school, high school or university-level educator or a private instructor who has shown exemplary dedication and commitment to teaching, advising and mentoring area art students.
Emerging Artist – recognizes an individual in the visual or performing arts with less than five years working in their discipline, who illustrates outstanding potential for making a significant impact on his or her discipline through creativity and growth.
Rising New Leadership – recognizes an individual arts contributor, manager, advocate, volunteer or patron with less than five of involvement in this role.
Collaborative Project – recognizes an original project (performing or visual arts) that illustrates the power of collaboration among organizations and/or individuals to advance and support arts and culture in the community.