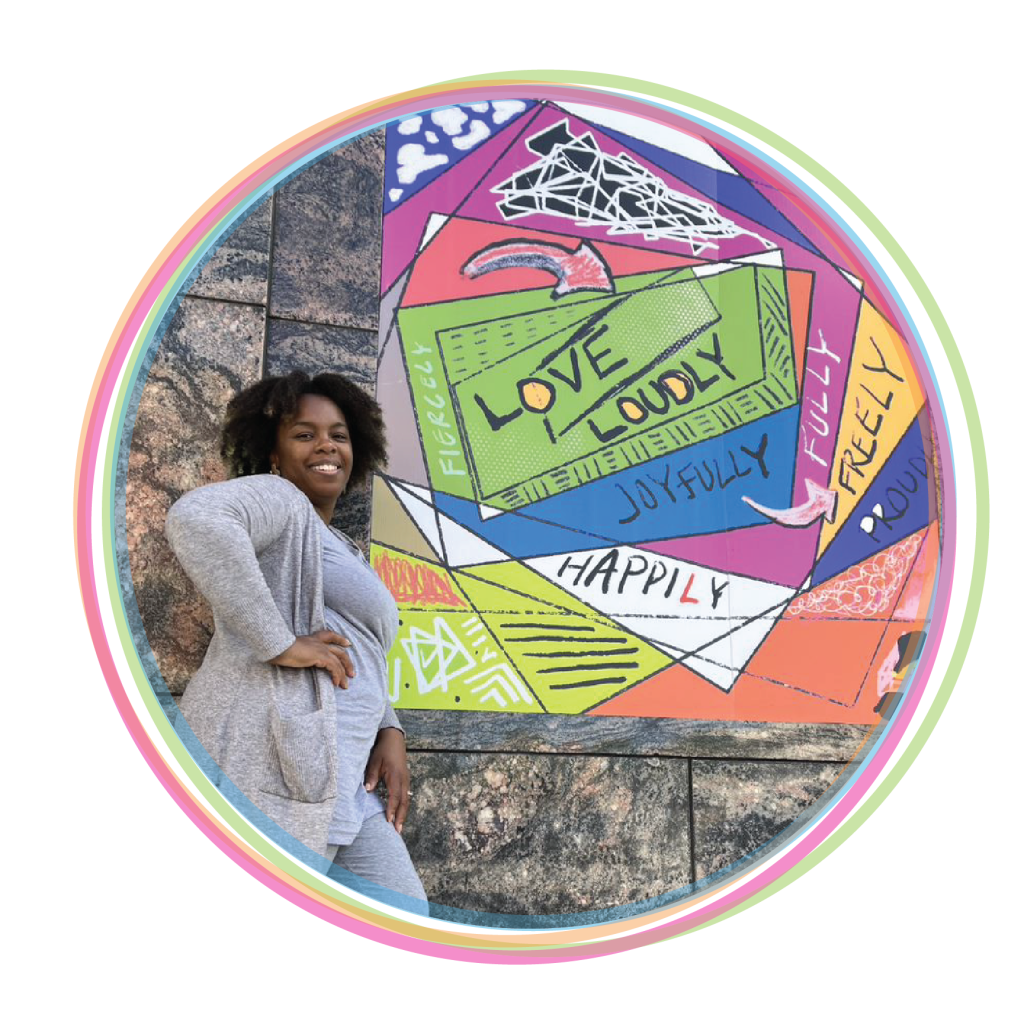 Collaborative Project:  Recognizes an original project in the performing, visual or multi-disciplinary arts illustrating the power of collaboration to advance and support arts and culture in the community.
Engage Akron Window Art Project
In the summer of 2022, Da'Shika Street of Street Craftery and Downtown Akron Partnership (DAP) teamed together in cooperation with downtown artists, businesses, and property owners to launch the Engage Akron Window Art Project. Street and DAP embarked on a process of prioritizing the voices of artists to assist the district in healing after experiencing vandalism on July 3. The effort was curated by a committee of Black artists who selected works through a request for proposals process to allow downtown's boarded windows to convey hope and healing. Original works were digitized for print on panels, or, in some cases, painted directly onto boards over windows awaiting repair. The project was made possible with support from Knight Foundation and GAR Foundation and features the following local artists: Lizzi Aronhalt, April Couch, Derin Fletcher, Gabe Goode, Kimmy Henderson, Willie Jones, Micah Kraus, Nick Lee, Squid Moe, Randi Mull, Andre Street, Da'Shika Street, and Stephen Vazsonyi.
Da'Shika Street is an Akron-born creative, wife, and mother of three whose enterprising spirit and artistic influences are shaped by her faith and the legacy of entrepreneurs and artists who precede her. Her most recent endeavors have blossomed from Project Sew United, a home-based facemask sewing initiative that she started in 2020 at the onset of the COVID-19 pandemic to produce a proprietary three-layer CDC-approved facemask. The project quickly grew and morphed into what is now Street Craftery, a creative studio founded in 2022, where Street teaches multi-disciplinary art techniques to arts enthusiasts of varying backgrounds and skill levels. Through Street Craftery, she uses her gift of creating and teaching as a vehicle to empower emerging artists and collaborate with seasoned artists to strengthen the community through artistic expression. As a Better Akron Fellow, Street continues to imagine greater for Akron by identifying opportunities to engage artists who add culturally diverse perspectives and vibrancy to the community. This is especially evident in her day-to-day work at Street Craftery and through esteemed consultancy opportunities such as serving as an Entrepreneur-In-Residence through Bounce Innovation Hub's Next Level Incubator Program. Through this program, she was selected to serve as the marketing agency to develop the campaign and strategy for the Kent State University Museum's landmark exhibit, TEXTURES: the history and art of Black hair. (TEXTURES was awarded the 2022 Arts Alive Collaborative Project Award.) In this role, Street served as the lead strategist for the exhibition and its partnerships with national brands including P&G, My Black Is Beautiful, L'Oreal, and others. Street believes art is a medium unrestricted by social and economic barriers—one having the power to bring people together from all levels of society, offering a clean canvas on which to explore creatively, build intentionally, and find joy in the process.
Downtown Akron Partnership's mission is to promote and build a vibrant and valuable downtown. Since its inception in 1996, DAP has been a catalyst for enhancing the downtown environment by supporting the existing community and developing new, innovative programs designed to create interest in and attract people to downtown Akron. DAP is dedicated to bringing people, activity, business, and a thriving civic life to the heart of Akron. Through strategic marketing and management of downtown's resources, DAP works to promote downtown as a live, work, play destination in the center of our city. DAP's members include property owners, business leaders, government officials, residents, and stakeholders who want to improve the image of downtown as a safe, convenient location for businesses, working professionals, and families. The organization manages downtown resources for the downtown Akron Special Improvement District (SID) through a contract for services. DAP is governed by a board of directors as diverse as the interests of our city.
Through this collaboration, Street Craftery and DAP, along with artists and funding partners, successfully championed collective spirit for a better downtown Akron.