WELCOME GALLERY (Spring 2022)
A new community-based mural initiative led by local artist Alexandria Couch, Faces of Akron, pays homage to the 2006 mural by Kirk Mangus titled Kings & Queens, pictured above, located in the Summit Artspace parking lot. Couch selected five artists to create portraits of Akron community members in their own artistic styles. The portraits will be turned into a digital mural. We asked community members to tell us why they love Akron—see their responses below.
Special thanks to Bradley Hart, Summit Artspace resident artist, for photography of virtual exhibitions!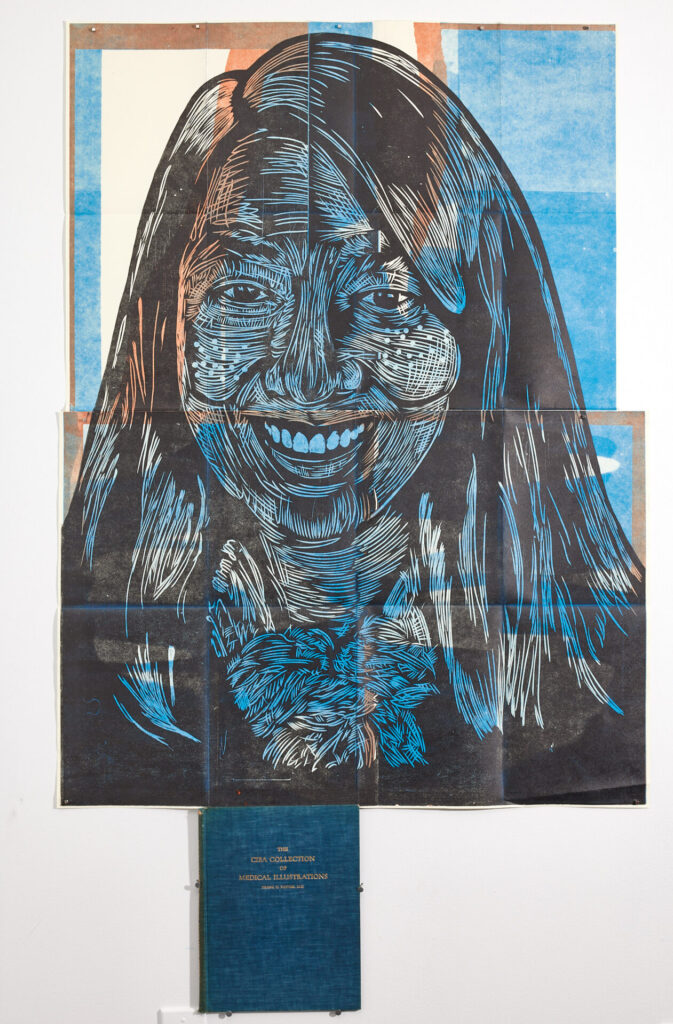 1

Micah Kraus | Assembled, Carved, Constructed (Gwen) |NFS
Relief print on cotton rag paper, found book
"Akron is important to me because it is the underestimated underdog. There are so many cultural and artistic happenings there. It has always been a supporter of the arts and community for me. I have shared nights of good food and music there, seen world-renowned exhibitions, independent films, and had my own art shown there. When I tell my old friends from Chicago all of this, they seem shocked or question 'in Akron?!?' Yes! In Akron! What is great about Akron is its accessibility and open opportunities to participate in so many different ways. I am involved in the visual arts because I am an artist, but I enjoy so much more. My husband also works for Akron Children's Hospital, which is what brought us here from Chicago. I don't think I would be as involved in the art community if I still lived in Chicago. Akron has given me a chance to strive for everything I can want in the arts. I finished my art degree at The University of Akron. I have had multiple opportunities to show my work and be part of shows. I have joined many organizations and look forward to seeing their futures. Don't underestimate Akron!" – Gwen Waight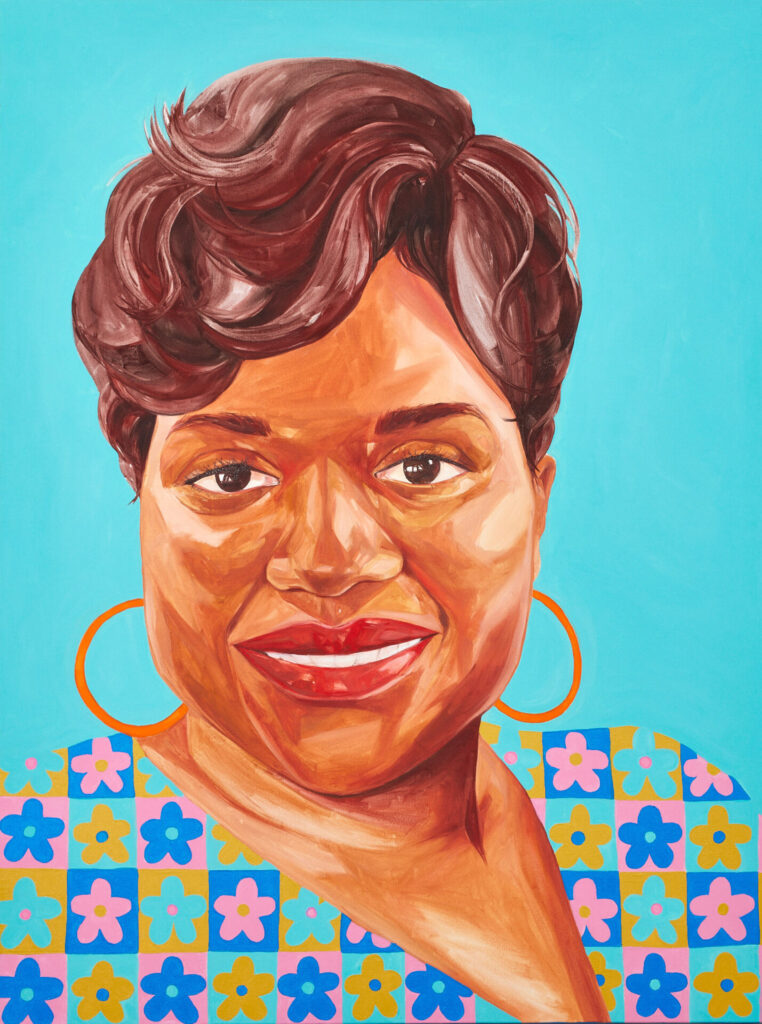 2

Alex Couch | Dara Harper |NFS
Acrylic and oil on canvas
"Akron is the beginning for me. I was born here, grew up here, and continue to work here and raise my family here. What makes me proud to be from Akron and invest in community is the tenacity we have. It's been brutal yet rewarding in many aspects, especially to see the valiant efforts that many are making to support one another. Akron is small but big in its dreams and forward thinking and I believe that has influenced me greatly in approaching ways to build legacy within my community. We all fit …or else it's not community. I love Akron."
– Dara Harper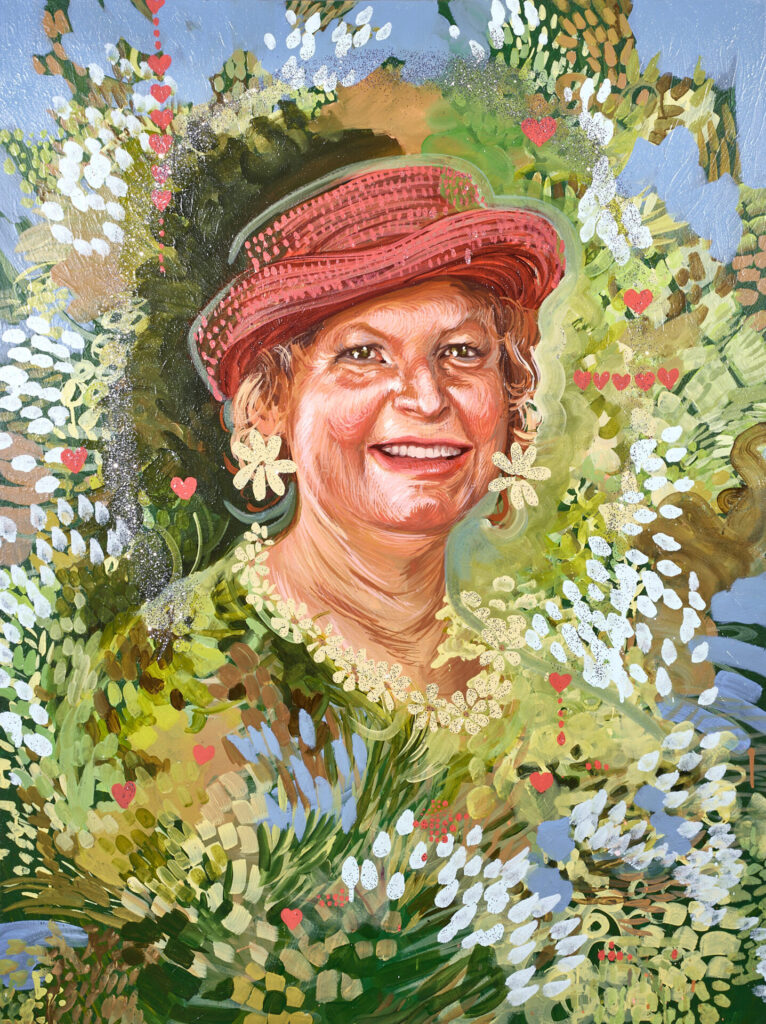 3

Hope Hickman | Portrait of Debbie Schinker |NFS
Acrylic and glitter on canvas, Source photo by Jack Valancy
"As a lifelong resident of Northeast Ohio, I've lived in several local towns in my 52 years, but Akron is geographically the nearest city to me and the one with which I most identify. I've participated in arts, culture, business, social, and recreational activities in Akron my entire life. One of my children went to school in Akron, I have many friends who live in Akron proper, and several of my business clients live and work in Akron. In so many ways, Akron represents the quintessence of modern middle America. It's a vibrant, diverse community of people living, working, learning, and playing together. We're friendly and kind-hearted – sometimes – but always fierce. We have strong opinions and we're unafraid to voice them. We value our natural resources but have a history of loving them almost to death. Sometimes we welcome those we consider "other" and sometimes we close ranks against change. We work together – sometimes well, other times not so much – to make things happen. We're still learning how to honor and value each other's lived experiences. The hold of the past is strong for us. We remember it, celebrate it, and sometimes mourn it. Yet we embrace the future with hope and optimism. And we will forever believe in the power and the magic of the arts to reflect both who we are and who we believe can become. We are Akron, Ohio!" – Debbie Schinker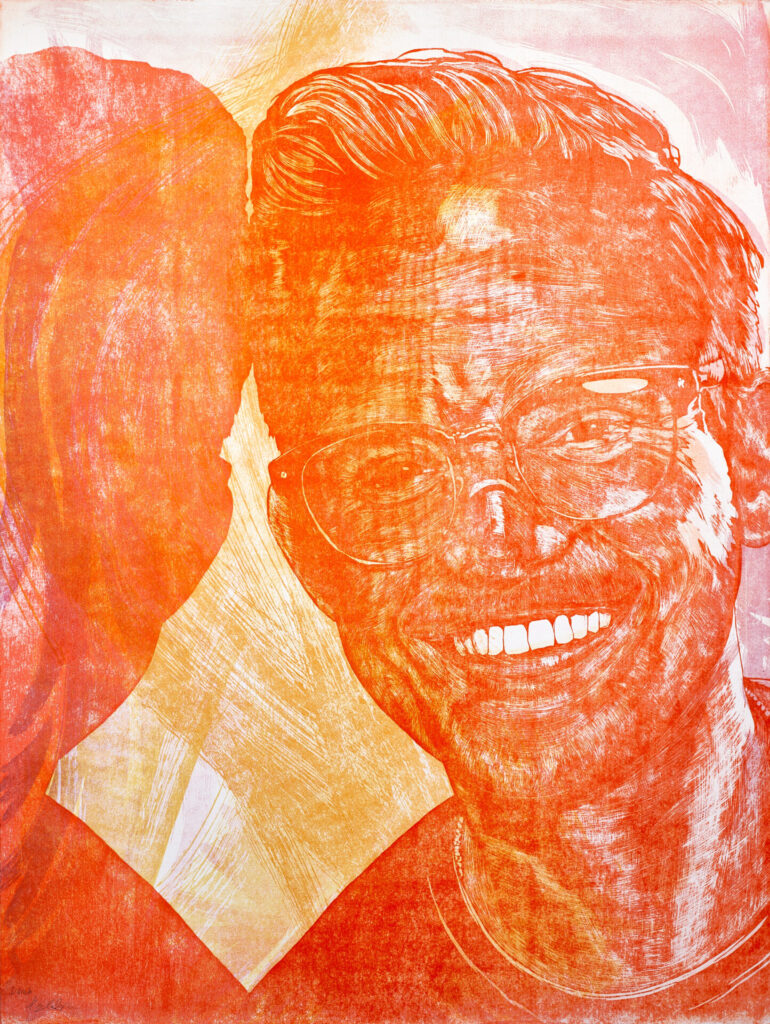 4

Meryl Engler | Derek |NFS
Multi-layered woodcut on mulberry paper mounted onto canvas
"I am a member of the LGBTQIA community and proud Akron resident. I am invested in the Akron community because I love calling this place home and am proud to tell people where I'm from!"- Derek Tholt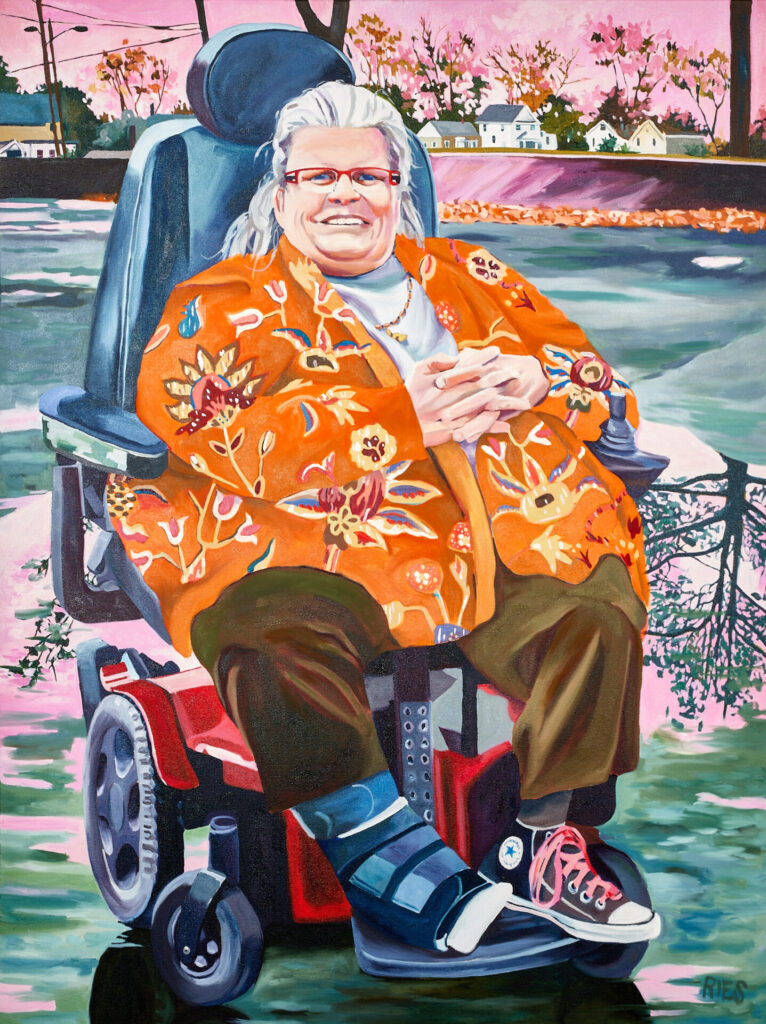 5

 Christine Ries | Queen Sharon |NFS
Oil on canvas, Source photo by Shane Wynn
"I LOVE Akron – a big city / small town – I represent Akron as a wife, mother, community activist, member of city council, disability advocate, cheerleader, historian, and educator." – Sharon Connor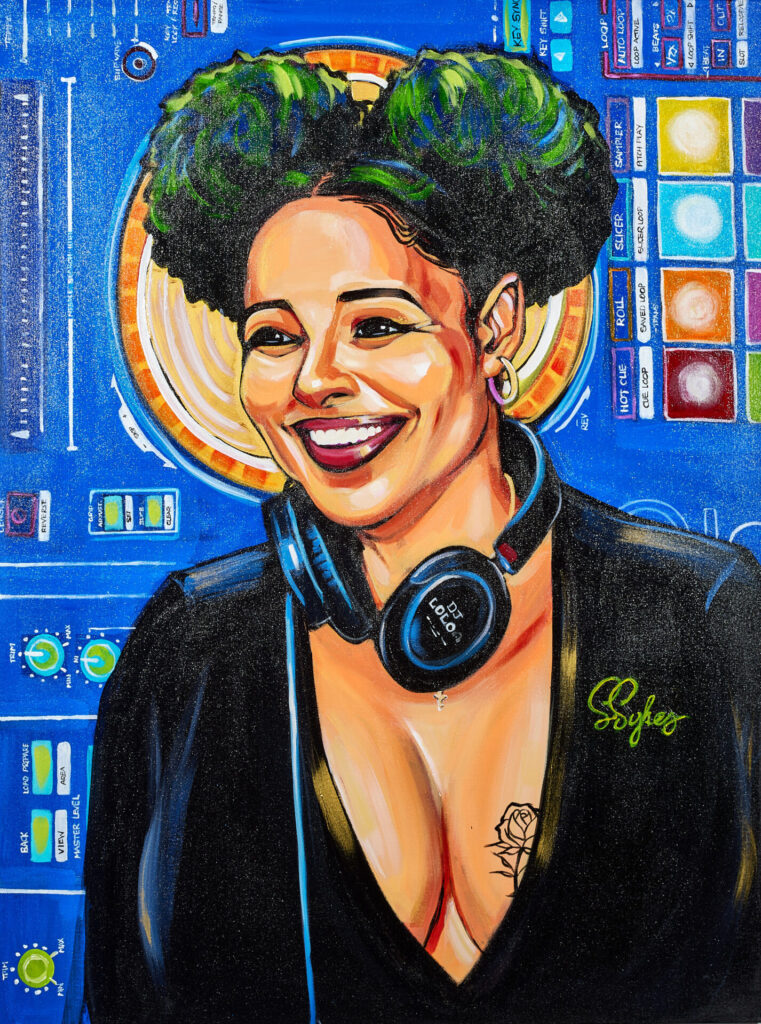 6

Sylvia Sykes | LOLO KNOWS |NFS
Acrylic paint, oil paint and gloss varnish, Source photo by Josh Land
"I am a Puerto Rican Visual Artist, Curator, DJ and Energy and Body work therapist and Esthetician that has lived in the Akron area for the past 6 years. I moved here from Cleveland where I split my time with my career. I have never met another Latin person that lives in this area and I go out and about a lot over the years to know that. I want Akron to see how much it has to offer as far as inclusion. I never lead with my culture, but I want Akron to know it exists with me. I am here and have set up my life here with owning a home to having built a community of friends, dance and art life here. These are all passions I live by and make a living on and Akron welcomed me with open arms when I made the move. I am the first woman and Latin woman to help shape the electronic music scene here in Akron and Cleveland through my radio network. Being one of the first female DJs here to do it on an international scale sheds more light on this area and regions around it. So, here's to the beautiful diversity this city sits on and I am proud to be a part of it and the fabric of this community." – Lolo Mangual-Lenkes