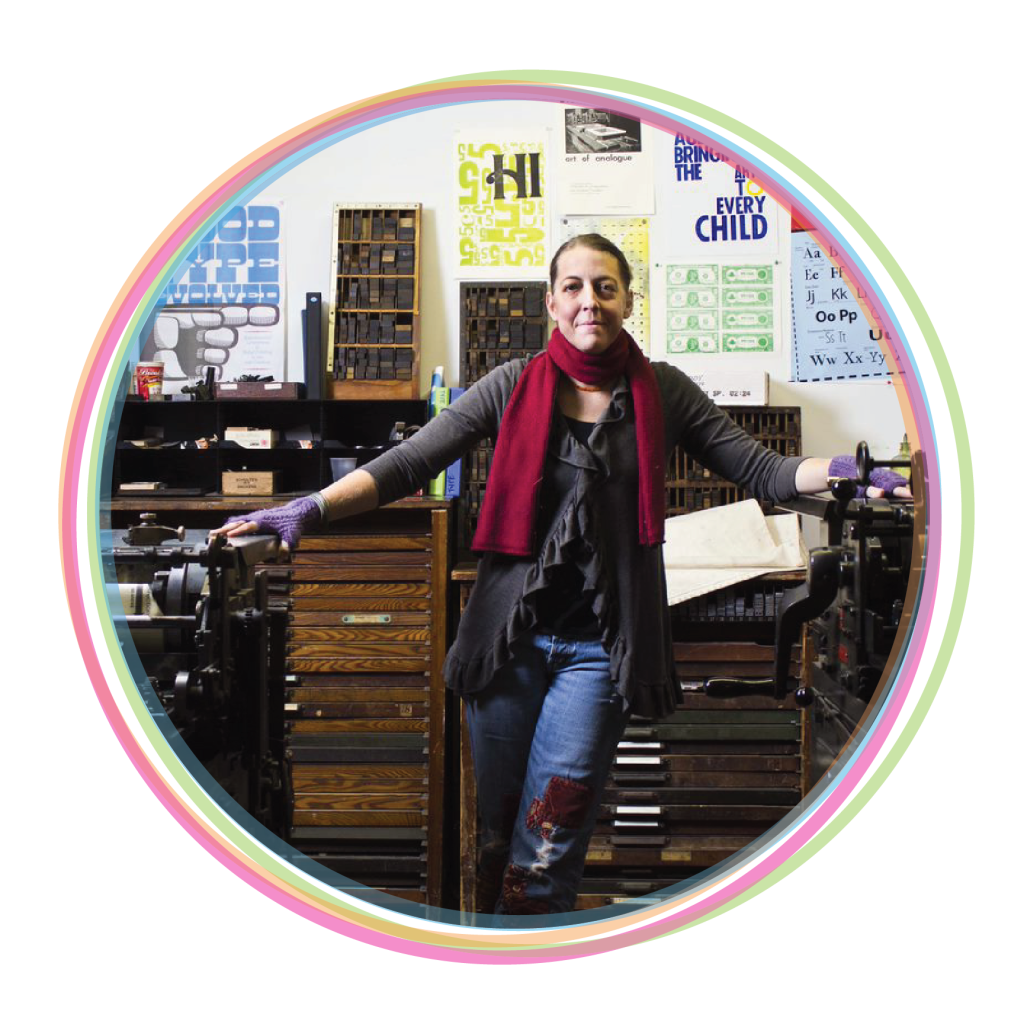 Arts Patron: An individual or organization or business that has sustained and enhanced arts and culture in our community through generous support, leadership and financial resources.
Liz Maugans is a professional artist, arts advocate, and founder of numerous arts organizations that have positively changed Northeast Ohio's arts and culture sector. For over 25 years, Maugans has organized solo and thematic exhibitions featuring regional, national, and internationally renowned artists. Her curatorial specialization is devoted to emerging art, social justice, and local experimental practices that broaden access through social networks and community-building initiatives. An unwavering advocate for artists and the visual arts, Maugans has served as a consultant for numerous community development organizations and art business startups. Her passion for cross-disciplinary partnerships includes collaborations with the North Shore Federation of Labor, The AIDS Taskforce of Greater Cleveland, Community Assessment and Treatment Services, YHAVEN and Greater Cleveland Congregations. She teaches in the arts department at Cleveland State University.
Maugans received her B.F.A. in printmaking from Kent State University and her M.F.A. from Cranbrook Academy of Art in 1992. Her work is included in the Progressive Art Collection, The Cleveland Clinic, the Dalad Collection, BF Goodrich, the Westin Collection, Summa Collection, and The Riffe Center for Government and the Arts. She received an Ohio Arts Council Individual Artist Fellowship in 2000 and a 2005 Artist-in-Communities Grant. Maugans was awarded an Ohio Arts Council's International Residency to Dresden, Germany in 2009. In 2013, she was awarded a $20,000 Creative Workforce Fellowship from Community Partnership for Arts and Culture.
Professionally, Liz Maugans is the Director of YARDS Projects and curator of the Dalad Collection at Worthington Yards in Cleveland's Warehouse District. She is the Chief of Community Engagement and Programming at ART EverySpace. Maugans co-founded and is the Former Executive Director of Zygote Press, a nonprofit printmaking studio also located in Cleveland. She was honored, along with her Zygote co-founder, Bellamy Printz, the Martha Joseph Prize for Distinguished Service from the Cleveland Arts Prize in 2012. She founded the Collective Arts Network, a quarterly journal, online resource, and arts consortium that works to promote Northeast Ohio artists and organizations to a greater audience. She is the founder of the Artist Trust (also known as Cleveland Artist Registry), an open-access collective arts project and artist registry to better connect Cuyahoga County Artists of all disciplines to each other and the greater community. Maugans was instrumental in bringing the Rooms-to-Let Project to Slavic Village and acts as a consultant and participant in the temporary installations that take place in foreclosed houses. Maugans is an active Board Trustee of the Collective Arts Network and Refresh Collective.