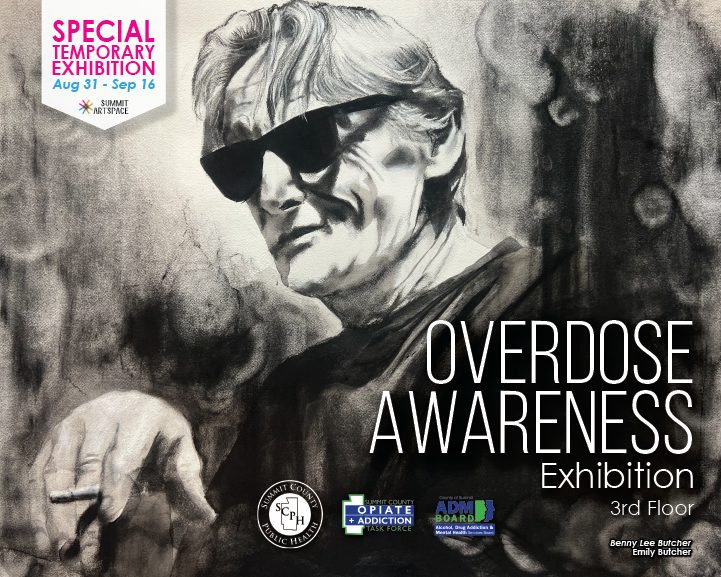 Overdose Awareness Exhibition 
August 31 – September 16, 2023
Summit Artspace, Third Floor
Opening Event:
Thursday, August 31, 4 – 6 p.m.
In honor of Overdose Awareness Day, visual artists in Summit County and contiguous counties created artworks about their personal experience with addiction and overdose – in honor of a loved one who passed from an overdose, or as an ally for those who have struggled through these experiences.
International Overdose Awareness Day is the world's largest annual campaign to:
end overdose
remember without stigma those who have died
acknowledge the grief of the family and friends left behind
The campaign raises awareness of overdose, which is one of the world's worst public health crises, and stimulates action and discussion about evidence-based overdose prevention and drug policy. The campaign also acknowledges the profound grief felt by families and friends whose loved ones have died or suffered permanent injury from a drug overdose. International Overdose Awareness Day spreads the message about the tragedy of drug overdose death and that drug overdose is preventable.
This exhibition is sponsored by Summit County Public Health, The Opiate and Addiction Task Force, and the Summit County ADM Board
Did you know?
Most of the artwork on display at Summit Artspace is for sale.
Click on the artwork images for pricing and more information about each piece. 
If you would like to purchase any art, please visit a staff member or volunteer at the front desk, or email natalie@summitartspace.org.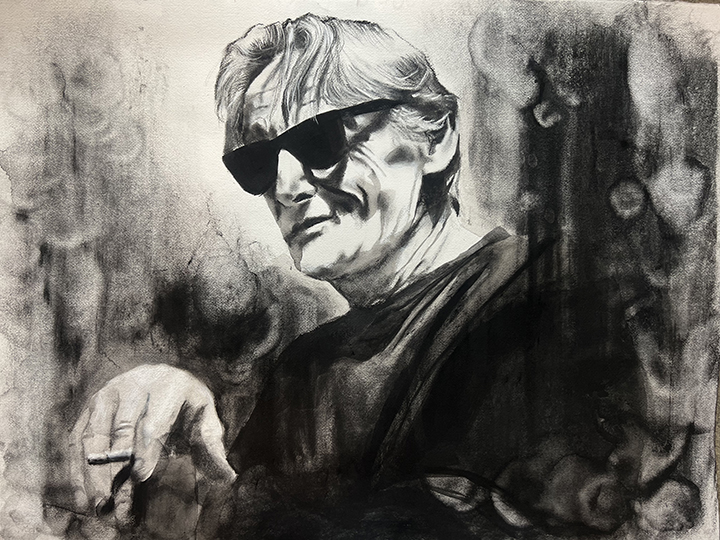 Artist Bio:
I love, love, love to paint. It is a release. It is gratifying. Satisfying. Emotional. Intoxicating. Frustrating and easy in the same instant. It is where I disappear to when I need rest my mind in a safe spot. A comfortable place. Home. I have this friend waiting quietly for me to return when the world gets a little too loud. I am a self-taught painter, learning to paint since I can remember, and plan to continue learning to paint as long as this world will have me.
Emily Butcher | Benny Lee Butcher | NFS
Charcoal
Artist Statement:
My father was a beautiful human. He was everything cool and good and true in this world. He also spent most of his adult life addicted to one drug or another. In his later years, he was addicted to morphine. My brother, Patrick, was the same beautiful spirit. He had undiagnosed mental health issues as a young person, and found drugs to escape in before anyone could help him in the way he needed. On October 12, 2020, after being incarcerated during the height of the pandemic, and finding no relief from his mental health battle while in custody, my brother ended his own life in jail at 31. My dad couldn't make sense of a world without Patrick in it. On January 30, 2023 my dad slumped over on the couch next to his friend watching TV like they always do. But he never woke up. Paramedics were unable to revive him, though they made every attempt to get him to a hospital. None of us really said it, but we knew. We knew he had taken too much that night. He had spent the prior summer making us all come pick out photos we wanted from his house. He had called all of us and let us all know how he loved us in the months prior. Addiction does not stand alone in this world. It doesn't just happen. Every addict has a story and a struggle. Every person incarcerated, should you take the time to talk to, needed intervention in their lives in some capacity that never came to them. My brother didn't die from an overdose. But drugs killed him. A lack of mental health awareness killed him. Had someone been able to reach him as a young person and identify that he needed help with bipolar disorder, maybe he never would have turned to pills. Maybe the pills wouldn't have turned him to meth. Maybe his daughter would still have her dad, and perhaps I would still have mine.
Emily Butcher | Patrick Charles Butcher | NFS
Charcoal
Artist Statement:
Patrick was a kind human. He worked hard. He loved more than the world would let him. He could make me laugh until no sound was coming out. He loved McDonald's hot fudge sundaes and walking in weird places at midnight. He also, unfortunately, suffered from undiagnosed and untreated bipolar disorder for many years before he was able to put a name to it. He found comfort in drugs, able to escape for some amount of time from his discomfort. It eventually was not sustainable with a family and job, and at the height of the pandemic, his life started to unravel. After being incarcerated, isolated, and finding no helpful mental health care in jail, he became hopeless. He ended his own life in jail on October 12, 2020. My brother didn't overdose, though he had on occasion, but drugs killed him. A lack of mental healthcare and awareness killed him. Perhaps if someone had noticed him early on displaying bipolar behaviors, my brother would still be here with me, and with his child, making us laugh.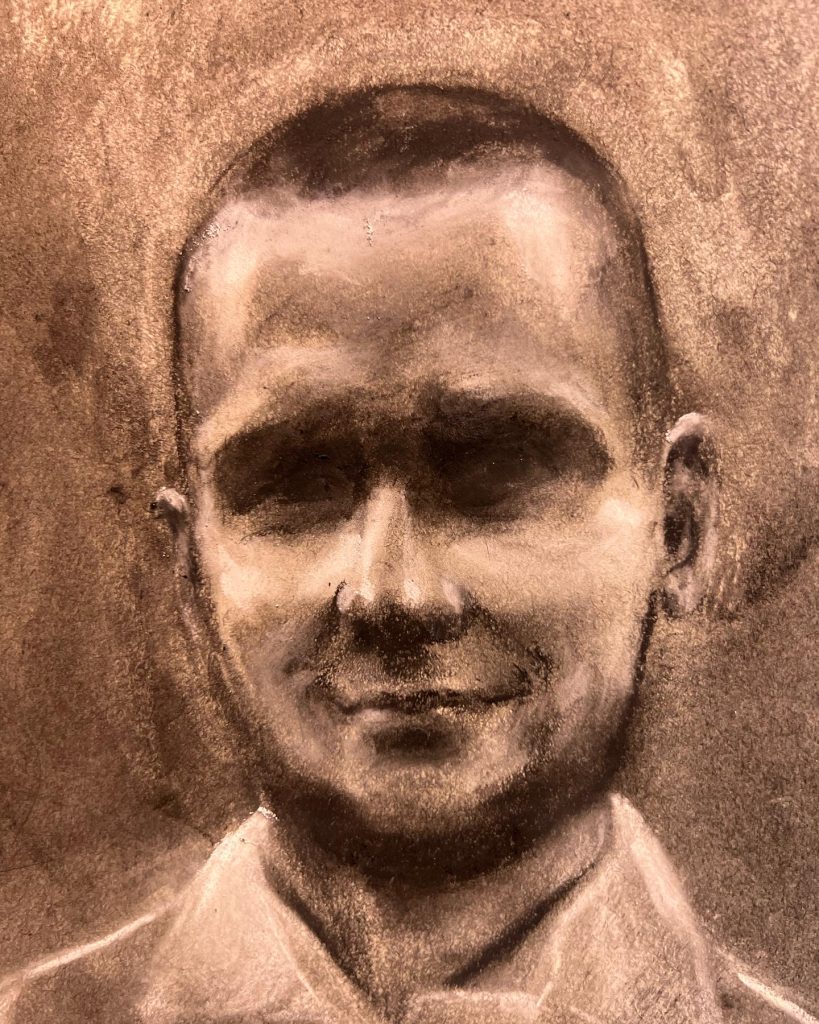 Artist Bio:
I love, love, love to paint. It is a release. It is gratifying. Satisfying. Emotional. Intoxicating. Frustrating and easy in the same instant. It is where I disappear to when I need rest my mind in a safe spot. A comfortable place. Home. I have this friend waiting quietly for me to return when the world gets a little too loud. I am a self-taught painter, learning to paint since I can remember, and plan to continue learning to paint as long as this world will have me.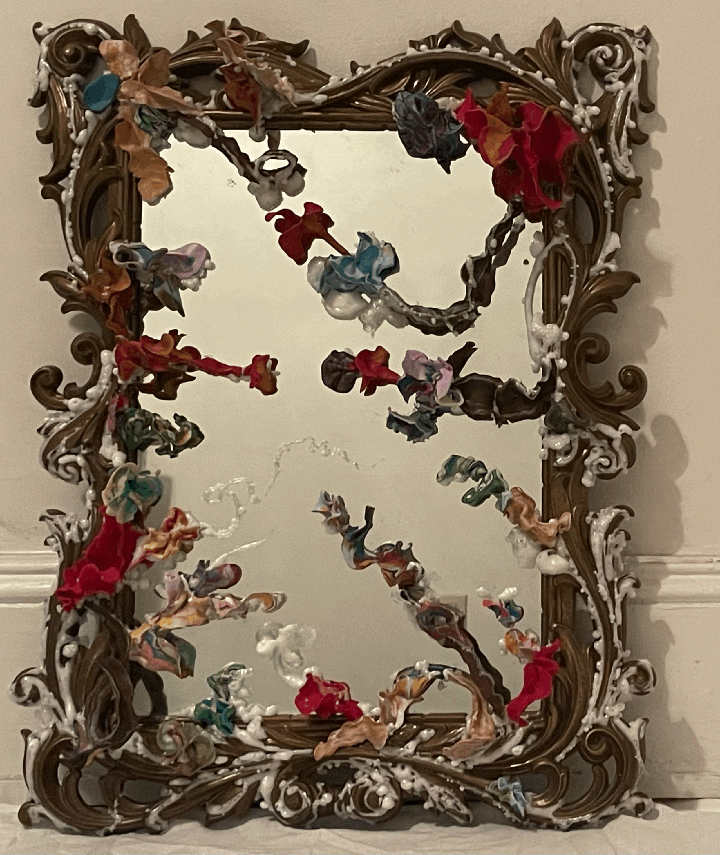 Kathleen Cooke | Self Reflection | $250
Mirror, polymer clay, Gorilla Glue
Artist Statement:
My cousin Cory Cooke didn't survive his last heroin overdose in 2016. His life and death greatly impacted my whole family in a way no one was prepared for and brought upon a level of self-reflection that comes with the trajectory of the world changing unexpectedly. Substance abuse affects not only those who are under the influence but everyone they come in contact with. This forces us who use any substance to confront ourselves with how we are facing reality. The ripple effect lasts long after we leave, and what comes of that impact can go either way. With Cory, he left behind love and connectedness that my family will take with them throughout our lives, framing my perspective in a new way. He inspires growth and pursuit of dreams that he isn't physically here to witness, yet his spirit is always present.
Artist Bio:
Im Kathleen; an artist and scientist.
JoAnn Giordano | Opioid Empire | $300
Collage, mixed media
Artist Statement:
I chose to interpret the theme more globally by targeting the culpability of the Sackler family and their company Purdue Pharma. I felt shock and outrage after reading Patrick Raddell Keefe's book, Empire of Pain, and after seeing the documentary about artist Nan Goldin, a recovered addict and activist who has led protests worldwide against the Sacklers. Also responsible are other drugmakers, distributors, pharmacies, and government regulatory agencies. How many deaths could have been prevented if there had been oversight years ago?
Artist Bio:
JoAnn Giordano is an artist working in textile art and collage who has been exhibiting her artwork for over 40 years. She is also a retired art educator who taught for 30 years in higher education, adult education, and community arts.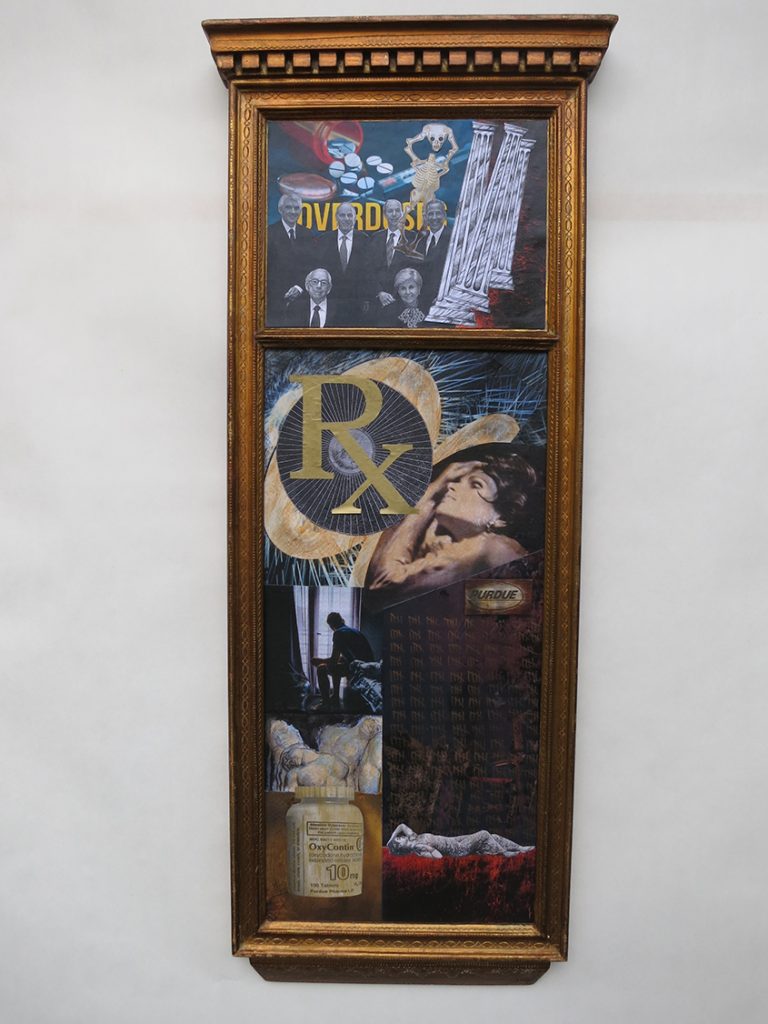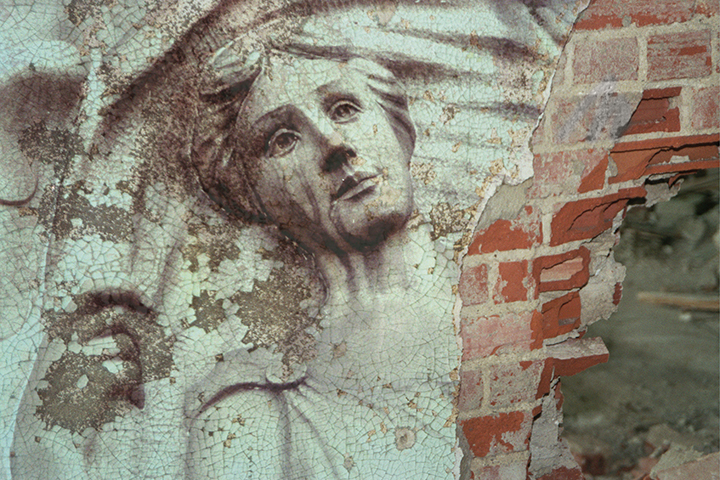 Artist Bio:
I am an artist and mental health therapist. My work includes working with a lot of people who have addiction issues; some of them do not survive. I use my art as a therapeutic tool to keep myself from burning out. My work includes video, photography, drawings, paintings, collages, and digital illustrations.
Mike Hovancsek | Crumbling Angel | $300
Digitally modified photograph
Artist Statement:
I am a mental health therapist. I get to know my clients and I often get to meet their spouses, kids, and parents as well. I know that most people who struggle with addictions have trauma and other underlying mental health challenges and it is an honor to help my clients address these issues. Occasionally, a client dies of an overdose in the course of treatment and I have to think of their loved ones as they deal with the loss. I have to deal with the loss too, because I really cherish my clients. I manage the stress by making art before and after work every day.
Patty Jaconetta Groening | "Les pleurs de l'endeuille se rendant,…" after Frederic Bruly Bouabre, v. II | $250
Pencil drawing on paper
Artist Statement:
The title's translation is "the tears of the mourner surrendering,…" excerpted from a longer title of a work by the late West African artist Frederic Bruly Bouabre that inspired a drawing I created in response to the passing of my father at age 90 in 2022. I recreated and adapted another version after the sudden and tragic passing of a former teenage student from an overdose within days of my last class with him. I shared versions of my work with his sibling and friends who were fellow students. His death and my attempts as an educator to help my students process and cope inspired a collection of teaching examples under the umbrella, Art for Loss and Healing.
Artist Bio:
I am a teaching artist who began creating art again as an adult to inform my teaching practice following a non-profit career serving artists and art students and a classroom stint as an educator of children and teens with disabilities, delays, and disorders and their typically developing peers. I returned to art-making for my own self-expression and survival in greater urgency during the COVID-19 pandemic. I model and practice using art as a tool to express and escape ourselves.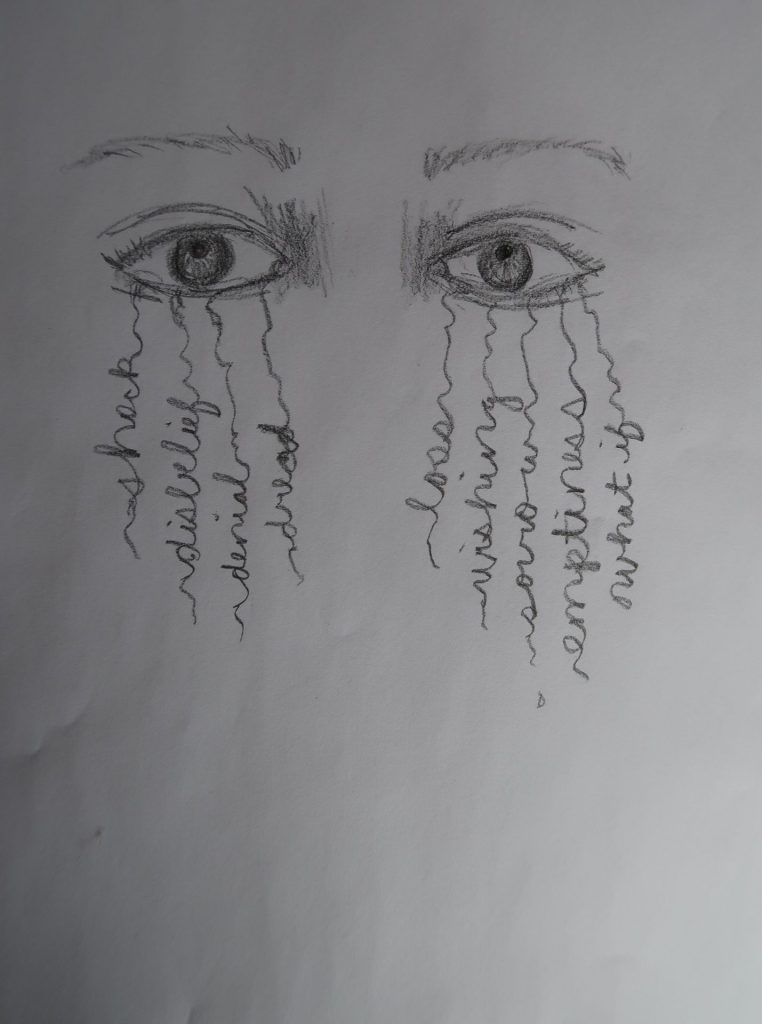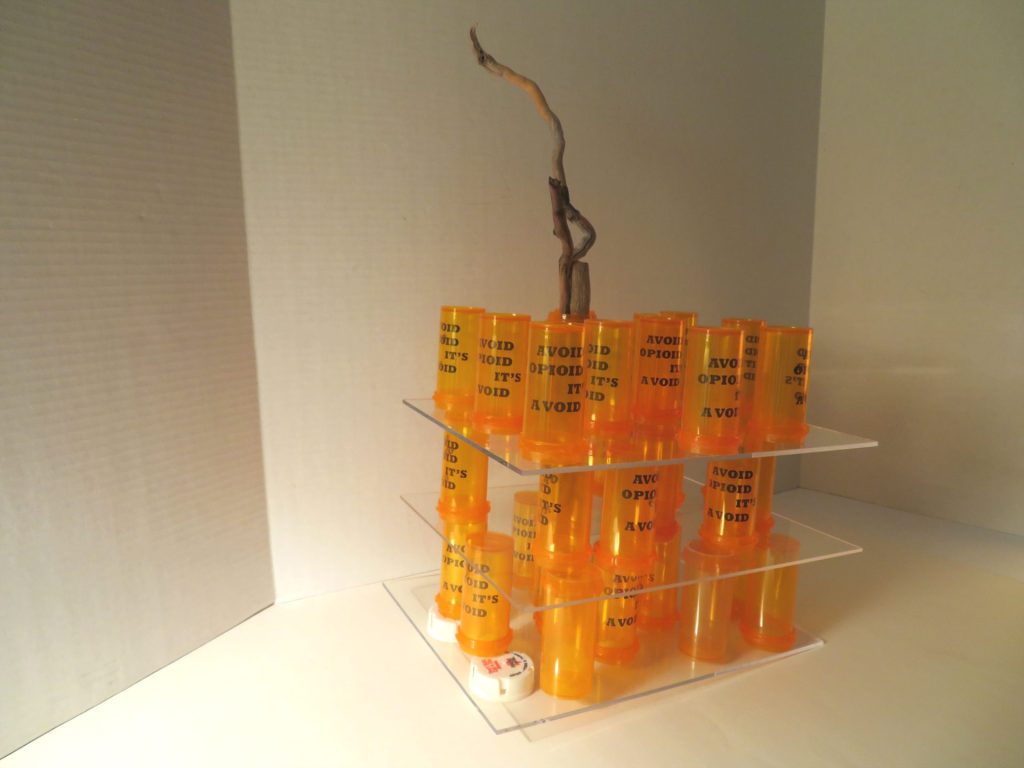 Janet Mikolajczyk | avoidopioid | $625
Prescription bottles, plastic. wood
Artist Statement:
Avoidopioid was made with prescription bottles. The content of the piece was realized by the use of found objects, the prescription bottles. The wood, the natural world, is in contrast to the plastic world, to indicate a way out.
Linda Murphy | Broken Rose | $1,000
Photo print on glass
Artist Statement:
I consider myself a contemporary artist. My art making evolves as my life moves forward in different directions. I challenge myself on a daily basis to take an artistic photo and post on social media Instagram to represent that particular day. This photo captures the essence of an individual who does not choose to use drugs, yet who has fallen into that life due to a multitude of circumstances that is out of their control and reflects that individual who is trying to hold their life together.
Artist Bio:
I am a graduate of Kent State University with a MA in Art Education and an MFA in Printmaking. My art making continues to evolve and is reflective of my changing life. Currently I am exploring photography in the space of social media. Seeing beauty in the world around me, I capture that image daily and post/share on social media to enlighten others.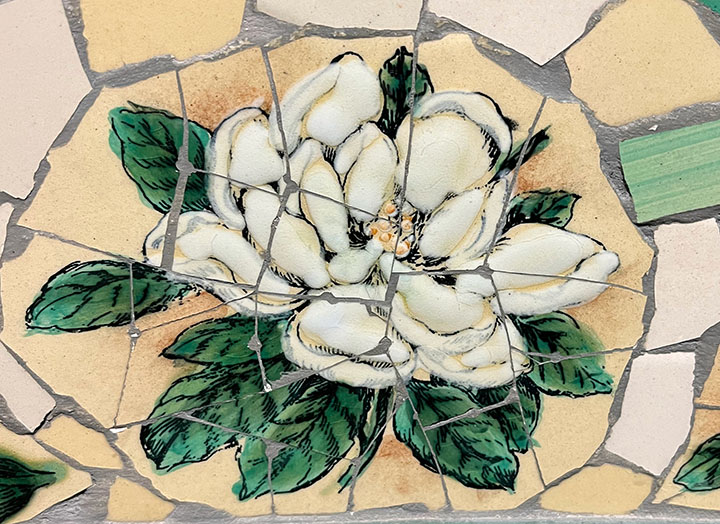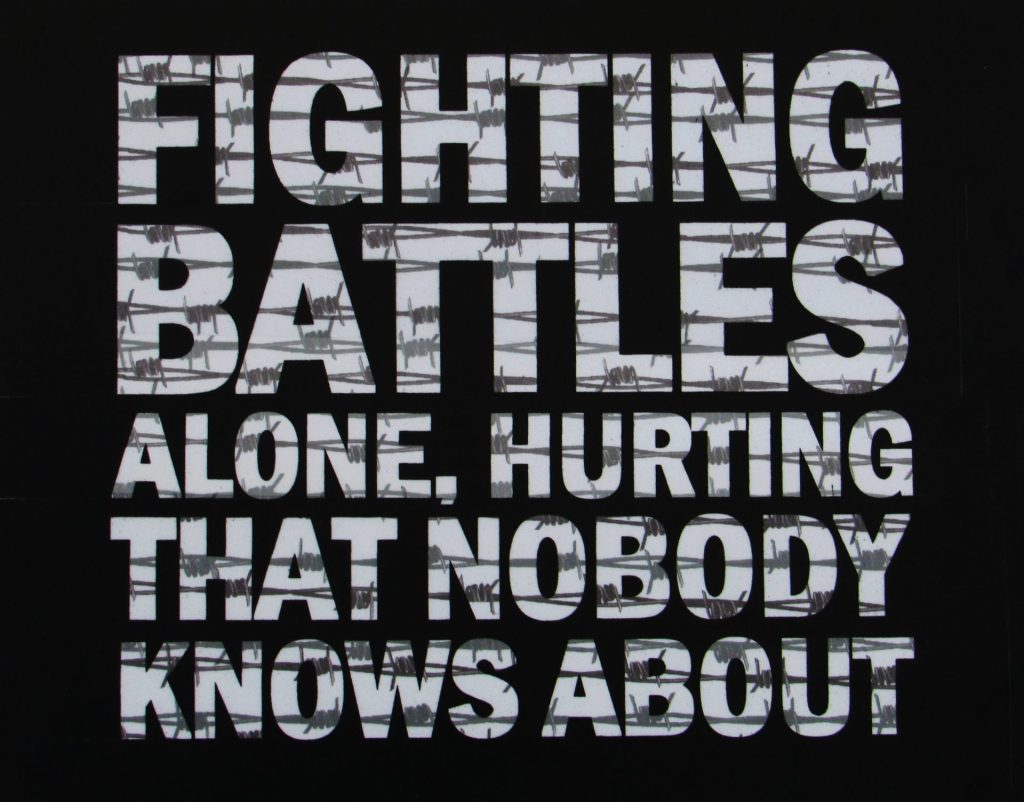 Diane Pribojan | Fighting Battles | $150
Archival digital print
Artist Statement:
I produced my piece to help raise awareness about drug abuse. Awareness involves the knowledge that we are not alone and that there is help. My piece represents the isolation that might be felt during the tribulation in a person's life. It is a preventative message to help end overdose. Drug overdose is preventable and action must be taken to prevent it.
Artist Bio:
Diane was born in a small village in the Former Yugoslavia, called Zvjerinac. She moved to the United States with her family when she was three years old. She has lived in the Cleveland/Akron area ever since. Although, she loved making art as a child, it was not until high school that she became passionate about making art. She went on to receive her BFA at the Cleveland Institute of Art and her MFA in painting at Kent State University. Diane continues to pursue her passion.
Elizabeth Prindle | As It Began, So It Ends | NFS
3-D mixed media assemblage
Artist Statement:
I am fascinated with how the Cuyahoga River turns back on itself, circling Akron, the birthplace of Alcoholics Anonymous. I began my drinking career in Kent, and returned back to end it 40 years later.
Artist Bio:
Originally possessing a degree in design and art history from Kent State University, I have come back to making art as a means of expressing my journey through widowhood, recovery, and resolving trauma from working in healthcare. My art explores human experiences such as birth and death, sexual and domestic abuse, the loss of a child, addiction, and mental illness.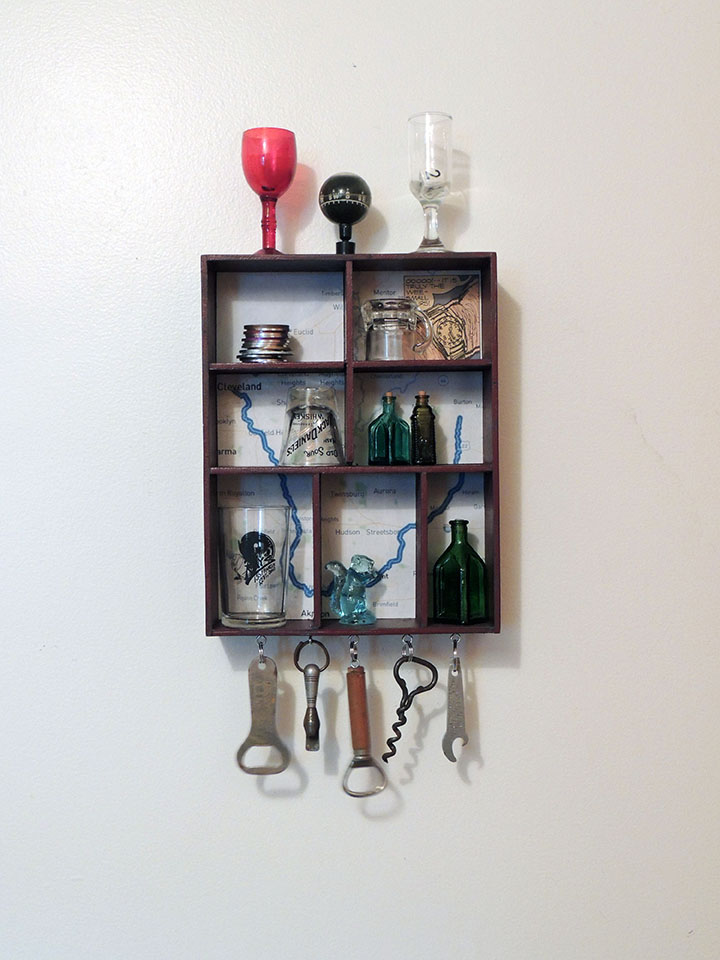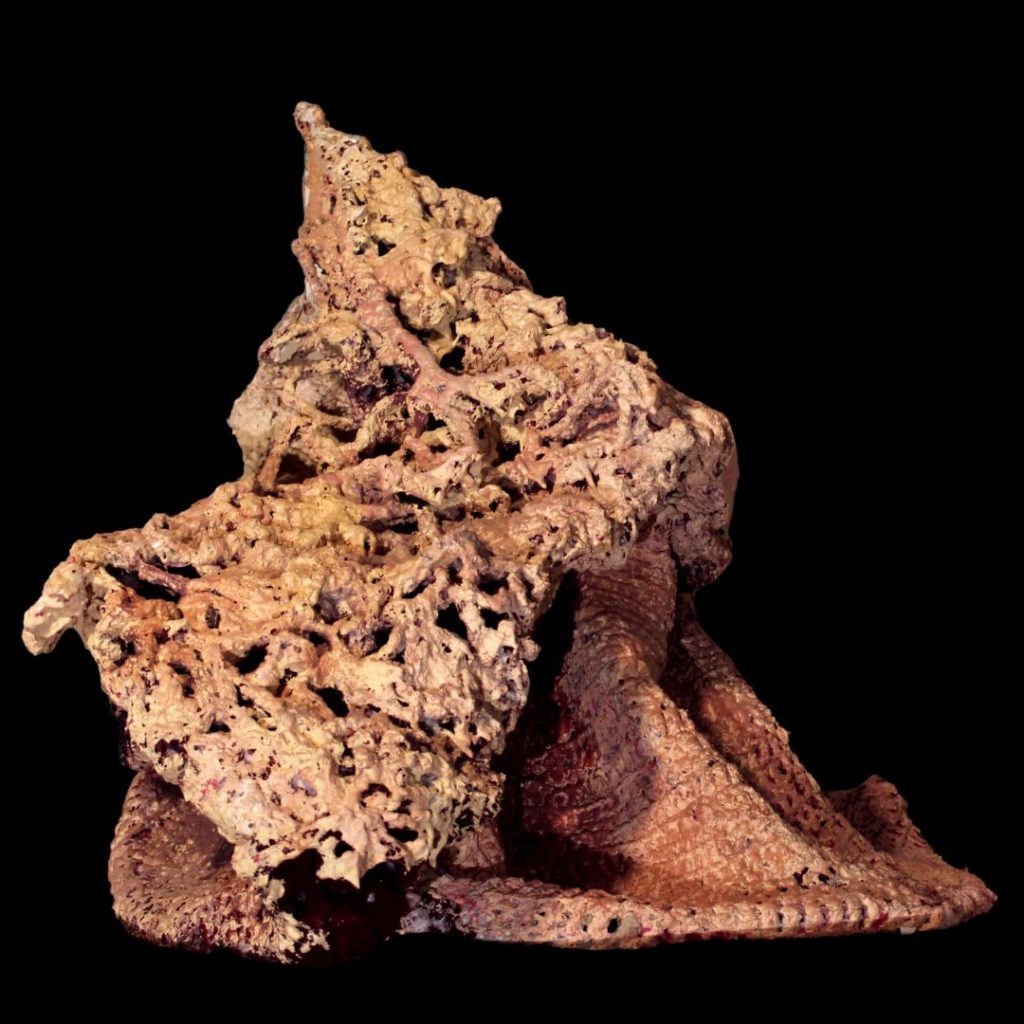 Artist Bio:
Moo is a Queer, Jewish, artist working out of Cleveland, Ohio. Moo has shown work nationally and internationally. Moo works in multimedia and installation rooted in identity. They host an artist interview series, Moo With The View. Recently hosted a group show at Summit Artspace in January. Moo runs several Queer events in the Hildebrandt Artist Collective which they are a member of, and currently showing YES WE ARE, a showcase of 73 works from 48 Queer artists residing in Northeast Ohio.
Micah Sattin (Moo) | Carcass | NFS
Plaster, acrylic paint, glue, resin, fabric stiffener, acrylic yarn
Artist Statement:
December 6th, 2018: I was in Baltimore, sitting in a makeshift office that really was just a supply closet. I was waiting to go my next appointment to another rich person's home to install their exciting, new, life-changing artwork. My coworker comes to the back and joyfully tells me I have visitors. I confusingly walk out to the main showroom and see my partner at the time and best friend. One of them was holding a phone and the energy around them was off — their faces were what I thought could have been described as lifeless. I was handed the phone. I'm not entirely sure what happened next but I was outside of my job, crouched on the sidewalk, rocking back and forth, and all I could hear was my dad saying, "Emily is dead."
"Emily is dead."
"Emily is dead."
"Emily is dead."
"Emily is dead."
"Emily is dead."
"Emily is dead."
"Emily is dead."
"Emily is dead."
"Emily is dead."
"Emily is dead."
"Emily is dead."
"Emily is dead."
"Emily is dead."
"Emily is dead."
I run inside screaming "MY FUCKING SISTER IS DEAD AND I WAS SUPPOSED TO SEE HER THIS WEEKEND. MY FUCKING SISTER. /MY/ FUCKING SISTER."
I couldn't handle making art – it was far too intense and alone. I needed to feed my creative energy somehow so I crocheted. I thought the repetitive process of creating plush knots to form a strong piece of fabric would be symbolic and therapeutic. It wasn't. It was painful. I wanted to make a blanket, but I couldn't stay focused so I started to create a structure to put all my pain into. But it was too soft. I was struggling. I needed to grow a thick skin and tried many, many ways to do so. Resin, fabric stiffener, paint, glues, all things that I had used in the past with success. Nothing was working. It wasn't strong enough – I wasn't strong enough.
I turned to plaster, coating the entire shape, creating a stone-hard exterior. This is what I needed. I needed to be strong, firm, shielded. I thought I was protecting myself and healing.
But really, I was completely destroyed. I turned into a lifeless carcass, hard on the outside – empty, hollow, and soft on the inside.
Stevie Lee Tanner | Gravity V | NFS
Mixed media artist book
Artist Statement:
This piece was created in 2016 in response to losing my Uncle Dale to an accidental fentanyl overdose. It contains illegible writings of soul-crushing grief, along with fragments of personally significant places. It is messy and dark, but if you look closely, you can see light shining through the pages of this complicated story. Perhaps you can find glimmers of beauty. My hope is to share this work about grief and longing, and to also honor a beautiful soul.
Artist Bio:
Stevie Lee Tanner was born in Oberlin, Ohio. She received her BFA in both Printmaking and Painting+Drawing from The University of Akron in 2014, and her MFA in Printmaking from the University of Delaware in 2016. She has taught undergraduate Printmaking since 2015, and has served as the Printmaking Studio Manager at The Cleveland Institute of Art since 2018. Tanner has exhibited nationally and abroad, and currently resides in Cleveland with her spouse and 3 cats.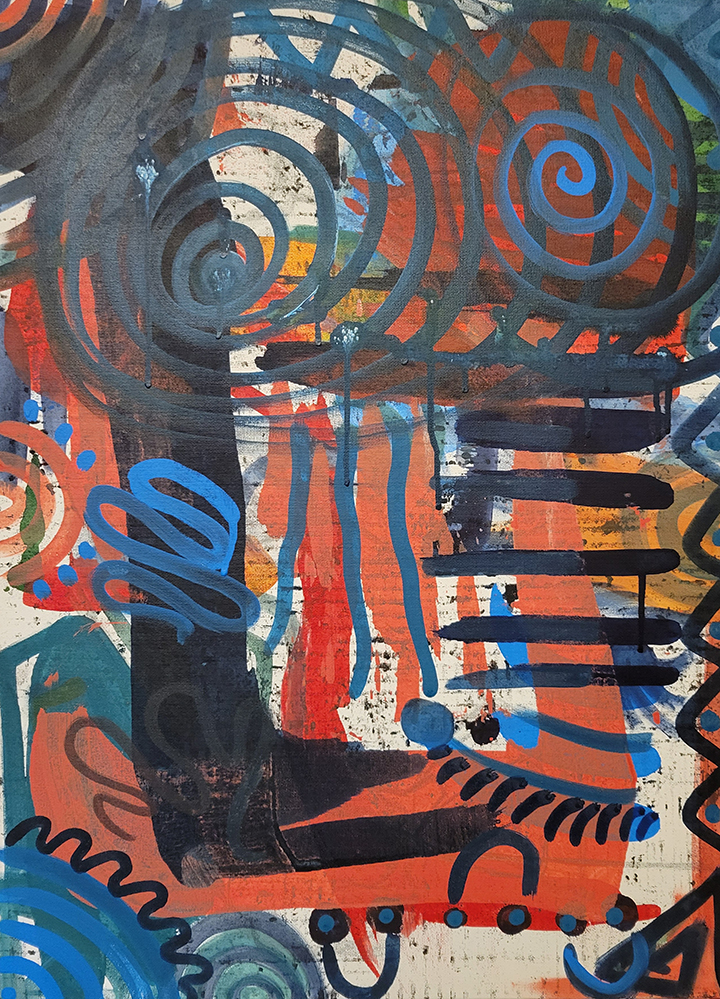 Artist Bio:

J. Travis is a self-taught visual artist in Akron, OH. J. Travis primarily works as a visual artist working with acrylic paint. Her artistic style is non-objective and non-representational. Her use of colors, zentangle linework and patterns dance nicely together on the canvas. Using color palettes with bright hues that are attractive to the eyes and provokes emotion in the best metrical manner.
J Travis | Colorful Madness | $300
Acrylic Inks
Artist Statement:

J. Travis believes her responsibilities as an artist are to provide resources and opportunities for admirers of the arts to own inimitable works of art. She believes that everyone should have the right to become an art collector no matter their financial situation. She is an advocate for women's empowerment and equality/equity for Black creatives.
J.'s favorite subjects to paint are Black women and space-themed paintings. Black women because she had been inspired by Black women all her life, specifically her mother, Gloria, and her Aunt Daisy. She feels that Black women are underappreciated and deserve better representation and admiration. Her fascination with galaxies and outer space stimulates her daydreaming nature and curiousity of the unknown.
She created Colorful Madness after the overdose death of her brother-in-law in February 2023, using her artistic ability to leave her hurt and sadness on the canvas. The loss was devastating to her family and left her four nieces and nephews without a father.