Summit Artspace is searching for artists to enroll in its Artist Entrepreneurship Institute (AEI) this May!
AEI is a multi-week course for artists designed to help them grow their businesses.
Artists of all disciplines are invited to engage in seven sessions covering fourteen topics that encourage peer-to-peer learning under the direction of experts in business, marketing, finance, and sales.
AEI will be held Tuesdays and Wednesdays from 6-9 p.m. between May 3-May 24 at Summit Artspace. Registration for AEI is now closed.
The standard registration fee is $150. Scholarships of $50 and $100 are available for the artist to self-select at registration. Space is limited to 30 participants.
For more details, see our FAQ section below.
Questions about AEI may be directed to Director of Artist Resources Natalie Grieshammer Patrick at natalie@summitartspace.org.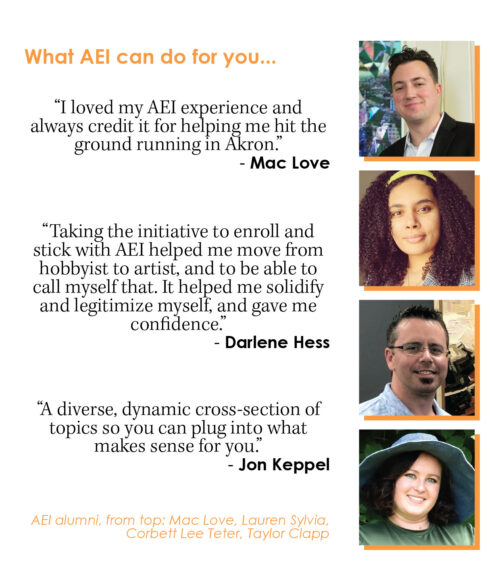 Frequently Asked Questions
Program takeaways
Participating artists will:
Create a draft business and marketing plan
Receive virtual and print resources, including copies of the PowerPoints and worksheets, covered topics.
Gain a deep understanding of broad business concepts to implement in your artistic practice
Meet and work with key arts and business professionals in the community
Network with and gain feedback from other artists in the cohort
Receive future invites to AEI cohort networking events organized on an annual basis
Session format
Each 3-hour session will be comprised of two 60-minute courses and one 30-minute supplemental course or peer panel.
There will be two 15-minute breaks per session, with light refreshments available.
Courses will be led by either a renowned artist, arts and nonprofit professional, or business expert. These instructor-led courses will be a mix of interactive and presentation-based.
Panels will host 2 – 3 local artists who will share their personal experiences about arts and business topics. These panels will be led by Summit Artspace staff, but participants will have opportunities to ask their own questions.
"Graduation day" will include a 2-hour session for participants to share their business plans for feedback from their peers, which a business expert leads.
Topics covered
Mission and vision exploration
Goal setting
Business plan development
Brand development
Marketing and communications
Product mix
Product pricing and sales
Legal issues
Civic engagement
Audience research
Raising capital
Operational finances
Insurance
SOAR (Strengths, Opportunities, Aspirations, Results) Analysis