Kirk Mangus grew up in an artistic household in Sharon, Pennsylvania. Both his mother and father were high school art teachers, providing Mangus with a creative environment to explore as a child. He experimented with paper, pencils, watercolors, and clay, and read his parents' art history books in his spare time. Mangus' parents also exposed him to museums, art shows, and studios at an early age.  
When Mangus went to college in the early 1970s, his career path wasn't a tough choice. Art was his life—it was what his parents encouraged, and it was something he was truly interested in. Mangus attended the Rhode Island School of Design where he ended up studying ceramics. There he met his future wife, Eva Kwong, who is also a ceramic artist. During these years and beyond Mangus worked in pen and ink, then painting, wood carving, and pottery. He's even made jewelry and large Styrofoam sculptures; really, Mangus worked in whatever materials he had access to.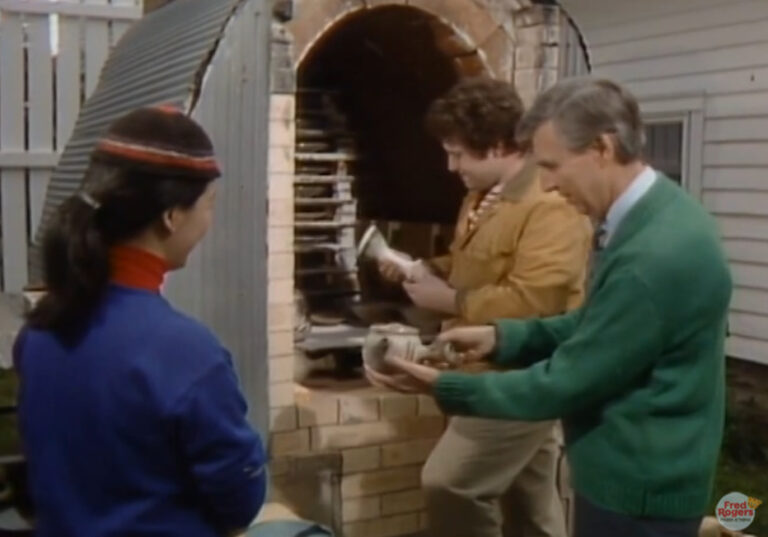 As he grew into his career as an artist, Mangus drew inspiration from a variety of influences. His childhood experiences provided a strong base of inspiration. Young Mangus collected components of his style from reading: comics, illustrated children's books, and art history books about Greek and Roman art. College aged-Mangus benefitted from the great art history department at the Rhode Island School of Design who taught him about a broad spectrum of artwork and cultures. Other specific art movements and artists that interested Kirk included Art Brut, Jean Dubuffet, Pablo Picasso, color field painters, abstract expressionists, the German expressionists, Mayan artwork, Japanese prints, as well as traditional Chinese, Korean, and Japanese ink paintings.  
Another major factor that influenced Mangus' art practice was his taking an Earth, Air, Fire, Water workshop in Grass Valley, California. From that point on he became interested in wood firing, which became a large part of his oeuvre. Kwong recounts that when she joined him during one of these workshops, they learned to dig local clay and how to process those natural materials to make clay and glazes. They also learned how to build and use kilns themselves, a skill which they took back to Pennsylvania to build their own wood kiln. For the rest of their lives together, Mangus and Kwong would stop and dig up natural clay wherever they travelled.  
From these multicultural and multimedium factors, Mangus formed his own art style, which departed from traditional forms of aestheticism and beauty. His style evolved from pencil drawings, to paintings, to pottery, and then to painting on his pottery. In the paintings on his pots, Mangus drew from imagery on Greek and Mayan pottery. His relationship with clay, profoundly influenced by the Earth, Air, Fire, Water Workshop, was integral to his work. He felt that each clay had its own characteristics and that, much like wine, it reflects the geological history of an area. The different colors, grain size, firing capabilities, etc. contribute to the diversity of clay, and therefore, to the diversity of his pottery.  
Mangus' work grew in acclaim in 1982 when he was honored with an individual artist fellowship from the National Endowment for the Arts. A couple of years later, in the fall of 1985, Mangus started teaching at Kent State University. There, he worked amongst a community of loving students until his death in 2013. During his period at Kent, Mangus worked on a variety of large-scale projects in the community. In 1995, he designed a poster and painted a wall for a show called "Radical Ink" at Spaces in Cleveland. This led to another project in which Mangus and several other artists painted a mural on the wall at the Southbend Regional Art Museum in Indiana. In 2005, Mangus was invited to be in a "Master Drawings" exhibition at the Akron Art Museum. The show ended up being presented at Summit Artspace, which also asked him to paint a mural inside their space.  
All of this build-up of larger projects led Summit Artspace to commission Mangus again to paint an even larger mural, this time on the 225-foot wall in their parking lot. Several grants contributed funds to the mural, including the lead grant, "Challenge America: Reaching Every Community" from the National Endowment for the Arts. Mangus had total freedom to decide the subject matter and title for the mural. As Kwong describes it, Mangus thought of the wall like a Chinese ink painting scroll, one which evolved from one side to the other. He knew he wanted to include an aspect of cultural background and identity in the piece. The final influence for his massive mural project was that he was asked to work with local students. As a result, the final idea arose: Kings and Queens, portraits of people, mostly people Mangus knew, which represented how we are rulers of our own destinies.  
Mangus created the mural portraits in a unique way. He loved observing and drawing people, but not from photographs. Mangus worked from memory, which resulted in vibrant characterizations of his friends, family, students, and famous people. While painting the mural, Mangus was conscious that it needed to be graphic enough to be comprehensible from the road, yet detailed enough to still be interesting from close up. Akron students helped in his painting process, mixing colors and filling in larger areas. At the end of the project, Mangus invited the students and community members he had painted to come and sign the wall, to claim their individuality and heritage. 
As a finished product, Mangus' Kings and Queens mural documents the community in Akron that is formed by of all the cultures Akronites bring to the area. It honors the past, present, and future of cultural heritage. The subjects' clothing links them to the culture of their family's past, while each individual's face represents the present, and the future is a hope that the portrait subjects will bring their children and grandchildren to see it. Kings and Queens ultimately preserves the cultural heritage of the Akron community. 
Seventeen years later, in 2022, Mangus' mural had faded. Kwong, who knew Mangus and his style better than anyone, headed a restoration effort to brighten and revitalize her late husband's work. She hopes that people will look upon the refinished mural and connect to it for years to come. In connection with Kwong's restoration project, Summit Artspace commissioned six local artists to paint a community member for a small exhibition. Titled Faces of Akron, the exhibition built upon Mangus' idea of representing community members and cultural heritage by including a whole new group of people in the project. After the mural refinishing and the related Faces of Akron exhibit, Kwong hopes to take the Faces of Akron project into the future with more murals on city walls or other shows in the Akron area, all to honor Mangus' work and vision.  
An Interview with Eva Kwong