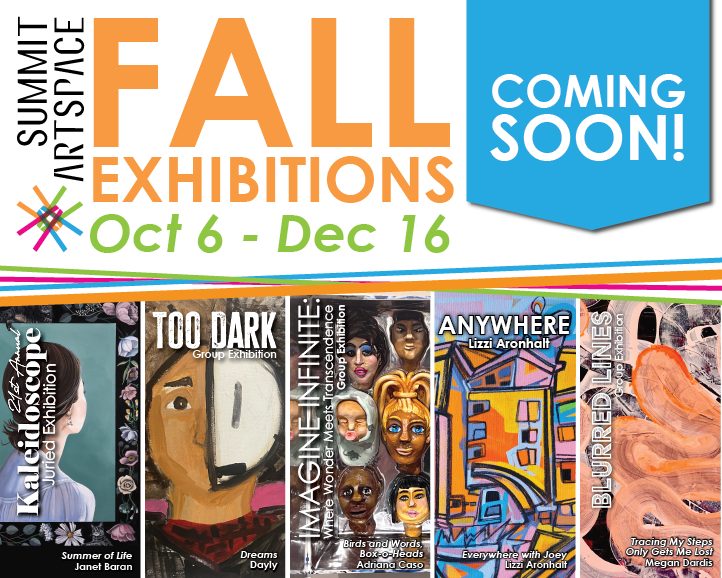 Betty and Howard Taylor Main Gallery

21

st

 Annual Kaleidoscope |

 Juried Exhibition
Kaleidoscope is an annual holiday show presented by the Alliance for the Visual Arts (AVA). This show is open to all members of AVA organizations: Akron Society of Artists, Artists of Rubber City, Cuyahoga Valley Art Center, and Women's Art League of Akron. This year's exhibition is juried by Anderson Turner, Director of Exhibitions & Collections at Kent State University School of Art. Winner of the People's Choice Award will receive a hand-made kaleidoscope by a local artist and their artwork will be featured on next year's exhibition promotions.
Click here to view!

Too Dark

| Group Exhibition
The purpose of this exhibition is to advocate for mental health by exposing the parts society often doesn't want to see, which have been considered "too dark." Artworks are by participants of Community Support Services' art therapy program, all of whom experience mental illness. Community Support Services is committed to providing hope and healthcare for those of Summit County struggling with persistent mental illnesses, along with building a community where mental health and physical health are treated equally. 
Click here to view!

Imagine Infinite: Where Wonder Meets Transcendence

 | Group Exhibition 
Featuring artists from Door 2 Art Studio in Hudson— Adriana Caso, Amanda Du Plooy, Darlene Hess, Daniel Hughes, Sara Hughes, Ben McRae, Michele Moncrief, Meaghan Reed, and Mike Seng—this interactive exhibition will engage all the senses to awaken the possibilities of living in a world of transcendence through beauty and wonder. The outcome of such an awakening can be the restoration of communication and relationships, more empathy for each other, and overall awareness.
Click here to view!

Blurred Lines

 | Group Exhibition 
Since Abstract Expressionism became popular in the mid-20th century, men have largely received recognition for the movement even though women have always, and continue to, play an important part in shaping the style. Blurred Lines surveys a grouping of intergenerational women artists in Northeast Ohio who create abstract paintings in their own unique styles. Participating artists include Megan Dardis, Care Hanson, Dara Harper, Mary Ann Flynn–Fouse, and Diana Rice.
Click here to view!

Anywhere | 

Lizzi Aronhalt
This solo exhibition is a collection of documented memories and memory processes through architectural and cityscape-based paintings. The series serves as a personal reflection and response to the concept of time, along with the common human processes of forgetting and remembering, and the way those human experiences connect to the places in our lives. Lizzi Aronhalt has been a resident of Summit Artspace for over five years, located in studio 308.
Bradley Hart
|
Nick Lee
| 
Shannon Welsh
 | 
Janean Ray
Wall-to-Wall is a program that showcases the work of Summit Artspace resident artists throughout the building's hallways.
Click here to view!