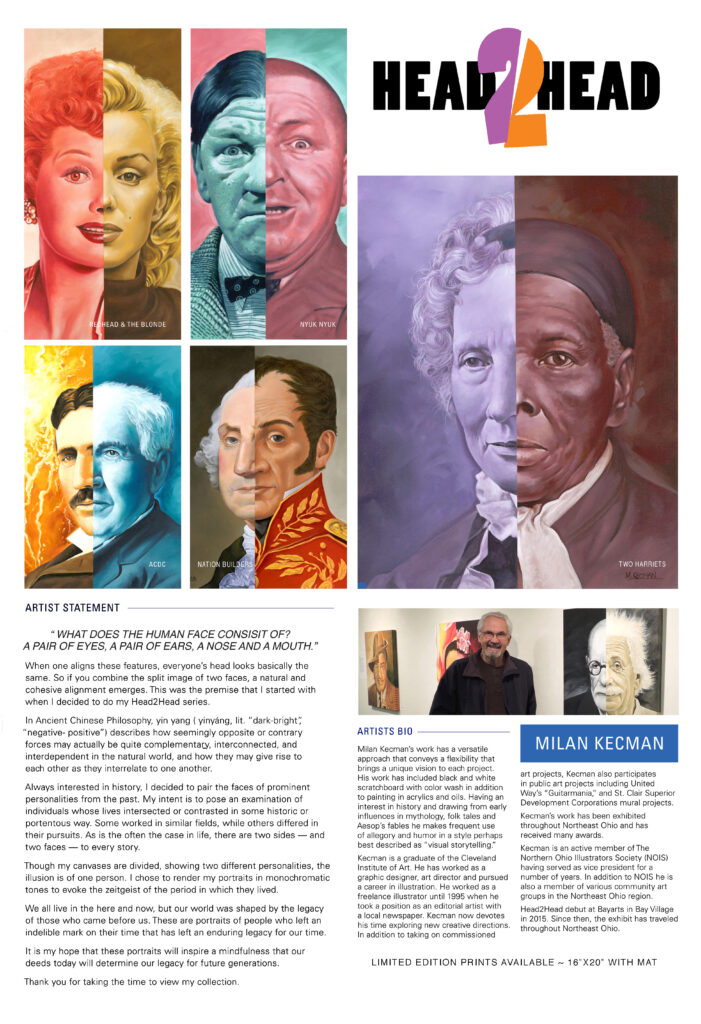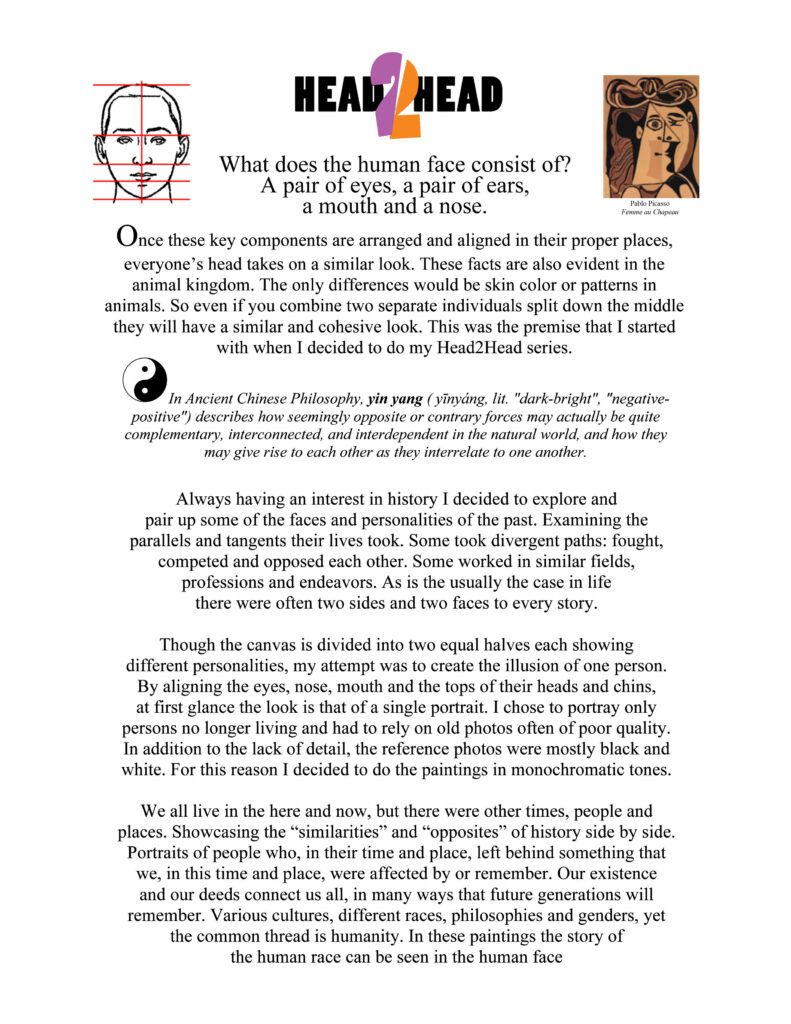 If you are interested in purchasing any artwork from this exhibition please contact Heather Meeker.
---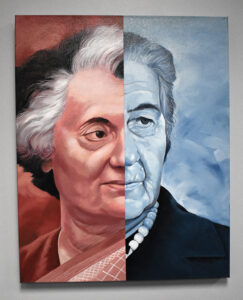 PRIME MINISTERS
Indira Gandhi / Golda Meir
First women Prime Ministers of India and Israel
Oil 24"X30" $1,750
---
---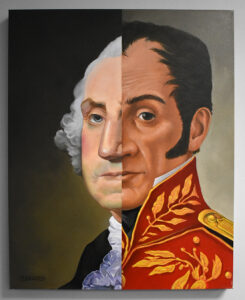 NATION BUILDERS
George Washington / Simon Bolivar
Simon Bolivar was called the Geo. Washington of South America for defeating the Spanish and allowing several countries to gain independence. Washington helped defeat the British to gain American independence
Oil 24"X30" $1,750
---
---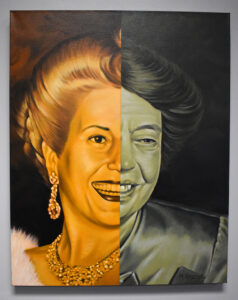 FIRST LADIES
Evita Peron / Eleanor Roosevelt
Both were married to presidents
Both strong women each having their own agendas
Oil 24"X30" $1,750
---
---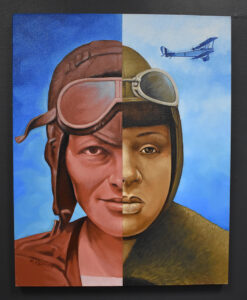 AVIATRIXES
Amelia Earhart / Bessie Coleman
Aviation pioneers. Earhart was the first woman to fly solo across the Atlantic.
Coleman was the first African-American to earn an international pilots license, dazzling crowds with her stunts at air shows
Oil 24"X30" $1,750
---
---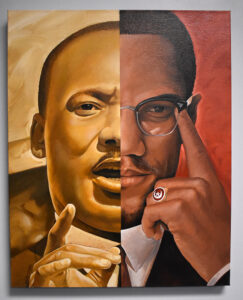 MARTIN AND MALCOLM
Martin Luther King / Malcolm X
Both fought for African-American civil and human rights. Malcolm X, a prominent figure in the Nation of Islam, Articulated concepts of race pride and Black Nationalism
Oil 24"X30" $1,750
---
---
TWO HARRIETS
Harriet Beecher Stowe / Harriett Tubman
Stowe was the author of "Uncle Tom's Cabin" Tubman helped organize the Underground Railroad
Oil 24"X30" $1,750
---
---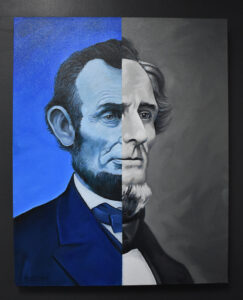 BLUE GREY #1
Abraham Lincoln / Jefferson Davis
Civil War Union President and President of the Confederate South
Oil 24"X30" $1,750

---
---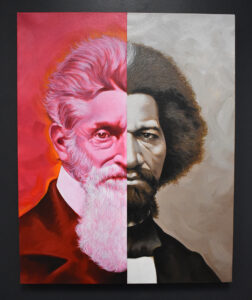 ABOLITIONISTS
John Brown / Frederick Douglass
Brown advocated militant antislavery views. Led Harper's Ferry raid
Douglass was a social reformer, orator, writer and statesman.
Oil 24"X30" $1,750
---
---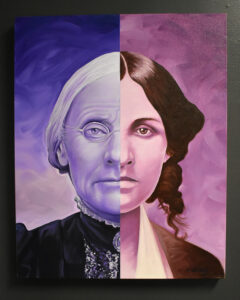 WOMEN'S SUFFRAGE
Susan B. Anthony / Louisa May Alcott
Anthony paved the way for the passage of the 19th Amendment that gave women the right to vote. Alcott wrote Little Women, worked as a nurse, fought against slavery, and registered women to vote.
Oil 24"X30" $1,750
---
---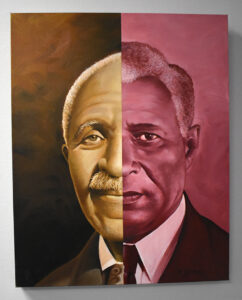 INVENTIVE ACHIEVERS
George Washington Carver / Garrett Morgan
Carver an African-American scientist, botanist and inventor. Known for his many uses of the peanut, and agricultural research. Morgan was a highly esteemed inventor who created a gas mask and a traffic signal. One of the great inventors in Black history.
Oil 24"X30" $1,750
---
---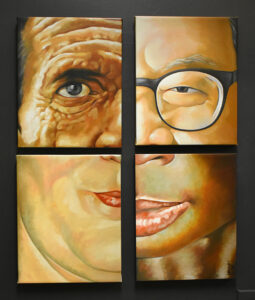 SKINDEEP
Four Races
Hispanic / Asian / White / Black
The painting that started the Head2Head series 4 Canvas Prints (hung as one) 12"X15" each $750 set
(Originals done in Oil 24"X30" available)
---
---
See the Summit Artspace exhibit schedule for show details.
Have questions? Here is our Frequently Asked Questions page.
Please Note: All exhibits are subject to becoming virtual at our website, summitartspace.org, due to the global pandemic.