Please Note: All exhibits are subject to being virtual at summitartspace.org due to the global pandemic.
Betty and Howard Taylor Main Gallery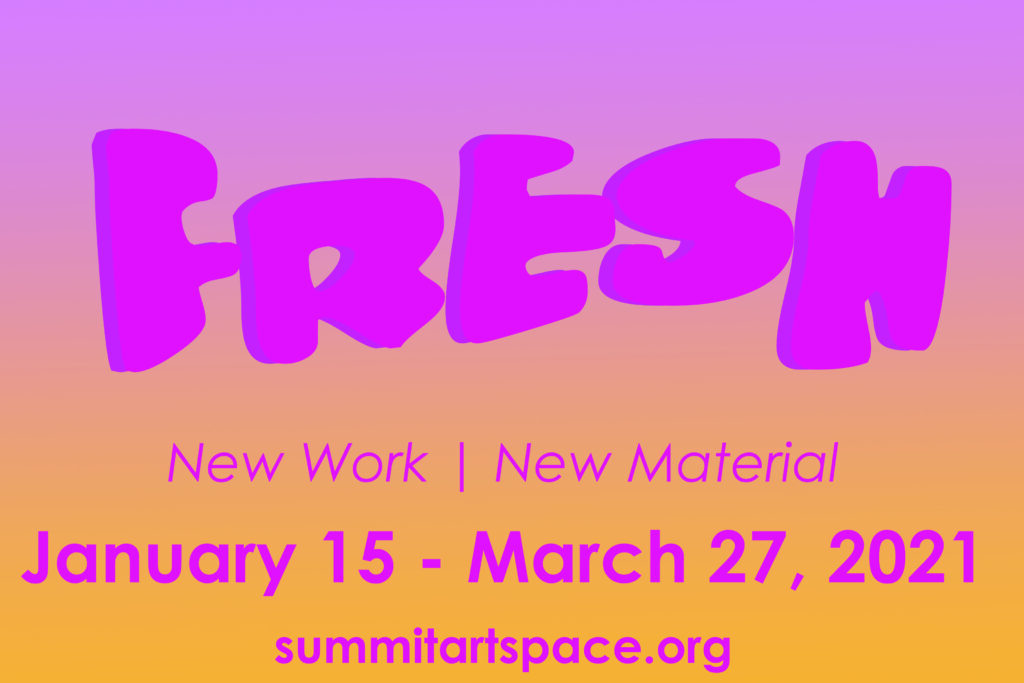 FRESH 2021
January 15 – March 27, 2021
Take your art in new directions using a FRESH perspective in the 17th annual juried FRESH exhibition. Art accepted as part of this annual exhibition must be innovative and challenging to both the viewer and the artist. Accepted artists will have pushed the boundaries of what art can be– stylistically, conceptually, or technically– and will challenge the viewer to see the world through a new lens. Accepted work will feature novel material, contemporary and unique conceptual thinking and demonstrate a high level of skill in the artist's visual language. Work must have been created since January 1, 2020 and not previously displayed in Summit Artspace.
Art is not what you see, but what you make others see. – Edgar Degas
Juror: Kelly Dietrick, owner, artist and operator of Troppus Projects in Kent, Ohio. Click here for bio.
Click here to view virtually!
Second Floor Gallery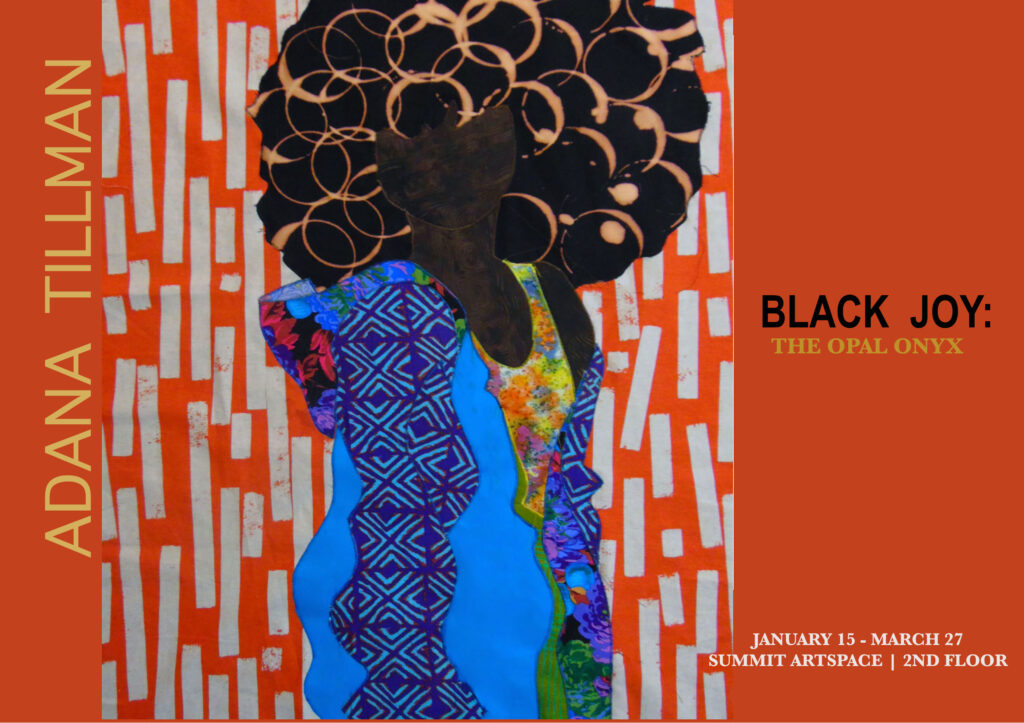 Adana Tillman, Black Joy: The Opal Onyx
January 15 – March 27, 2021

In Black Joy, you will be presented with images of self-expression, identity and thought. With this body of work, I wanted to explore the vast range of self-expression, creativity, and joy of individuals of the African Diaspora. I took this time exploring patterns and hand dying techniques that would increase the textural composition of the work. There are collaged fabrics from all aspects of my travels from the attic collection of mother, to the local mom n' pop shop and the open-air markets of Tanzania. The individuals depicted in my work boast the individuality of the subjects and explores their search of identity. Aspects such as the hair, body language, and clothing are all chosen exclusively to the personality. Unique details such as hand embroidery and beading can be found throughout the body of work. Uninterrupted time spent at the Hambidge Residency in Georgia led to the develop of this work, with solitude and artist comrade, time spent away from the everyday rustics led to the actualization of my perspective.
Adana Tillman b.1985
Adana Tillman born in Akron, Ohio now based in Atlanta, GA as an artist working in fiber/textiles. She first began at an early age helping her mother to create quilts and tackle other creative projects. Her training began with magnet arts programs throughout high school into college. She examines figurative portraiture within the urban landscape, focusing on individuals throughout the African Diaspora incorporating various textiles and hand embroidery.
After being awarded the 2019 Garden Fellowship with TILA studios, she has exhibited most recently with PRIZM in Miami for Art Basel in 2019. Most recent accomplishments include a residency with Hambidge Creative Center in August 2020, The Sprite Give Back Grant recipient and GANMWA grant recipient. In the future, she plans to focus on becoming multidisciplinary, incorporating installations and large scale works into her practice.
Click here to view virtually!
Three G Gallery
TACTILE, New Directions in Textile
Lizzie Essi, Nyki Fetterman, Megan Young
January 15 – March 27, 2021
Tactile: New Directions in Textile features work inspired by the utilization of textile processes in the individual art practices of three Northeast Ohio artists. Lizzie Essi, Nyki Fetterman, and Megan Young employ techniques such as weaving, stitching, tufting, and punch-needle, while divulging from traditional textile media by including items like food packaging, discarded technology, works on paper, party favors, and glitter. Each artist in this show explores their relationship with material culture in a unique way. Essi and Fetterman both touch on ideas of consumerism; Essi does this through her use of discarded items and Fetterman, through her depictions of food. Young playfully uses non-traditional media such as dish-sponges and soda containers in her work to explore the aesthetic properties of familiar, everyday objects found in domestic spaces. In the foreword of Vitamin T: Threads and Textiles in Contemporary Art, Jenelle Porter writes, "As boundaries between art and craft have blurred, artists have increasingly embraced these materials and methods." While each artist investigates different textile processes, each process explored in Tactile: New Directions in Textile,  is repetitive and haptic in nature. Essi, Fetterman, and Young have their roots in media traditionally associated with fine art disciplines, but each artist has been drawn to creating fiber-driven work because of its tactile properties.
Click here to view virtually!
Welcome Gallery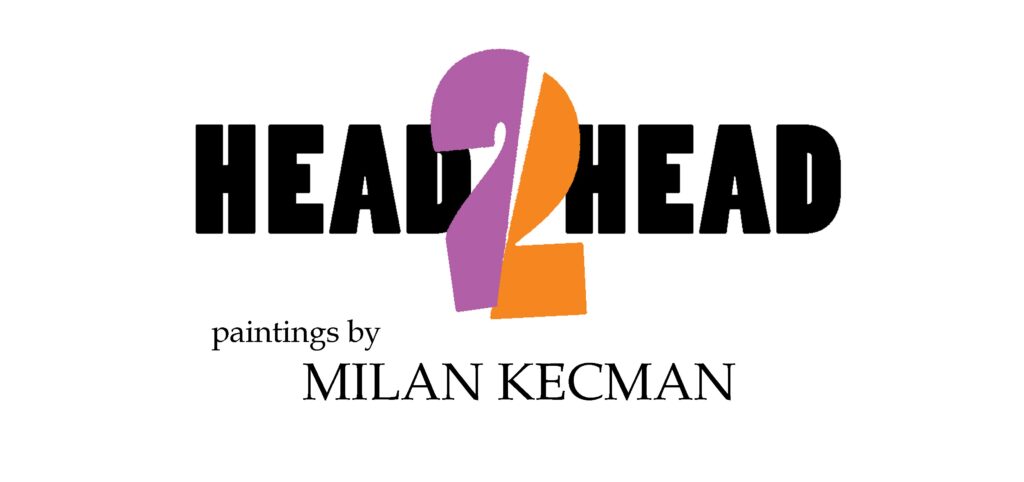 Head2Head, Milan Kecman Solo Exhibition
January 15, 2021 – March 27, 2021
Always having an interest in history, I decided to explore some of the faces and personalities of the past and the parallels of their lives. Their lives often touched, interacted, conflicted, or opposed each other as they took divergent or similar paths. Some worked together, in similar professions or endeavors while others competed or opposed each other. In many cases they were two sides of the same story which was ours and theirs. Though the canvas is divided into two equal halves each showing different personalities, my attempt was to create the illusion of one head.
We all live in the here and now, but there were other times and other places (and people). Showing the "alikes" and "opposites" side by side, two heads joined as one because in their time and place they left something that we in this time and place were affected by or remember. Our existence, our deeds connect us all, and who knows in how many ways. Different cultures, different races, philosophies and genders, yet there is a common thread ~ humanity. Or, as I see it, through these paintings the human race, the human face.
Click here to view virtually!
Transitions Gallery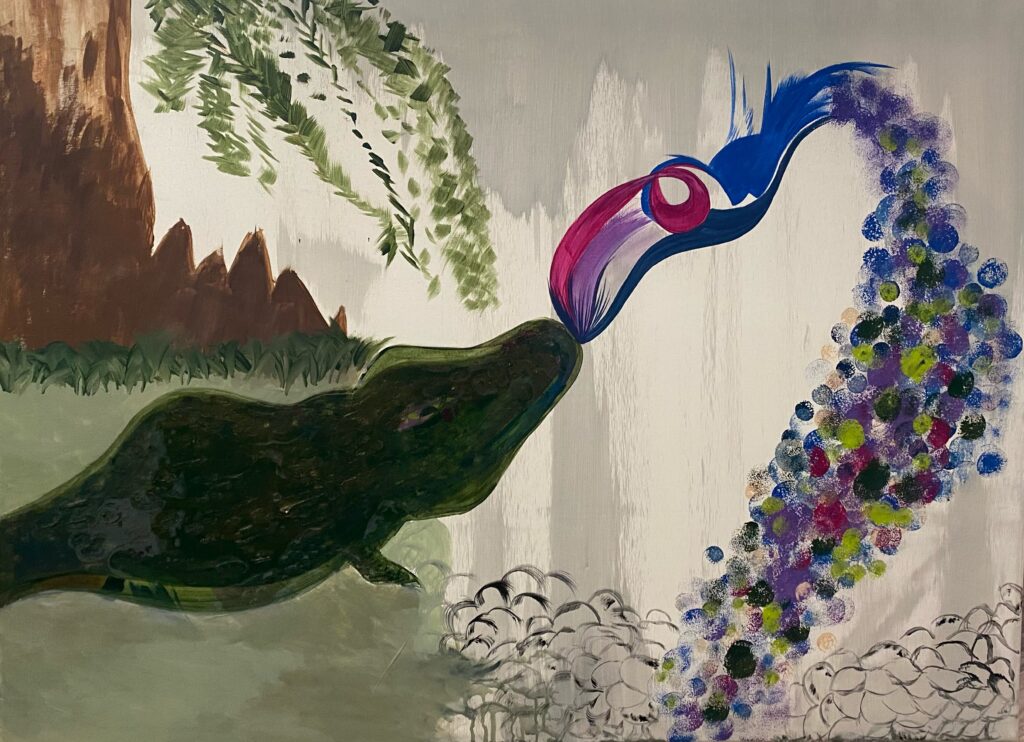 Amber Junius, Where the Wild Things Are: NOLA Through the Eyes of the Artist
January 15 – February 21, 2021
"Wild at heart" captures the life and culture of those living and visiting New Orleans. "Down by the Bayou" depicts another side of nature and how things would be if we came together no matter our differences and exercise love. "Juke Joint" is two pieces and it captures the love of music, and dance. The woman also has Mardi Gras beads which ties in to Burbon Street and it's parades. Lastly, New Orleans is known for voodoo and witchcraft so I felt it necessary to include what some may look at as demonic but others as a way of life.The culture was different, the people were free and living life. Everyone seemed to be happy regardless their social/economic status, and for a little while race was not an issue. The people were Wild at heart…. free!
Click here for more information.
Click here to view virtually!