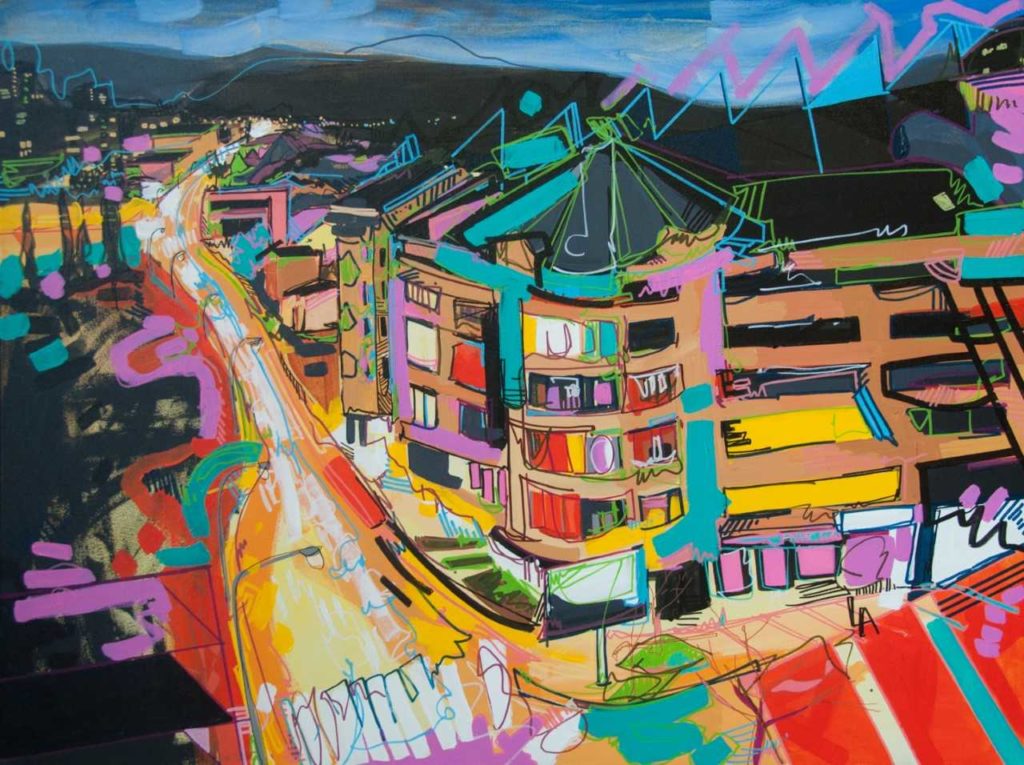 NEIGHBORHOODS I KNOW
By Lizzi Aronhalt
July 13 – August 18, 2018
Transition Gallery
Summit Artspace on East Market
140 E. Market St., Akron
Free and open to the public.
Akron native and painter Lizzi Aronhalt has found a niche in her vibrant and colorful cityscape paintings which infuses her current show at Summit Artspace on East Market, Neighborhoods I Know by Lizzi Aronhalt.
Ranging in subject matter from ice cream stands to taco trucks to full on city skylines, her work has a  lively and almost musical quality.  Lizzi Aronhalt's paintings quickly communicate her love for lines and colors and an appreciation of the architectonic qualities that are found in the urban landscape. Abstract and full of details, Aronhalt's works always communicate a sense of joy and liveliness.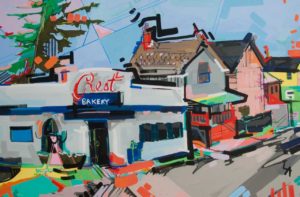 Dates for Neighborhoods I Know by Lizzi Aronhalt
Neighborhoods I Know by Lizzi Aronhalt runs through Aug. 18. The gallery is open Thursdays and Fridays, noon to 7 p.m.; and Saturdays, noon to 5 p.m. Additional hours are on 3rd THURSDAY,  Aug. 16, 4-7 p.m.; and Aug. 4 for Artwalk, 5-9 p.m. All free and open to the public.
Lizzi Aronhalt was born and raised in Akron, Ohio and had an affinity for art from a young age and through her time at Akron Firestone High school. As a student of 2-D media and arts education at Miami University, her love for painting and drawing grew. After college she spent time in Montenegro, and it was through her time in Europe that she developed her appreciation for buildings and all things structured.
Upon her return to Akron in 2015, Aronhalt slowly jumped into the art scene of her hometown, seeking to capture the buildings of Akron with the same joy that she did those in Eastern Europe. She is an active artist in Akron and works to collaborate and grow arts through teaching and creating. She has a studio at Summit Artspace on East Market Street.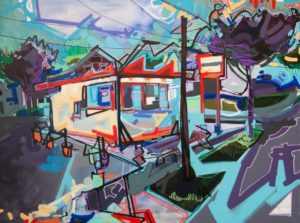 Aronhalt's works have earned her recognition at a variety of juried shows in the region, including multiple honorable mentions and best of show for her work "Lost" at the Evolving Landscapes show at Summit Artspace in 2017. She also serves on the board of the Artists of Rubber City Organization.
ARTIST STATEMENT
As an artist I seek to understand and make sense of the world around me through drawing and painting.  Painting for me is a method to better understand the ordinary aspects of life and to celebrate them. Much of my recent work is an exploration of the places I inhabit and specifically the buildings I find myself surrounded by. It is exploration and celebration. The paintings do not capture the iconic, but the typical with a fresh view.  The scenes and places I have chosen are at times in prominent cities, but they capture the everyday with content such as the skyline of a small city in Eastern Europe, ice cream stands in Akron and corner stores in Cincinnati.
Through the work in this series, The Neighborhoods I Know,  I hope to share an appreciation of people and places through the use of vibrant color and lively lines. I hope through my work the viewer is pushed to consider and grow their appreciation of the everyday.  I also hope the viewer can understand how much I valued the time I spent in these places through the works I have created.
Summit Artspace is a non-profit community art center organization that provides studio, exhibit and programming spaces in Summit County and the surrounding area for local artists and arts organizations; and is a center for art education open to all residents. Contact Summit Artspace at 330-376-8480. On the Web at www.summitartspace.org.  Find us on Facebook, on Twitter @AkronAreaArts, Instagram and Snapchat.
Parking behind the building
Handicap accessible
See the exhibit calendar for specific dates.
Plan your visit by clicking here.
Have questions? Here is our Frequently Asked Questions page.