Don't miss your second chance to take this workshop!
Saturdays 10am-12pm/ November 2, 9, 16 and 23
Class Fee: $90 non-member, $85 member of Artists of Rubber City
Instructor: Karen Koch
Overview:
Each session will begin with a demo or discussion to get us started, then we will work in our own journals.
Beginners and experienced journalers are welcome!
In this session, you will learn:
types of art journaling
benefits of journaling
supplies needed (because we all LOVE supplies!)
basic journaling practices
how to use your journal as meditation
tips to free your mind from the day's responsibilities so that you can focus on your journal
Supplies list:
Art journals will use EVERY art supply you can think of, and then more. Keep your supplies simple at first until you figure out what you really like to use. The instructor will provide plenty of supplies to start.
A blank book, about 8×10 inches. Keep your book between 8×11 and 5×8 inches. A book that you have already started is ok.
Pens. Bring a few that you like: sharpies, ballpoints, gel pens. Don't buy any until we have had a chance to talk about pens.
Pencils: graphite is a must; colored pencils optional.
Crayons: wax, watersoluble, or oil pastels. Don't bring them all, only what you have on hand.
Glue stick
Acrylic or craft paints, about a 1/2 dozen in colors you like. We can share.
Wet wipes. Wet Ones brand preferred.
Brushes: 1/4 inch to 1 inch cheap brushes. DO NOT bring fancy sable brushes.
Scissors
Collage ephemera: a few pieces of tissue paper, scrapbooking paper, postage stamps, etc. About a dozen pieces is enough to start.
Optional: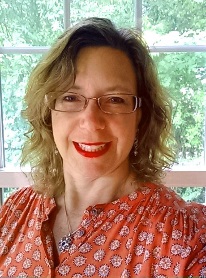 Small bottle of matte Mod Podge or Liquitex matte gel medium
Masking tape
Washi tape
A couple of stencils in patterns you like
About the Instructor:
Inspired by nature and nostalgia, Karen Koch uses paper, books, maps, and paint with stitching and buttons to create colorful mixed media art.
Sign-Up and pay here.