Check It Out: Tech-Driven Production Resources for Artists

 

 
In-person TechZone Tour-

Saturday, Sept 23 at 11 a.m. 

Zoom Workshop –

Tuesday, Sept 26 at 5:30 p.m.
Join librarian Dawn Meehan to review the resources available at the Akron-Summit County Library TechZone Main branch and other local branches. Also hear from local artists Micah Kraus, and Susan Yingling on how they have utilized these resources to further their artwork and artistic practices. The TechZone is a great entry–point for artists to explore a wide range of technology resources with help from librarians.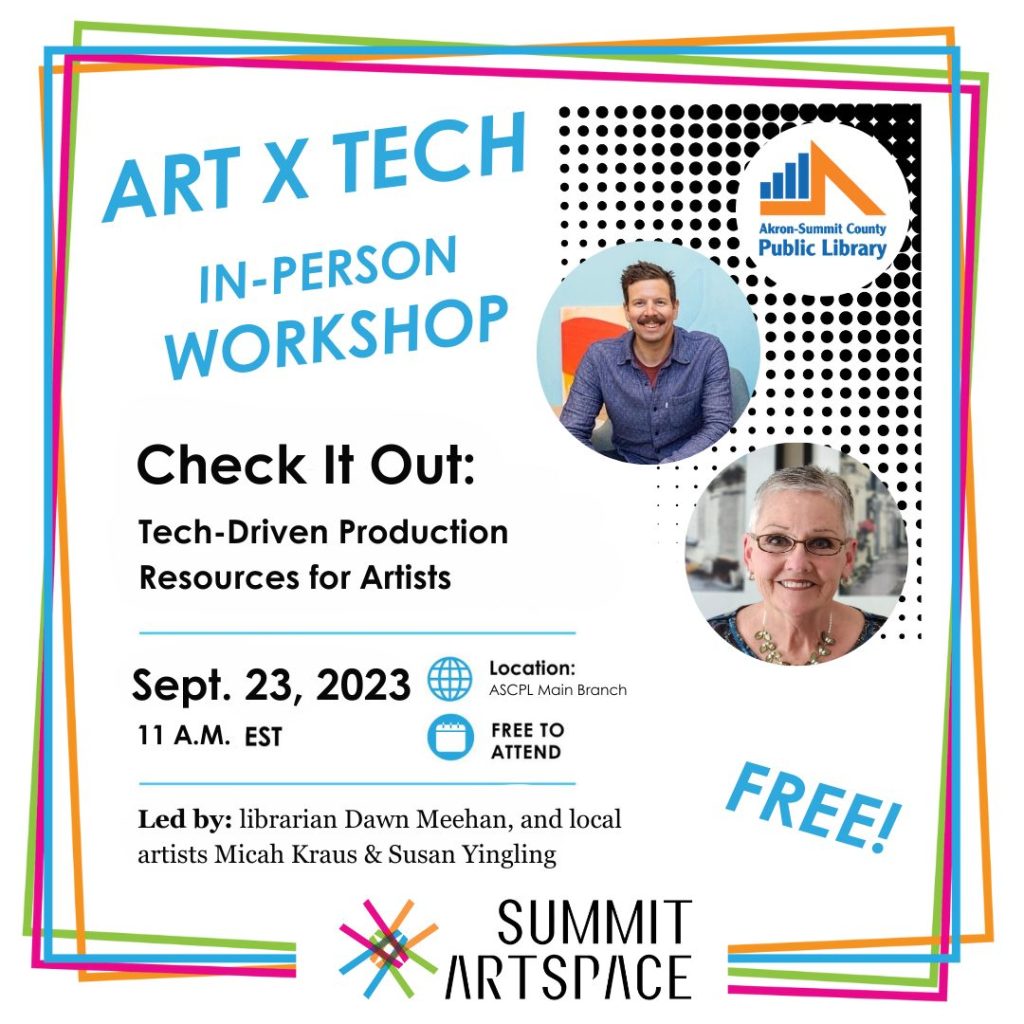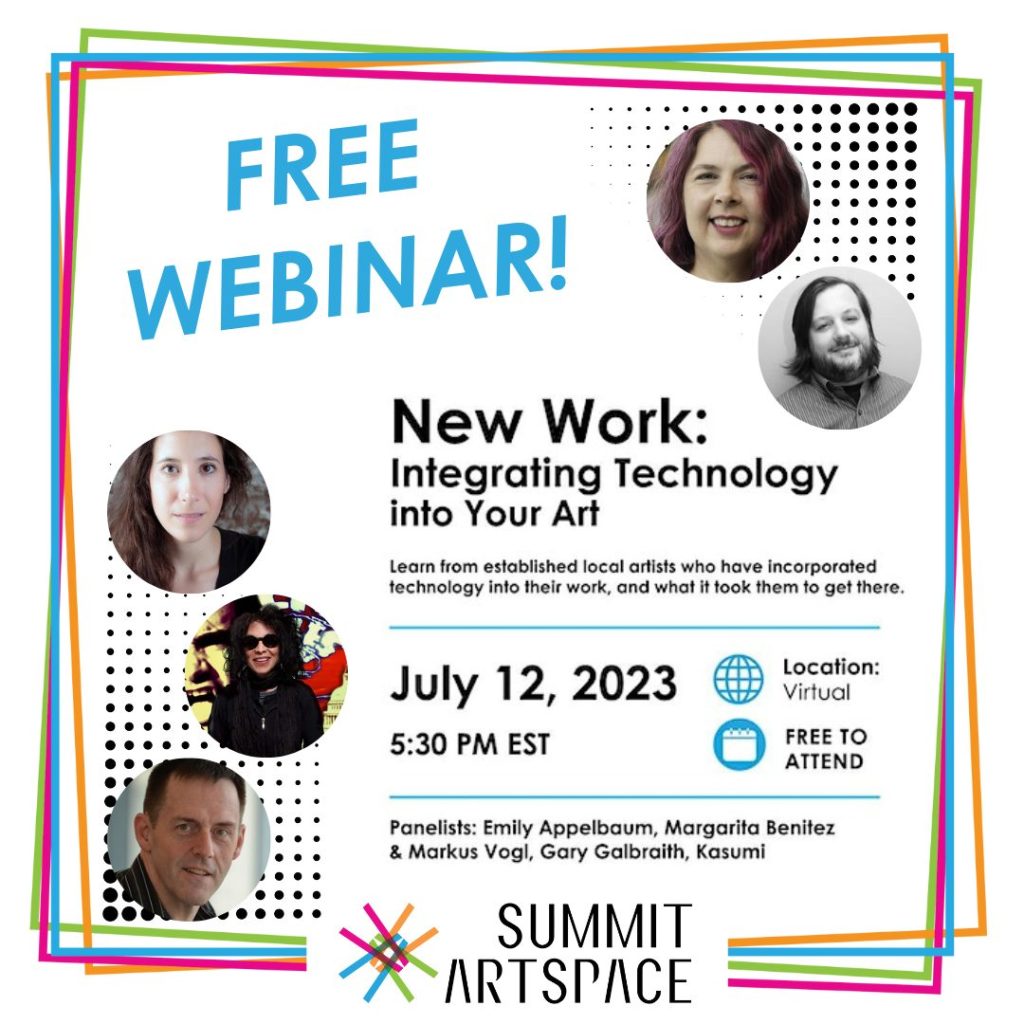 New Work: Integrating Technology into Your Art
Wed., July 12 at 5:30 p.m. on Zoom 
Join a panel of established local artists who have meaningfully incorporated technology into their work and learn about what it took them to get there. Participating artists are varied in how they utilize technology in their artistic practice, everything from a core aspect to something they have expanded into. Discussion will focus on big-picture questions about how the artists got started in tech; how they have overcome barriers; what advice to give other artists wanting to work in tech; etc.  
This workshop is great for local artists working in all genres who want to learn more about incorporating technology into your artistic practice. 
EMILY APPELBAUM serves as Executive Artistic Director at Ingenuity. Emily joined Ingenuity in 2015, after returning to Cleveland from the Bay Area where she helped make places awesome through collaborative design, large-scale public art, earthshaking events, and outreach to underserved communities. She has a degree in Architecture and Urban Studies from Yale, and she has a passion for creative place-making through artist involvement. She serves as Art Director for Brite Cleveland, and worked previously with LAND studio, City Architecture and Westlake Reed Leskosky (Cleveland); and (in San Francisco) American Steel Studios, the Box Shop and the late, great San Francisco Bay Guardian. She has been instrumental in visioning and bringing the Hamilton Collaborative to life. 
MARGARITA BENITEZ is the Fashion Technologist, TechStyleLAB Faculty Director and an Associate Professor at The Fashion School at Kent State University. MARKUS VOGL is the Faculty Director of the M-Lab Makerspace and a Professor in Art at The University of Akron. Their collaboration as //benitez_vogl began in the year 2000. Their current research explores 3D printing and transformation of the human form through concepts of biomimicry, 3D printed animal habitats, interactive sound and visual installations and material explorations in digital fabrication. 
Their work has been showcased on 6 continents with exhibitions in North and South America, Europe, Africa, Asia and Oceania and is held in national and international collections. They have presented their research and work at Shapeshifting in Auckland, New Zealand, the BIFT/ITAA Symposium in Beijing, Digital Fashion, London, South by SouthWest, ISEA, Open Hardware Summit, Nanyang Tech University, SIGGRAPH, the New Media Art Caucus and at the Design Principles and Practices Conference, Barcelona.  
GARY GALBRAITH, named "Innovator in Dance Technology: Smart Creatives" by the Cleveland Plain Dealer, has been exploring, developing, creating, and producing dance works that utilize various forms of technology to enhance and augment the creative process and audience experience since 2000.  Among his many works, his early Kinetic Shadows, which was an early implementation of high-speed network technologies via Internet2, broke many barriers utilizing video streams and was a finalist in the Northern Ohio Live Awards. He conceived and co-created In Common Space, a network enabled dance for six dancers, two in Cleveland, two in Miami, Florida, and two in Gainesville, Florida where the performance was experienced by three separate audiences in separate theaters all simultaneously.  Distant Encounters utilized the latest applications in broadband and live on-stage holographic-like visualization technologies and was presented to an invitation-only audience of visionary and thought leaders in the fields of technology and the arts. 
KASUMI uses contemporary and developing technology to alchemize physical materials, digital media, and live performance into works of art. Her work is driven by her interest in conceptualizing the movements, expressions and gestures from which we construct our current reality. The staggering range of her methods and media is evidenced not just by her awards – including the prestigious Guggenheim Fellowship – but also by the works themselves: from prints and collage to films and video art installations at the Rocket Mortgage Field House; at Lincoln Center with The New York Philharmonic and Carnegie Hall; performances with Grandmaster Flash and DJ Spooky; public art at The Cleveland Museum of Art, DC Tower, Vienna, and Teatro Colón, Buenos Aires; VR 360, post-production, and gifs for The Eric Andre Show; and interactive art-making apps for iPhone and Android. Her most recent work Surfacing was developed at The Cleveland Museum of Art and expanded into a one-person exhibition for The Sculpture Center. 
Assessing Your Technology Toolkit
Thurs., July 27 at 5:30 p.m. on Zoom
An exploration of different platforms and resources that support an artist's practice and business in marketing, finance, and planning will be led by arts leaders Heather Meeker and Natalie Grieshammer Patrick of Summit Artspace. This session will help give artists the tools you need to determine in what areas technology can support your practice so that you can focus on your art.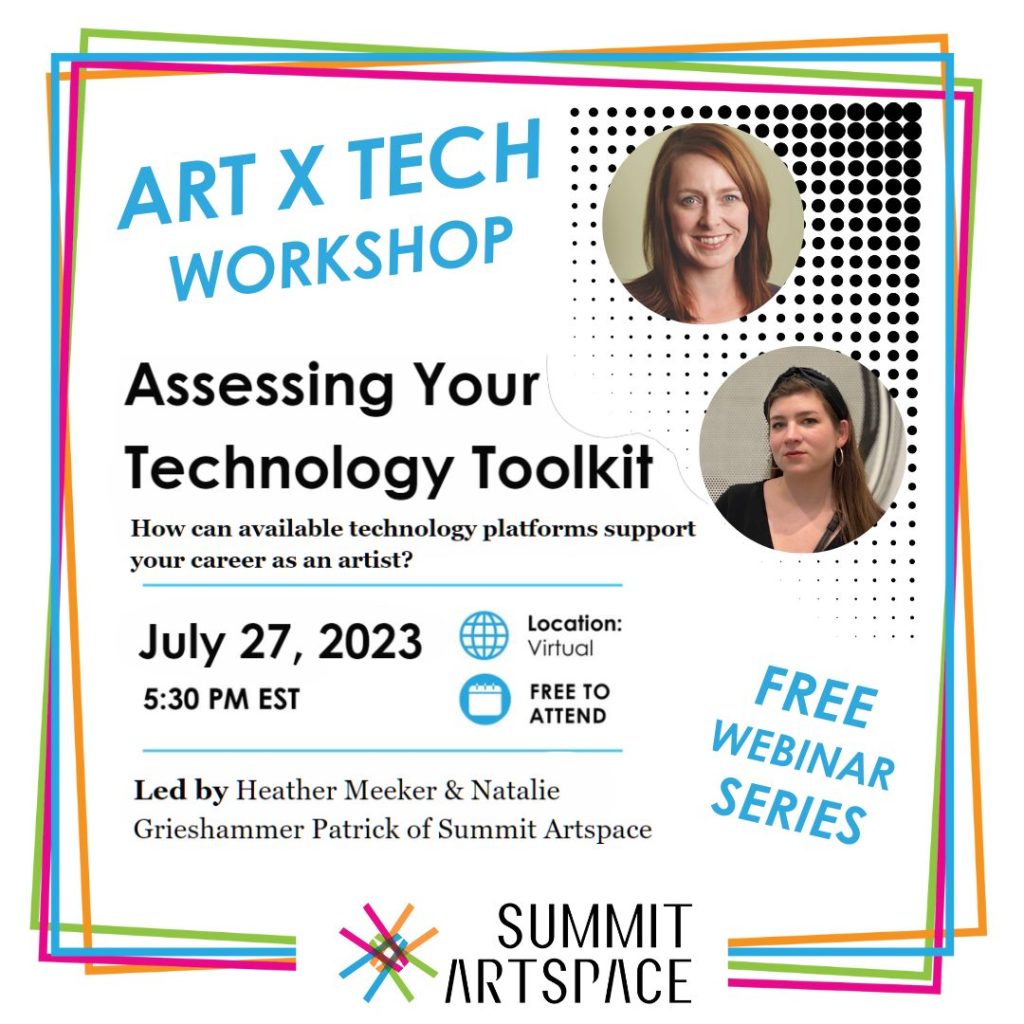 This workshop is great for local artists working in all genres who want to learn more about incorporating technology into the business elements of your artistic practice. 
HEATHER MEEKER (Executive Director, Summit Artspace) is a results-driven nonprofit leader with a passion for achieving organizational vision in the arts, culture, and education fields. Her expertise includes strategic planning, team building, partnerships, project management, relationship-based fundraising, external affairs, and financial oversight. Heather specializes in creating artist-centered, artist-led initiatives as well as arts education partnerships. Before joining Summit Artspace as Executive Director in 2021, she was Executive Director of The Musical Theater Project for twelve years. Prior leadership positions include directorships at Hiram College, Young Audiences of Northeast Ohio, National Inventors Hall of Fame, and The Repertory Project (now VERB Ballets). Heather earned her B.A. at Hiram College and her M.F.A. in Theatre/Arts Administration at Virginia Tech. 
NATALIE GRIESHAMMER PATRICK is an arts administrator and artist living in Akron, OH. She currently serves as Director of Artist Resources at Summit Artspace, where she leads and implements artist-serving initiatives, including exhibitions and artist care programs. Passionate about the arts in Northeast Ohio, Natalie has been an arts-leader for over 5 years and has worked in a variety of roles in local organizations. Natalie has been a fiber artist for over 10 years. She employs sloppy craft and non-traditional materials to create large scale weavings that highlight feminist concepts. Her artwork has been shown throughout Akron and Cleveland and has been featured in local publications. She is also a partner and strategic advisor at Akron Recording Company, which she founded with her husband in 2017. Natalie holds an M.A. in Arts Administration from the University of Akron and B.F.A. in Fiber and Material Studies from the Cleveland Institute of Art. 
ArtsForward Application Tips for Artists
Workshop – Fri., August 25 at 12:00 p.m. on Zoom
Office Hours – Sept 7, 9, 12 & 13