A quarterly celebration of the arts and local artists 
Every three months, ArtWalk is held in the Historic Arts District on Friday nights from 5 – 9 p.m. Community members are invited to the quarterly celebration to enjoy food, music, art, and more. Each ArtWalk will have a specific theme that engages visitors with the arts in new ways. ArtWalk is always free and open to the public with donations gladly accepted.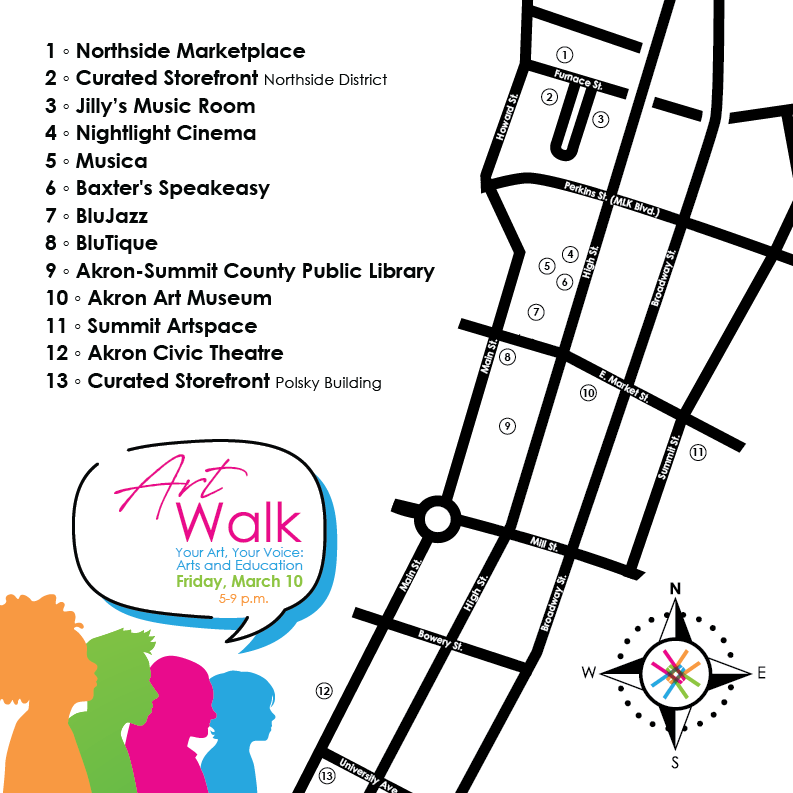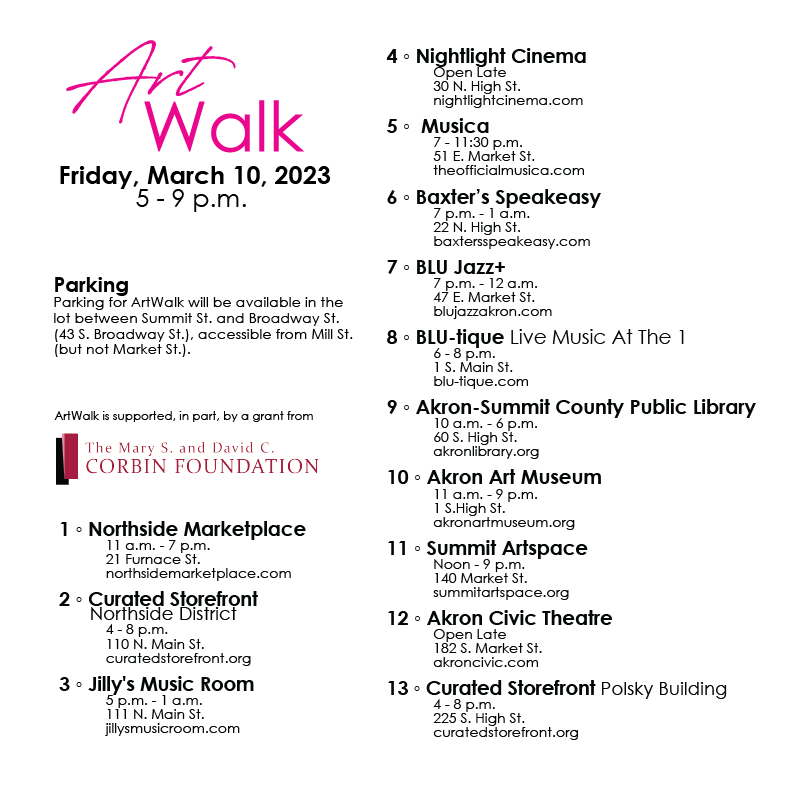 Your Art, Your Voice!

 at Akron ArtWalk on March 10

th

 
On Friday, March 10, experience Akron's quarterly ArtWalk filled with art and activities at participating locations in Akron's Historic Arts District. 
The Council for Arts Education designates March as Youth Art Month, and this year's theme is Your Art, Your Voice. In celebration, Summit Artspace will offer family-friendly arts and education activities from 5-9 pm: 
Performances by Summit Choral Society, Trillium Music School, Hearts in Music, and Genesis Theatre 
More than 15 pop-up artist vendors will sell handmade artwork throughout the building 

Summit Artspace's resident artists will open studios to the public 

Visual artist George Erwin will provide an artwork demonstration on the 3rd floor 

Local musician Andrew Izold will perform live music in the Taylor Main Gallery to accompany the FRESH exhibition, with a focus on electronic/ambient/experimental improvisation.  

91.3 The Summit will provide streamed music on the third floor, including their KidJam! radio stream 
Food will be available from Bereka Coffee and Ethiopian Food 
In addition, nearby ArtWalk activities include: 
The Akron-Summit County Public Library Downtown Branch will host a showcase of sketchbooks from local artists and art students from The University of Akron's Myer School of Art. 
The Akron Art Museum will be open to the public free of charge from 11 a.m. – 9 p.m. Along with the museum's exhibits there will be activities, discussions, and guided gallery walks. 
Jilly's Music Room will host The Crowders, an Ohio duo that will perform from their wide catalogue of original music at 8 p.m. Advance reservations can be made at Eventbrite. 
Curated Storefront has two art installations to enjoy. On the Akron Civic theatre's video board, the installation PixElation will show a collection of NFTs and other digital artworks. From the S. Main Street windows of the Polsky Building, 225 S. Main St, the installation Clayton Bailey's World of Wonders: Medical Malpractice. Both art installations are currently viewable at their respective locations. 
BLU Jazz+ will be hosting a special night of music, celebrating the works of Gigi Gryce, from 8-11 p.m. Tickets can be purchased on Ticketleap. 
ArtWalk is supported, in part, by a grant from the Mary S. and David C. Corbin Foundation.