Summit Artspace is thrilled to feature art from the Akron Art Library and the work of resident artists on its walls.
If you would like to purchase any art, please visit a staff member or volunteer in the Main Gallery, or email natalie@summitartspace.org.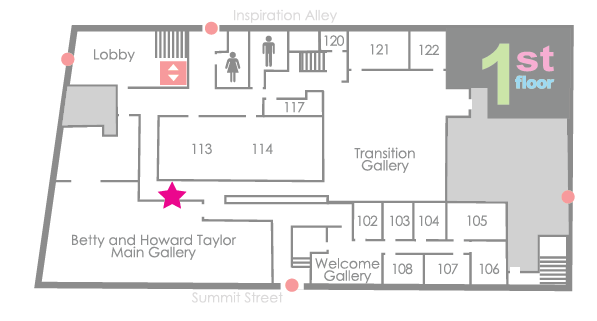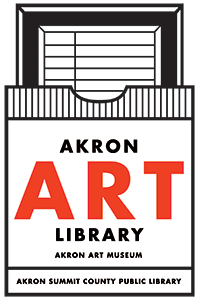 Akron Art Library
Theron Brown  |  You're Either an Entertainer…
2020
Inkjet printed postcard
and 
Display of Akron Art Mail postcards created by community members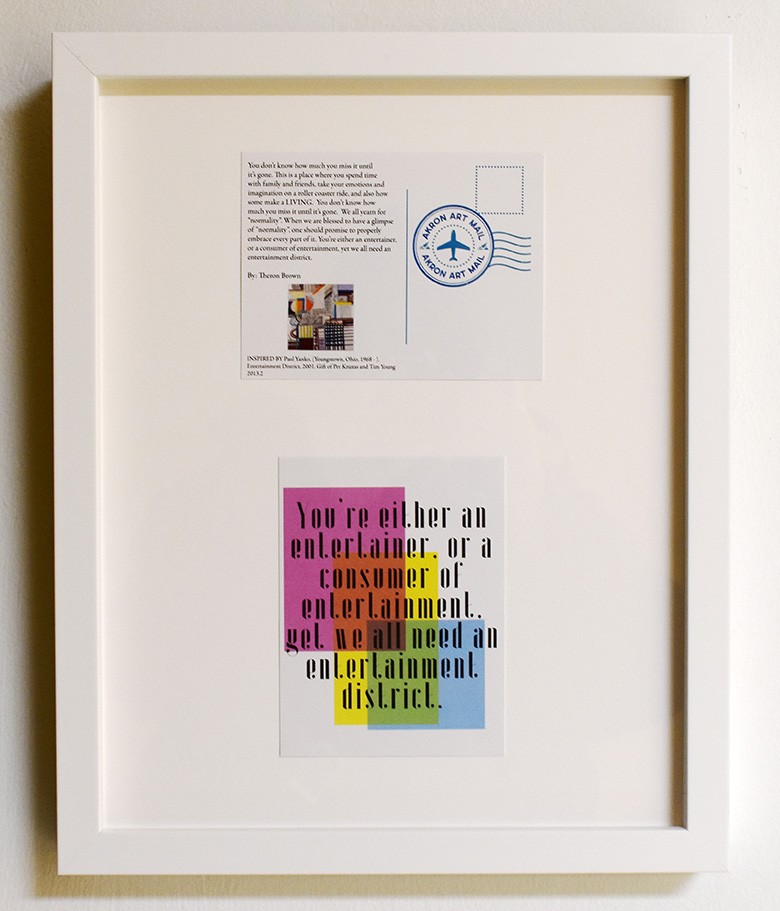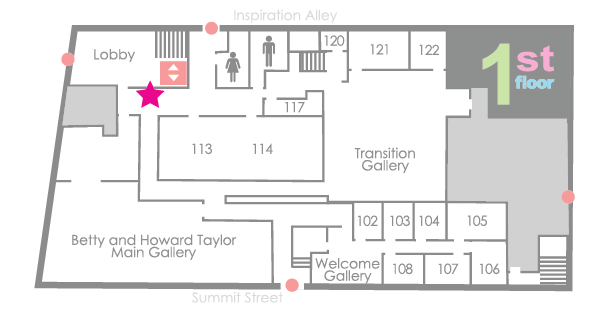 Teresa Scott began studying art at a young age under the training of master painter James Wright Sr. She furthered her studies at the University of Akron and obtained an A.A.B. degree in commercial art. As an artist using oil and watercolor, Teresa focuses on raising awareness for the various social and individual injustices in the world today. She uses aesthetically pleasing qualities such as vivid colors and suggestive patterns to make the art interesting. Exhibited in Wall to Wall is a Polar Opposites series that portrays blatant and subliminal suggestions of oppression, hatred, love, and tranquility, juxtaposed to create interesting and meaningful compositions.
1  Peace and Tranquility vs. War and Turbulence | $500
Oil and watercolor
2 Good vs. Evil | $2,000
Oil and watercolor
3 Prayer vs. Execration | $1,000
Oil and watercolor
4 Friend vs. Enemy | $500
Oil and watercolor
5 Love vs. Hatred| $500
Oil and watercolor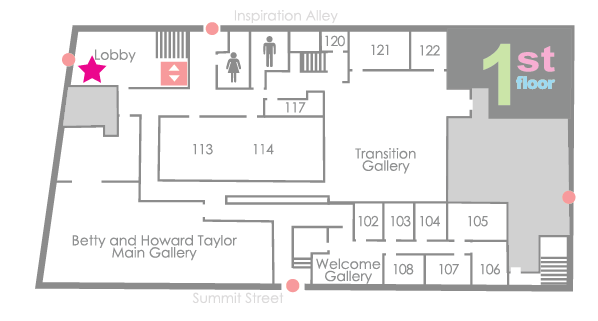 Susie Lilley earned her B.F.A. in photography from the University of Akron's Myers School of Art in 2012. While she was in college, she thought about how photography could be used in unconventional ways. Since her graduation, she has participated in numerous exhibitions in the Cleveland/Akron area. Susie also has a love for clay. While she prefers practical, functional pieces, she enjoys adding touches to works that expand her creativity. Susie combines her two media, photography and clay, by looking for ways to make photography more tangible. The pieces chosen for this exhibition reflect the challenges of photos being functional and lending themselves to the tactile realm.
1 Cascade Falls | $145
Photograph printed on blanket
2 Amber Bottle | $1,500
Vinyl cling on plexiglass mounted in a lamp
3 Untitled #5 | Image $250; Dress NFS
Photograph and dress
4 Fern | $425
Digital photgraph on canvas
5 Lighter Than Air | $1,500
Photographic mobile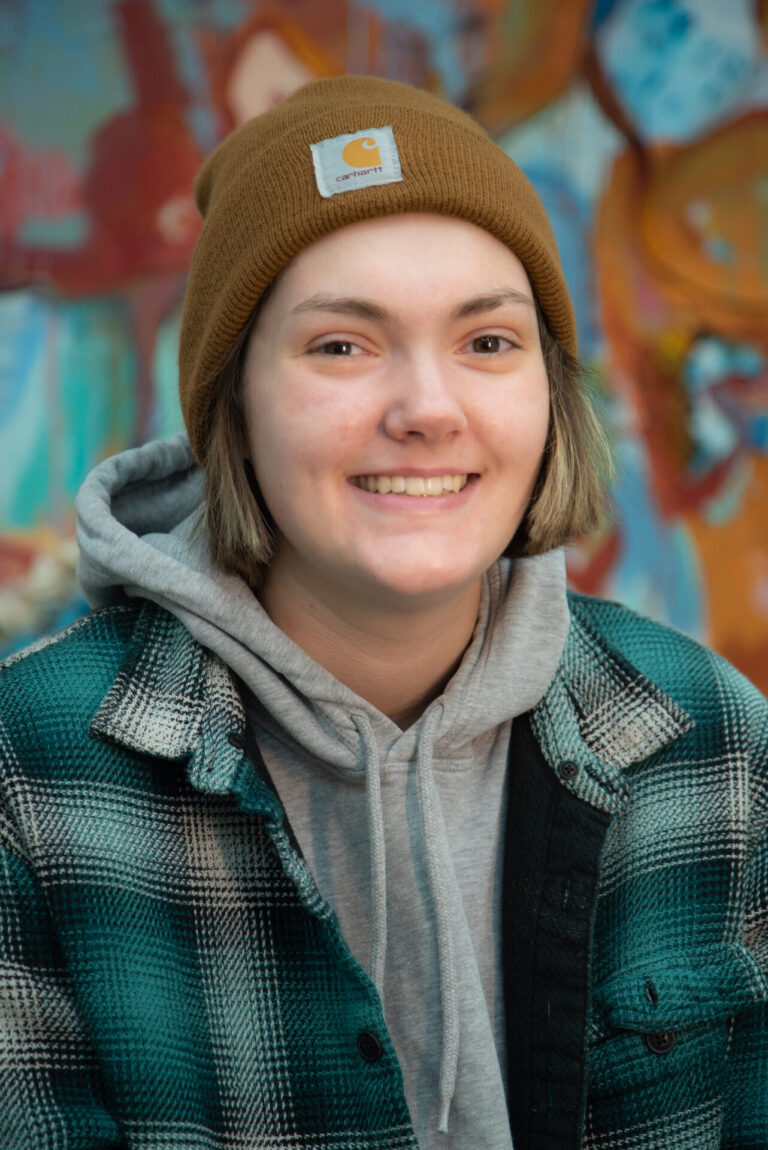 Based in Akron and maintaining a studio at Summit Artspace, Abigail Cipar works in a variety of media, most recently moving into large-scale soft sculpture and textiles. They are a 2021 graduate of the Myers School of Art at the University of Akron, receiving their B.F.A. with a focus in painting and drawing. The body of work exhibited in this season's Wall to Wall program is a reaction to personal experiences and discomforts in queer adolescence using organic forms derived from the fungi found in Ohio's natural landscape. The pieces reference found family, interpretations of nature as a safe space, and the integral pursuit of knowledge surrounding queer histories.
1 How we feel when we are amongst ourselves #3 | $1,000
Fabric, fiber fill, foam insulation board, plywood
2 How we feel when we are amongst ourselves #2 | $1,000
Fabric, fiber fill, foam insulation board, plywood