SHOW CANCELLED TO IN-PERSON VISITS DUE TO THE PANDEMIC. PUBLIC HOURS ARE PAUSED AT SUMMIT ARTSPACE. WE ARE SORRY FOR THE INCONVENIENCE.
THE ART OF PRINT REGIONAL JURIED PRINTMAKING EXHIBITION
OCT. 9 – DEC. 19, 2020 | OPENS OCT. 9, NOON
SUMMIT ARTSPACE ON EAST MARKET | THREE G GALLERY
The Art of Print opens at noon, Friday, Oct. 9, 2020. Artist awards will be announced on Summit Artspace social media–Facebook, Twitter and Instagram–starting at 7:30 p.m. on Thursday, Oct. 8. See the winners on this page after Oct. 9.
The art of printmaking, with its long and enduring history, has continued to develop and diversify well into the twenty-first century. Artists are using the multiplicity and accessibility of print media to comment on relevant issues and promote change.
In addition, the printmaking process is incredibly experiential, allowing for artists to engage with the medium and communicate their personal interests and concerns.
Printmaking encompasses a wide range of techniques including etching, monotypes, screen printing, lithography, stenciling, and countless others as well as combinations. all of which are welcome in this exhibition.
THE ART OF PRINT PARTNERS
Summit Artspace in partnership with the Kent State University School of Art presents The Art of Print. The juror is  J. Leigh Garcia, Print Media and Photography Professor at Kent State University.   https://www.jleighgarcia.com
YOUR VISIT TO THE ART OF PRINT
Tickets are recommended but not required to visit gallery shows at Summit Artspace on East Market in Akron during public hours.
Artists with studios in the building will each have their own open hours and guidelines.
All visitors are welcome to stop by without a ticket to check on open gallery times.
Summit Artspace will be following state directives for social distancing. Visitors may choose to register for a timed, ticket here at Eventbrite. See ticket information below.
---
TICKET CENTER
CLICK HERE TO REGISTER FOR FREE, TIMED TICKET.
It is recommended that visitors register for a free, timed ticket at Eventbrite. Please choose a date and time and complete the registration. If you have questions or are experiencing difficulty, call our office at 330-376-8480.
SUMMIT ARTSPACE ON EAST MARKET
140 E. MARKET ST., AKRON
GALLERY HOURS: 
THURSDAYS,12-7 P.M. WITH 12-3 P.M. RESERVED FOR VULNERABLE POPULATIONS
FRIDAYS, 12-7 P.M.;
SATURDAYS, 12-5 P.M.; OPEN Nov. 7 AND DEC. 5 FOR ARTWALK, 5-8 P.M.
---
THE ART OF PRINT AWARD WINNERS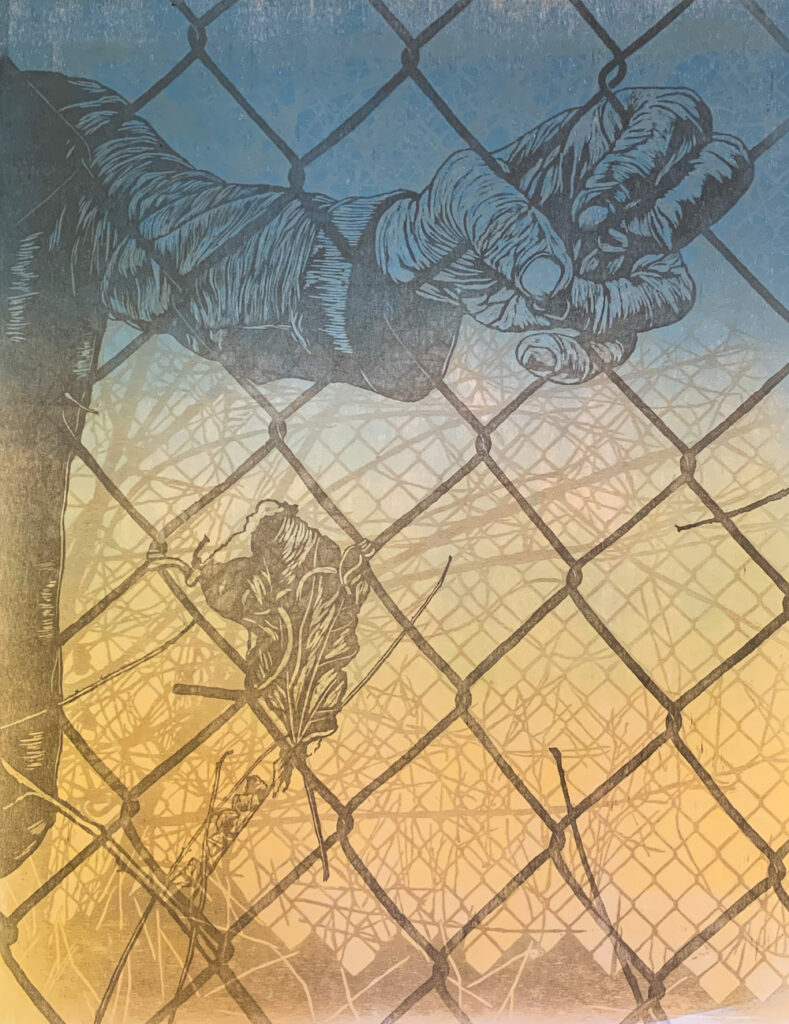 Woodcut monoprint
This piece is part of a series in which I imagined two people experiencing the ending of a relationship and all the trials, arguments and emotions that come with that experience. There are feelings of separation, frustration and longing. This figure is still trying to reach out to communicate somehow with the other, but there is now a fence standing between them, stopping him from being able to fully reach out. The chain link fence can be seen through, even reached through, but is still a barrier.
---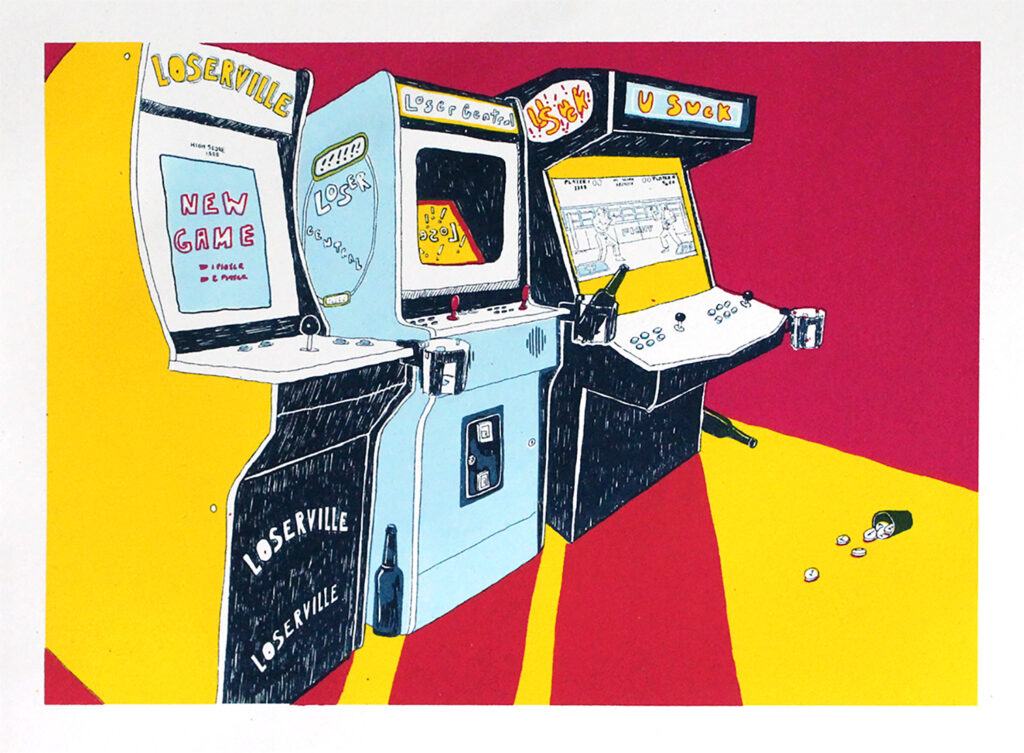 Photolithography
Popular culture contains countless references to video game arcades, and many young Americans who have never attended them have nonetheless heard stories of their parents frequenting them as children. Given their prominent status in popular culture, one might think that these gaming centers lasted a lot longer than they did, but the reality is that the Golden Age of the arcade only lasted four years. What happens when the arcade returns, but its target audience is altered? My project "Death of the Arcade" examines how these classic gamer hangouts transformed into the new concept of bar arcades, referred to as "Barcades," in an attempt to replicate childhood spaces and memories.
---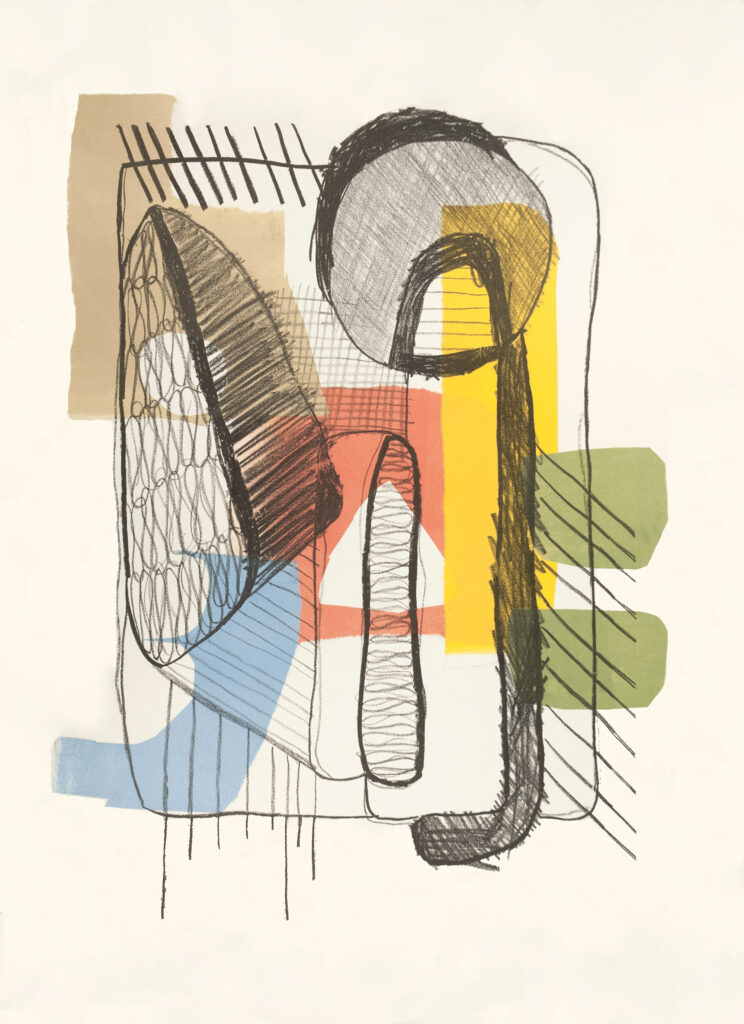 Stone lithograph with chine collé
My work serves as a personal examination of the uncontrollable and unpredictable nature of the human experience. Using hand-drawn shapes, marks, and colors, my work acts as a cathartic expression of my identity. Whether I am working in collage, drawing, or printmaking, I use the process of making as a meditative tool. These mediums help me to manifest feelings of autonomy and power that are more often than not, lost to me, and buried beneath feelings of doubt and uncertainty. The sonic textures created in music are extremely influential to my work, almost synesthetically. I approach a new work as if it were a song; building up various motifs and repetitions to create an overall story. This piece is a lithographic monotype. It is composed from a traditional crayon sketch that is printed and layered with hand colored chine collé paper. During this process, the chiné colle paper is placed improvisationally on the stone before printing. The result is a unique print-collage hybrid. This allows me to take comfort in the repetition and method of stone lithography, while pushing me to be spontaneous and intuitive.
---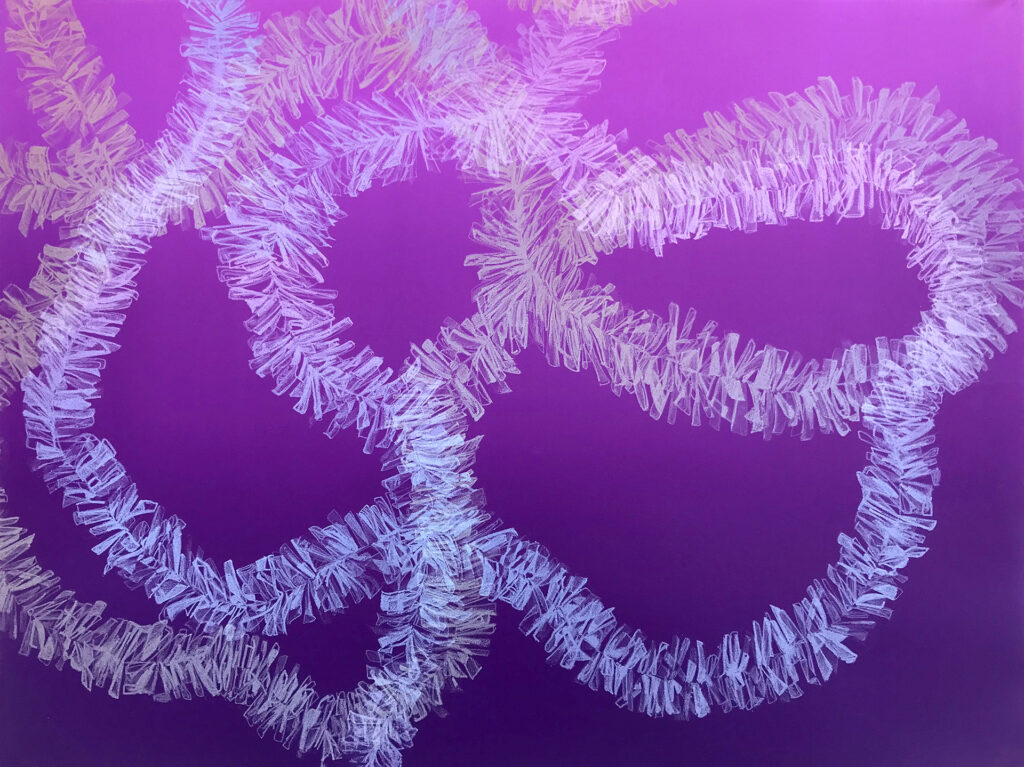 Lithograph
This piece, part of a larger body of work, investigates small moments of fantastical visual experience in our everyday lives; ones in which light and color momentarily abstract the world around us and alter our perception. These moments are ephemeral, changing with their surroundings and time; they are extraordinary in an ordinary way. I capture them at their peak, that brief magnificence, pause them in all of their glory. Through drawing, I extract and portray these fanciful, magical, visuals from my everyday experience; enticing viewers to take time to pause and appreciate these mini moments of awe. Using bright, vibrant, candy-like colors, and the lure of reflective materials, my work attracts viewers with these characteristics. I depict objects full of intricate, swirling details created by their interaction with light. These small, ethereal moments of beauty are enlarged to a grand scale, creating elaborate compositions full of rich color and intricacies that imply movement and energy on the paper.
---
BELOW ARE THE GUIDELINES FOR VISITING SUMMIT ARTSPACE ON EAST MARKET.
VISITORS MUST WEAR MASKS.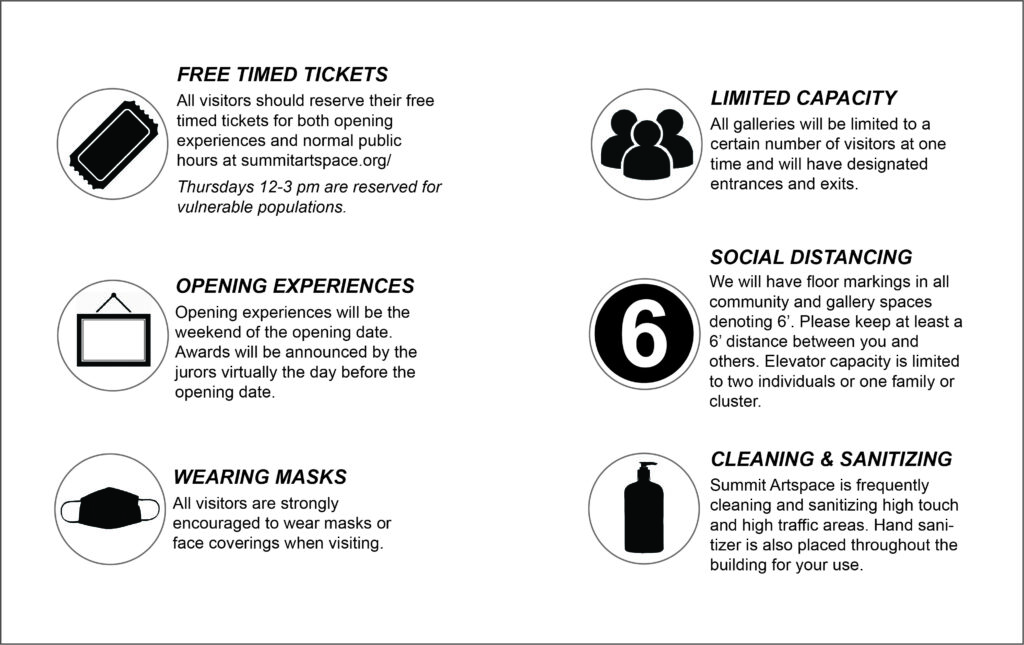 ---
FREE PARKING BEHIND BUILDING.
HANDICAP ACCESSIBLE.
ELEVATOR AVAILABLE.
See the Summit Artspace exhibit calendar for show details.
Plan your visit by clicking here.
Have questions? Here is our Frequently Asked Questions page.
Please Note: All exhibits are subject to becoming virtual at our website, summitartspace.org, due to the global pandemic.