Creative Recovery, an exhibition that seeks to give artistic expression to the struggle, celebration and sometimes, the tragedy of recovery, opens Saturday, Jan. 4, 2020, in the Transition Gallery at Summit Artspace on East Market. The juror is artist Janet Mikolajczyk of Hudson.
Creative Recovery runs until Feb.1. Admission is free. The Transition Gallery is located on the first floor of Summit Artspace on East Market, 140 E. Market St., Akron.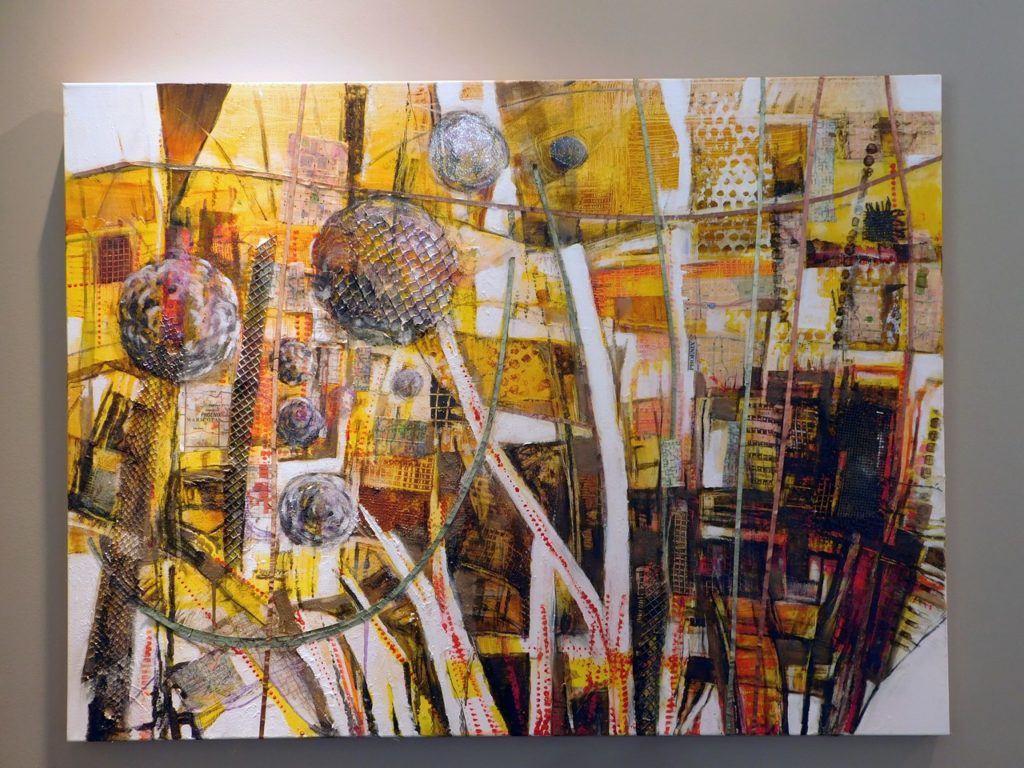 See all winners and artist statements below.
FREE ARTIST DISCUSSION PANEL, JAN. 16
Hear the artists talk about their art and its relation to recovery at a free panel discussion on Thursday, Jan. 16, 2020, 7-8 p.m., in the Transition Gallery. Reserve your seat here.
GALLERY HOURS
Summit Artspace galleries are open weekly Thursdays and Fridays, noon to 7 p.m., and Saturdays, noon to 5 p.m. Additional hours include 4-7 p.m. during the Jan. 16 Third Thursday and 5-9 p.m. for the Feb. 1 Artwalk.
ABOUT THE EXHIBIT
Art is a process, the same as recovery is a process. Because art and recovery are deeply personal, art and recovery can be a very unique way of changing people's attitudes, values, feelings and goals.
Artists have been invited to use images to express pain, struggles, victory, fear, resilience and many other emotions experienced during a recovery. The art can represent the artist's personal journey or depict the journey of another and the impact of watching the journey as a bystander.
The exhibit includes painting, drawing, jewelry-making, and all forms of 2D and 3D art can be used as the portal for the expression. Artists are explolring deep emotions—the sadness, the hopelessness, the fear, and the relief, the joys, and the hope of a new day.
Show image is The Guardian Angel of the Good Death by Judy Takacs.
ABOUT OUR JUROR
Hudson resident Janet Mikolajczyk is an artist, art teacher and university level lecturer in art history. She taught art in the Hudson City School District from 1985 to 1991 and then earned a Masters in Art History from Kent State University.
She went on to lecture in Art History and related subjects at the University of Akron, Ursuline College, the Cleveland Institute of Art and Cleveland State University until 2011. During all that time, she was creating and exhibiting art in shows across Northeast Ohio and in the U.S. where she has earned a number of awards.
CREATIVE RECOVERY JUROR'S STATEMENT
The idea for the show came from my father and my sister's successful dissolution of alcohol addiction through Alcoholics Anonymous.  I was also influenced by the fact that the history of Alcoholics Anonymous was here in Akron.
Creative Recovery is the unifying element of the show, the content.  When former Director Kamelia Fisher and I met this fall we decided to broaden the artist call to include all people in recovery, or touched by someone in a recovery situation.  This makes the content predetermined.  It was my task to jury the pieces that reflected creative recovery. The artist's statements were powerful.  Indeed in this call the artist's struggle and success came through in the written word as well as the visual presentation. 
The technical proficiency of the chosen media as it reflected the content drove my decision.  The works are painting; abstract and figurative, photography, mixed media, and three dimensional.  The variety and skill by the artists is seen in this very compelling show.  The viewer should see the show and be moved by its energy.
I want to thank all the artists for their sincere participation and sharing their experience through art.
Janet Mikolajczyk
ABOUT SUMMIT ARTSPACE
Summit Artspace is a non-profit community art center organization that provides studio, exhibit and programming spaces in Summit County and the surrounding area for local artists and arts organizations; and is a center for art education open to all residents. Contact Summit Artspace at 330-376-8480. On the Web at www.summitartspace.org. Find us on: Facebook, Twitter at @AkronAreaArts, Instagram and Snapchat.
FREE PARKING BEHIND BUILDING.
HANDICAP ACCESSIBLE.
ELEVATOR AVAILABLE.
See the Summit Artspace exhibit calendar for directions.
Plan your visit by clicking here.
Have questions? Here is our Frequently Asked Questions page.
WINNERS, CREATIVE RECOVERY JURIED ART EXHIBITION, 2020
Summit Artspace on East Market, Akron, Ohio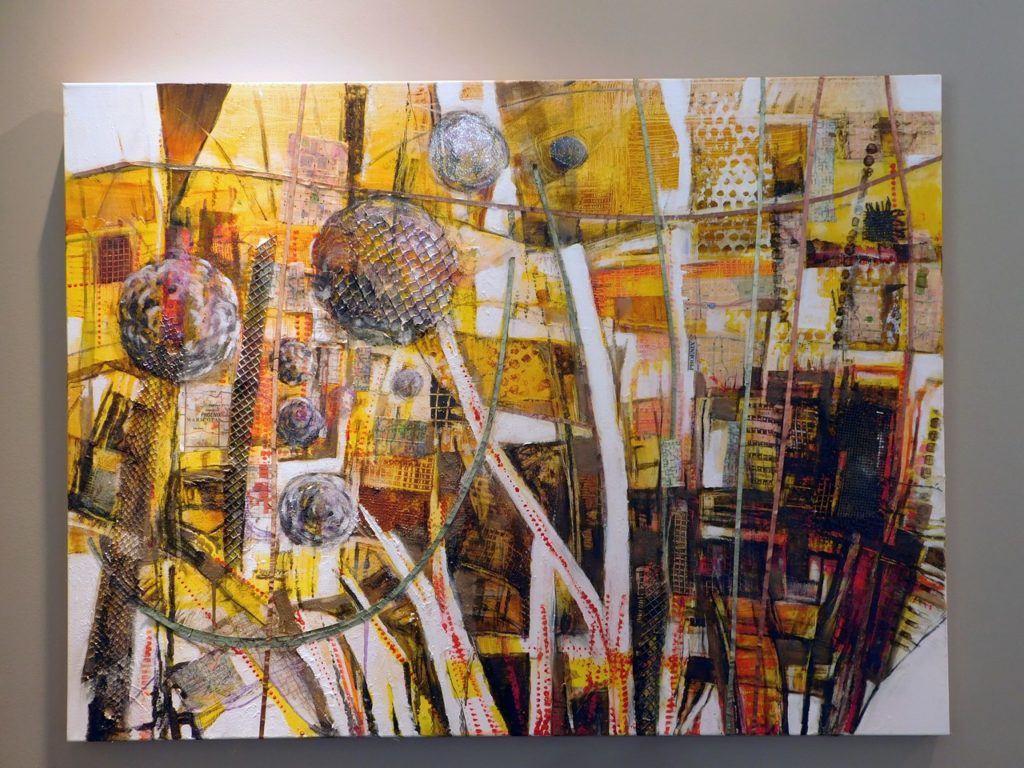 My work explores states of fragility, endurance, order and chaos which occur with change. It was a challenging period which included 9 funerals and numerous visits from out of town relatives. My studio gave me time to process the impact of loved ones coming and going, sometimes permanently, and to reflect on my understanding of death. The painting represents resilience, transformation and reconstruction of a physical mass, a place in time, and of life. Through the process of creating I was able to make sense of what it means to release what is past and accept One's future life. Art, like life, is a process of transition. For me it can be the vehicle which helps me get to the next place.
______________________________________________________________________________
I grew up with an alcoholic mother. Throughout my childhood I had to take care of her and two younger siblings. It was many years ago but I still remember her 'barely aware' or passed out…..'Waiting to Disappear'.
______________________________________________________________________________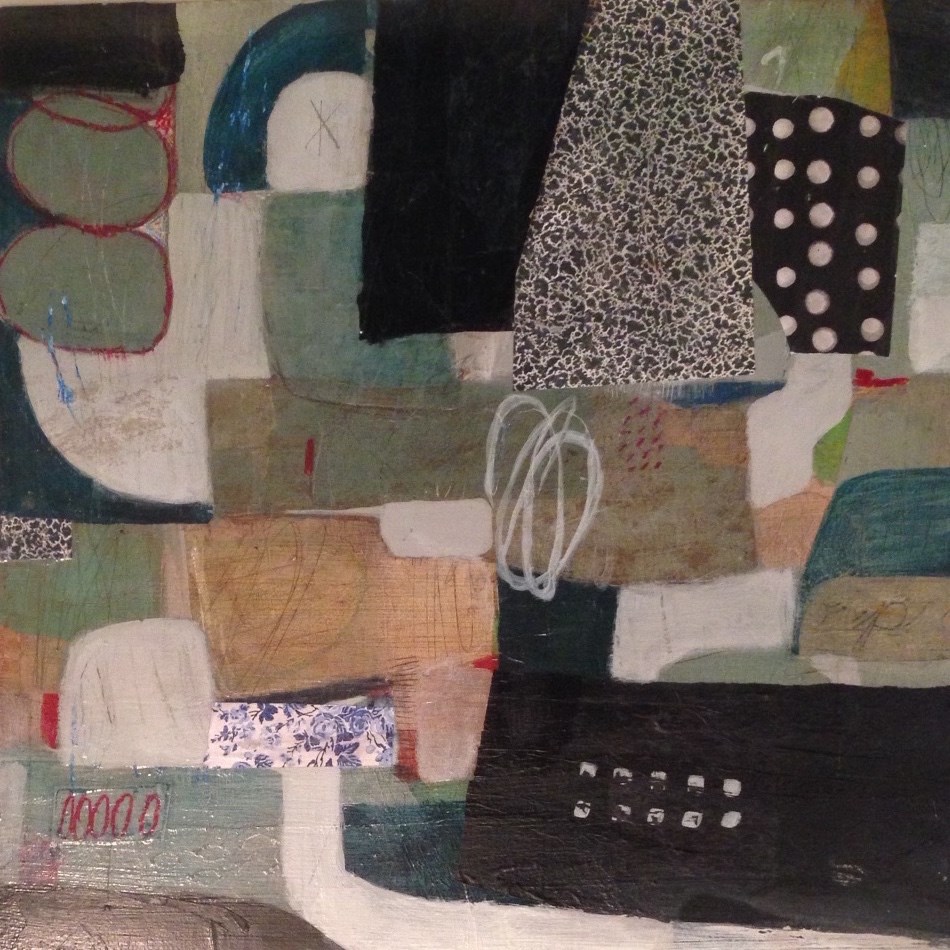 Having waited nearly fifty years to begin making art, every piece I create is about recovery: recovery of lost time, dormant desires, and wholeness of a self long by fractured by outer forces and inner struggles. Creative recovery necessitates dancing with the bullies (tyrants? terrorists? demons?) who live in my brain and who, with my unwitting help, have gotten better at beating me up and tearing me down that anyone else, ever. But while all of this is going down, I paint and draw and layer and paste and dig and scrape and obliterate. Things get ugly–sometimes they get really ugly–but eventually, the bullies and I pick up the dance where we left off until, gradually, something (a part of me?) is revealed and slowly resolves itself . . .
______________________________________________________________________________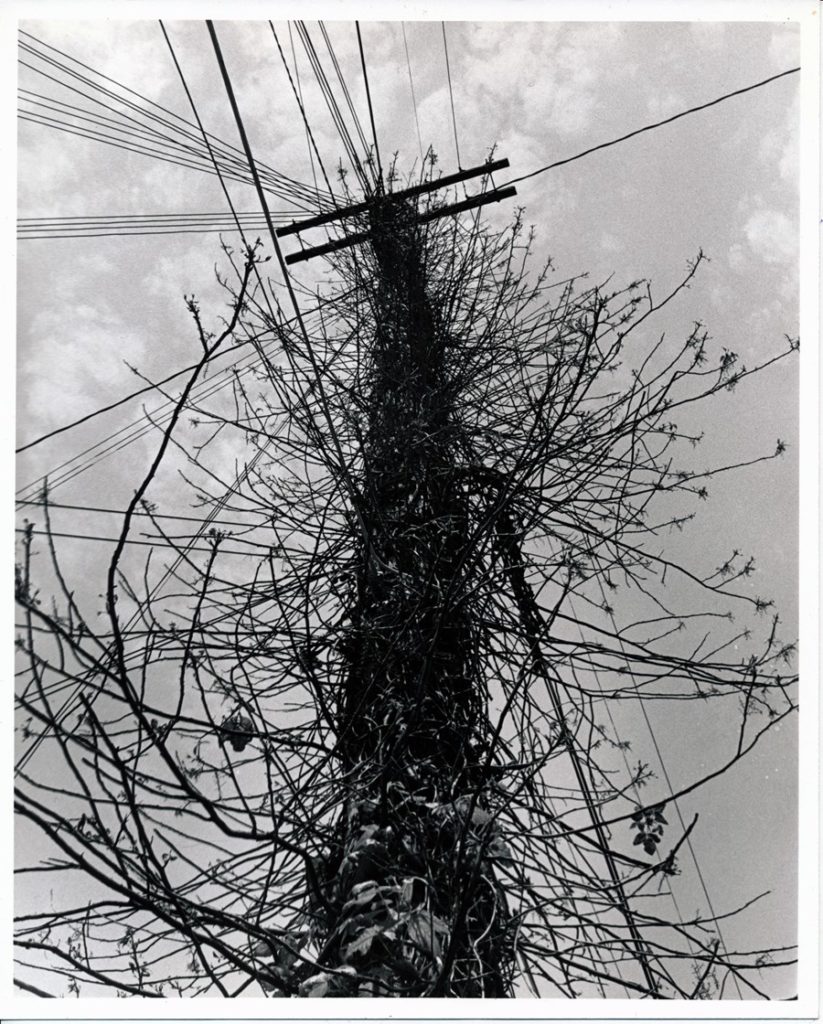 Technology changes, but does not eliminate, nature. A tree was once turned into this telephone pole, but now appears to revert back into a tree.
______________________________________________________________________________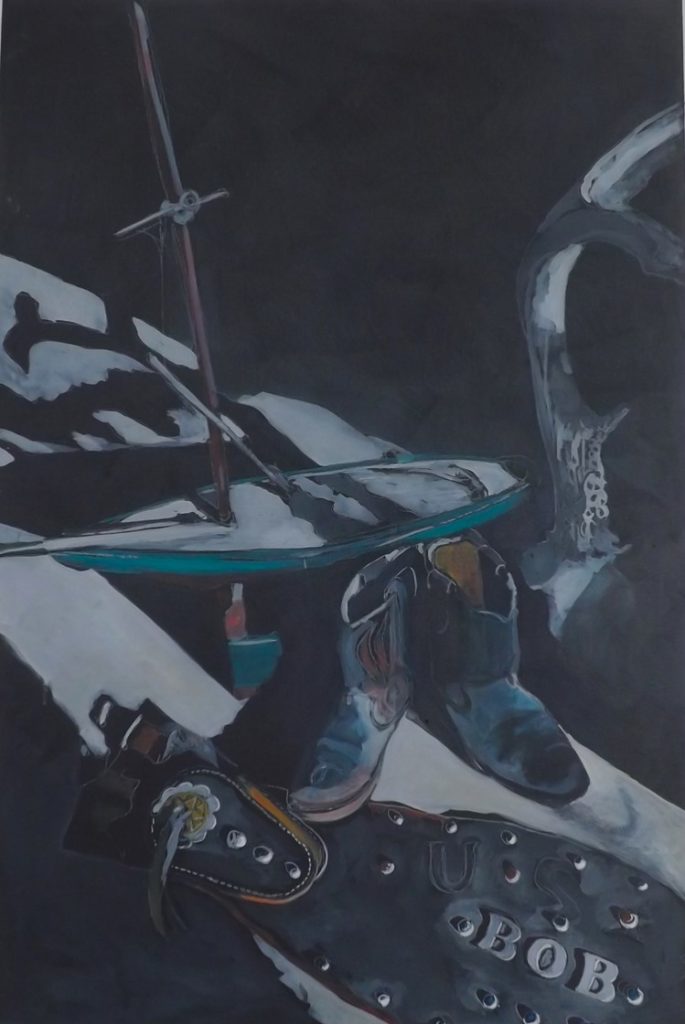 "My father Things" is a composition made from some my father's belongings. Seeing my parents decline over the past several years has been extremely difficult for them and difficult for me as well. Currently my dad is ninety-five years old. Sadly, because of dementia, he no longer desires to have a relationship with me. I started the painting with the thought that I could give it to him as a present since the objects represent different stages of his life and mine. The boat in the background belonged to my father's father, M.J. Pierson. It was a 19th century toy from his childhood. I recall it always being in the basement with cobwebs all over it. The man passed away when my father was around ten. The motorcycle belt belonged to my dad when he rode a Harley Davidson after the war when he was in college. The cowboy boots are mine from when I was about four years old. My dad kept them on his desk with his pencils stuffed in them. The elk horns were obtained during a trip out west when the whole family visited Yellowstone park. This was a critical time when our large family still lived under one roof. I was starting kindergarten at the same time my eldest sisters were leaving for college. When I finished the painting, I realized the composition was not really about nostalgia. This painting was in reality about me recovering from the loss of my father's friendship and the inevitable loss of childhood we all experience.