SO BOSCHIAN: THE EXPLORATION INTO OUR DEEPEST FEARS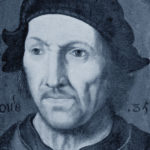 NOTE: Due to the COVID-19 pandemic of 2020 this exhibit went online from March 2020 until June 9, 2020. The online version is no longer available.
Hieronymus Bosch was born Jheronimus van Aken in the Netherlands  where he lived all of his life from 1450 to 1516. His work was collected during his life time. Today he is seen as a hugely individualistic painter with deep insight into humanity's desires and deepest fears.
Summit Artspace put out the call to local artists to share works that channel their inner Bosch for the show,  Boschian: Beautifully Bizarre , Feb. 21-March 28, 2020.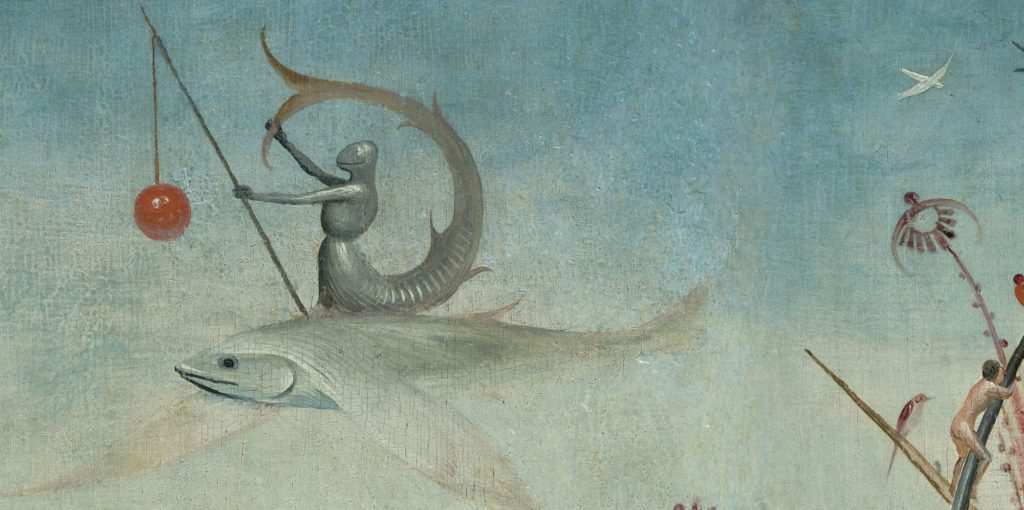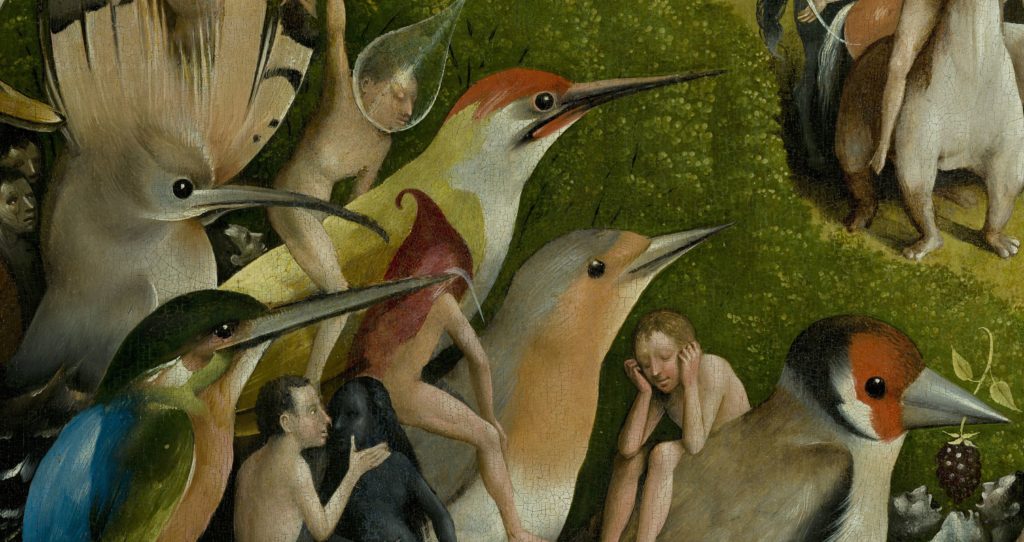 THREE G GALLERY HOURS
Summit Artspace's THREE G Gallery is open weekly Thursdays and Fridays, noon to 7 p.m., and Saturdays, noon to 5 p.m. Additional hours include the March 7 Artwalk, 5-9 p.m. and 4-7 p.m. on March 19 for Third Thursday.
THREE G Gallery is located on the third floor of Summit Artspace on East Market,  located at 140 E. Market St., Akron. The show runs through March 28 and is free and open to the public.
WINNERS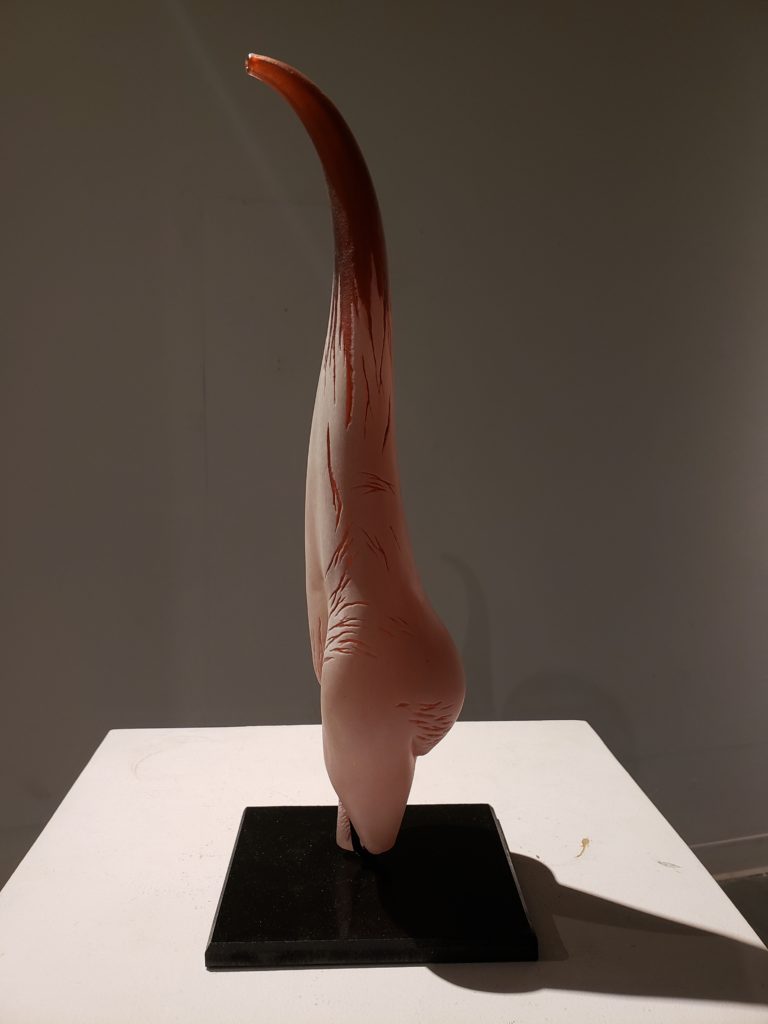 ARTIST STATEMENT
The sculpture, "The Marks That Made Us", is an exploration of the female body- investigating "memory-marks" or scars that develop on the female body through her lifetime. While placing emphasis on scarification of the body (in this case, stretchmarks) through carving past the surface of the glass to reveal a rich, bold, and beautiful transparent reddish-pink color I encourage the viewer to review their prior taboos surrounding scars and how they are perceived on the female form. Scars are a sign that the body has lived- without them, our minds would not know the pain, pleasures, and challenges that come with the human experience. These stretch marks are patterned in such a way as to suggest their beauty, to remind us of our own humanity, and to accept that the flesh is nothing to be ashamed of but rather, to appreciate and admire.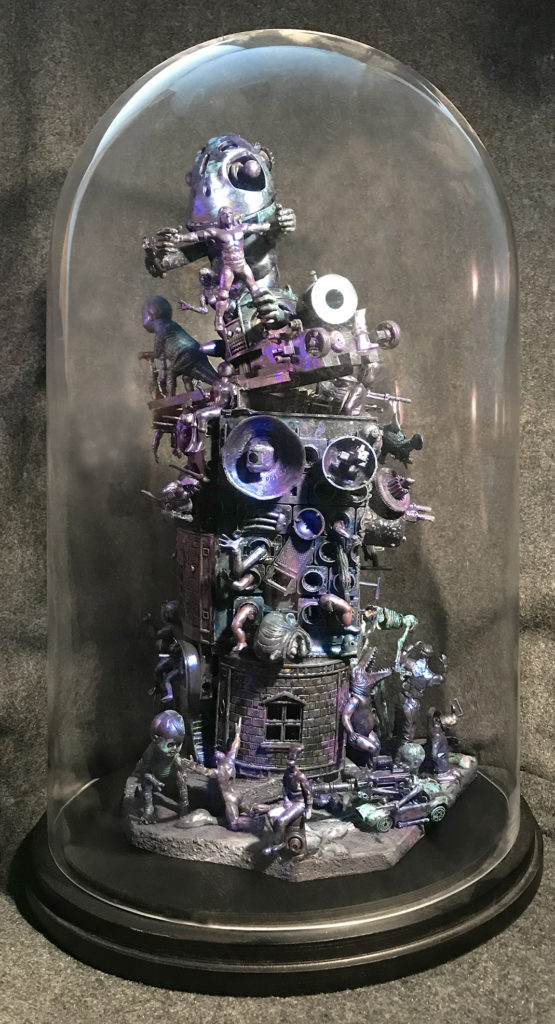 ARTIST STATEMENT
My art tends to be representational – fleeting glances through windows, around corners, or over hills onto otherwise unseen worlds. Onlookers have labeled these worlds somber, ominous, low-brow, cartoony, weird. Who am I to argue? Our ideologies may have changed in the intervening 500 years, but I like to think that Dürer or Bosch would recognize the lost souls in this assemblage. Influences include Bruegel (the elder), Doré, Wyeth (the eldest), Wood (both Grant and Wally). Takeaway thought: Creating art is a perilous enterprise, a trek through uncharted territory on a moonless night. It seems the only thing more difficult is not creating art.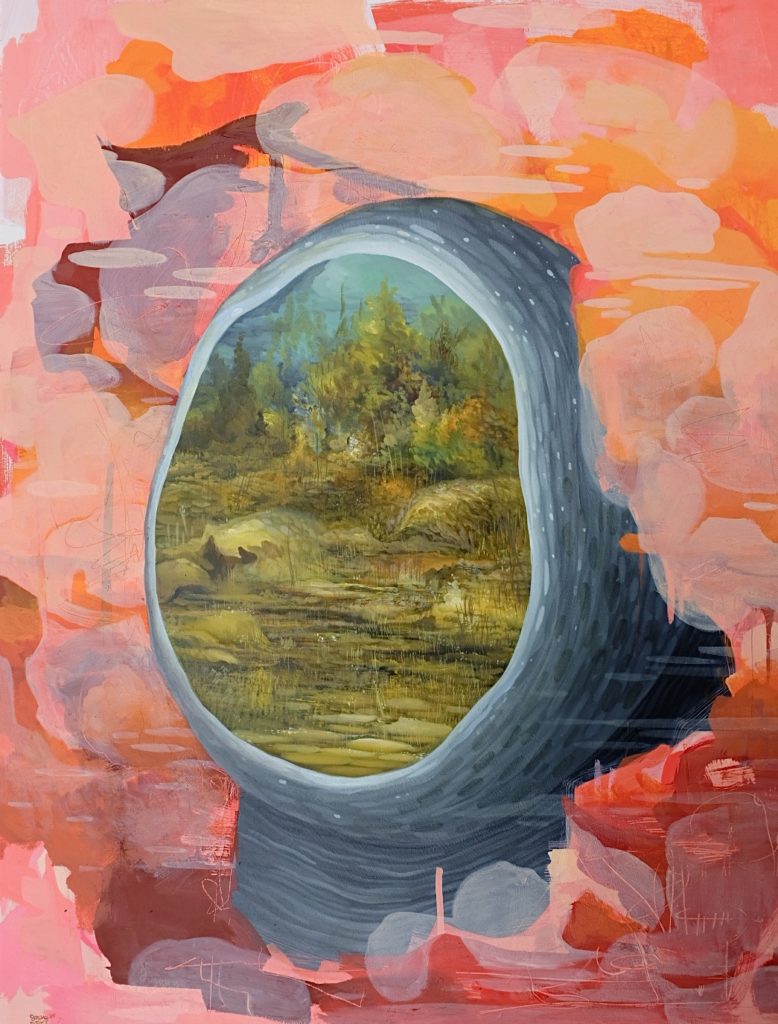 ARTIST STATEMENT
Self-taught painter (name removed) is inspired by the natural world, taking in his surroundings on year-round trail runs. He makes careful observations of moss spreading over a fallen tree, or plants reaching towards the sun. The mental notes of these Darwinian scenes inspire the phantasmal settings of his paintings. His goal is not realism, but rather a sense of gravity, whether working in oils, with mixed media, or on a mural.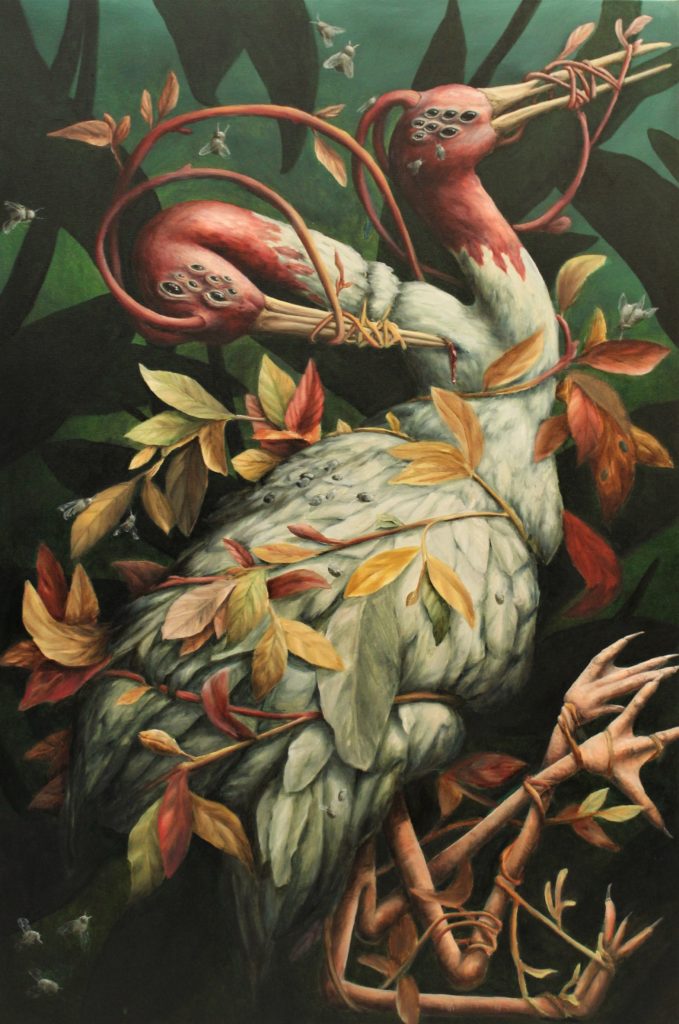 ARTIST STATEMENT
In the creation of my figurative drawings and paintings, I integrate my personal observations of the natural world, studies in biology, and interests in anatomy and physiology. My work involves subjects of nature, with various flora and fauna filling the images as they interact in unusual, surreal ways. I intend to combine the expected with the unexpected, such as describing ideas that are simultaneously macabre and beautiful, or lighthearted and serious. Through the use of symbolism, I aim to tell stories that can be interpreted both as personal to the viewer and a commentary on human nature. I focus on the theme of impermanence in life, with the hope of coming to accept it and learning to detach myself from things that will inevitably change. I hope my work serves as a reminder to enjoy each present moment as it happens, without feeling overwhelmed by thoughts of the past or worries about the future. To reflect this concept that peace comes when we learn to let go, my process often involves creating layers of media that obscure each other, and depicts new growth from the deteriorated figures. The subject matter of this particular painting features the figure of a multi-headed and multi-limbed sarus crane being intertwined and bound by leafy vines that emerge from each head. Small insects appear throughout the image and witness the bird as it struggles with the plants. The vines in this situation symbolize the negative thoughts that might immobilize people's actions, or prevent them from accomplishing their goals. This could be anything from thoughts of self-doubt, personal insecurities, or grief; it is a struggle to overcome internal conflicts that affect external conditions.
EXHIBITION JUROR
Kate Wentz of Akron is the juror for Boschian: Beautifully Bizarre. She manages a collection of art inspired by the Renaissance master, Hieronymus Bosch. Kat's experience includes co-curating the Hieronymus collection for the recent exhibition Stranger Beings: Hieronymus Objects & Other Curiosities at the Emily Davis Gallery and managing the pop-up gallery, Pish Posh, that was on view in downtown Akron in the summer of 2018. Hieronymus has actively loaned pieces from the collection to museums and institutions for exhibitions including Akron Art Museum's Gross Anatomies and Turn the Page: The First Ten Years of Hi-Fructose.
JUROR'S STATEMENT
I want to thank Summit Artspace for inviting me to jury Boschian: Beautifully Bizarre. There were so many substantial works of art that choosing a limited amount of pieces from the over 60 submissions was a difficult task. I was pleasantly surprised by the number of bizarre beauties presented for my consideration.
When jurying the show, I looked for a strong sense of design, skill, and Boschian creative expression. The accepted artworks reflect a contemporary version of Hieronymus Bosch, the Renaissance painter of the fifteenth and sixteenth centuries, whose surreal artwork was the inspiration for the exhibition's title. I asked each piece, "how successfully does this work of art reflect Hieronymus Bosch?" Beyond that, I juried the show based on the work's sense of weirdness, hidden beauty, curiousness, and, quite frankly, humor. I made the effort to include as many different art forms as possible.
Thank you for giving me the privilege and opportunity of being the juror. It was my honor to jury the show and select the award winners for this exhibition. I give my highest compliments to the artists who dared to submit to the exhibition. Congratulations to all of the accepted entries and winners.–Kat Wentz
The show image, 150 mg., was created by artist McKenna Carder.
ABOUT BOSCH
His work utilizes striking and sometimes seemingly surreal qualities, often depicting tales of morality. Intense scenes by Bosch encompass a sense of humor, sensuality, and grotesque quality. His masterpiece, The Garden of Earthly Delights, teems with fantastical landscapes of disturbing anthropomorphic beings composed in vivid jewel tones.
Over 500 years later, Bosch is still a source of inspiration for contemporary artists. Boschian, of or relating to Hieronymus Bosch, is used to describe everything from fine art to high fashion.
Boschian: Beautifully Bizarre is a display of curiosities with an appreciation for the surreal, beautiful and bizarre and the ability to instill both terror and delight.
ABOUT SUMMIT ARTSPACE
Summit Artspace is a non-profit arts organization that provides studio, exhibit and programming spaces in Summit County and the surrounding area for local artists and arts organizations; and is a center for art education open to all residents. Contact Summit Artspace at 330-376-8480. On the Web at www.summitartspace.org. Find us on: Facebook, Twitter at @AkronAreaArts, Instagram and Snapchat.
FREE PARKING BEHIND BUILDING.
HANDICAP ACCESSIBLE.
ELEVATOR AVAILABLE.
See the Summit Artspace exhibit calendar for directions.
Plan your visit by clicking here.
Have questions? Here is our Frequently Asked Questions page.