WINNERS OF JURIED SHOW ANNOUNCED
AKRON, Ohio–Summit Artspace welcomed summer with the juried show, A View from Within, that throws open the doors to artistic interpretation as an evolving relationship between the viewer and the creator.
The exhibition which runs until July 6 is free and open to the public.
For gallery hours and to plan your visit, click here.
It features 43 pieces in different media by 38 local artists. The juror is Christopher Hoot who teaches art and design at the Myers School of Art at The University of Akron and is the Coordinator of Foundations 2D Design and the B.A. Studio Program.
Artists can isolate or expand their view of the world through their art. They can direct the viewer's vision or simply allow the viewer to set her or his own boundaries. This exhibit invites artists to establish their own view from within and to direct or not direct the viewer's perspective.
Save your seat for the artist panel discussion, June 20
The artists and Hoot will discuss the exhibit and art at a panel discussion, June 20, 7 p.m. Interested persons are invited to see the exhibit before the panel. Reserve your seat here.
More About the Juror
Hoot studied art, design and psychology at Indiana University, where he earned a bachelor of art degree and minored in printmaking. After working in Miami, Florida, he attended the Yale School of Art MFA program in graphic design where he also studied drawing and sculpture.

JUROR STATEMENT

Christopher Hoot

The title, "A View from Within," suggests not only a personal viewpoint but also a perceptual or conceptual framework for seeing. This point of view, or attitude, incorporates how an artist establishes relationships between elements. Ideas and processes converge in order to communicate something vital, essential, or provocative in an artful manner. In this exhibition the organization of the artwork is arranged to compare and contrast formal considerations and extend visual narratives. An abstract approach in a number of the works opens an array of interpretations and associations—allowing the viewer to establish their own viewpoint. The variety and the eclectic styles brought together in this exhibition multiply our collective understanding of points of view and encourages paradigm shifts. It has been a pleasure to jury this exhibition—there is a great range of approaches, styles, media, ideas, perspectives, and points of view to reflect upon.
His current creative research includes combining digital vector graphics and photographic images with an experimental approach to hand-made marbling techniques, producing multiple layered abstract landscapes, cityscapes and soundscapes on paper, canvas and other materials. Some of his work can be seen on Instagram @christo4hoot and https://ello.co/christo4hoo. His website is https://www.christo4hootartwork.com.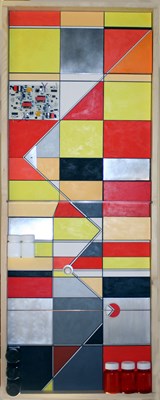 The process of aging, a relentless path, is viewed differently by each traveler. As a "multimedia non curvilinear cubist" I have abstracted my vision into a map of lines, circuit boards, plastic, wood, acrylic, MEDICINE BOTTLES and a pacifier. Beginning in the upper left with a hanging pacifier (infancy) the line travels downward through an organized circuit board and brightly colored panels and passes through Plexiglas "middle age" where the circuit board is in some disarray, the colors darken to black as the line passes by medicine bottles to the "end".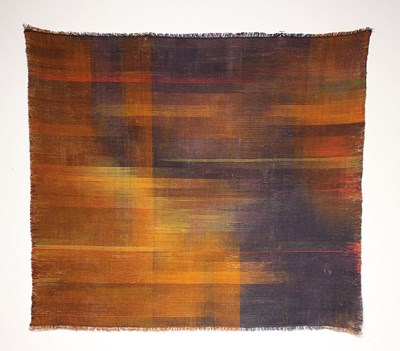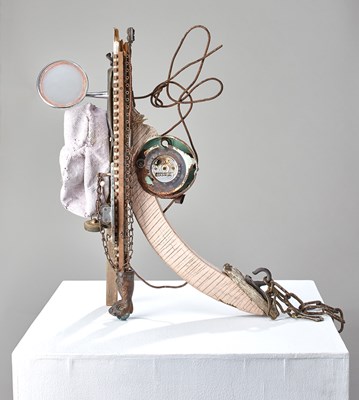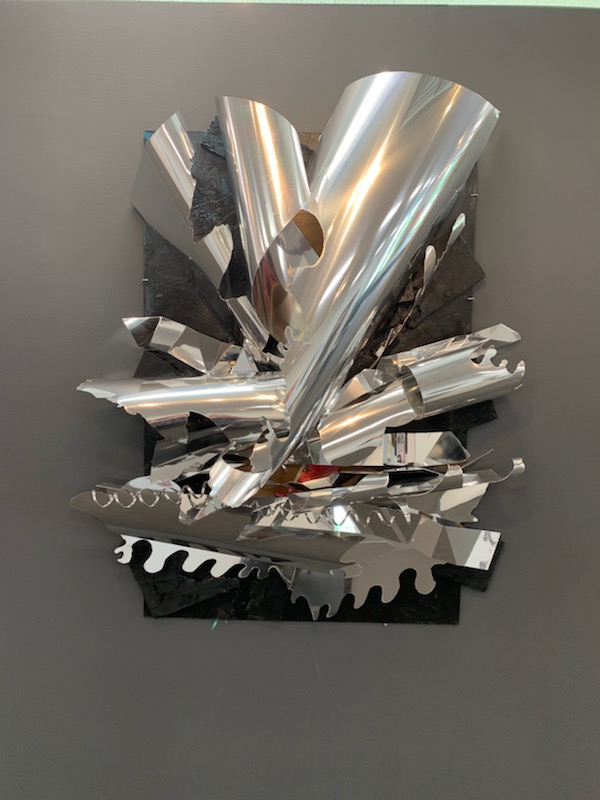 Summit Artspace is a non-profit community art center organization that provides studio, exhibit and programming spaces in Summit County and the surrounding area for local artists and arts organizations; and is a center for art education open to all residents. Contact Summit Artspace at 330-376-8480. On the Web at www.summitartspace.org. Find us on: Facebook, Twitter at @AkronAreaArts, Instagram and Snapchat.
HANDICAP ACCESSIBLE.
ELEVATOR AVAILABLE.
See the Summit Artspace exhibit calendar for directions.
Plan your visit by clicking here.
Have questions? Here is our Frequently Asked Questions page.