SUMMIT ARTSPACE OPENS INTROSPECTIVE JURIED ART SHOW
AKRON, Ohio–Summit Artspace is welcoming summer with the juried show, A View from Within, that throws open the doors to artistic interpretation as an evolving relationship between the viewer and the creator.
The show opens with a free reception with the artists and juror on Friday, May 31, 5-8 p.m., in the main gallery at Summit Artspace on East Market, 140 East Market St., Akron. Winners will be announced at 7 p.m. by juror Christopher Hoot.
The exhibition which runs until July 6 is free and open to the public. It will feature 43 pieces in different media by 38 local artists.
Artists can isolate or expand their view of the world through their art. They can direct the viewer's vision or simply allow the viewer to set her or his own boundaries. This exhibit invites artists to establish their own view from within and to direct or not direct the viewer's perspective.
The artists and Hoot will discuss the exhibit and art at a panel discussion, June 20, 7 p.m. Interested persons are invited to see the exhibit before the panel. Reserve your seat here: https://bit.ly/2Jwa8P.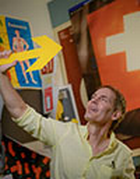 Hoot teaches art and design at the Myers School of Art at The University of Akron and is the Coordinator of Foundations 2D Design and the B.A. Studio Program.
He studied art, design and psychology at Indiana University, where he earned a bachelor of art degree and minored in printmaking. After working in Miami, Florida, he attended the Yale School of Art MFA program in graphic design where he also studied drawing and sculpture.
His current creative research includes combining digital vector graphics and photographic images with an experimental approach to hand-made marbling techniques, producing multiple layered abstract landscapes, cityscapes and soundscapes on paper, canvas and other materials. Some of his work can be seen on Instagram @christo4hoot and https://ello.co/christo4hoo. His website is https://www.christo4hootartwork.com.
Summit Artspace is a non-profit community art center organization that provides studio, exhibit and programming spaces in Summit County and the surrounding area for local artists and arts organizations; and is a center for art education open to all residents. Contact Summit Artspace at 330-376-8480. On the Web at www.summitartspace.org. Find us on: Facebook, Twitter at @AkronAreaArts, Instagram and Snapchat.
HANDICAP ACCESSIBLE.
ELEVATOR AVAILABLE.
See the Summit Artspace exhibit calendar for directions.
Plan your visit by clicking here.
Have questions? Here is our Frequently Asked Questions page.