Akron, OHIO – Summit Artspace has launched its Spring 2021 Season with three group exhibitions at 140 E Market Street, running through June 26. Visitors may view exhibitions during Summit Artspace's public hours on Saturdays from 11 am to 5 pm. Visitors may also view exhibitions online at www.summitartspace.org or schedule a private tour of the galleries by emailing info@summitartspace.org. 
Safety protocols are in accordance with Summit County, State of Ohio and CDC guidelines. For updated information, check Summit Artspace's website or call 330-376-8480. 

"THE ART OF Y" JURIED EXHIBITION 
BETTY AND HOWARD TAYLOR MAIN GALLERY | APRIL 9 – JUNE 26, 2021 
Click Here to View Virtually. 
Celebrating over 150 years of service, the Akron Area YMCA is a powerful association with a shared commitment to ignite youth empowerment, improve overall health and well-being, and demonstrate the importance of connections within our community. In that spirit, Summit Artspace is honoring the organization's milestone year by exhibiting artists who have created pieces inspired by the letter "Y" in any way. "This exhibition is a nice collection of artworks created in a wide variety of genre, media, and style," notes juror and artist Sharon Frank Mazgaj. "Some of the artist's work literally depicts the letter "Y" as its subject, others use the Downtown Akron YMCA building to represent, and others offer a more abstract idea of what the YMCA or some other 'why' means to them." 
Winners for "The Art of Y "are: 
1st Place: "The Y" by Emily Kohmann 
2nd Place: "Y NOT" by Stephanie Leonardi 
3rd Place: "150 Reasons Y" by Lisa Thomas  
Honorable Mention: "Akron's Ys" by Joe Dagostino 
Honorable Mention: "Y Design" by Diane Pribojan 
Honorable Mention: "P.S. I Love You (2019)" by Art x Love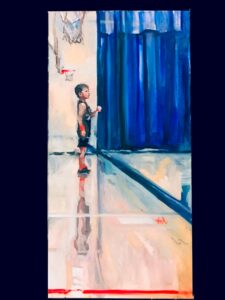 The Y by Emily Kohmann, Oil paint on canvas,
$1200, 12″x24″ 
________________________________________________________________________

ARTISTS OF RUBBER CITY MEMBER SHOW 2021 
THREE G GALLERY | APRIL 9 – MAY 22, 2021 
Click Here to View Virtually.
Based in Akron, Ohio, Artists of Rubber City was established in 1978 by a group of recent graduates of the University of Akron. It is a network of working artists and art lovers who enjoy supporting each other's creative endeavors. If you are interested in where the rubber hits the road in the Akron art community, come see this show in the 3G gallery! 
________________________________________________________________________

OHIO COLLAGE SOCIETY 15TH ANNUAL MEMBER SHOW
TRANSITIONS GALLERY | APRIL 9 – JUNE 26, 2021 
Click Here to View Virtually.
Ohio Collage Society presents their 15th annual Member Show at Summit Artspace, featuring a wide variety of collage and assemblage art created by local Ohio artists. 
ABOUT SUMMIT ARTSPACE 
Summit Artspace is a non-profit arts organization connecting artists and artist-serving organizations to the resources they need to thrive professionally, creatively and financially. It provides artist studios, exhibitions and programs in Summit County and serves as a vital place for the public to engage with the creative community. For more information, visit summitartspace.org or call 330-376-8480. 
For more information, email Grace Carter, Community Engagement Coordinator, grace@summitartspace.org.