COME ON IN THROUGH THE NEW PORTALS PHOTO SHOW AT SUMMIT ARTSPACE ON TUSC
Step into the first juried art exhibit at Summit Artspace on Tusc with PORTALS, opening Saturday, Sept. 28, 12-5 p.m., during the Mum Festival in Barberton.
There will be a free reception with the artists and juror during the opening in the main gallery located at 571 W. Tuscarawas Ave., Barberton. Winners will be announced at 3 p.m.  The show, which runs until Nov. 16, is free and open to the public. It will feature 39 pieces by 24 local artist photographers.
99:1 was taken at an undisclosed abandoned church in Detroit, Michigan
PORTALS IS FIRST JURIED SHOW AT TUSC GALLERY
This is the first juried exhibit that Summit Artspace has mounted at its Barberton location and will open during an important community event.
"With the community support and enjoyment of our Tusc gallery and artist studios, we are excited to take this step and open a juried show in Barberton," said Kamelia Fisher, executive director of Summit Artspace, which also has a downtown Akron location.
A portal is a way into, out of, or between places, people or things. It can be a doorway, a gate, a knothole, a tunnel, a tear in fabric, a window and an incision. These are all portals, both literally and metaphorically, that frame, isolate, reveal or add a new dimension to the image.
PORTALS connects the viewer with photographs that use these devices and others to create arresting and thought-provoking images.
ABOUT PORTALS JUROR
Photographer Don Parsisson of West Akron is the juror. In 2017, Parsisson curated a successful photo show at Summit Artspace on East Market called PHOTOGRAPHY NOW: The Art of Seeing and its unique accompanying show, In an Instant, an outstanding show of instant film works from local photographers.
Parsisson has a gallery/studio, fōtō – a tiny gallery of photography, at Summit Artspace on East Market that is open to the public during gallery hours.  Parsisson writes about his photographic passion:
I began photographing in high school when a buddy and I built a darkroom in his basement to develop black and white 35mm film. Our first attempts were of only marginal quality; both the developing and the shots themselves. But the wonder of seeing pictures materialize, seemingly out of nothing, more than made up for the lack of quality.
I continued with film photography, the only game in town at that time, mostly teaching myself through practice and reading. A small amount of formal instruction also helped to fill in some gaps. Fortunately I discovered I had a good eye for composition.
As it has done for many photographers, the advent of digital photography has impacted my photographic practice. The ability to review images as soon as they are made allows for on-the-spot correction and revision. It also has made it much easier to prepare final prints without the need for that magical place; the darkroom.
Recently I have returned to my early roots for some of my work, shooting film once again, albeit in a hybrid process. My developed negatives are scanned into digital files, which I import into Photoshop for editing before printing. Because film photography does not allow for instant in-camera review, I find myself slowing down, becoming more deliberate in the process of making each photograph.
Currently I divide my output between stand-alone photographs and conceptual photobooks. The process of making the books is compelling as they allow me to develop a theme or concept and present it as a complete package. I control the narrative flow of images in a way not easily achieved in a gallery exhibition.
My photographs have been included in a number of group and solo shows and I have been asked to jury both open-call and themed shows. One of my photobooks was included in the Cleveland Museum of Art show Photographers and Books and another is in an institute collection in Portugal.
My photographs and photobooks can be viewed at fōtō, my studio/gallery in Summit Artspace Akron. My photobooks are also available online at blurb.com.
PHOTOGRAPHER PANEL DISCUSSION NOV. 9
The artist photographers will gather for a panel discussion with the juror on Saturday, Nov. 9, 2-3 p.m., to talk about the theme and photography. The event is free and open to the public.
Please reserve a seat at https://bit.ly/2mAXMMJ. Visit the show before the panel. Doors open at noon.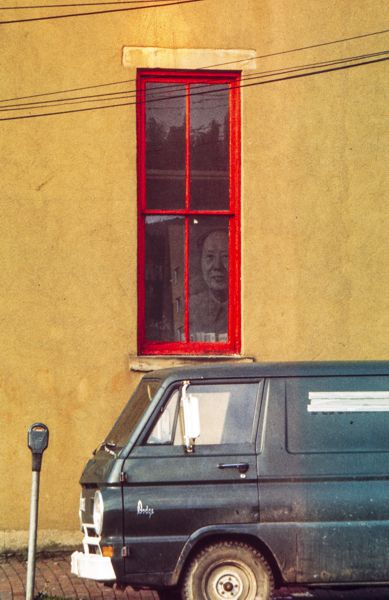 Part of a larger project about Athens in the Spring of 1972. I have gradually digitizing
all my film negatives and transparencies. There is something magical about film when it has been digitized and a new look is created that is not 20th century film or 21st century digital but a blend of techniques.
________________________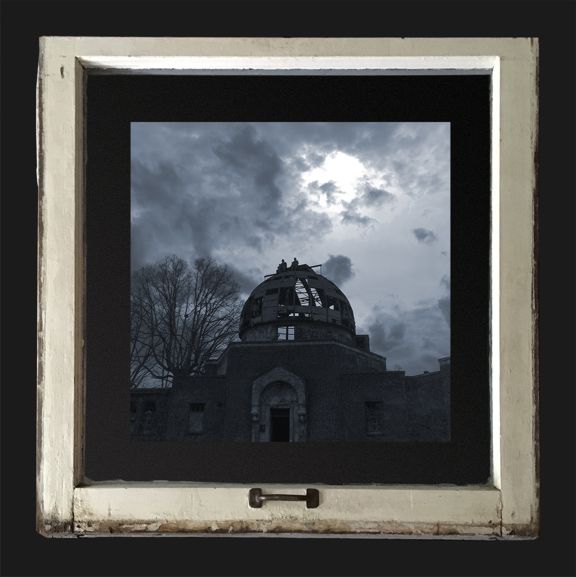 My creative partner always laughed at me as we traveled, camera in hand. "Windows and doors," he would exclaim. "Always windows and doors!" I am drawn to their repeated shapes, architectural details, textures, and the ways they reflect light and cast shadows. They also hint at what lies beyond. While typical windows and doors clearly fit within the definition of "portals," I chose to expand beyond that definition to include versions of them–and other passageways (in the natural world)–that are not as commonplace. As a more general artist statement: I love surprises—unexpected treasures or trinkets, art and architecture that nearly disappear into the environment, the play of light and shadow that takes your breath away. I love old hardware—pieces that reflect a craftsmanship and artistry often overlooked. I love decay—the deep textures and colors that emerge as objects are exposed or abandoned. Time transforms materials in unplanned ways. I love unusual angles and close-ups—the world around us viewed in fresh or even unrecognizable ways. I love the elegance and beauty of solitude—a powerful antidote to excess and speed. I love being transported into imaginary worlds—microcosms that evoke mystery and imagination… and perhaps a little childlike wonder. The image submitted for "Portals" reflects many of the characteristics listed above. These characteristics shape both the photograph content and perspective, and also how the image is framed.
________________________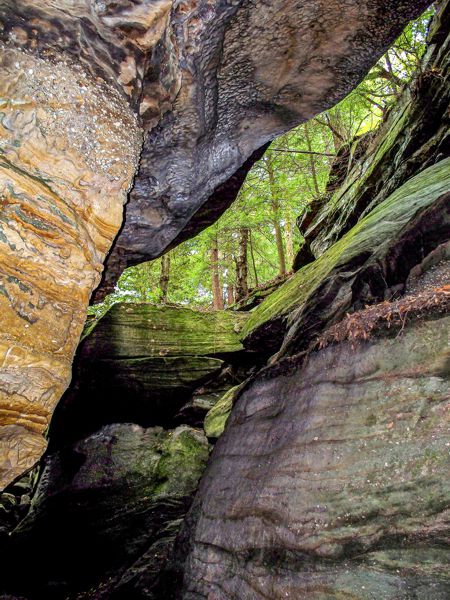 The perfect art piece takes time to build, time to form every element, so it comes together just right. Some great artworks have happened by accident, others have taken years to complete. There is no timeline when creating art, you just know when it's complete. Mother Nature however is never satisfied, never done creating. She takes her time, constantly negotiating – setting her own limits – her own demands – her own time frame, based on the materials provided her in that moment, to form that just right piece, only to her liking. We are constantly blessed by her new works of art. We can visit these wondrous pieces in her gallery, time and time again, and see something different each time. It is constantly forming, evolving, changing with the seasons, changing over time, as with this piece – taking over 10,000 years to create this view of the lush green forest just beyond its rocky ledges.
________________________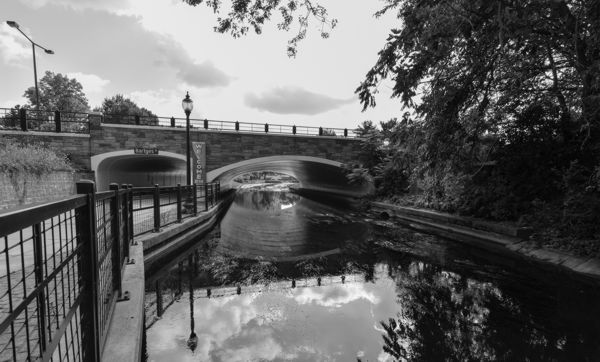 On a beautiful cloudy day the reflections from the Bartges St. bridge gave it the going through a spinning pipe feeling. Photo taken in Akron , entryway to Park East.
_______________________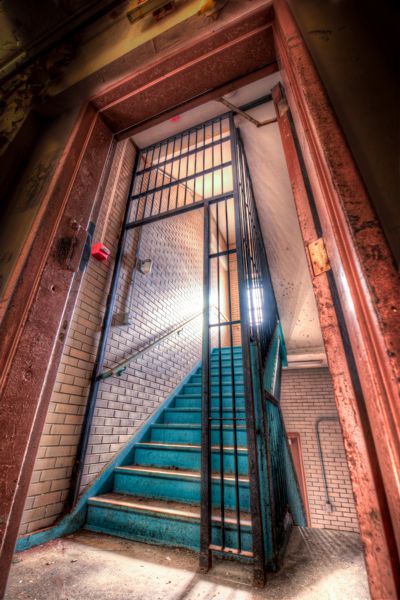 GALLERY HOURS
Summit Artspace on Tusc is open weekly Friday, 5-8 p.m., and Saturday, 12-5 p.m., for visitors to check out gallery and artist studios.
ABOUT SUMMIT ARTSPACE
Summit Artspace is a non-profit community art center organization that provides studio, exhibit and programming spaces in Summit County and the surrounding area for local artists and arts organizations; and is a center for art education open to all residents. Contact Summit Artspace at 330-376-8480. On the Web at www.summitartspace.org. Find us on: Facebook, Twitter at @AkronAreaArts, Instagram and Snapchat.
HANDICAP ACCESSIBLE.
ELEVATOR AVAILABLE.
See the Summit Artspace exhibit calendar for directions.
Plan your visit by clicking here.
Have questions? Here is our Frequently Asked Questions page.
---