WINNERS OF JURIED SHOW ANNOUNCED
The July-August 2019 show, Me, Myself and I? Juried Art Exhibition at Summit Artspace on East Market has brought together self-portraits where artists interpret themselves as pixels, stone coldness, the familiar of avian beauties, a hat, feet and the many ways to create the human face.
Me, Myself and I? opened with a free reception with the artists and juror Ron White on Friday, July 19, 5-8 p.m., in the main gallery at Summit Artspace on East Market, 140 East Market St., Akron.
The exhibition, which runs until Aug. 31, is free and open to the public. It features 45 pieces in different media by 40 local artists.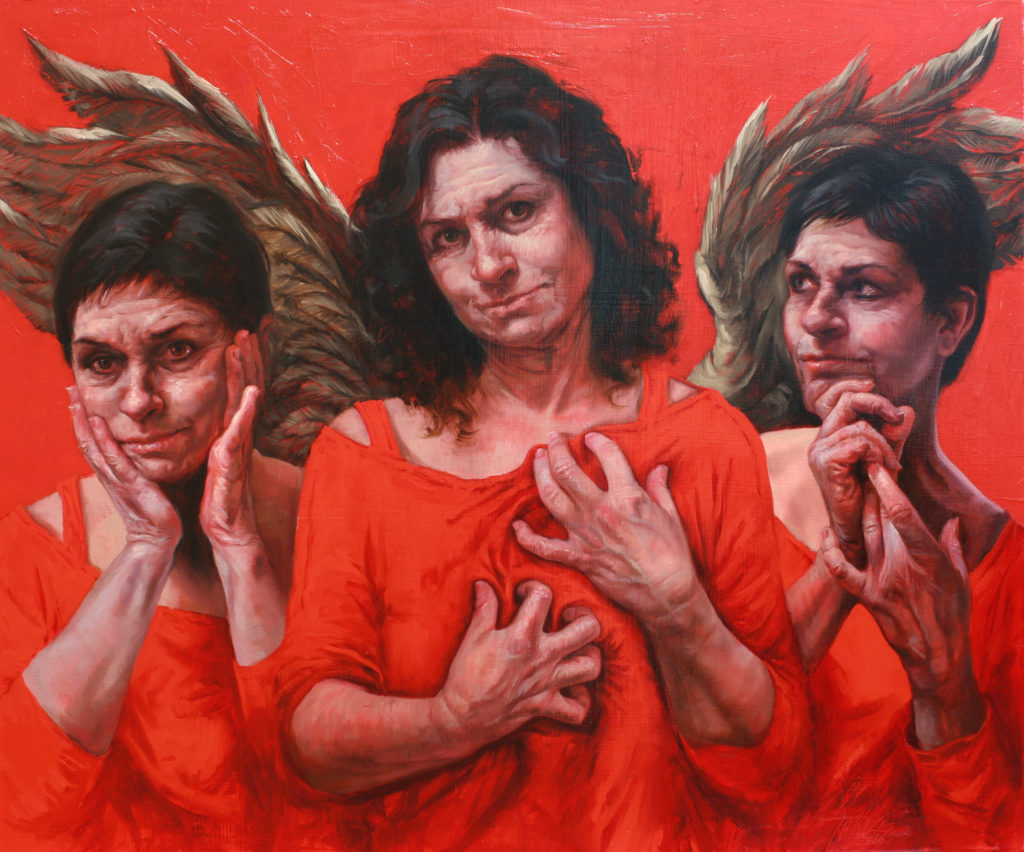 As my parents became elderly, with mounting health problems and a cancer diagnosis, I came to the realization that not only would I have to make sure my parents lived well. I also had to make sure they died well. I was not in denial about the inevitable, but, like Scarlet, just preferred to "think about it tomorrow". Besides, we were very busy with many doctors visits, surgeries, hospital stays, picture taking and memory making in the between-time. "Tomorrow," however, came in December 2015 and then again in June 2016, when my parents passed away within 6 months of each other; my dad first…the natural order of things. The sequence of events, twists, turns, plans, unknowns, changes, red alerts, whens, hows and ultimate absolute clarity of what was to be…was dizzying and remarkable. The Serenity Prayer was my mantra for a time. I was fortunate, honored and determined to be present for each parent, before, during and after their bodies shut down. In fighting…and then not fighting the inevitable… In embracing comfort, but shunning heroics… In vigilantly preparing for and guarding the sanctity of a peaceful ending, I felt every bit the Guardian Angel of the Good Death as I was fully present for both my mom and dad as they passed from this world.
MORE THAN A SELFIE
A self-portrait is a representation of an artist that is drawn, painted, photographed or sculpted by that artist. Artists have been making self-portraits since the earliest of times, sometimes depicting themselves as the main subject or as important characters in their work.
Me, Myself and I? is an exhibition of self-portraits with the works depicting the artists who produced the pieces. The exhibit is juried by noted local artist and educator, Ron White and will feature a variety of mediums, such as sculpture, painting, drawing, and photography.
ARTIST PANEL DISCUSSION AUG. 29
Hear the artists and the juror talk about creating themselves in a visual medium on Thursday, Aug. 29, 7 p.m., in the main Summit Artspace on East Market gallery. Visit the show before the panel; gallery opens at noon. Please reserve your seat at https://bit.ly/2x7sxdR.
Visitors will see all styles of self-depictions, including realism, abstraction, representational, self-portraiture, traditional, conceptual and modern. Artists have been encouraged to use this exhibition to fully explore their own image and provide the exhibition audience with an inside view of the "Me, Myself and I?" hidden inside.
ABOUT JUROR RON WHITE
Juror Ron White is known for his captivating and often haunting images, often of himself, that allow the viewer a glimpse of his view of the world, how he is affected by what he sees, and how he wants you to view both his work and him.
An award-winning artist, White creates with clay, charcoal, ink and ice. His murals are larger than life and draw you into a tightly-drawn universe of complexities and relationships. He is well-known for his portrait busts which freeze-frame the character of a subject, often incorporating wicked humor or cutting political commentary.
White's work is in private homes and collections. He shows throughout Akron, Cleveland and the Short North in Columbus. A member of the Akron Society of Artists and the Artists of Rubber City, he can be seen working at his studios at Summit Artspace on East Market in downtown Akron or at Summit Artspace on Tusc in Barberton. White teaches art at Barberton High School.
EXHIBIT HOURS
Summit Artspace is open weekly on Thursday and Friday, 12-7 p.m., and Saturday, 12-5 p.m., for visitors to check out galleries and artist studios. Additional hours include Aug. 3 for Artwalk, 5-9 p.m., and during 3rd Thursday, Aug. 15, 4-7 p.m.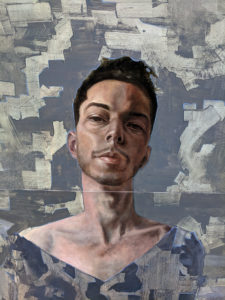 My portrait work delves into the human response to physiognomy. Encompassing a variety of methods of observation and translation, a labored and studied portrait are set against quick and responsive marks. Creating a journey within the painting or drawing, a balance between the conscious and unconscious is pivotal. It is a portrayal between feeling and seeing. The known and the unknown.
__________________________________________
A bit more unconventional look at the artist in his studio, contemplating his next move.
__________________________________________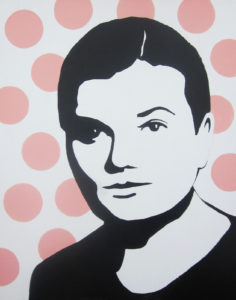 The self-portrait I chose to do is a simplified painting version of myself. I wanted to include as little information about myself, but still have it resemble me. My portrait is in the foreground making it the prominent subject in the painting. The painting is graphic, bordering on design as art.
__________________________________________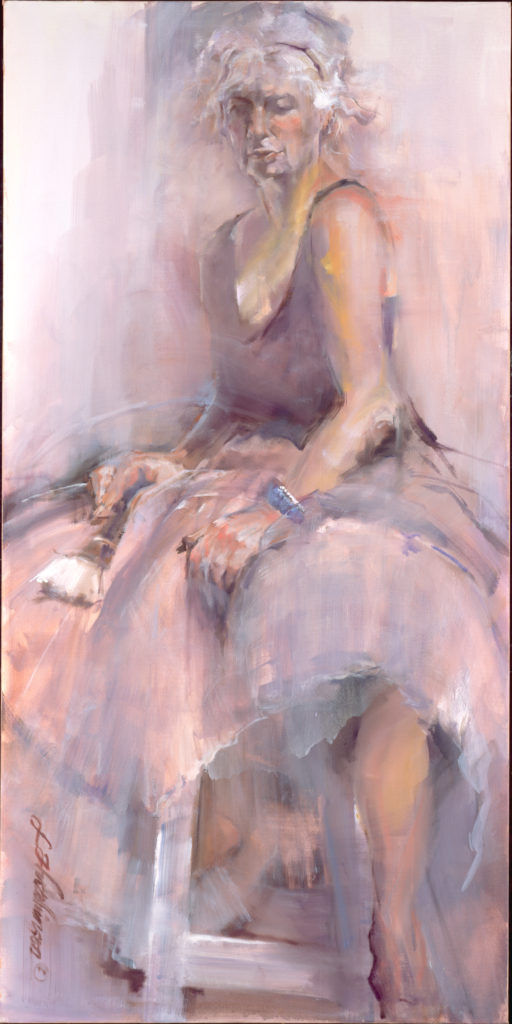 The title of this work was spun off of the poem by the late Ntozake Shange, the line reading…."i found god in myself/and i loved her/i loved her fiercely". I was so moved by these words, as I, too, was searching to find the good within myself.
__________________________________________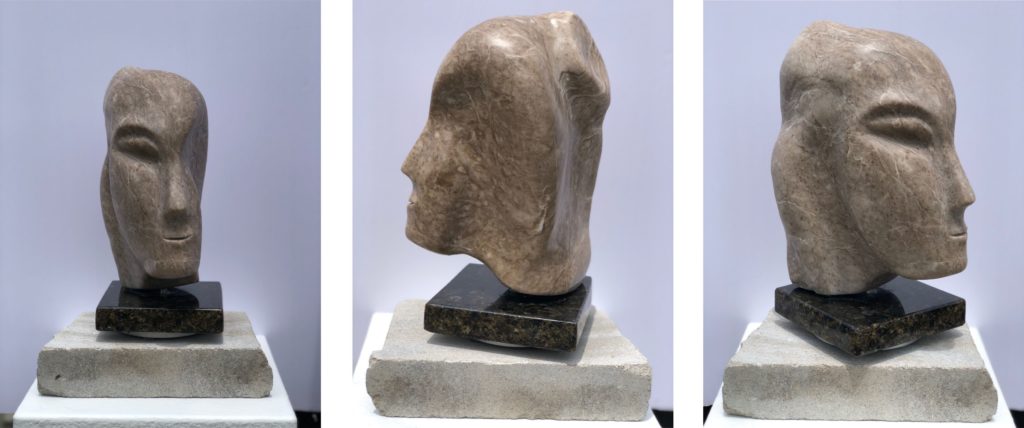 The Ever Evolving "I" Carved from New Mexico alabaster, mounted on Ohio granite and elevated on a Salem limestone slab this stone carving depicts the unfolding of being and becoming that is the essence of my emerging life and a catalyst for my eventual disappearance. The passion of inner strength and the felt knowing of inner struggle stand in relationship to one another creating a unique truth that is the foundation of my "personhood" and more importantly the essence of my "spirit presence" today. It has been an ongoing pilgrimage. Each new threshold has been poised to engage new practices, challenge skills and develop strengths to move beyond being the self absorbed me, the compensating borderless me and the independent, less than humble me; always intending to unfold the next threshold of becoming. The Ever Evolving "I" attends to the lack of symmetry in my art and the tug of war I daily encounter with being and becoming. I elected to befriend both deficits. I chose a chocolate brown alabaster devoid of hidden fault lines yet riddled with fissures thereby demanding attention without destruction and adding to the creative energy necessary to move back and forth between the two life forces. The oversized eye represents pre occupation with "seriousness" that often tempers my joy in the moment. This art experience has given me a greater appreciation and compassion for the struggle of being and becoming unique to each of us. The truth of who "I am" is non-binding, subject to the sediments of spiritual practices I employ, fermented in the DNA of environments in which I travel and resurrected through relational experiences and memory always with the God given intention to create and unfold The Ever Evolving "I".
__________________________________________
ABOUT SUMMIT ARTSPACE
Summit Artspace is a non-profit community art center organization that provides studio, exhibit and programming spaces in Summit County and the surrounding area for local artists and arts organizations; and is a center for art education open to all residents. Contact Summit Artspace at 330-376-8480. On the Web at www.summitartspace.org. Find us on: Facebook, Twitter at @AkronAreaArts, Instagram and Snapchat.
FREE PARKING BEHIND BUILDING.
HANDICAP ACCESSIBLE.
ELEVATOR AVAILABLE.
See the Summit Artspace exhibit calendar for directions.
Plan your visit by clicking here.
Have questions? Here is our Frequently Asked Questions page.
Show image art by Ron White.