AKRON AREA ART GROUPS COMPETE FOR 17TH ANNUAL KALEIDOSCOPE SHOW AT SUMMIT ARTSPACE
Members of area art groups will bring their best to the year's most anticipated competition, the 17th Annual Kaleidoscope Holiday Juried Art Exhibition, which opens Nov. 22 at Summit Artspace on East Market, 140 E. Market St., Akron. Closed Thanksgiving Day.
See the 2019 winners here.
YOUR INVITE TO OPENING NIGHT!
The show will open with a free Meet the Artists Reception & Awards event on Friday, Nov. 22, 5-8 p.m., in the main gallery at Summit Artspace on East Market. The exhibition which runs until Dec. 21 is free and open to the public.
The juried exhibition is organized each year by the Alliance for the Visual Arts. Kaleidoscope was founded in 2003 by AVA which is the umbrella group of the four area arts organizations: Akron Society of Artists, Artists of Rubber City, Cuyahoga Valley Art Center and the Women's Art League of Akron. More than 600 active members are eligible to compete in Kaleidoscope.
Prism Sunset Song, the 2018 Kaleidoscope People's Choice Award Winner by Julie DiSiena of Northfield, is the this year's show image.
ABOUT THE KALEIDOSCOPE JUROR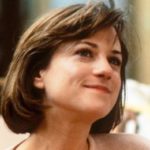 This is a very prominent show and gives inspiration to artists and art lovers from all over Northeast Ohio. Cash prizes for the top juried winners will be announced at 7 p.m. at the opening event by juror Theresa Bembnister, Curator of Exhibitions at the Akron Art Museum.
Bembnister has curated numerous exhibitions, including the current Open World: Video Games & Contemporary Art, an immersive new exhibition that features artists whose work has been influenced by video games. She earned an MA in art history and museum studies from Case Western Reserve University and a BFA from the Kansas City Art Institute.
Gallery visitors will be able to vote for their favorite artist to win the People's Choice Award, a working kaleidoscope designed and hand-blown by glass artist, Bob Pozarski of Peninsula. The winner will be announced at the end of the show on the Summit Artspace website. Julie DiSiena of Northfield was the 2018 People's Choice winner for, "Prism Sunset Pond," used in this year's publicity. She is a member of the Cuyahoga Valley Art Center.
ARTIST DISCUSSION PANEL, DEC. 19
The Kaleidoscope artists will gather for a free panel discussion led by Bembnister on Thursday, Dec. 19, from 7-8 p.m. in the main gallery surrounded by the artwork. The event is free. Reserve your seat here: https://bit.ly/2NnVD1P.
GALLERY HOURS
Summit Artspace's main gallery is open weekly Thursdays and Fridays, noon to 7 p.m., and Saturdays, noon to 5 p.m. Additional hours include 5-9 p.m. during the Dec. 7 Artwalk and Dec. 19 for 3rd Thursday, 4-7 p.m.
HOLIDAY HOURS OVER THANKSGIVING:
CLOSED THANKSGIVING DAY, THURSDAY, NOV. 28
OPEN FRIDAY, NOV. 29, 12-7 PM
OPEN SATURDAY, NOV. 30, 12-5 PM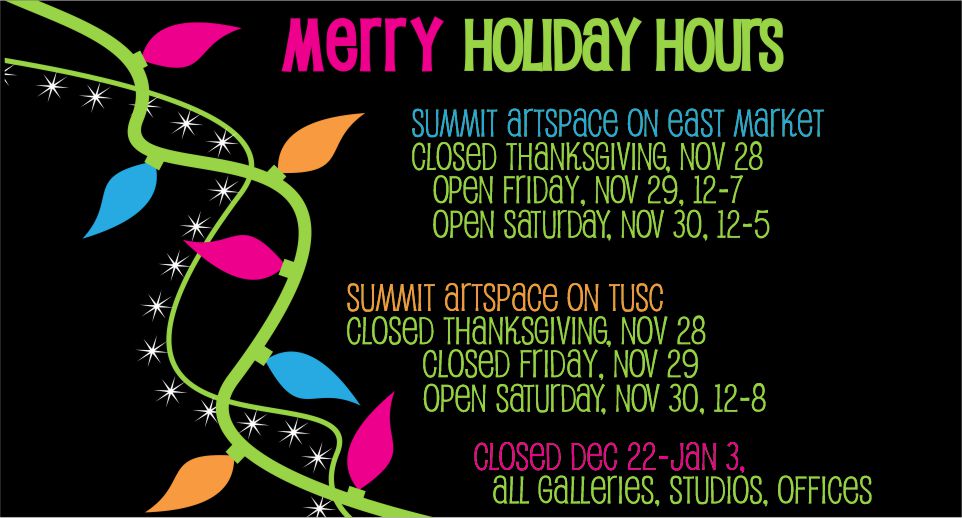 KALEIDOSCOPE JUROR'S STATEMENT
Theresa Bembnister, Curator of Exhibitions
Akron Art Museum
Across the parking lot from Summit Artspace, the McDowell Galleries of the Akron Art Museum exhibit works by Raphael Gleitsmann, Ray Grathwol, William Sommer and their peers, artists whose works tell the story of the city of Akron and its surrounding countryside. Kaleidoscope presents work by Northeast Ohio artists who continue this legacy of representing our community through the visual arts.
The 1st, 2nd and 3rd place award-winning artworks in this exhibition demonstrate outstanding technical acuity on the part of their makers—a mastery of color theory, atmospheric perspective and compositional balance—as well as a deep understanding of the material qualities of the artists' chosen mediums. These are artworks that delight the eye.
I based my selection of the four works receiving honorable mentions using a somewhat different sense of judgement. These are works that invoked an emotional response—feelings of solitude, anxiety, sadness and curiosity, to name a few. These artists may be drawing from their own psyche to create these powerful works, or reacting to the world around them.
I am honored to serve as the juror of the 17th Annual Kaleidoscope Holiday Art Exhibition and would like to offer my congratulations to all participating artists.
17th ANNUAL KALEIDOSCOPE WINNERS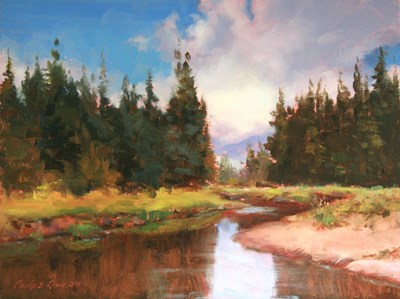 This is the beginning of the Colorado River in Winter Park, CO area. It is a beautiful serene area but one has to be alert for any moose or bear.
_____________________________________________________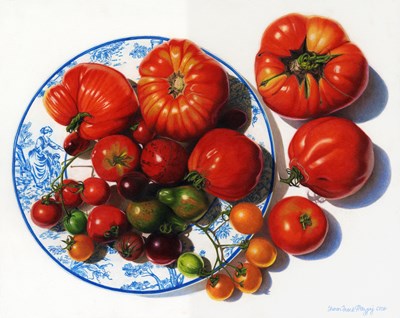 I take my own reference photos. I use a technique of building layer upon layer of color, blending and working with Prismacolor pencils. I completely cover the white of the paper. The end result is often mistaken for an oil painting. This piece required over 100 hours to complete.
_____________________________________________________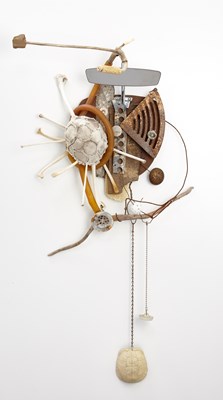 This assemblage is made from found objects that have been drained of their color, suppleness, and newness by the wear and tear of the sun. So the title refers not only of feeling drained of energy and usefulness but being deposited or drained at my feet. I found the resilience of the objects strong and powerful not at all lack luster.
_____________________________________________________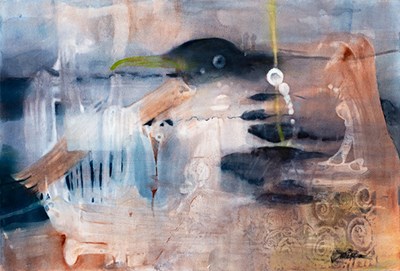 Mystery— visual complexity— trying to engage the viewer in dialog with the painting.
_____________________________________________________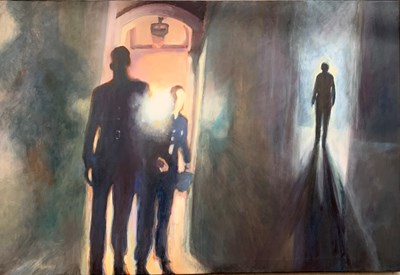 Statement on immigration separation.
_____________________________________________________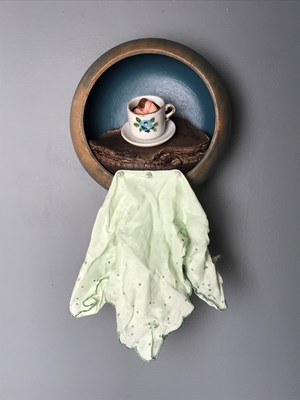 This piece speaks about self care, particularly self care during depression. We often seek solace in our home, in a bath, or in a cup of tea. The bowl represents home where we can be safe and vulnerable. The figure in the cup feels depressed, weary, small, and vulnerable. She soaks in a comforting bath of hot tea in an attempt to soothe herself. Her handkerchief is of a normal size but large compared to the figure. It cascades down representing a flood of tears. 
_____________________________________________________
Walking this path down by the Gorge in Akron I was inspired by the light filtering through the trees onto the trail ahead. I always use color and line to express the emotion , movement, and life I find in the beauty of nature.
_____________________________________________________
ABOUT SUMMIT ARTSPACE
Summit Artspace is a non-profit community art center organization that provides studio, exhibit and programming spaces in Summit County and the surrounding area for local artists and arts organizations; and is a center for art education open to all residents. Contact Summit Artspace at 330-376-8480. On the Web at www.summitartspace.org. Find us on: Facebook, Twitter at @AkronAreaArts, Instagram and Snapchat.
FREE PARKING BEHIND BUILDING.
HANDICAP ACCESSIBLE.
ELEVATOR AVAILABLE.
See the Summit Artspace exhibit calendar for directions.
Plan your visit by clicking here.
Have questions? Here is our Frequently Asked Questions page.