FEMICENTRIC: 2020 VISION JURIED ART EXHIBIT
AUG. 21 – SEPT 26, 2020 | OPENS AUG. 21, NOON
SUMMIT ARTSPACE ON EAST MARKET
Set for the main gallery at Summit Artspace on East Market,  FEMICENTRIC: 2020 VISION is juried by noted Akron area artist P.R. Miller. The show revolves around the themes of liberation, evolution, empowerment, entitlement and the progress of women.
Open to local artists of all genders, the show challenged them to create distinctive work that honors and embodies the impact and legacy of women who have shaped history, who are changing the present, and who will impact the future.  The art will be complimented by creatively written artist statements analyzing how their work fits the call for art using poetry, narrative or imaginative linguistics.
FEMICENTRIC opens on Friday, Aug. 21, 12 p.m., and runs until Saturday, Sept 26, 5 p.m. Artist awards will be announced by Miller on Thursday, Aug. 20 at 7:30 p.m., and can be seen via video on the Summit Artspace YouTube Channel and social media or highlighted in the gallery. See the winners on our website after Aug. 21.
In addition, the show is open starting at 12 p.m. on Saturday, Sept. 5, 2020, and through Artwalk from 5-8 p.m. Artwalk is an art/retail event organized by Summit Artspace on East Market in downtown Akron on the first Saturday of the month.
TICKET CENTER
CLICK HERE TO REGISTER FOR FREE, TIMED TICKET.
Visitors will need to register for a free, timed ticket at Eventbrite. Please choose a date and time and complete the registration. If you have questions or are experiencing difficulty, call our office at 330-376-8480.
SUMMIT ARTSPACE ON EAST MARKET


140 E. MARKET ST., AKRON
GALLERY HOURS: THURSDAYS,12-7 P.M. WITH 12-3 P.M. RESERVED FOR VULNERABLE POPULATIONS; FRIDAYS, 12-7 P.M.; SATURDAYS, 12-5 P.M.; OPEN SEPT. 5 FOR ARTWALK, 5-8 P.M.
BELOW ARE THE GUIDELINES FOR VISITING SUMMIT ARTSPACE ON EAST MARKET.
VISITORS MUST WEAR MASKS.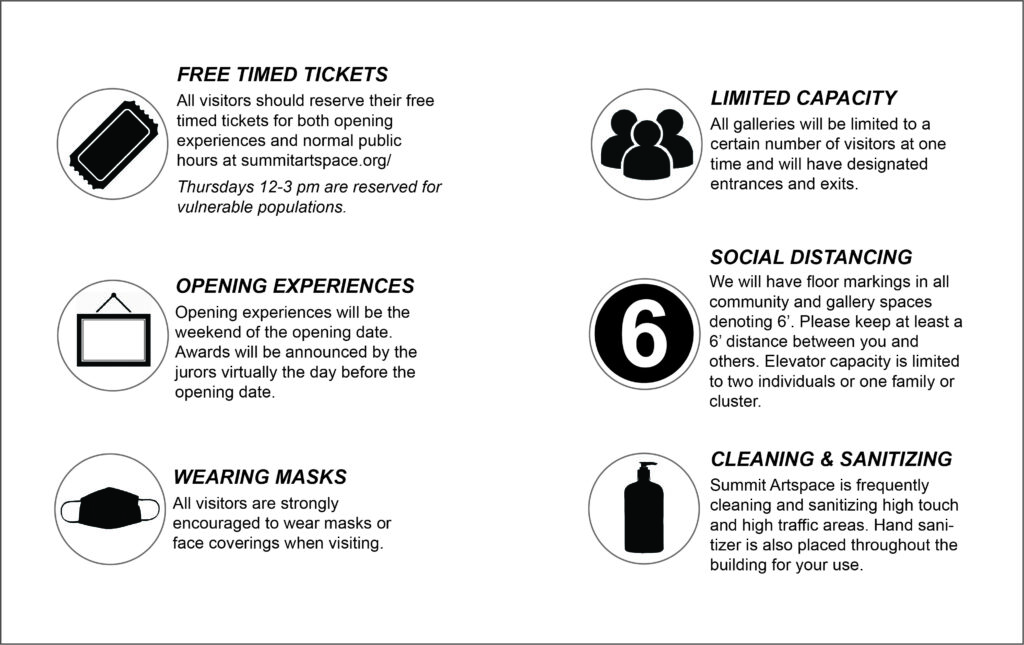 FEMICENTRIC: 2020 VISION SHOW WINNERS
Juror P.R. Miller of Akron announced the winners of the FEMICENTRIC: 2020 VISION Juried Art Exhibition on Aug. 20, 2020 via video on Facebook and YouTube. Here are the works with statements from the artists. 
Artist Statement: This piece uses a table top ironing board as a pedestal upon which a picturesque scene of domestic bliss takes place. Is it or isn't it?
---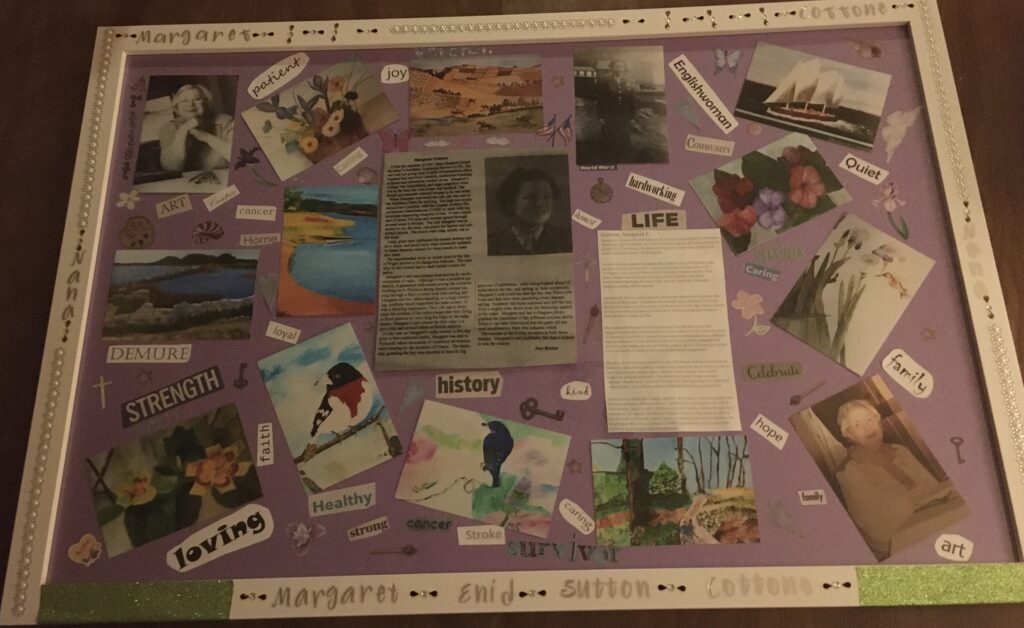 Artist Statement: When I think of a strong woman, I think of my Nana, Margaret Enid Sutton Cottone. Nana was born in London, England in 1923. She met and married my grandfather, Joseph Cottone while they both serving during World War II. Nana was a member of the English Army's Auxiliary Territorial Service. After the war, she immigrated through Ellis Island to settled in Stamford, Connecticut. Nana worked as a realtor, for US Tobacco and retired from the Stamford Public Schools. Nana prioritized her 3 children and 7 grandchildren. Nana was always gentle, kind and a true Englishwoman. Nana had always enjoyed art and drawing but after multiple battles with cancer her passion for painting emerged. Nana began taking art therapy classes during her treatments and recovery and even after a stroke limited the use of her right hand she continued to paint. She loved to paint birds, flowers, and landscapes. Nana shared her paintings as gifts and by creating works for the cancer center's annual charity calendar. The piece I created includes photographs of some of her many original paintings along with words that tell about her life and the way she lived it. The article at the center of this piece was discovered by family members after her death and as far as we have been able to find it was written for a newsletter while she worked for US Tobacco. The story of her participation during the war makes her life remarkable.
---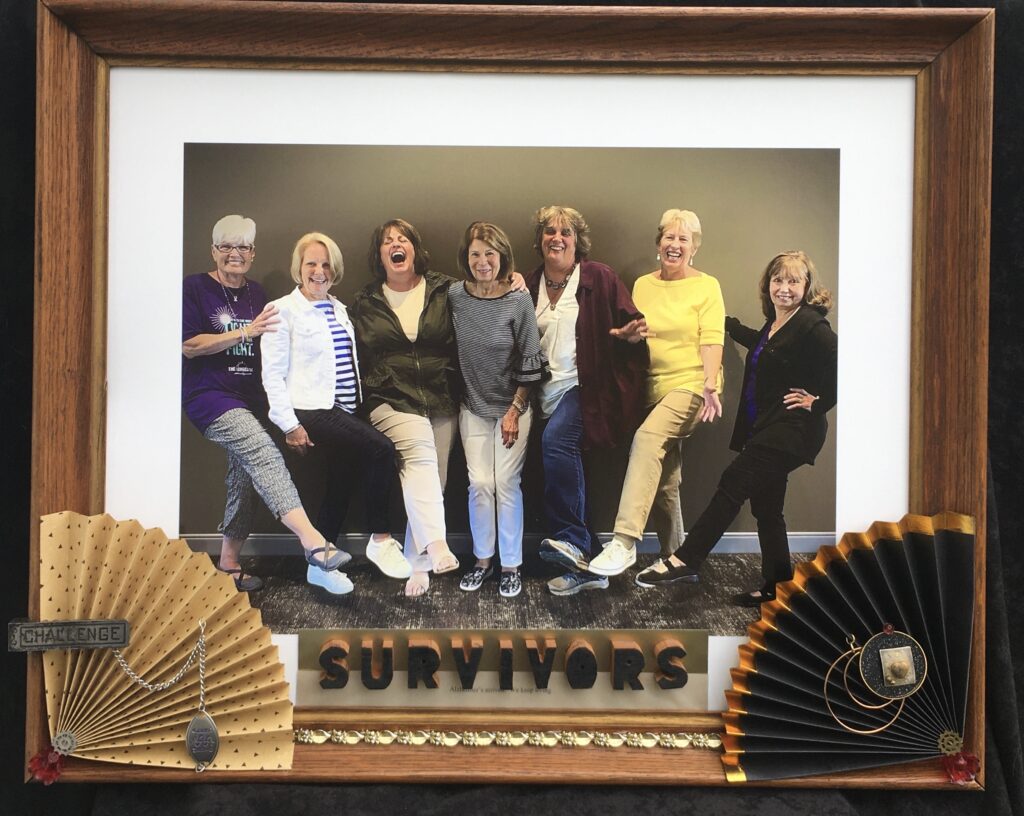 Artist Statement: I would not be here if not for these women. Every woman in this picture has been the primary caregiver for her husband for years. Most of us met in 2012 at an Alzheimer's support group. Amidst the severe challenges of coping with Alzheimer's, we forged a robust friendship. Rather than sink into isolation (a very real threat in this situation), we embraced our new realities, and embraced each other….both figuratively and literally. We fell apart, but also learned to climb out of deep depressions and sorrow. We began spending time together outside group meetings. It was a revelation. Our lives were not defined just by Alzheimer's. They were still fun, meaningful. We became more social, not less. We planned regular dinner and movie dates, museum outings and ice cream jaunts WITH our Alzheimer's spouses. Gone was the veil of discomfort and embarrassment. Here was no need to explain loved ones' unsettling behaviors. We banded together to create a caregivers' co-op, sort of a "play group" for adults. The Alzheimer's Association had never seen anything like it. We created our own solutions. As the disease progressed, our guys transitioned more willingly because changes occurred alongside the comfort of friends who didn't abandon us. Alzheimer's is not a death sentence. It is painful and unrelenting, but it still is LIFE. These women are proof. They not only changed the course of their own lives, but also that of other dementia patients, caregivers, and families who came after. They are survivors.
---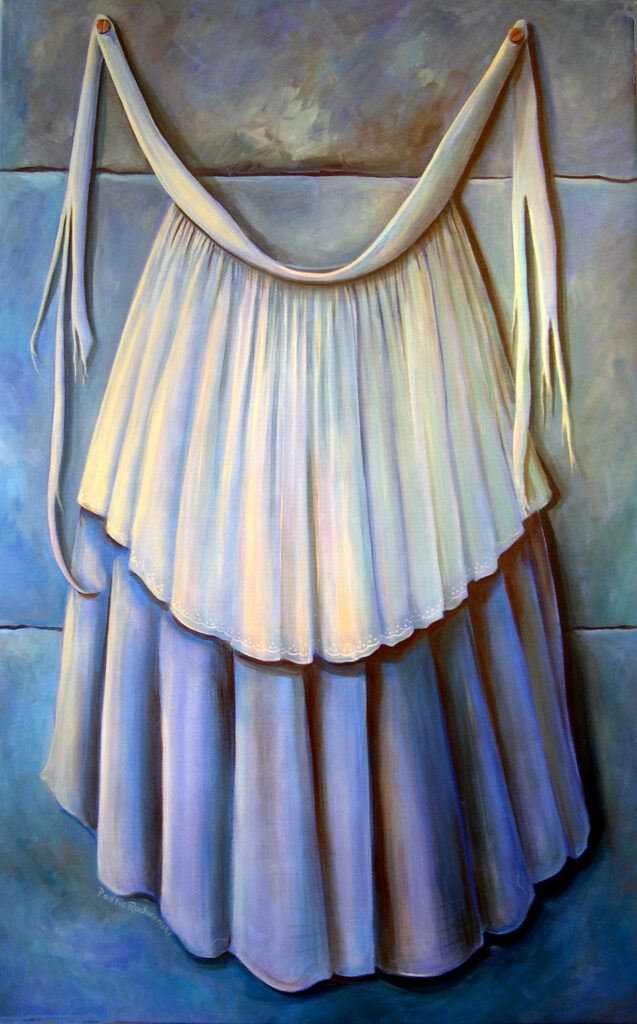 Artist Statement: The multiple roles of women, with one foot in the last century and one foot in the present, can be taxing.
---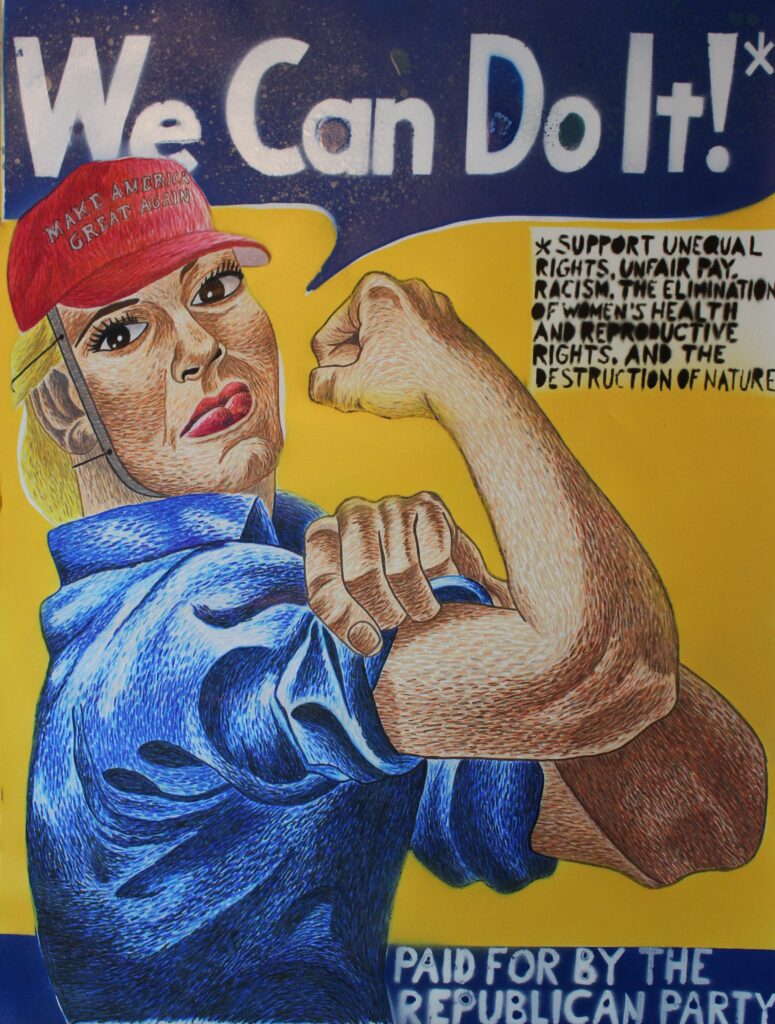 Artist Statement: Though often told to concentrate on one medium, one subject matter, or even one style, I just can't help but constantly expand my range as an artist, follow my heart and do what I want. My biggest passions in life are the environment, my hometown of Cleveland, as well as fighting for causes I believe in. Much of my work would fall under these categories. But my interest in music has led me to create work for bands such as Flogging Molly and Murder By Death; my interest in horror and the macabre has led me to use antique photographs as canvas's for paintings, as well as create a series of dark, creepy, risque photography for a new book. Though my work varies greatly, one thing it all has in common is that it comes from my heart and reflects a deeply held passion of mine.
FREE PARKING BEHIND BUILDING.
HANDICAP ACCESSIBLE.
ELEVATOR AVAILABLE.
See the Summit Artspace exhibit calendar for show details.
Plan your visit by clicking here.
Have questions? Here is our Frequently Asked Questions page.
Please Note: All exhibits are subject to becoming virtual at our website, summitartspace.org, due to the global pandemic.