The BOX Gallery – April 12-May 18
April 13, 2019 @ 12:00 pm

-

5:00 pm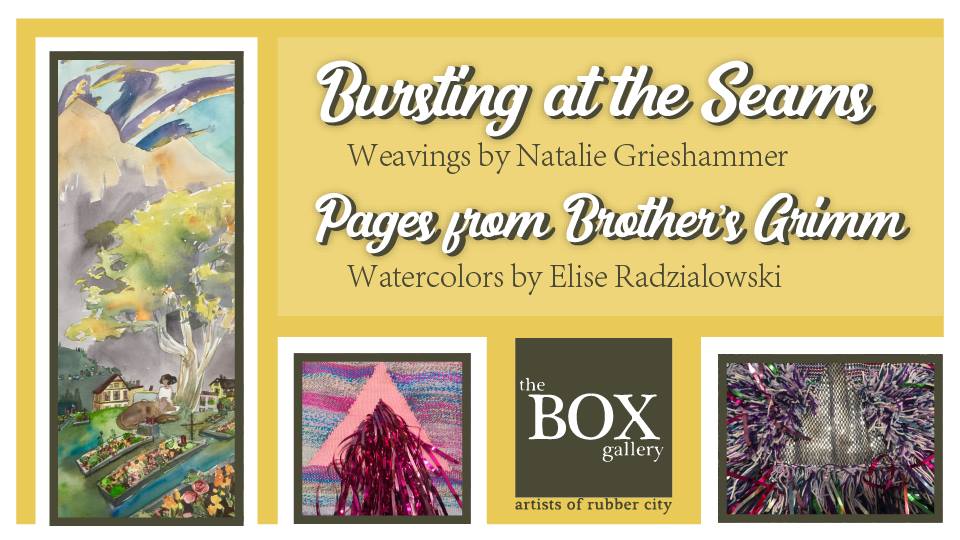 THE BOX GALLERY
OPENING RECEPTION: Friday, April 12, 5-8pm
On View: April 12 – May 18
Small BOX: "Pages from Brother's Grimm" by Elise Radzialowski
A painting and drawing student in her final year at The University of Akron's Myers School of Art, Radzialowski presents a series of watercolor narratives that bring together the archetypal Grimm fairy tales with the human experience of present day. "Through these stories, I want people to remember where they came from, identify their own hauntings, experience the fantasy of a surreal story, and see themselves as sharing life with all other human beings."
Big BOX: "Bursting at the Seams" by Natalie Grieshammer
An Arts Administrator for the Cleveland Museum of Art, self-taught musician, and feminist fiber artist, Grieshammer holds a BFA from CIA and a MA from UA's Myers School of Art. She presents highly-textured weavings, which incorporate nontraditional shiny materials such as glitter, plastics, and ribbons. "My work aims to validate and celebrate femininity. Surface seduction, unrestrained craft, and decoration, are a means of overturning cultural structures imposed upon the feminine."
Visiting The BOX Gallery
The BOX Gallery is located on the third floor of Summit Artspace on East Market, 140 E. Market St., Akron. Shows are FREE and open to the public during exhibitions on Fridays and Saturdays from 12-5 PM, 3rd Thursdays (Thursday, April 18 & May 16, 4-7PM), and the Akron Artwalk on (Saturday, May 4, 5-9PM).
About Artists of Rubber City
Artists of Rubber City (AoRC), is a visual arts nonprofit with the mission to advocate for contemporary artists and Ohio art. The group promotes the appreciation and ownership of art created by contemporary artists as one facet of the rich culture to be found in Northeast Ohio.
Its membership includes painters, photographers, printmakers, fiber artists, potters, ceramicists, glass artists, mixed-media artists, graphic artists, sculptors, jewelers, and some who aren't artists at all; they just love and support the visual arts. This rich mixture of talent and interests keeps AoRC lively and interesting.
In 2009 AoRC opened its current gallery space, the BOX, on the third floor of Summit Artspace near the Akron Art Museum in downtown Akron.
http://www.artistsofrubbercity.org/
artists.of.rubber.city@gmail.com
Cover Image:
– "Graveyard, Linz", Watercolor and Graphite on Paper, 2019, 24" x 8" by Elise Radzialowski (Left)
– "Mother" (detail), handspun wool yarn, wool yarn, and streamers, 2019, 16.5" x 40" by Natalie Grieshammer (Center)
– "Mystic" (detail), mixed yarns and streamers, 2019, 16" x 36" by Natalie Grieshammer (Right)
PARKING BEHIND THE BUILDING
HANDICAP ACCESSIBLE
See the Summit Artspace exhibit calendar for directions.
Plan your visit by clicking here.
Have questions? Here is our Frequently Asked Questions page.