Shows at The BOX Gallery
December 22, 2018 @ 12:00 pm

-

5:00 pm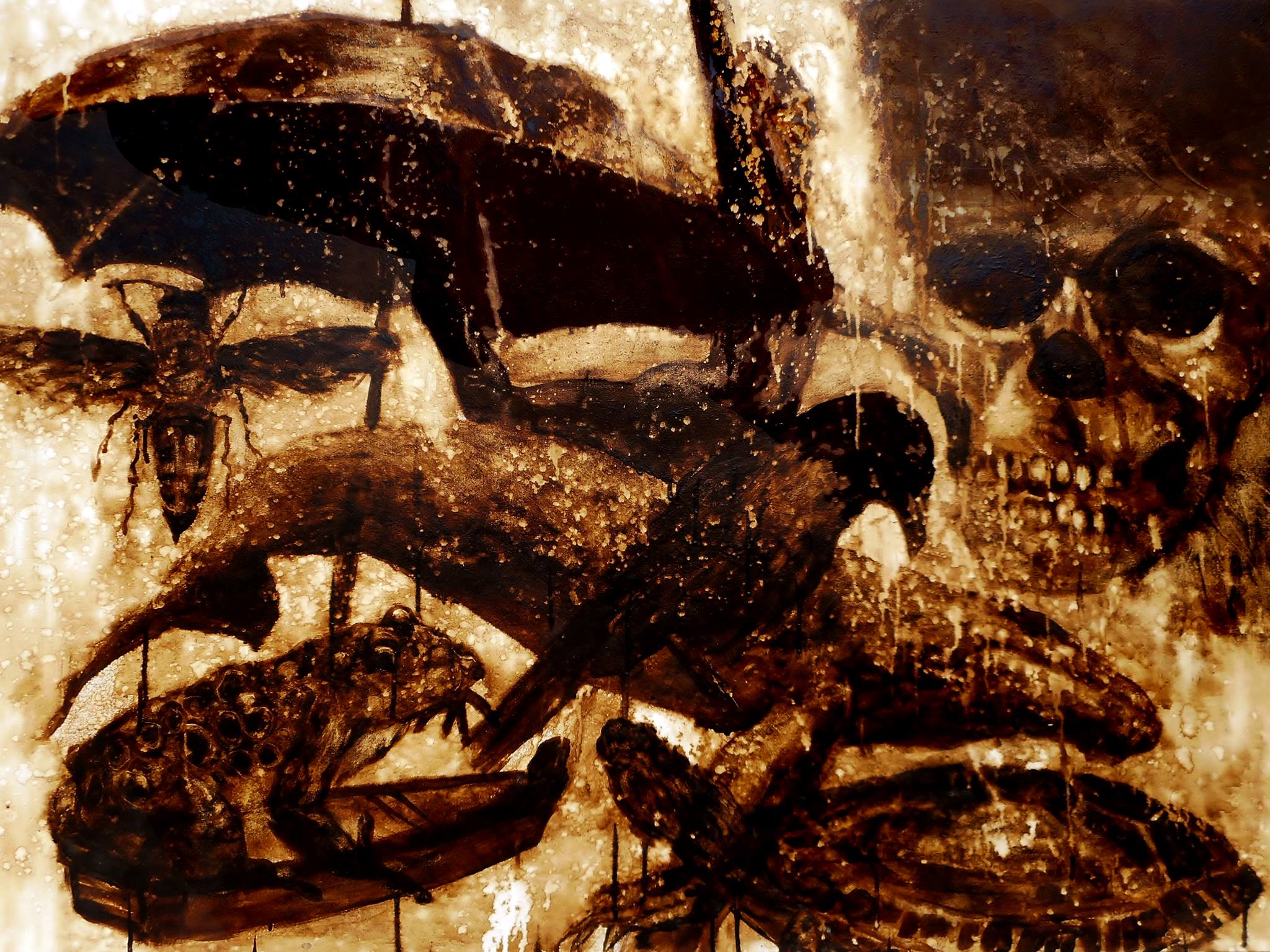 Sweat / Anthropocene Melt by John Sokol, tar-and-varnish on canvas
From Friday, November 30 through Saturday, December 29, 2018, the BOX Gallery in downtown Akron is proud to present: "Reclaimed: Environmental Art Today" curated by Annette Yoho Feltes and "Icelandic and Archipelagic Encounters" featuring Geraldine Kiefer. Meet the exhibiting artists at the opening reception on Friday, November 30, 5-8 PM.
"Reclaimed: Environmental Art Today" is a group show curated by Artists of Rubber City member and artist Annette Yoho Feltes. The curated exhibition explores a connection between humanity and nature as well as artists who try to expose the disconnection between humanity and nature. Annette explains, "This show is a pulse-taking of the area and a display of definitions to Environmental Art. It is necessary to reexamine the importance of our environment and hold it as a focal point in society." Exhibiting artists include Joey Aronhalt, William Peck, John Sokol, Eartha Goodwin, Tina Grondin, Joshua Fitzgerald and many more.
BOX GALLERY SHOW FEATURES ICELANDIC MAPS
Geraldine Kiefer, Professor of Art History and Art at Shenandoah University, creates mixed media compositions inspired by her fascination with maps and from an Icelandic residency. Her current body of work in "Icelandic and Archipelagic Encounters" continues from a series of maps based on Iceland during the Renaissance through the Enlightenment. The original series of maps created freehand from digital reproductions became the basis for a continuing series of imaginative and exploratory maps of Iceland, concluding with the late 19th century.
The BOX Gallery is FREE and open to the public during exhibitions on Fridays and Saturdays from 12-5 PM. Additionally, The BOX Gallery is open for Akron Artwalk on Saturday, December 1, 5-9PM and for 3rd Thursday on Thursday, December 20, 4-7PM.
See the Summit Artspace exhibit calendar for directions.
Plan your visit by clicking here.
Have questions? Here is our Frequently Asked Questions page.