Sept. 5 Artwalk
September 5, 2020 @ 5:00 pm

-

8:00 pm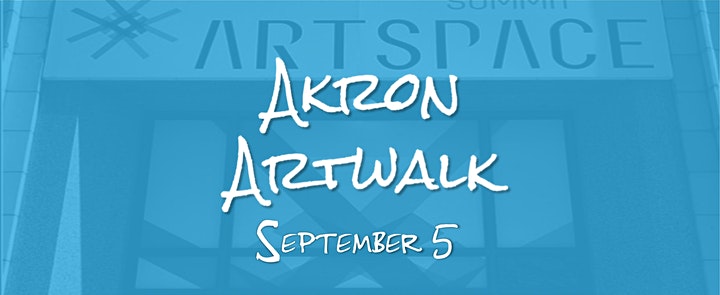 Akron Artwalk at Summit Artspace on East Market is back in-person for Sat., Sept. 5, 2020, 5- 8 p.m. You'll need a free ticket for entry.
ARTWALK AT SUMMIT ARTSPACE
FIRST SATURDAY OF THE MONTH
5-8 PM
CLICK HERE TO REGISTER FOR FREE, TIMED TICKET.

UPCOMING ARTWALK DATES:
SEPTEMBER 5, 2020
OCTOBER 3, 2020
NOVEMBER 7, 2020
DECEMBER 5, 2020
MORE ABOUT ARTWALK
So glad to be back and ready to welcome you to our socially-distanced artsy environment! Artwalk is an art/retail event organized by Summit Artspace the first Saturday of the month. We have a new time: 5-8 p.m.
You'll be able to visit galleries and stop by artist studios which will have their own schedules and guidelines. We're inviting pop-ups and check out our Artwalk partners in downtown Akron.
ARTWALK PARTNERS
Summit Artspace: Galleries, artist studios and more
-Zeber-Martell: See the exceptional functional and decorative ceramics by the artists, as well as a large selection of jewelry and much more to delight shoppers!
Northside Cellar: Check out what they have in the shop plus Art 4 Artwalk.
Bluff Blue Door Gallery : Art galleries in a unique setting.
sweetmodern.com : Fine vintage mid-century furniture and decor
Akron Soul Train: An artist residency village connecting and empowering the community and artists by granting fellowships that provide resources for all creative disciplines to foster a more vibrant downtown Akron.
Gallery C: A at East 66 Cuyahoga Falls Ave.
ARTIST STUDIOS WELCOME YOU BACK
With re-entry to Summit Artspace on East Market, you can also check out the artists studios. Artists have been back at their studios for several weeks and many of them have continued to create new works that you'll be able see and purchase. They will be determining their own reopening schedules and guidelines for visiting their spaces.
Visitors must wear masks.
FREE PARKING BEHIND BUILDING.
HANDICAP ACCESSIBLE.
ELEVATOR AVAILABLE.