"Seeing Ron" is believing! Artist's show is July 6-Aug 17
July 19, 2019 @ 12:00 pm

-

7:00 pm

Seeing Ron is believing! The Akron artist leaves a huge impression with show at Summit Artspace Welcome Gallery, July 6-Aug 17.
Artist and art educator Ron White of Akron is a prolific artist in several media and life-size and larger-than-life formats.
A selection of his work chosen for Seeing Ron will fill the Welcome Gallery at Summit Artspace on East Market from July 6 through Aug. 17. Free and open to the public. Find details about the official opening soon on summitartspace.org/event.
An award-winning artist, juror Ron White is known for his captivating and often haunting images, often of himself, that allow the viewer a glimpse of his vision of the world, how he is affected by what he sees, and how he wants you to view both his work and him.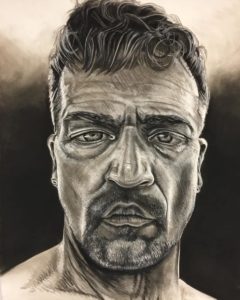 LARGER THAN LIFE
White creates with clay, charcoal, ink and ice. His murals are larger than life and draw you into a tightly-drawn universe of complexities and relationships. He is well-known for his portrait busts which freeze-frame the character of a subject, often incorporating wicked humor or cutting political commentary.
White's work is in private homes and collections. He shows throughout Akron, Cleveland and the Short North in Columbus. A member of the Akron Society of Artists and the Artists of Rubber City, he can be seen working at his studios at Summit Artspace on East Market in downtown Akron or at Summit Artspace on Tusc in Barberton. White teaches art at Barberton High School.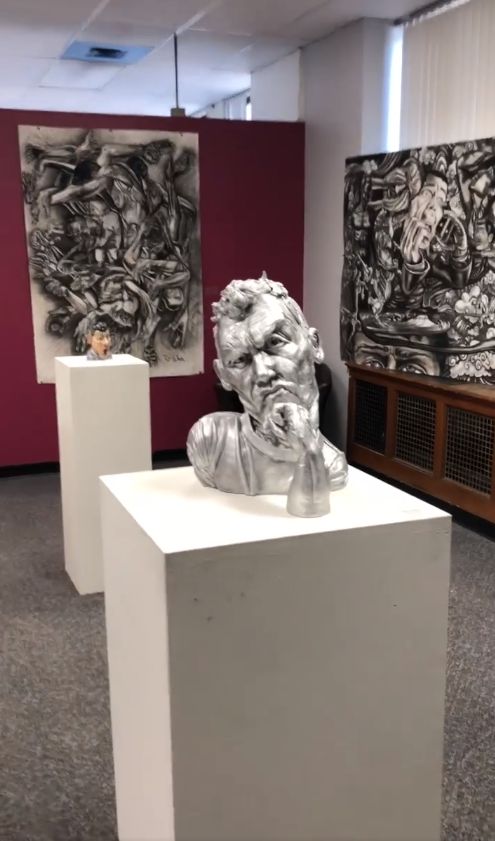 EXHIBIT HOURS FOr SeEING RON
Summit Artspace is open weekly on Thursday and Friday, 12-7 p.m., and Saturday, 12-5 p.m., for visitors to check out galleries and artist studios. Additional hours include Saturday, Aug. 3 for Artwalk, 5-9 p.m., and during 3rd Thursday, July 18 and Aug. 15, 4-7 p.m.
ABOUT SUMMIT ARTSPACE
Summit Artspace is a non-profit community art center organization that provides studio, exhibit and programming spaces in Summit County and the surrounding area for local artists and arts organizations; and is a center for art education open to all residents. Contact Summit Artspace at 330-376-8480. On the Web at www.summitartspace.org. Find us on: Facebook, Twitter at @AkronAreaArts, Instagram and Snapchat.
HANDICAP ACCESSIBLE
ELEVATOR AVAILABLE
See the Summit Artspace exhibit calendar for directions.
Plan your visit by clicking here.
Have questions? Here is our Frequently Asked Questions page.