Open for Business AEI Cohort Exhibit, Oct. 9-Dec. 19, 2020
November 20, 2020 @ 12:00 pm

-

7:00 pm
Open for Business showcases art by the most recent participants in the Artist as an Entrepreneur Institute at Summit Artspace. AEI is a partnership among Summit Artspace, Arts Cleveland and the Burton D. Morgan Foundation which funds the annual program.
OPEN FOR BUSINESS IS WHERE THEY WANT TO BE
AEI is open to individuals who are interested in or are already becoming entrepreneurs in the creative arts, including but not limited to visual art, music, theatre, dance, and writing.  Participants receive foundational business knowledge and hands-on training as part of the curriculum in this multi-week course.
Artists also have the opportunity to meet with and learn from successful creative entrepreneurs in Akron and the surrounding area. In addition to the class curriculum, participants receive the benefits of a supportive peer group and the exchange of unique perspectives on growing their creative business.  The Open for Business show is the capstone project for the 2019-2020 cohort that concluded at the beginning of the global pandemic.
YOUR VISIT TO OPEN FOR BUSINESS
Tickets are recommended but not required to visit gallery shows at Summit Artspace on East Market in Akron during public hours.
Artists with studios in the building will each have their own open hours and guidelines.
All visitors are welcome to stop by without a ticket to check on open gallery times.
Summit Artspace will be following state directives for social distancing. Visitors may choose to register for a timed, ticket here at Eventbrite. See ticket information below.
---
TICKET CENTER
CLICK HERE TO REGISTER FOR FREE, TIMED TICKET.
It is recommended that visitors register for a free, timed ticket at Eventbrite. Please choose a date and time and complete the registration. If you have questions or are experiencing difficulty, call our office at 330-376-8480.
SUMMIT ARTSPACE ON EAST MARKET
140 E. MARKET ST., AKRON
GALLERY HOURS: 
THURSDAYS,12-7 P.M. WITH 12-3 P.M. RESERVED FOR VULNERABLE POPULATIONS
FRIDAYS, 12-7 P.M.;
SATURDAYS, 12-5 P.M.; OPEN DEC. 5 FOR ARTWALK, 5-8 P.M.
BELOW ARE THE GUIDELINES FOR VISITING SUMMIT ARTSPACE ON EAST MARKET.
VISITORS MUST WEAR MASKS.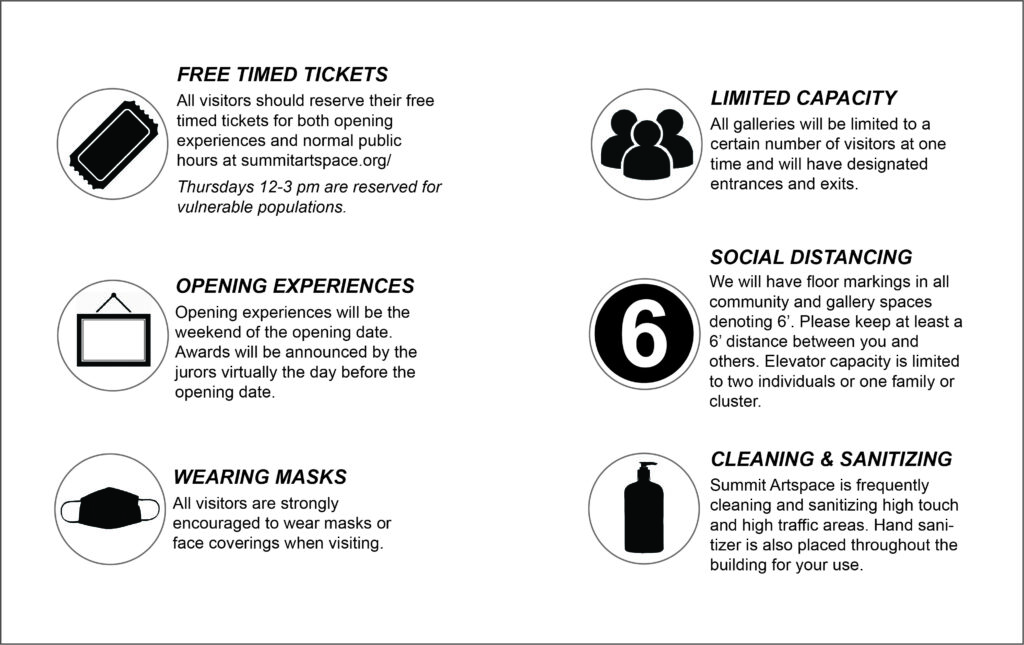 ---
FREE PARKING BEHIND BUILDING.
HANDICAP ACCESSIBLE.
ELEVATOR AVAILABLE.
See the Summit Artspace exhibit calendar for show details.
Plan your visit by clicking here.
Have questions? Here is our Frequently Asked Questions page.
Please Note: All exhibits are subject to becoming virtual at our website, summitartspace.org, due to the global pandemic.