#normalizebreastfeeding Photo Exhibit is bold, direct, candid, June 1-July 20
June 7, 2019 @ 12:00 pm

-

7:00 pm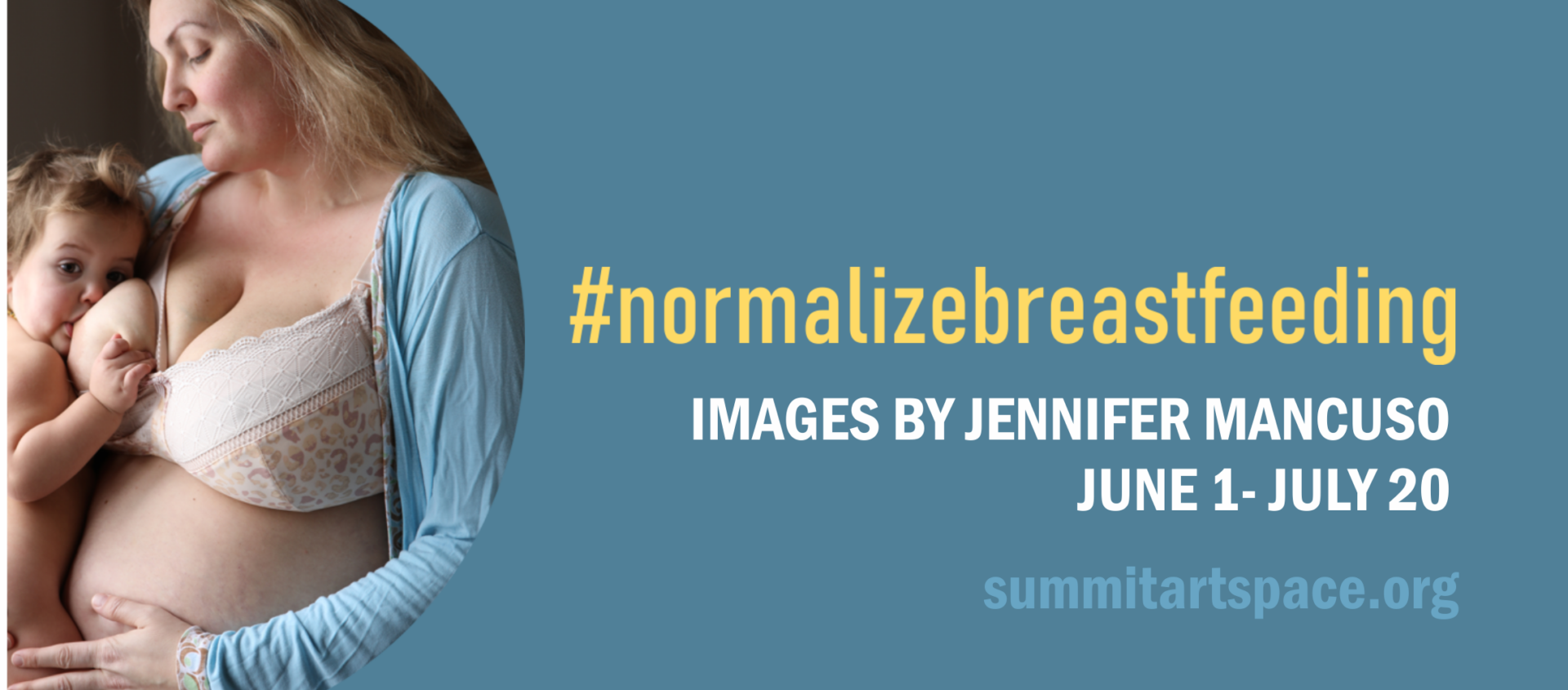 Jennifer Mancuso is bold and inspirational about her efforts to normalize public perception of breastfeeding. Her lioness attitude is out front in her debut photo exhibition, #normalizebreastfeeding, opening at Summit Artspace on East Market.
The show opens with a reception with the artist on June 1, 5-9 p.m., in the Summit Artspace Transition Gallery. Summit Artspace is located at 140 E. Market St., Akron. Mancuso will talk about her self-portraits and her work to raise public awareness at 7 p.m.
The show is free and open to the public. It runs until July 20. Summit Artspace is closed July 4.
The #normalizebreastfeeding images are an honest, candid portrayal of breastfeeding, which is supported by many women and men to provide infants with a healthy start in life that contributes to reduce infant mortality.
"My portraits of motherhood depict my candid, raw experiences in my breastfeeding journey, specifically with twins. My goal is by sharing these beautiful portraits, it will help our population become destigmatized to breastfeeding and give other women and future moms the courage and desire to breastfeed their children without feeling ashamed and with the eventual decline in both infant and maternal mortality," said Mancuso.
HER ADVOCACY TOOK OFF ON SOCIAL MEDIA
As mother of twins who breastfed through their first year, Mancuso is a fine art photographer and has become a social media influencer (Instagram – @jennifer.mancuso) through her unyielding practice and promotion of breastfeeding. She has encountered criticism and opposition from some quarters but also passionate backing from parents and breastfeeding support organizations.
Mancuso will be back in the gallery on July 18, 4-7 p.m. during 3rd Thursday to talk with visitors. She will give a presentation at 6 p.m. and take questions. Her journey has also been featured in major publications such as "People," "Mother.ly," "The Bump," "Parents," "Motherhood," and "Health Magazine."
While navigating the difficult waters of exclusively breastfeeding twins, Jennifer soon realized her experiences needed to be shared. She used her professional experience as a fine art photographer and presented her work to the world via social media.
RAISING INFANT MORTALITY AWARENESS
"Breastfeeding to many women and families still leaves a negative stigma because it is seen as 'indecent' and 'unnecessary exposure' or 'inappropriate.' This creates a culture where women feel ashamed and do not want to even try to breastfeed," Mancuso said.
According to America's Health Ranking website, the U.S. average of infant mortality is 5.9 deaths per 1,000 births and Ohio is well above that at more than 7. Infant mortality is defined as a baby born alive who dies in the first year of life. Ohio ranks 40 among states for infant mortality.
Mancuso shared that the lack of breastfeeding and related support are ranked as contributing causes of infant- and maternal-related deaths. In Ohio an average of only 16.7% of infants are breastfed exclusively through the first six months, compared to almost double that in New Hampshire and Vermont, states with the lowest infant mortality rate.
"#normalizebreastfeeding" is sponsored by Simple Wishes Hands Free and Pumping Essentials.
Summit Artspace is a non-profit community art center organization that provides studio, exhibit and programming spaces in Summit County and the surrounding area for local artists and arts organizations; and is a center for art education open to all residents. Contact Summit Artspace at 330-376-8480. On the Web at www.summitartspace.org. Find us on: Facebook, Twitter at @AkronAreaArts, Instagram and Snapchat.
Handicap accessible
Elevator available.
See the Summit Artspace exhibit calendar for directions.
Plan your visit by clicking here.
Have questions? Here is our Frequently Asked Questions page.