Hiding in full view: This is Max Markwald; "Dissociation" Aug. 3-Sept. 7, 2019
August 15, 2019 @ 12:00 pm

-

7:00 pm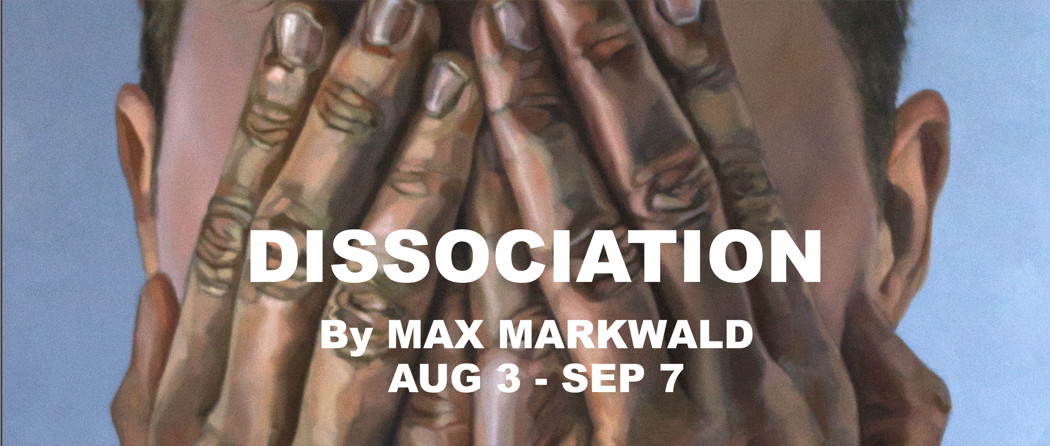 Month-by-month between 2018 and 2019, Max Markwald became. The artist documented the process of dissociation on canvasses that eventually held no trace of the Melissa that was before.
Summit Artspace on East Market opens this trailblazing exhibition of 12 large format paintings by local artist Max Markwald in the Transition Gallery at Summit Artspace on East Market, 140 E. Market St., Akron. The Dissociation exhibit, which runs until Sept. 7, is free and open to the public.
EXHIBIT HOURS
Summit Artspace is open weekly on Thursday and Friday, 12-7 p.m., and Saturday, 12-5 p.m., for visitors to check out galleries and artist studios. Additional hours include Aug. 3 and Sept. 6 for Artwalk, 5-9 p.m., and during 3rd Thursday, Aug. 15, 4-7 p.m.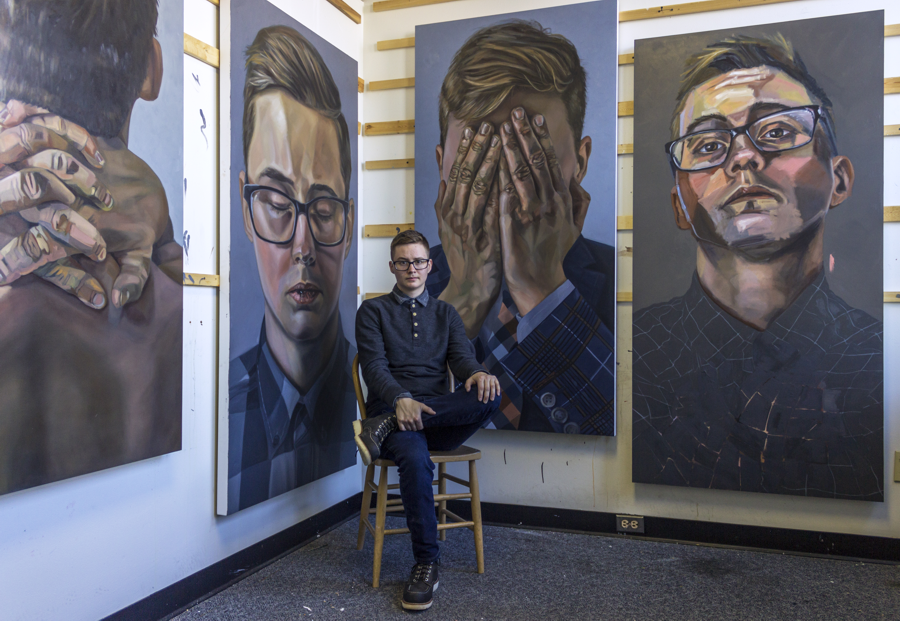 ABOUT MAX Markwald
Max Markwald graduated from the University of Akron, Myers School of Art, with a B.F.A emphasis in Painting and Drawing in Fall 2016. He has participated in the Curated Storefront Project, which places artwork in unused storefronts throughout downtown Akron. His large scale realistic portraits, which explore iconic figures and gender, have also been exhibited at 22 High Street Gallery, Malone Art Gallery, and the Hive Mind. Currently his studio is located at the Summit Art Space.
Dissociation Artist Statement
In Dissociation, I painted myself once a month for a year as a way of documenting my gender transition (female to male). I began the series in September of 2018 when I legally changed my name to Max Markwald (he/him/his). Instead of showing a fluid progression, each painting became an obscured portrait– hiding in full view.
My senior year at The University of Akron I had a critique with Judy Pfaff, who was working on an installation at the Akron Art Museum. She asked me my favorite artists and I rattled off a list that included figurative painters Michaël Borremans and Egon Schiele. " Those are all male painters" she remarked, "You need to think about what it means to be a female artist!" I chuckled, caught off guard, and thought, "I don't want to be female artist, I just want to be a painter."
After my senior show, I did begin thinking about what it meant, but the label didn't feel right. I couldn't recognize myself in the mirror or in pictures. Without words to describe the displacement I felt in my body, I painted a series of androgynous self portraits. At my gallery opening I felt unqualified to be making work about gender. I looked around and I couldn't recognize myself in the paintings either.
That summer I spent two weeks in Chicago for a studio intensive at North Park University. There I began appropriating Rosie the Riveter. I was drawn to her as a symbol of power for normal every-day working women . Painting my friends as Rosie became a way to explore and subvert gender roles. I finished the last piece while participating in a month long residency at the New York Academy of Art.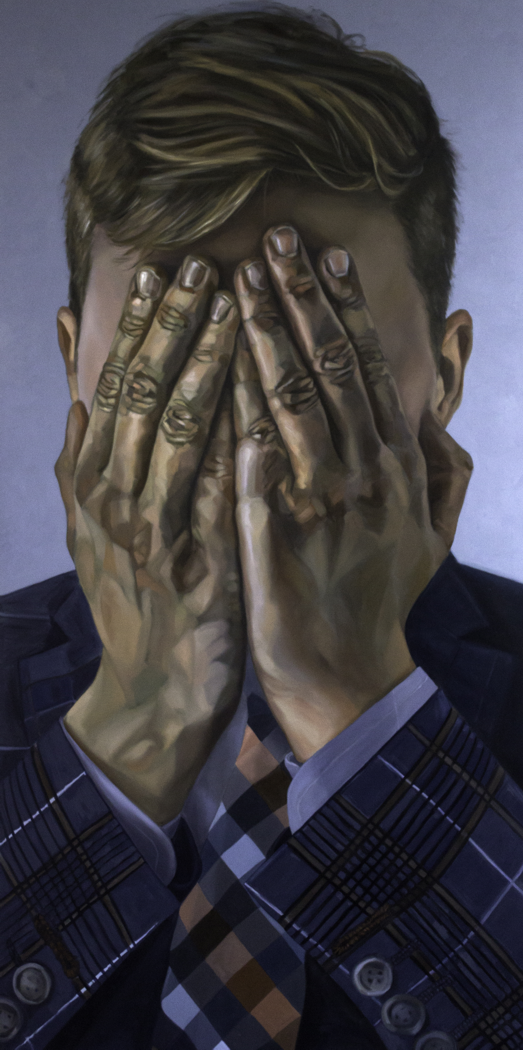 When I got back from New York City I began painting masculinity: an old photograph of myself at fourteen where I looked tomboyish, the house I grew up in that had no drywall, just rafters and fiberglass insulation; ridiculously gendered products like deodorant and body spray. I hated how girly my name was, hated how pretty everyone expected my paintings to be.
In April of 2018 I was featured in Canvas Magazines' "Who's Next. Emerging Artists in Northeast Ohio." It was very exciting, but also the push I needed to come out and be myself– Max Markwald, just an average-joe painter.
That September, I legally changed my name to Max (he/him/his) and began the series Dissociation. I painted myself once a month for a year as a way of documenting my gender transition. Instead of showing a fluid progression, each painting became an obscured portrait– hiding in full view.
__________________________________________
ABOUT SUMMIT ARTSPACE
Summit Artspace is a non-profit community art center organization that provides studio, exhibit and programming spaces in Summit County and the surrounding area for local artists and arts organizations; and is a center for art education open to all residents. Contact Summit Artspace at 330-376-8480. On the Web at www.summitartspace.org. Find us on: Facebook, Twitter at @AkronAreaArts, Instagram and Snapchat.
FREE PARKING BEHIND BUILDING.
HANDICAP ACCESSIBLE.
ELEVATOR AVAILABLE.
See the Summit Artspace exhibit calendar for directions.
Plan your visit by clicking here.
Have questions? Here is our Frequently Asked Questions page.