In Kind: 2019 Arts Alive Auction Artists Exhibit
November 5, 2020 @ 12:00 pm

-

7:00 pm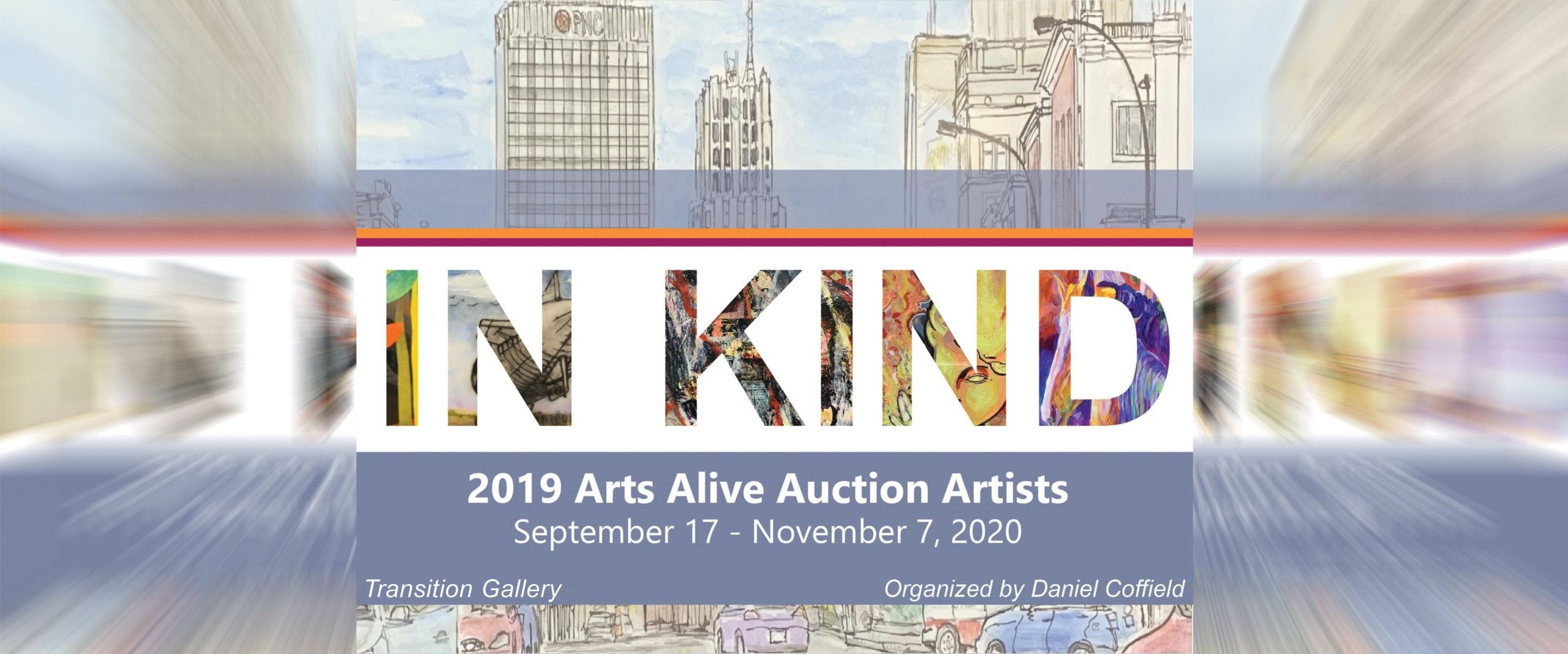 In Kind: 2019 Arts Alive Artists Show
Sept. 17 – Nov. 7, 2020 | Summit Artspace on East Market
Transition Gallery, 1st Floor
In Kind is an exhibition of local artists of all different backgrounds and art forms. Through their kindness and generous donations to the Summit Artspace 2019 Arts Alive Awards Silent Auction, we were able to raise funds that help support Summit Artspace's mission to help the local art community.
Artist Daniel Coffield of Coffield Studios, who organized the 2019 auction, has high hopes to make it a new tradition: "I hope that as the new Arts Alive Silent Auction and In-Kind art exhibition format grows we can continue to find new ways to network, promote, advocate and develop a stronger community of local artists."
Artists who excel in the art of generosity! See the work of the following in the new show, In Kind: 2019 Arts Alive Auction Artists, in the Transition Gallery. Free, timed tickets at summitartspace.org/tickets are recommended but not required or stop by for an open time. These artists donated last year to our annual auction and now they have their own show! Thanks so much to them. 
Alex Morrison
Taylor Clapp
Care Hanson
Linda Murphy
Jacqui Sukie
Susan Yingling
Jennifer Worden
Susie Lilley
Laurel Winters
Corbett Teter
Joan Colbert
Janean Ray
Norman Mallard
Andre Pace
Anita Burgess
Diane Pribojan
YOUR VISIT TO IN KIND
Tickets are recommended but not required to visit gallery shows at Summit Artspace on East Market in Akron during public hours.
Artists with studios in the building will each have their own open hours and guidelines.
All visitors are welcome to stop by without a ticket to check on open gallery times.
Summit Artspace will be following state directives for social distancing. Visitors may choose to register for a timed, ticket here at Eventbrite. See ticket information below.
---
TICKET CENTER
CLICK HERE TO REGISTER FOR FREE, TIMED TICKET.
It is recommended that visitors register for a free, timed ticket at Eventbrite. Please choose a date and time and complete the registration. If you have questions or are experiencing difficulty, call our office at 330-376-8480.
SUMMIT ARTSPACE ON EAST MARKET
140 E. MARKET ST., AKRON
GALLERY HOURS: 
THURSDAYS,12-7 P.M. WITH 12-3 P.M. RESERVED FOR VULNERABLE POPULATIONS
FRIDAYS, 12-7 P.M.;
SATURDAYS, 12-5 P.M.; OPEN Nov. 7 FOR ARTWALK, 5-8 P.M.
BELOW ARE THE GUIDELINES FOR VISITING SUMMIT ARTSPACE ON EAST MARKET.
VISITORS MUST WEAR MASKS.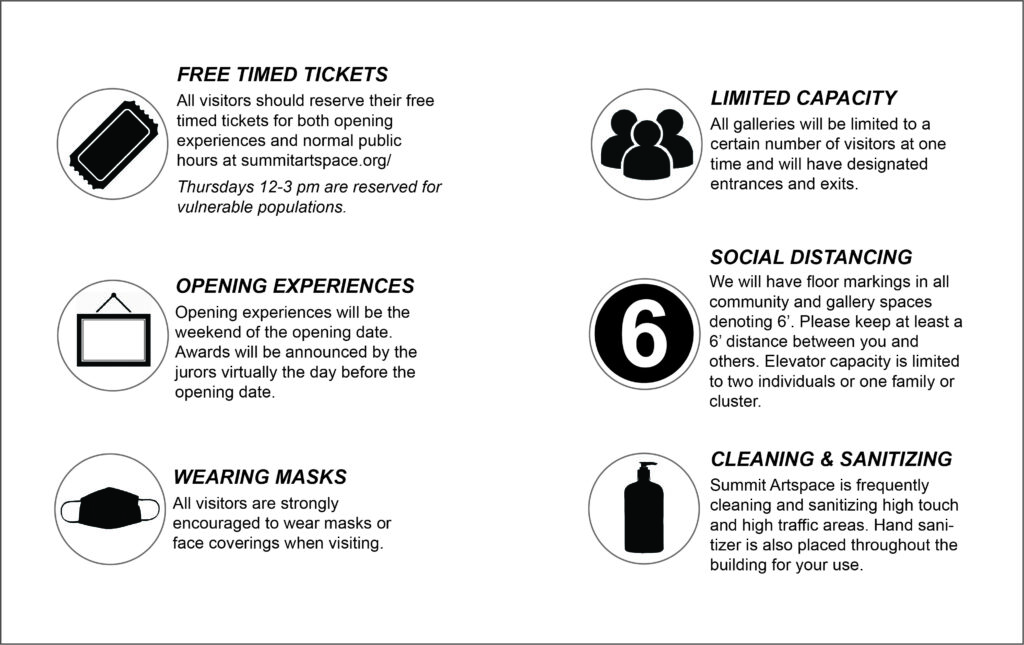 ---
FREE PARKING BEHIND BUILDING.
HANDICAP ACCESSIBLE.
ELEVATOR AVAILABLE.
See the Summit Artspace exhibit calendar for show details.
Plan your visit by clicking here.
Have questions? Here is our Frequently Asked Questions page.
Please Note: All exhibits are subject to becoming virtual at our website, summitartspace.org, due to the global pandemic.
Show image by Don Jeffrey.