Art that beautifies everyday spaces in Function and Form show
September 21, 2019 @ 12:00 pm

-

5:00 pm

Free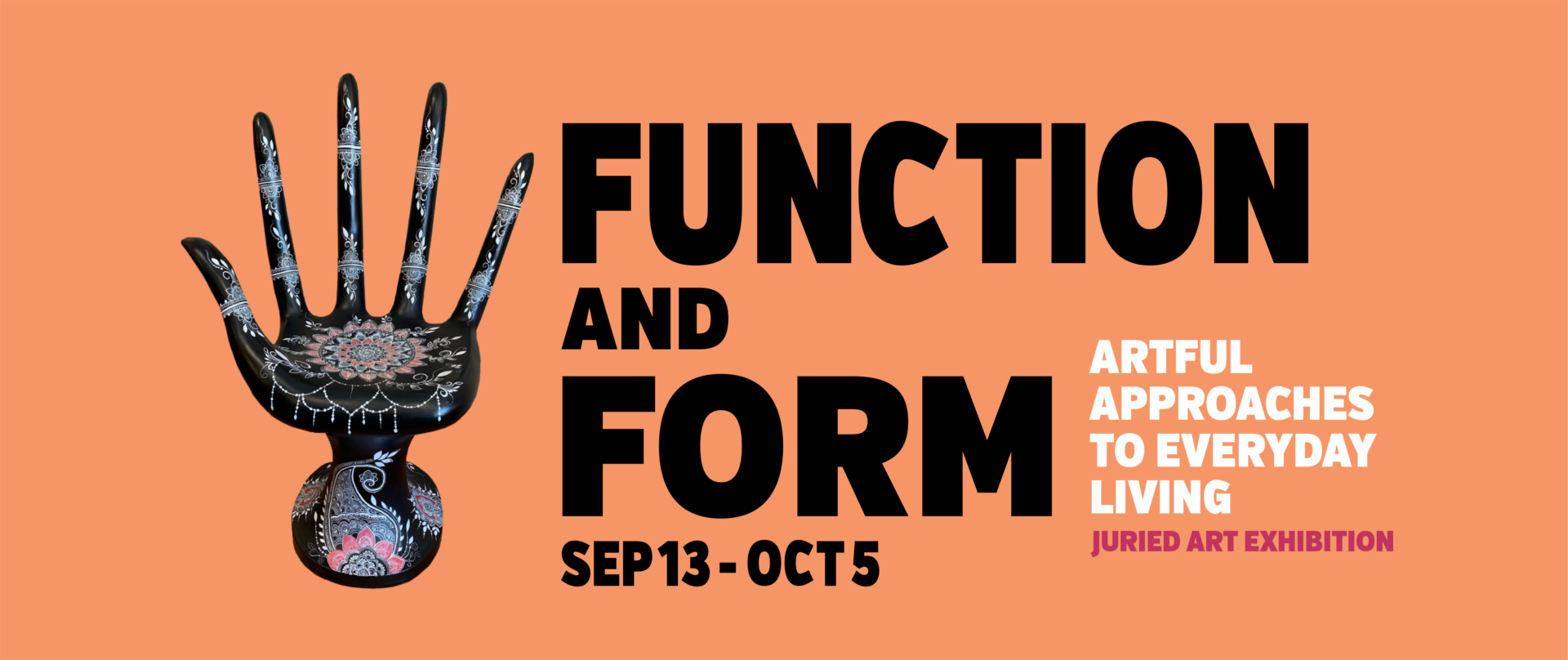 Function gives form to the pieces chosen for the new show at Summit Artspace on East Market but artistry breathes life into places for resting, small beacons of light, lovely machines to count hours, ornaments to adorn, artful vessels and more.
Function and Form, Artful Approaches to Everyday Living Juried Art Exhibition, which runs until Oct. 5, is free and open to the public. It will feature 45 pieces by 36 local artists. See the winners here.
The first-of-its-kind exhibition boasts designs in multiple mediums that combine creative approaches to the intersection of art and function, resulting in art that enhances living spaces and satisfies a human need for beautiful surroundings.
The Function and Form exhibit is juried by local interior designer and community activist Karen Starr, co-owner of Hazel Tree Design Studio in downtown Akron.
FUNCTION AND FORM ARTIST PANEL DISCUSSION
Hear the artists and juror talk about their passion for making a more beautiful world on Thursday, Oct. 3, 7 p.m., in the main Summit Artspace on East Market gallery. Visit the show before the panel; the gallery opens at noon. Please reserve your seat at https://bit.ly/2Tas70v.
Juror Karen Starr is known throughout Akron as a fierce advocate for local artists and is a patron, collaborator and talented designer and artist. Her career in interior design began under the tutelage of nationally recognized residential designer, Joel Wolfgang, learning the industry standards and honing her natural eye for composition and balance.
In 2009, she opened Karen Starr Redesign, where she focused on one of her deepest passions: sustainability. Her redesign work was rooted in the principles of rethinking a client's space with local, sustainable design approaches and maximizing what they already owned and loved. This kind of creative resourcefulness helped Starr build a cache of local artisans and manufacturers who can create beautiful and functional pieces either from sustainable materials or by modifying an existing object into a new use, principles that continue today.
Hazel Tree Design Studio was established in 2010 by Starr and her husband, Jon Haidet, combining Starr's interior design business with her husband's picture framing company for a one-stop shop of creative ideas for transforming spaces through art and design.
Starr's passion for design is matched only by her love of the Akron community, in all its quirky awesomeness. She is a co-founder of GAINS: The Greater Akron Innovation Network for Sustainability, Free Akron Outdoor Movies, and the Highland Square PorchRokr Festival. She works within her home and work neighborhood of West Hill, doing projects whenever possible with West Hill CDC and neighborhood businesses, groups and residents.
Because of her civic activism, Starr and the Hazel Tree team were recently asked by Akron Civic Commons to redesign and lead the Lock2 project, turning an underutilized outdoor park into an intimate place for conversations and gathering. In 2018, the Hazel Tree team is at it again, as they reimagine the park spaces at Park East, another Akron Civic Commons project along the Towpath/Ohio and Erie Canal, and the new home of Bounce Innovation Hub in the 150-year-old former BF Goodrich tire plant and transforming it into a modern, exciting and functional facility for not just entrepreneurs, but the Akron community.
EXHIBIT HOURS FOR FUNCTION AND FORM
Summit Artspace is open weekly on Thursday and Friday, 12-7 p.m., and Saturday, 12-5 p.m., for visitors to check out galleries and artist studios. Additional hours include 3rd Thursday, Sept. 19, 4-7 p.m. and Saturday, Oct. 5 for Artwalk, 5-9 p.m.
_____________________________________________________________________________
ABOUT SUMMIT ARTSPACE
Summit Artspace is a non-profit community art center organization that provides studio, exhibit and programming spaces in Summit County and the surrounding area for local artists and arts organizations; and is a center for art education open to all residents. Contact Summit Artspace at 330-376-8480. On the Web at www.summitartspace.org. Find us on: Facebook, Twitter at @AkronAreaArts, Instagram and Snapchat.
FREE PARKING BEHIND BUILDING.
HANDICAP ACCESSIBLE.
ELEVATOR AVAILABLE.
See the Summit Artspace exhibit calendar for directions.
Plan your visit by clicking here.
Have questions? Here is our Frequently Asked Questions page.