Creativity During a Crisis, Oct. 1-31, 2020
October 9, 2020 @ 12:00 pm

-

7:00 pm

CREATIVITY DURING A CRISIS
Oct. 1 – 31, 2020 | 2nd FLOOR GALLERY

SUMMIT ARTSPACE ON EAST MARKET
Creativity During A Crisis is an in-kind show produced by the University of Akron students and alumni, supported by Summit Artspace. Exhibited work was created during the time of pandemic and each work purchased allots 10% of the proceeds to an organization assisting a population 'in crisis.' CDC, or Creativity During A Crisis, is a glimpse into motivated studio practices and continued efforts of sharing art during personal, political and populated 'crisis.'
YOUR VISIT TO CREATIVITY DURING A CRISIS
Tickets are recommended but not required to visit gallery shows at Summit Artspace on East Market in Akron during public hours.
Artists with studios in the building will each have their own open hours and guidelines.
All visitors are welcome to stop by without a ticket to check on open gallery times.
Summit Artspace will be following state directives for social distancing. Visitors may choose to register for a timed, ticket here at Eventbrite. See ticket information below.
---
TICKET CENTER
CLICK HERE TO REGISTER FOR FREE, TIMED TICKET.
It is recommended that visitors register for a free, timed ticket at Eventbrite. Please choose a date and time and complete the registration. If you have questions or are experiencing difficulty, call our office at 330-376-8480.
SUMMIT ARTSPACE ON EAST MARKET
140 E. MARKET ST., AKRON
GALLERY HOURS: 
THURSDAYS,12-7 P.M. WITH 12-3 P.M. RESERVED FOR VULNERABLE POPULATIONS
FRIDAYS, 12-7 P.M.;
SATURDAYS, 12-5 P.M.; OPEN Nov. 7 FOR ARTWALK, 5-8 P.M.
BELOW ARE THE GUIDELINES FOR VISITING SUMMIT ARTSPACE ON EAST MARKET.
VISITORS MUST WEAR MASKS.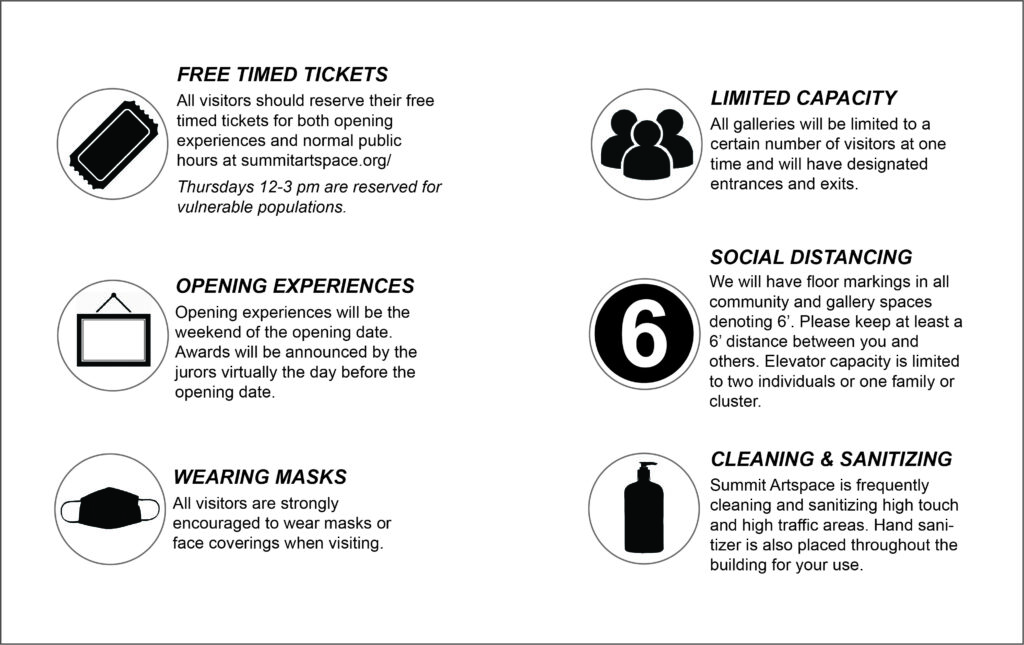 ---
FREE PARKING BEHIND BUILDING.
HANDICAP ACCESSIBLE.
ELEVATOR AVAILABLE.
See the Summit Artspace exhibit calendar for show details.
Plan your visit by clicking here.
Have questions? Here is our Frequently Asked Questions page.
Please Note: All exhibits are subject to becoming virtual at our website, summitartspace.org, due to the global pandemic.