CENTURIES OF CYCLING, Perpetuating the Passion of Collecting Vintage Bicycles
September 13, 2019 @ 12:00 pm

-

7:00 pm

Free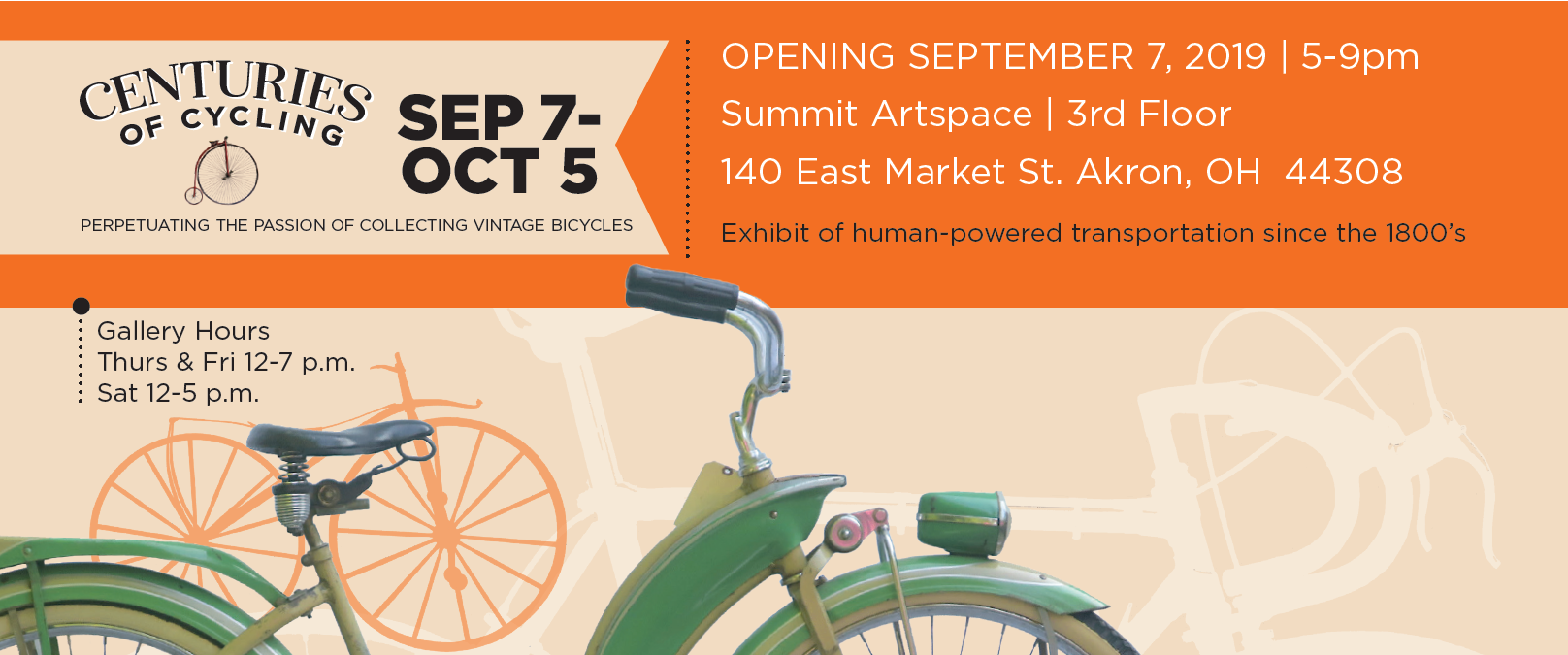 Summit Artspace is pleased to present Centuries of Cycling, Perpetuating the Passion of Collecting Vintage Bicycles, a collection of 10 vintage bicycles from collector Matt Barry. With the oldest dating to the Civil War era, these bikes represent the artistic achievement of human-powered transportation.
Centuries of Cycling will be displayed on the third floor of Summit Artspace until Oct. 5, 2019. An opening reception is set for Saturday, Sept. 7, 5-9 p.m.
Barry's interest in vintage bicycles started decades ago, after rescuing an old, rusty bike from a landfill.
Over time, he came to realize he had a unique shifting configuration, perhaps the only one still in existence. With that, his passion for preserving the history of pedal-power was born.
The goal of this exhibit is to interest the next generation in the past, as well as promoting bicycling as a sustainable transportation alternative.
The exhibit will run concurrently with an exhibit of photographs by local artist Tim Fitzwater, Just Ride.
Admission to the show is free and open to the public.
EXHIBIT HOURS Centuries of Cycling
Through Oct. 5,  the show is open weekly Thursday and Friday, 12-7 p.m, Saturday, 12-5 p.m. Admission is free and open to the public. Also open for Artwalk on Sept. 7 and Oct. 5, 5-9 p.m., and 3rd Thursday, 4-7 p.m. on Sept. 19.
---
ABOUT SUMMIT ARTSPACE
Summit Artspace is a non-profit community art center organization that provides studio, exhibit and programming spaces in Summit County and the surrounding area for local artists and arts organizations; and is a center for art education open to all residents. Contact Summit Artspace at 330-376-8480. On the Web at www.summitartspace.org. Find us on: Facebook, Twitter at @AkronAreaArts, Instagram and Snapchat.
FREE PARKING BEHIND BUILDING.
HANDICAP ACCESSIBLE.
ELEVATOR AVAILABLE.
See the Summit Artspace exhibit calendar for directions.
Plan your visit by clicking here.
Have questions? Here is our Frequently Asked Questions page.