Opening night! BOX features Susie Lilley photos of Queen City Parks
January 10, 2020 @ 5:00 pm

-

8:00 pm

Free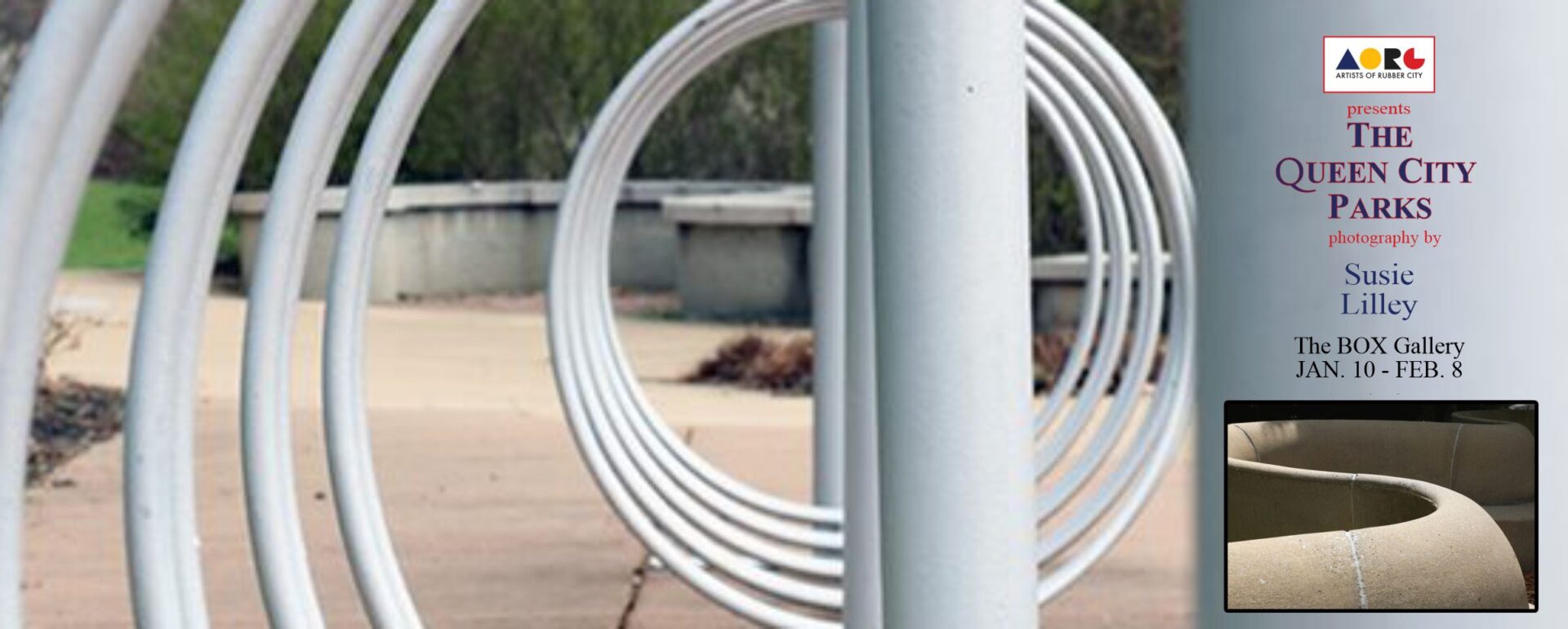 Artists of Rubber City will showcase photographer Susan Lilley's The Queen City Parks, featuring the Ohio River front, in The BOX Gallery located at Summit Artspace on East Market.
OPENING RECEPTION 
The exhibition opens Friday, January 10, with a free artist reception 5-8 p.m. Queen City Parks runs through Feb. 8
Admission to the show is free and open to the public . The BOX Gallery is located on the third floor of Summit Artspace, 140 E. Market St., Akron.
ABOUT PHOTOGRAPHER SUSIE LILLEY 
Details are Lilley's specialty. She loves structure and perspectives, the play of light and shadow, the interaction of lines, depth, and textures.  She's found a wonderful world along the Ohio River front in the parks of Cincinnati, Ohio that are full of inspiring content to explore.  Geometry and architecture is a mainstay in the back of her mind as she scrutinizes the landscapes and play among the shapes, sharing with the viewer a sense of interaction with the contours and contrasts of our environment that goes unnoticed.
Queen City Parks is the first in a series of solo shows by members of Artists of Rubber City that will be presented in 2020.
BOX GALLERY HOURS
Artists of Rubber City's BOX Gallery will be open:
Regular hours of Fridays and Saturdays 12-5 p.m
Friday, January 10, 5-8 p.m. for the opening
Third Thursday, January 16, 4-7 p.m.
Saturday, February 1, 12-9 p.m., including Akron Artwalk from 5-9 pm
Admission is FREE and open to the public.
ABOUT THE ARTISTS OF RUBBER CITY
Artists of Rubber City (AoRC) is Akron's premier contemporary art organization. We are a visual arts nonprofit with the mission to advocate for contemporary artists and Ohio art. We promote the appreciation and ownership of art created by contemporary artists as one facet of the rich culture to be found in Northeast Ohio. Our membership includes painters, photographers, printmakers, fiber artists, potters, ceramicists, glass artists, mixed-media artists, graphic artists, sculptors, jewelers, and some who aren't artists at all; they just love and support the visual arts. This rich mixture of talent and interests keeps AoRC lively and interesting.
ABOUT SUMMIT ARTSPACE
Summit Artspace is a non-profit arts organization that provides studio, exhibit and programming spaces in Summit County and the surrounding area for local artists and arts organizations; and is a center for art education open to all residents. Contact Summit Artspace at 330-376-8480. On the Web at www.summitartspace.org. Find us on: Facebook, Twitter at @AkronAreaArts, Instagram and Snapchat.
FREE PARKING BEHIND BUILDING.
HANDICAP ACCESSIBLE.
ELEVATOR AVAILABLE.
See the Summit Artspace exhibit calendar for directions.
Plan your visit by clicking here.
Have questions? Here is our Frequently Asked Questions page.