Barberton 4th Friday
October 26, 2018 @ 5:00 pm

-

9:00 pm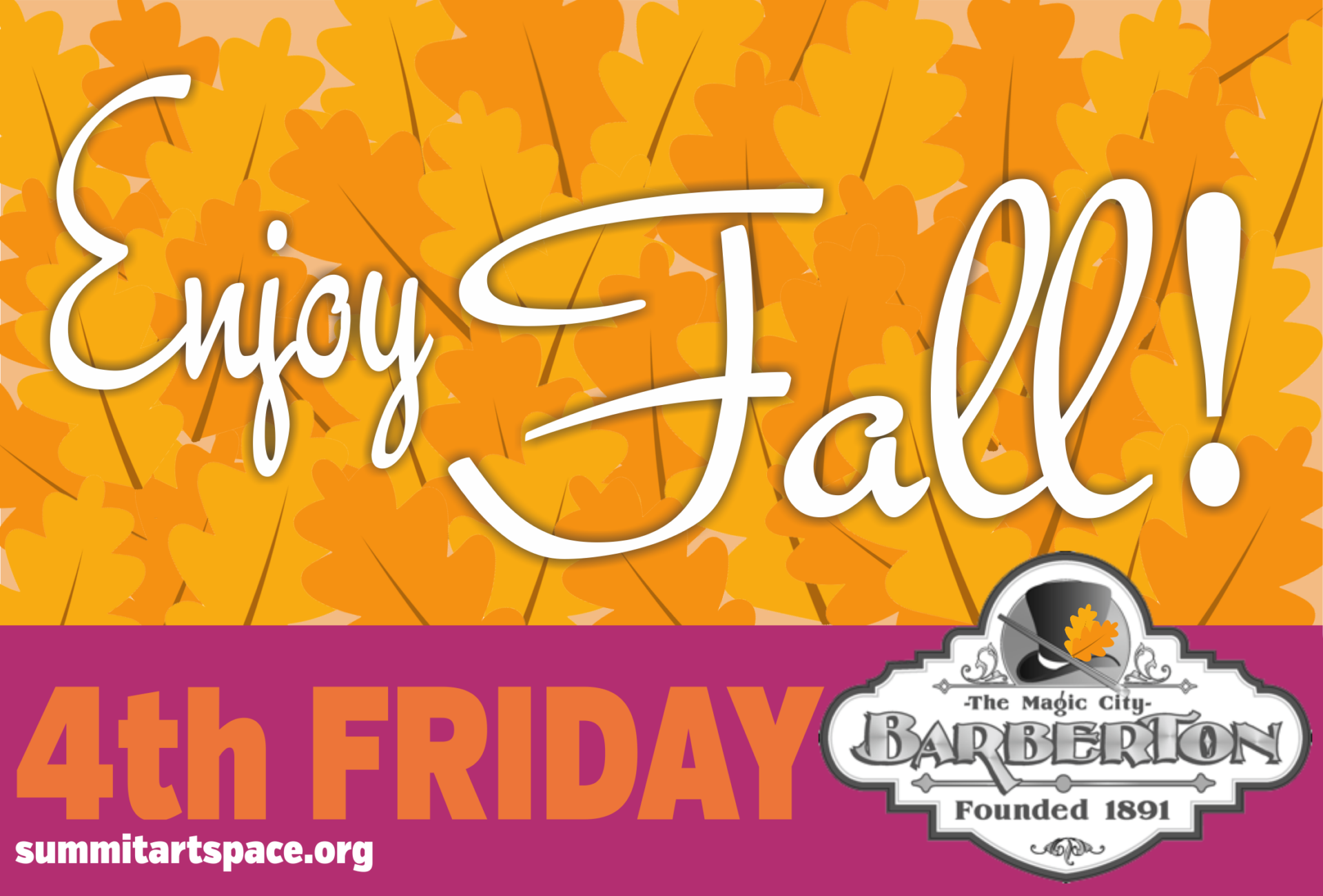 Enjoy an evening of fun and entertainment in downtown  for Barberton 4th Friday! There are extended hours for local shops. The gallery on the first floor of Summit Artspace on Tusc will be open from 5-8 p.m. with a new show monthly.  Stop in to check out the artist studios. Free admission. Many of the shops and stores in Historic Downtown Barberton will be open on Tuscarawas Avenue and Second Street.
BARBERTON 4TH FRIDAY, 5-9 PM
Fourth Friday of Each Month in Downtown Barberton
TUSCARAWAS AVENUE AND SECOND STREET
OCTOBER 4th FRIDAY:
ENJOY FALL!
ACTIVITIES ON TUSC & 2nd
SUMMIT ARTSPACE on TUSC
FIRST & SECOND FLOORS
571 Tuscarawas Blvd., Barberton
Arists studios open!
Pop ups artist shops on the 2nd floor
Opening reception for Akron Painting and Drawing League
Gary Neffenger playing music outside entrance from 5-6 pm
Connie Kramer's Abstractify! Mixed Media Drop-in Workshop
Shops open on Tusc and 2nd Street
MAGICAL THEATRE
565 W. TUSCARAWAS AVE., BARBERTON
Costume contest at Magical Theatre – The Costume Contest at Magical will be at 7:30 pm. There is a private event prior, so the doors will not open until 7:15 pm.
IGNITE BREWERY
600 W. TUSCARAWAS AVE., BARBERTON
Boos & Brews Halloween Party! with The Cookery Food Truck Friday, October 26th • 3- 11 pm
BARBERTON 4TH FRIDAY SCHEDULE 2018
October: Enjoy Fall!
November: Winter Wonderland Walk
December: Putting the New Year on notice that it's gonna be great!
Check out our Summit Artspace on Tusc Facebook page to see new events each month.
Related Events