Altered States by Gail Marshall Taber runs Sept. 7-Oct. 19
September 21, 2019 @ 12:00 pm

-

5:00 pm

Free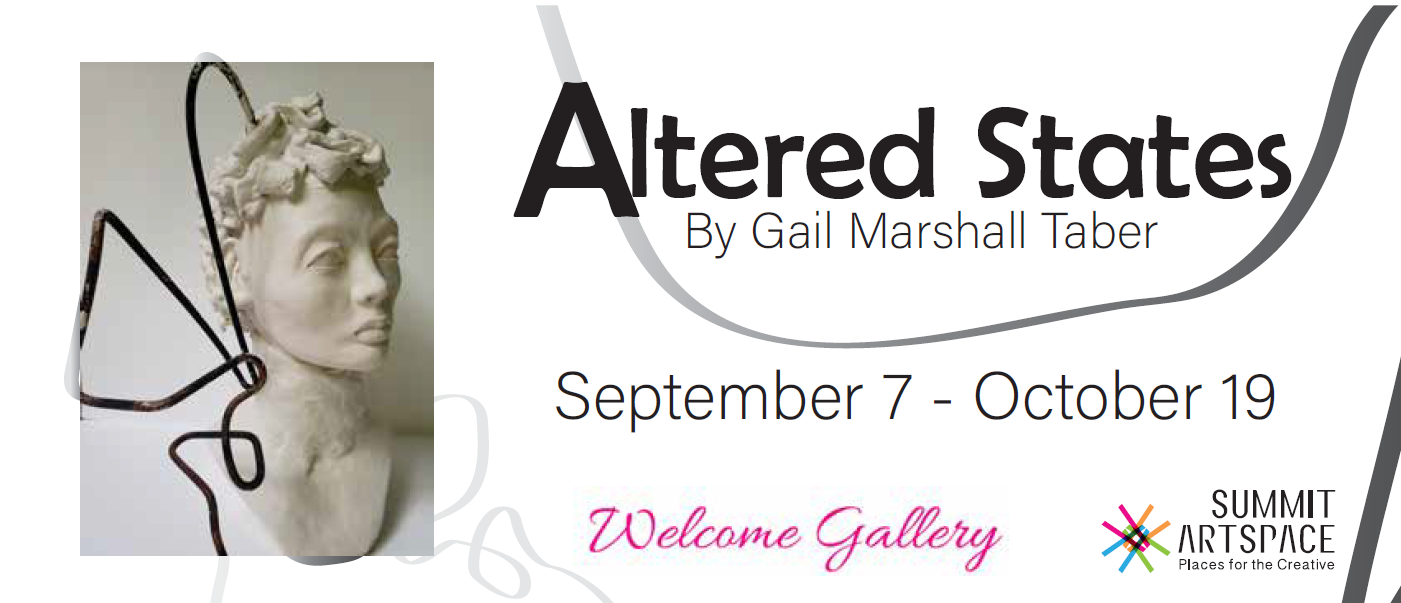 Altered States by Gail Marshall Taber will be in The Welcome Gallery at Summit Artspace on East Market from Sept. 7 to Oct. 19. The show opens with a reception on Saturday, Sept. 7, 5-9 p.m.
 EXHIBIT HOURS
Through Oct. 19,  the show is open weekly Thursday and Friday, 12-7 p.m, Saturday, 12-5 p.m. Admission is free and open to the public. Altered States is also open for Artwalk on Sept. 7 and Oct. 5, 5-9 p.m., and 3rd Thursday, 4-7 p.m. on Sept. 19 and Oct. 17.
ARTIST STATEMENT Altered States
I discovered my artistic voice after 30 plus years as a banker. Always, a collector, never a maker, I decided to start taking art classes 10 years ago and haven't stopped yet! I'm addicted to learning and the creative process and am thrilled to share this with others. Mixed media, collage, jewelry, sculpting, photography, and beading are my mediums, the world, my muse!
I am a mixed media artist primarily using assemblage, collage, sculpting, photography, and beading. My work explores the prevalence in our culture of sexism, ageism, homophobia, misogyny and  worshiping at the feet of physical beauty and perfection.  Of course, we are, by and large, a society that demands political correctness now (except for Donald Trump, apparently), but those age-old prejudices linger and permeate our social, religious and professional structures. I am not, by definition, a bra-burning, angry feminist, but I spent over 30 years clawing my way up the corporate ladder and hopefully, paving the way for women who will come after me. Prejudice and intolerance are sometimes subtle, sometimes silent, but always devastating, because if you don't know that you are being victimized, you can't defend or protect yourself or challenge the status quo.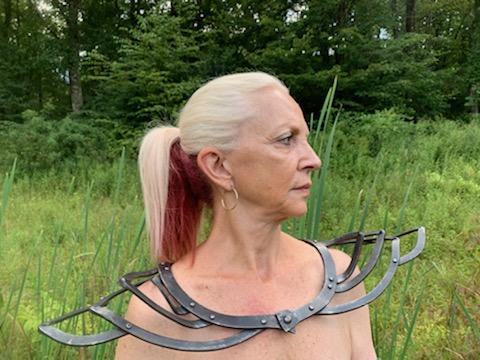 My work juxtaposes feminine imagery with masculine traits and vice versa (human and animals), and proposes what could be socially acceptable and visually beautiful using surreal imagery, but always with a sense of humor and a little mystery. In this black and white world (my two favorite colors, by the way) I love to create that uncomfortable gray area that can't be defined necessarily, but can be understood on a deeper level if the viewer looks hard enough!
_____________________________________________________________________________
ABOUT SUMMIT ARTSPACE
Summit Artspace is a non-profit community art center organization that provides studio, exhibit and programming spaces in Summit County and the surrounding area for local artists and arts organizations; and is a center for art education open to all residents. Contact Summit Artspace at 330-376-8480. On the Web at www.summitartspace.org. Find us on: Facebook, Twitter at @AkronAreaArts, Instagram and Snapchat.
FREE PARKING BEHIND BUILDING.
HANDICAP ACCESSIBLE.
ELEVATOR AVAILABLE.
See the Summit Artspace exhibit calendar for directions.
Plan your visit by clicking here.
Have questions? Here is our Frequently Asked Questions page.