Akron Painting and Drawing Artist Discussion Panel
January 11, 2020 @ 12:00 pm

-

5:00 pm

Free

FREE ARTIST PANEL DISCUSSION TODAY
There will be a free panel discussion with the student artists of the Akron Painting and Drawing League and the juror in the gallery on Saturday, Jan. 11, 2020, 2 p.m., to talk about the works and media. The event is open to the public. Sign up here.
Their  show opened Nov. 30 and  closes today at the gallery, 571 W. Tuscarawas Ave. , Barberton.
Artist Nikki Bartel of Barberton is the juror. She works in mixed media. Her art has been shown in the annual FRESH show at Summit Artspace, the High Arts Festival in Akron and the ReWorks Project through Summit County.  Bartel's artwork hangs in the chemotherapy infusion unit at Western Reserve Hospital in Cuyahoga Falls.
GALLERY HOURS
The show, with works by Akron University art students, will be open Fridays, 5-8 p.m., and Saturdays, 12-5 p.m., through Jan. 11. It is curated by Del Ray Loven, a faculty member with the University of Akron Myers School of Art and the Akron Paining and Drawing League advisor.
Summit Artspace on Tusc is open for the November 30 Barberton Christmas Walk, starting at 5 p.m. in downtown Barberton. (https://www.facebook.com/events/1451822341637740/)
HOLIDAY HOURS OVER THANKSGIVING/CHRISTMAS FOR SUMMIT ARTSPACE ON TUSC:
CLOSED THANKSGIVING DAY, THURSDAY, NOV. 28
CLOSED FRIDAY, NOV. 29
OPEN SATURDAY, NOV. 30, 12-8 PM (Including Barberton Christmas Walk)
CLOSED DEC. 22-FRIDAY, JAN. 3
OPEN SATURDAY, JAN. 4, 12-5 PM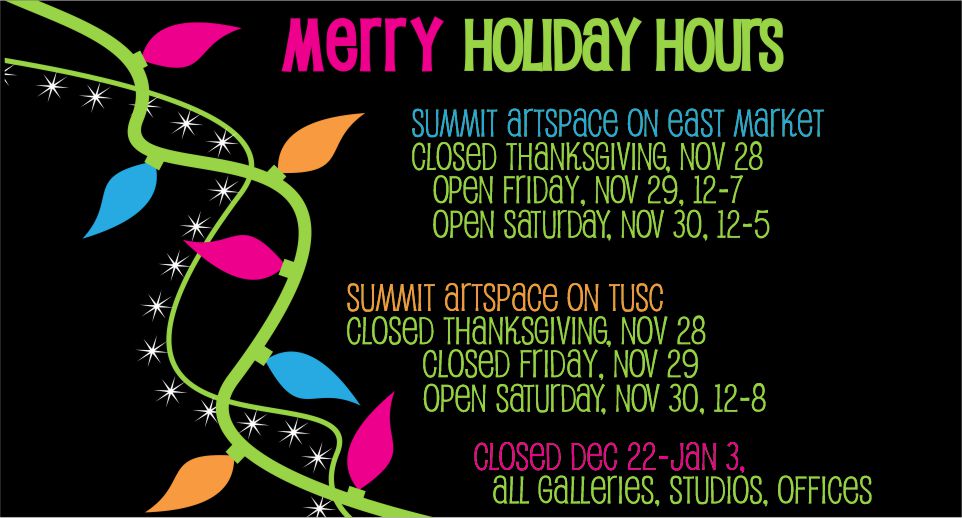 ABOUT THE APDL

The Akron Painting and Drawing League (APDL) is a student-run organization at the University of Akron that allows for the camaraderie of painting and drawing enthusiasts across disciplines.
The group is dedicated to providing members with meaningful experiences that will help to develop their passion for the arts, including individualized, meaningful critique in a supportive setting outside the classroom. This allows for students to develop a dialogue about their work in a low pressure setting. The league also aims to assist students in building their resumes by offering workshops in grant writing and coordinating service opportunities.
ABOUT SUMMIT ARTSPACE ON TUSC
Summit Artspace on Tusc is part of Summit Artspace, a non-profit community art center organization that provides studio, exhibit and programming spaces in Summit County and the surrounding area for local artists and arts organizations; and is a center for art education open to all residents. Contact Summit Artspace at 330-376-8480. On the Web at www.summitartspace.org. Find us on: Facebook, Twitter at @AkronAreaArts, Instagram and Snapchat.
HANDICAP ACCESSIBLE.
ELEVATOR AVAILABLE.
See the Summit Artspace exhibit calendar for directions.
Plan your visit by clicking here.
Have questions? Here is our Frequently Asked Questions page.