NEW NORMAL AT SUMMIT ARTSPACE
We're so happy to be open again at Summit Artspace on East Market! Summit Artspace will be following state directives so visitors will need to register for a timed ticket. Tickets (link below) are good to visit the galleries, including Artists of Rubber City Juried Regional Art Exhibition in the main gallery, during public hours. Artists with studios in the building will each have their own reopening timelines and guidelines.
MAIN GALLERY HAS ARTISTS OF RUBBER CITY REGIONAL SHOW
July 10 – Aug. 8, 2020 | Opens July 10, noon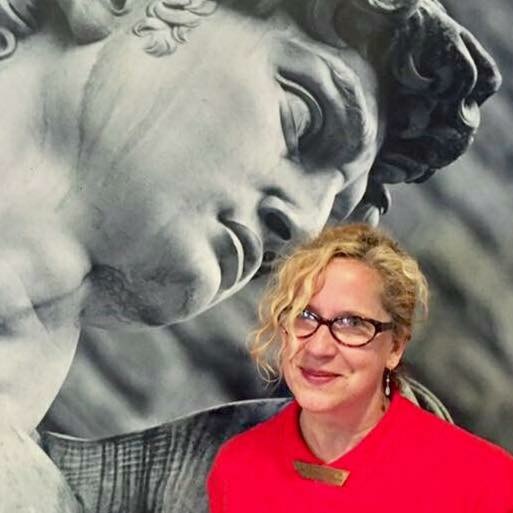 See the Artists of Rubber City Regional Juried Art Exhibition juried by artist Amy Mothersbaugh in the main gallery space. The show attracts area artists who work in an array of media sharing contemporary visual themes.
Artists of Rubber City, a nonprofit member based visual arts organization founded in 1978, has long been a diverse group of artists, reflected in the variety of media and styles of its membership. The organization presents two group exhibitions annually highlighting the work of dozens of local artists from novices and students to veterans and professionals: its Member Show, and this regional juried show. https://artistsofrubbercity.com
TICKET CENTER
CLICK HERE TO REGISTER FOR FREE, TIMED TICKET.
Visitors will need to register for a free, timed ticket at Eventbrite. Please choose a date and time and complete the registration. If you have questions or are experiencing difficulty, call our office at 330-376-8480.
SUMMIT ARTSPACE ON EAST MARKET
140 E. Market St., Akron


GALLERY HOURS:

THURSDAYS,

12-7 p.m. with 12-3 p.m. reserved for vulnerable populations;

FRIDAYS, 12-7 p.m.; SATURDAYS, 12-5 p.m.
Below are the guidelines for visiting Summit Artspace on East Market.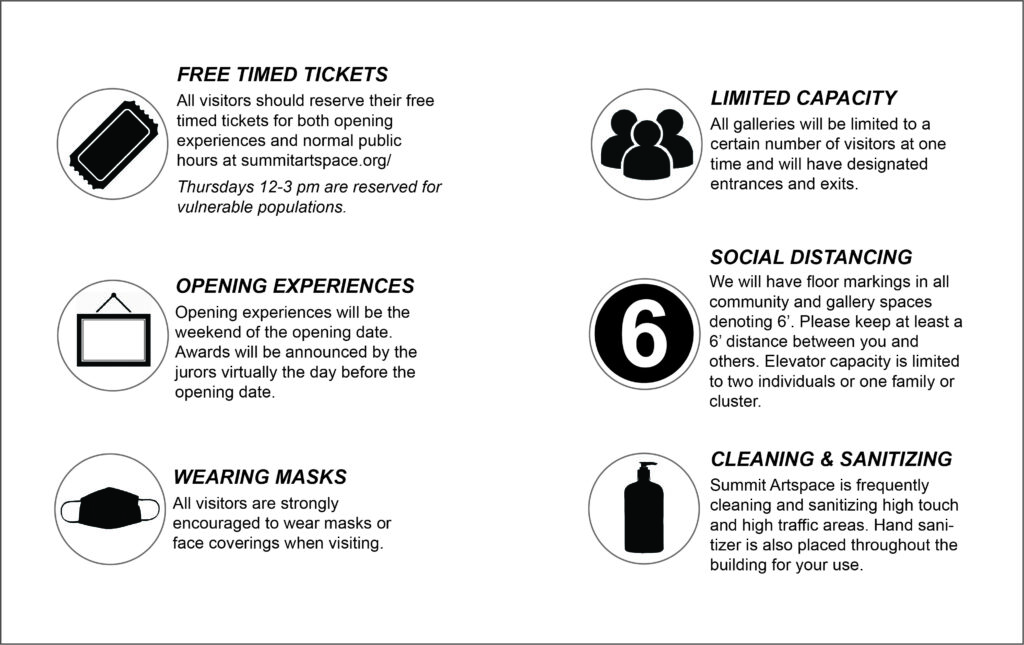 AoRC Regional Show Winners
Juror/artist Amy Mothersbaugh announced the winners of the 2020 Artists of Rubber City Juried Regional Art Exhibition July 9, 2020 via video on Facebook and YouTube. Here are the works with statements from the artists.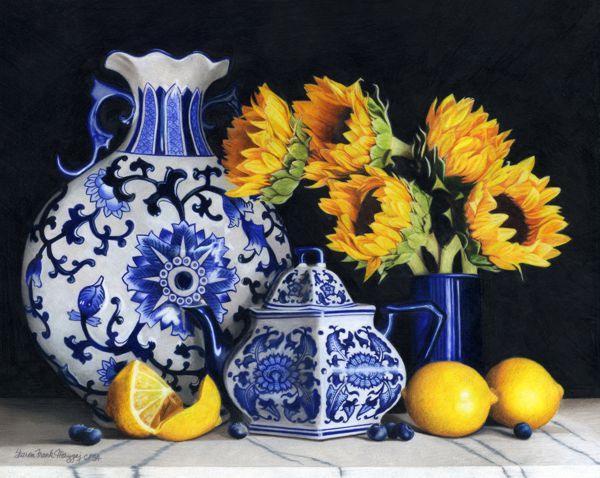 When arranging a still life, I first come up with what I consider a powerful composition. With this arrangement, I liked the the play of the organic form of the sunflowers against the hard, shiny pottery. I thought the yellow and blue colors complimented one another, and decided to limit the piece to those two main colors. I spend over 100 hours on a colored pencil piece this size, and work from my own reference photos.
_________________________________________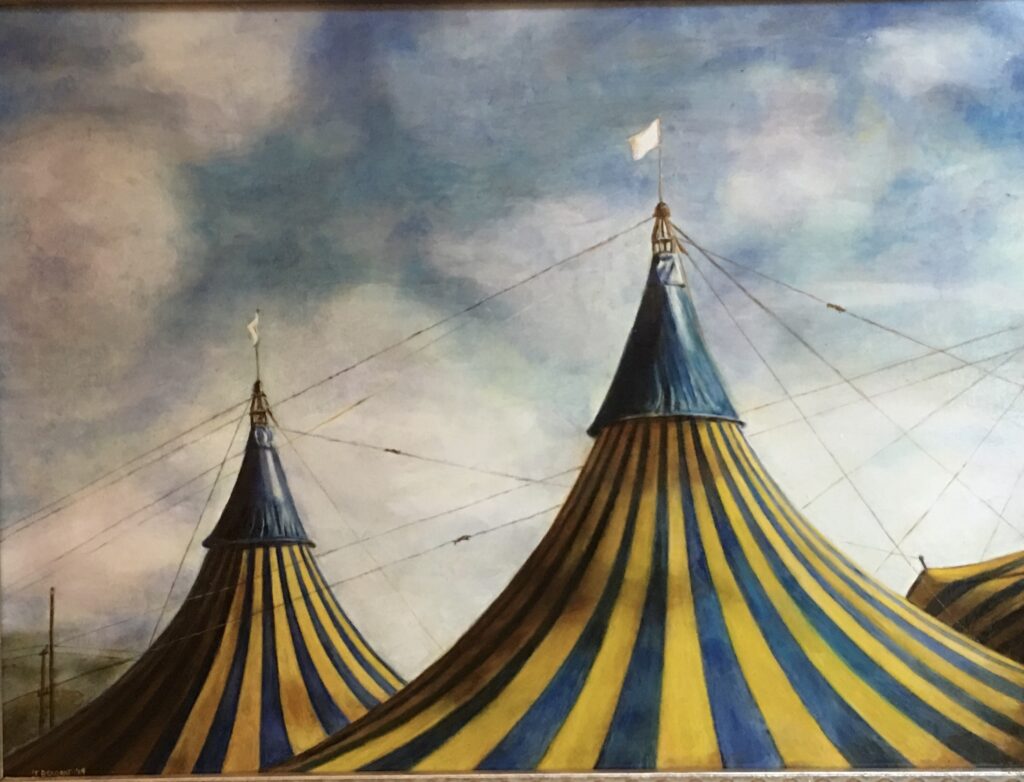 I've always been fascinated with circuses, especially as a kid. In the early years of the last century, they seemed to magically pop up in the countryside and also in a lot of fiction of the era. I tried to evoke some of that mystery and magic of the time by giving the painting a vintage look
_________________________________________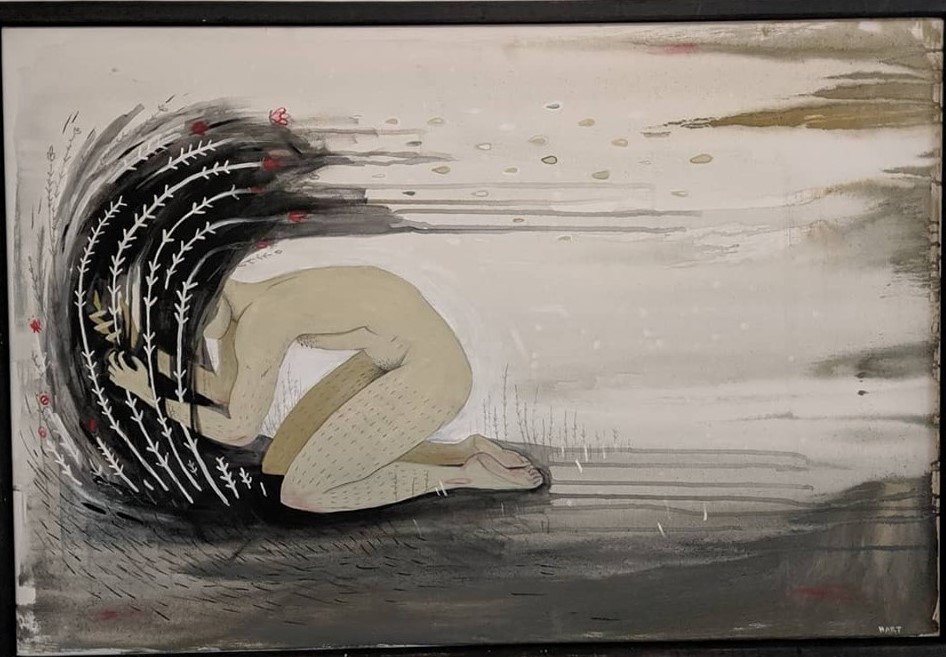 The gardener may elect to ignore the invasive vines as they grow and twist in a struggle to reach sunlight. Planted flora and weeds alike are knitted together at the root, bound and bent, blinded and suffocated. The tangles tighten their hold when struggled against. To ignore the weeds is to suffocate, but wrenching them carelessly from the soil leaves the seed of a broken root behind. The only chance we have is to live harmoniously with the greenery, learning from the weeds we once tore at and carefully cultivating the most beautiful of their bloom.
_________________________________________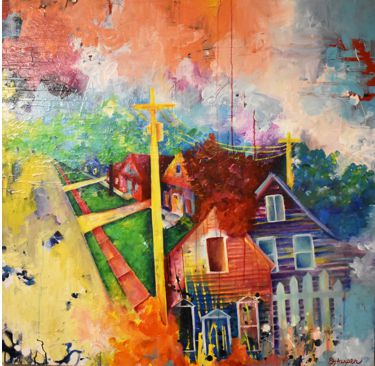 Personal change that leads to growth is always a difficult road. Ironically in my most vulnerable moments of fighting inevitable change, the Akron I know is also changing. The places of familiarity no longer look the same. A house in my childhood neighborhood had the most beautiful and thriving garden….30 years ago. Recently I took a walk in the neighborhood and to my shock the garden was absolutely unrecognizable. Full grown trees, thistles towering over the corner and void of color. I began to investigate this visual change in various color palettes and spatial movement. Building upon my memories and experiences I began to paint symbols of change juxtaposed in a balance of layered abstraction.
_________________________________________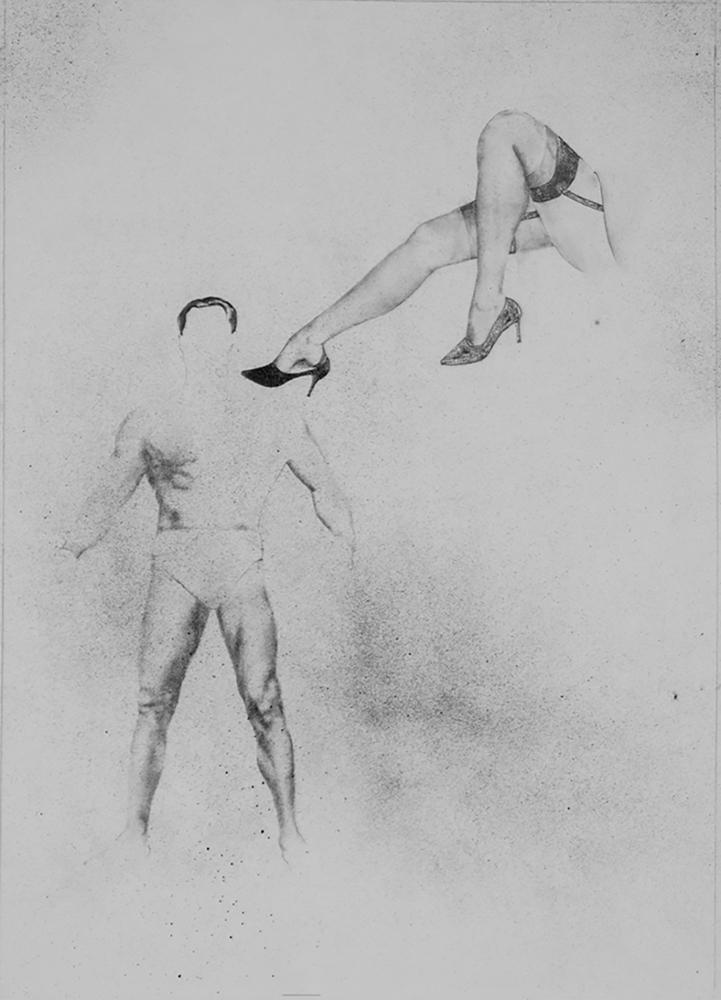 Tristan and Isolde could also very well be: Troilus and Cressida Paris and Helen Romeo and Juliet Cupid and Psyche Archie and Veronica (or Betty) Fred and Wilma Superman and Lois Lane Actually the figures in the drawing are Charles Atlas posed as a mid 20th century American Colossus of Rhodes offering hope to every 90 pound weakling and Bettie Page offering something else. Were they just icons of 1950s kitsch-pop, archetypes, personifications of femininity/masculinity/sexuality or simply formulations of something imagined and are now disappearing?
_________________________________________
Two young friends daydreaming together. Floating in a place of bright optimism where they can be at peace. Mountains in the distance with a cascade of rain that never touches the two girls illustrate the magic and vastness of the experience and represent the high points in the distance/ hopeful future, as they exist in a place where flowers grow without rainy days.
_________________________________________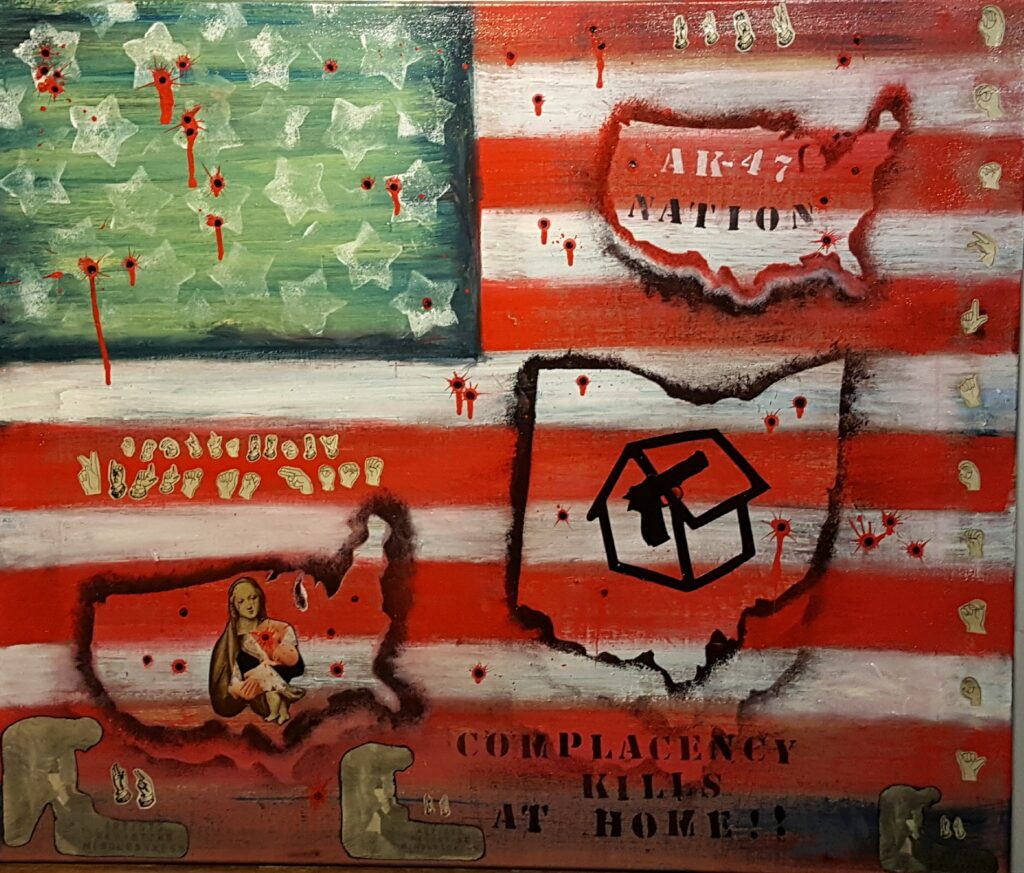 This painting was inspired by an article on gun violence in the newspaper w/ the caption "Complacency Kills At Home". I had to ask myself "How do you fight complacency?" I must resist being complacent. I must address it by taking a direct look at it. I had to say it in a secret message, that you can read if you know sign language, because people are sensitive about the subject and resist any changes to the laws or the status quo. So much resistance everywhere! The idea of resisting mindlessness is inspired by an artist friend of mine who passed away recently, who was very passionate about his art. This one is for you, Don!
_________________________________________
FREE PARKING BEHIND BUILDING.
HANDICAP ACCESSIBLE.
ELEVATOR AVAILABLE.
See the Summit Artspace exhibit calendar for show details.
Plan your visit by clicking here.
Have questions? Here is our Frequently Asked Questions page.
Please Note: All exhibits are subject to becoming virtual at our website, summitartspace.org, due to the global pandemic.