Akron, OHIO (Jan. 3, 2022) — Five winter exhibitions open at Summit Artspace on Jan. 14, 2022. The exhibitions will be made available virtually on Summit Artspace's website starting at 7 p.m.
"Many of the themes of our winter exhibitions center around place, community and collective identity," remarks Natalie Grieshammer Patrick, director of artist resources.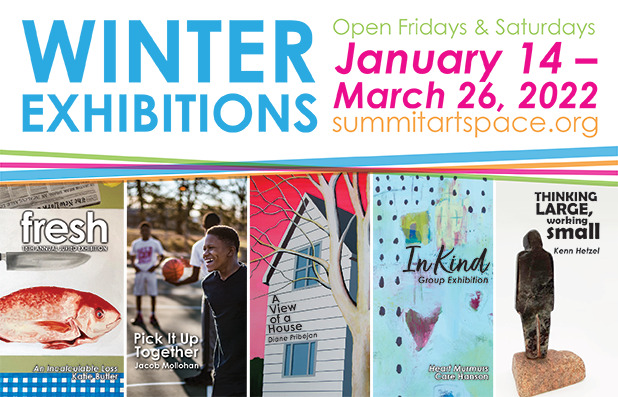 The 18th annual FRESH juried exhibition will be on view in the Betty and Howard Taylor Main Gallery. Juried by Jared Ledesma, senior curator at the Akron Art Museum, FRESH pushes the boundaries of what art can be—stylistically, conceptually and technically—and challenges the viewer to see the world through a new lens. Awards will be announced virtually at 7 p.m. on Jan. 14 via Facebook and YouTube. A virtual artists' panel with the juror and winners will be held during the winter exhibition season. Further details are forthcoming on Summit Artspace's website and social media platforms.
Jared Ledesma began his role at the Akron Art Museum on July 12, 2021. He has bachelor's and master's degrees in art history from San Francisco State University, where he focused on queer art. Ledesma's previous roles include working as associate curator at the Des Moines Art Center and curatorial assistant at the San Francisco Museum of Modern Art. "I'm incredibly honored to be the juror for FRESH 2022! The theme is fitting, since I'm a huge fan of artwork that challenges viewers in unexpected ways. I'm also thrilled to work with Summit Artspace, a cultural neighbor to the Akron Art Museum whose dedication to supporting local artists is incredibly inspiring," notes Ledesma.
Three solo exhibitions feature the work of local artists. A View of a House by Diane Pribojan will be exhibited in the Transition Gallery. Using a house as a symbol of security, these paintings are intended to evoke a peaceful environment for the viewer and a release from a chaotic world. Pribojan is inspired by rural architecture and landscapes. She will give an artist talk at Summit Artspace on January 29 at 2 p.m. Admission to the artist talk will be free on a first-come, first-served basis. The artist talk will also be streamed on Facebook and YouTube.
Thinking Large, Working Small by Kenn Hetzel will be displayed in the 3G Gallery. This body of work consists of one hundred small-scale stone sculptures that also act as maquettes for large-scale pieces that may or may not be constructed. The main medium, stone, is combined with metal, wood and miscellaneous found objects. Although stone is Hetzel's primary medium, his approach to sculpture has evolved over the years and he experiments with a variety of materials.
Pick It Up Together by Jacob Mollohan will be on view in the Welcome Gallery. This photography series highlights the bond between people within a community, illustrating how sports have the ability to bring diverse groups together and encourage tolerance and inclusion. Mollohan considers himself a photograph designer and his passion is architectural photography.
The In Kind group exhibition will be on view in the Second Floor Gallery. This exhibition was made possible by the generous local artists who donated to Summit Artspace's annual Arts Alive auction in June 2021. This selection of works spans a variety of media including woodworking, glass sculpture, printmaking and painting, epitomizing the vibrancy of Greater Akron's visual arts community.
Winter exhibitions will be on view through March 26, 2022. For more information on winter exhibitions, visit Summit Artspace's website or contact Natalie Grieshammer Patrick, director of artist resources, at natalie@summitartspace.org.
Follow Summit Artspace on social media: Instagram, Facebook, Twitter, LinkedIn 
About Summit Artspace: Summit Artspace is a nonprofit arts organization connecting artists and artist-serving organizations to the resources they need to thrive professionally, creatively and financially. It provides artist studios, exhibitions and programs in Summit County and serves as a vital place for the public to engage with the creative community. Summit Artspace is located at 140 E Market Street in Akron, Ohio. Public hours are Fridays from noon – 7 p.m. and Saturdays from 11 a.m. – 5 p.m. Per Summit County executive orders, masks are required while in the building. Summit Artspace is supported by The County of Summit, Ohio Arts Council, GAR Foundation, and Akron Community Foundation. For more information, visit the Summit Artspace website or call (330) 376-8480.