Award-winning Akron artist Joan Colbert kicks-off the year of shows in the Summit Artspace on East Market Welcome Gallery with Finding the Narrative.
OPENING RECEPTION 
The free opening is Thursday, Jan. 16, 4-7 p.m. The show, which is free and open to the public, runs Jan. 16-Feb. 22.
WELCOME GALLERY HOURS
Summit Artspace's Welcome Gallery is open weekly Thursdays and Fridays, noon to 7 p.m., and Saturdays, noon to 5 p.m. Additional hours include Jan. 16 and Feb. 20 for 3rd Thursday, 4-7 p.m., and the Feb. 1 Artwalk, 5-9 p.m.
ABOUT ARTIST JOAN COLBERT
Artist Joan Colbert works in mixed media with an emphasis on printmaking, collage and painting. Inspired by literature and influenced by her environs, she often creates works that are thematic, frequently including references to her favorite motifs: blackbirds and bare trees. In all of her work Joan strives to reach a balance between design and idea and hopes that in each piece there is just enough left unstated to evoke more personal interpretations. Her recent, ongoing series, As Potent as a Charm, explores the malevolent side of familiar plants in a collection of black and white linoleum block prints. Although the concept is botanical, allusions to dark tales and malfeasance hint at a narrative within each visual representation.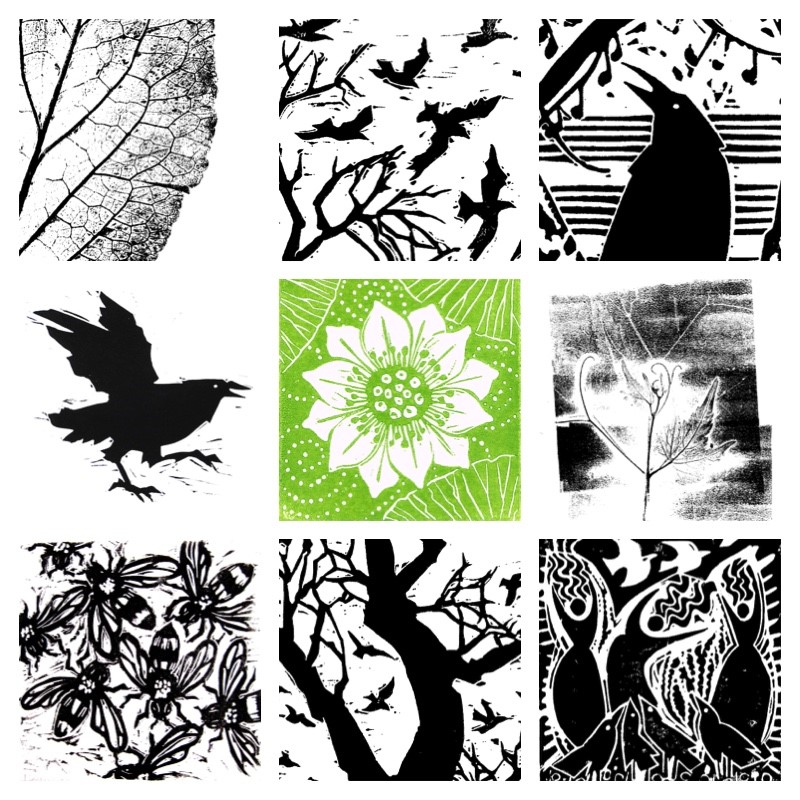 A graduate of the University of Akron, Joan has won numerous awards in both juried shows and art festivals. The Akron-Summit County Public Library owns work commissioned for branch libraries, including the Mogadore, North Hill and Goodyear branches. As the First Night® Akron 2001 button designer she created a mixed media piece: a whimsical skyline with a dove, a peregrine falcon and a blackbird/jester. In 2019 Joan was honored with the Arts Alive Lifetime Achievement Award presented by Summit Artspace.
Joan was gallery coordinator for the Summit Artspace Gallery from 2007 to 2013, is a member of Artists of Rubber City and lives in the Highland Square area of Akron. Along with Open Studio events, her home was featured in Artist in Residence – The West Hill Tour of Expressive Addresses. She has a studio in Summit Artspace on the first floor.
ABOUT SUMMIT ARTSPACE
Summit Artspace is a non-profit arts organization that provides studio, exhibit and programming spaces in Summit County and the surrounding area for local artists and arts organizations; and is a center for art education open to all residents. Contact Summit Artspace at 330-376-8480. On the Web at www.summitartspace.org. Find us on: Facebook, Twitter at @AkronAreaArts, Instagram and Snapchat.
FREE PARKING BEHIND BUILDING.
HANDICAP ACCESSIBLE.
ELEVATOR AVAILABLE.
See the Summit Artspace exhibit calendar for directions.
Plan your visit by clicking here.
Have questions? Here is our Frequently Asked Questions page.