Creative Recovery, Art of the Struggle, Jan. 4-Feb. 1
January 17, 2020 @ 12:00 pm

-

7:00 pm

Free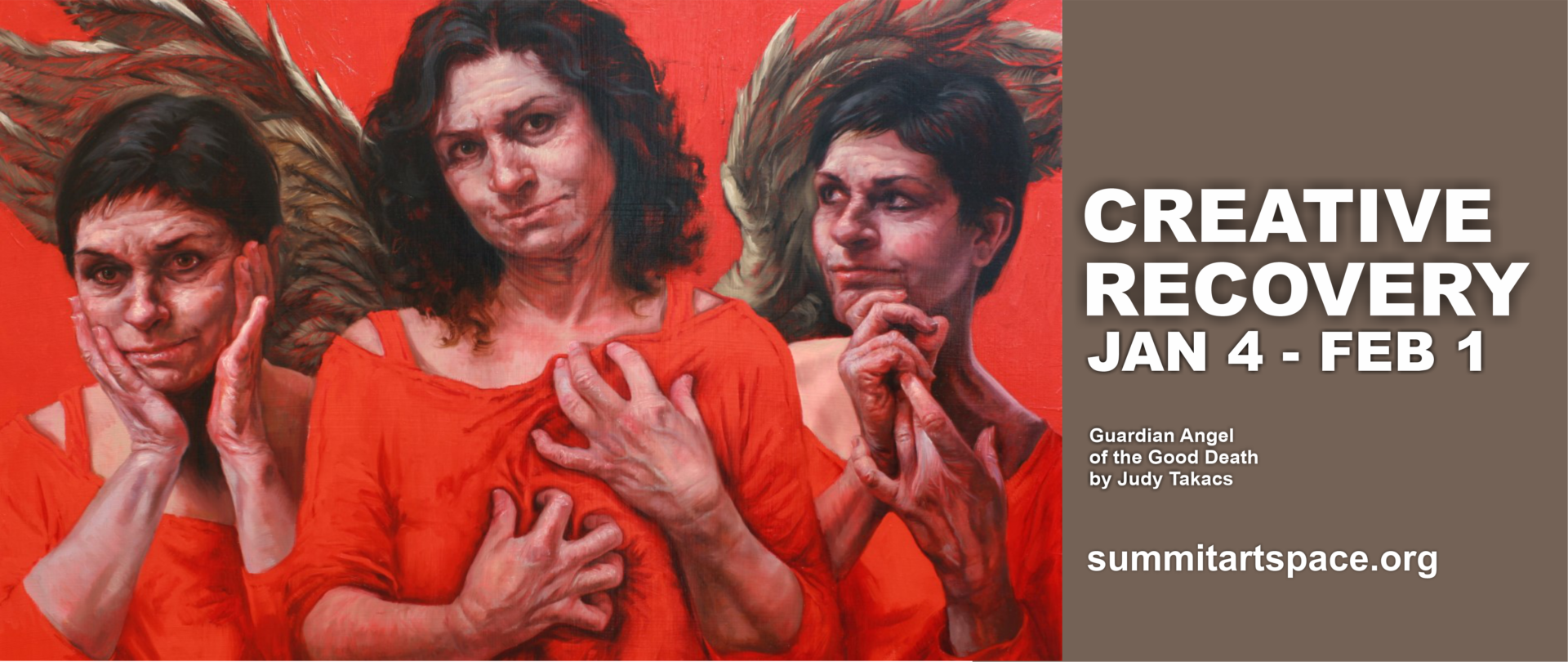 Creative Recovery, an exhibition that seeks to give artistic expression to the struggle, celebration and sometimes, the tragedy of recovery, is open in the Transition Gallery at Summit Artspace on East Market through Feb. 1.
The juror is artist Janet Mikolajczyk of Hudson. Admission is free. The Transition Gallery is located on the first floor of Summit Artspace on East Market, 140 E. Market St., Akron.
See the winners here.
GALLERY HOURS
Summit Artspace galleries are open weekly Thursdays and Fridays, noon to 7 p.m., and Saturdays, noon to 5 p.m. Additional hours include 4-7 p.m. during the Jan. 16 Third Thursday and 5-9 p.m. for the Feb. 1 Artwalk.
ABOUT THE EXHIBIT
Art is a process, the same as recovery is a process. Because art and recovery are deeply personal, art and recovery can be a very unique way of changing people's attitudes, values, feelings and goals.
Artists have been invited to use images to express pain, struggles, victory, fear, resilience and many other emotions experienced during a recovery. The art can represent the artist's personal journey or depict the journey of another and the impact of watching the journey as a bystander.
Creative Recovery includes painting, drawing, jewelry-making, and all forms of 2D and 3D art can be used as the portal for the expression. Artists are explolring deep emotions—the sadness, the hopelessness, the fear, and the relief, the joys, and the hope of a new day.
Show image is The Guardian Angel of the Good Death by Judy Takacs.
ABOUT SUMMIT ARTSPACE
Summit Artspace is a non-profit community art center organization that provides studio, exhibit and programming spaces in Summit County and the surrounding area for local artists and arts organizations; and is a center for art education open to all residents. Contact Summit Artspace at 330-376-8480. On the Web at www.summitartspace.org. Find us on: Facebook, Twitter at @AkronAreaArts, Instagram and Snapchat.
FREE PARKING BEHIND BUILDING.
HANDICAP ACCESSIBLE.
ELEVATOR AVAILABLE.
See the Summit Artspace exhibit calendar for directions.
Plan your visit by clicking here.
Have questions? Here is our Frequently Asked Questions page.