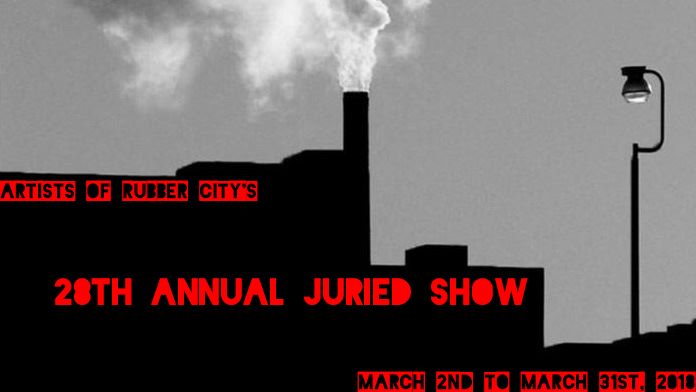 Artists of Rubber City 28th Annual Juried Show
March 2 – March 31, 2018
Summit Artspace on East Market St.
140 E. Market St., Akron
OPENING RECEPTION
Friday, March 2, 5-8 pm
Free and open to the public.
The BOX Gallery in downtown Akron at Summit Artspace is hosting the Artists of Rubber City's 28th Annual Juried Show. This year's Guest Juror is Ellen Rudolph, Chief Curator at the Akron Art Museum. Awards will be presented at 6:30 pm.
The BOX Gallery will also be open on Saturday, March 3, for Artwalk from 5 – 9 pm in addition to its regular hours. Admission is FREE and open to the public.
BOX Gallery Hours*
Fri. and Sat. 12-5 pm
Fri. Openings 5-8 pm
Akron Artwalks 12-9 pm
(First Sat. of each month)
* Gallery hours valid during exhibitions only.
The BOX Gallery
140 East Market Street
(3rd Floor of Summit Artspace)
Akron, Ohio 44308
The BOX Gallery – an Artists of Rubber City Gallery opened in October, 2009, at Summit Artspace. Featuring two exhibition spaces, the big box and the small box, the BOX schedule runs concurrently with Summit Artspace's calendar.
About Artists of Rubber City: In 1978, Artists of Rubber City (AoRC) was founded by a group of University of Akron art students looking for places to display their work and for a way to stay connected. AoRC is a member-based visual arts nonprofit with the mission to advocate for contemporary artists and Ohio art. The group promotes the appreciation and ownership of art created by contemporary artists as one facet of the rich culture to be found in Northeast Ohio. Members have diverse backgrounds in visual art including painters, photographers, printmakers, fiber artists, ceramicists, media artists, graphic artists, sculptors, and jewelers.
About the BOX Gallery: The BOX Gallery is an artist-run gallery owned by the Artists of Rubber City. It opened in October 2009 on the third floor of Summit Artspace, 140 E. Market St. in Akron. Gallery exhibition proposals are open to the public and can be acquired at the gallery or at ArtistsofRubberCity.org. Accepted artist and curator proposals have the opportunity to be featured in two exhibition spaces: the Big BOX and the small box. As a part of the AoRC mission to promote regional contemporary art and artists, membership is not a requirement for gallery shows or exhibitions.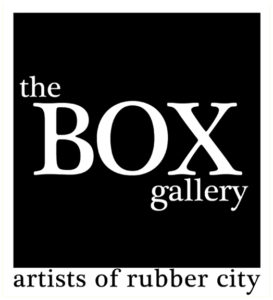 Parking behind the building
Handicap accessible
Summit Artspace on East Market Location
140 East Market Street
Akron, Ohio 44308
Phone: 330-376-8480
Map
Mapquest Driving Directions – click here
SUMMIT ARTSPACE IS SUPPORTED BY: