Date/Time
Date(s) - 01/25/18
12:00 pm - 7:00 pm
Location
Summit Artspace
Categories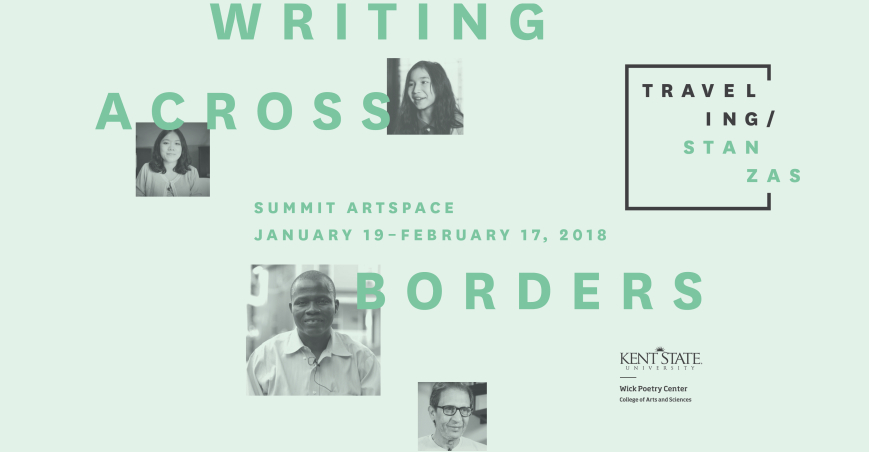 TRAVELING STANZAS:
Writing Across Borders
January 19 – February 17, 2019
Summit Artspace Main Gallery
140 E. Market St., Akron
OPENING NIGHT
Friday, Jan. 19, 5-8 pm
Free and open to the public.
Visitors to Summit Artspace's show, Traveling Stanzas: Writing Across Borders, will experience the lives and hopes of refugee and immigrant community members through poetry and other media with the ability to join the conversation by way of technology.
The exhibit opening is Friday, Jan. 19, 5-8 pm, in the main gallery of Summit Artspace on East Market, 140 E. Market St., Akron.
The interactive exhibition created by the Wick Poetry Center of Kent State University will run until Feb. 17, 2018. The exhibition is free and open to the public.
The traveling digital exhibit features more than 30 beautifully-illustrated poems and videos that showcase refugee resettlement in Akron area communities. At the heart of the exhibit is an interactive touchscreen experience, allowing visitors to browse content and become poets themselves.
The goal of Traveling Stanzas is to bring poetry to everyday lives by fostering meaningful conversations and encouraging new voices, according to David Hassler, director of the Wick Center. Wick, one of the premier university poetry centers in the country, is a leader for its innovative community outreach.
An outcome of Traveling Stanzas is engagement in a national civic dialogue that promotes cultural understanding and empathy through the intimate and inclusive voice of poetry, explained Hassler, an award-winning poet.
When visitors interact with digital creative tools such as Emerge, Thread and other technology applications, their voices will be incorporated into the exhibit in a variety of ways—from a scrolling group poem to posted and printed decorated cards.
Traveling Stanzas has partnered with Kent State Visual Communication Design students and alumni, and the Kent -based design studio, Each + Every, to create a modular environmental design that can adapt to unique environments.
Launched in 2009 as a collaboration between the Wick Center and university design students, Traveling Stanzas began as a project that paired poems generated in community writing workshops with graphic designs and disseminated the artwork on public transportation throughout Northeast Ohio.
With a major grant from the John S. and James L. Knight Foundation, teaching artists from the Wick Poetry Center have engaged refugee and immigrant populations in the Akron community in a cross-cultural, intergenerational conversation through poetry and graphic design. Traveling Stanzas has offered people of all ages ways through which they can share their voice across the divisions of language, age and culture.
From its inception, Traveling Stanzas has continued to evolve and innovate, finding new ways to bring poetry to people's everyday lives, facilitating creative and healing conversations nationally and internationally in such community sectors as education, healthcare, libraries, parks, museums, agencies for refugee and immigrant populations, senior centers and veteran's organizations.
Traveling Stanzas has exhibited in locations around the world, including at the March for Science on the National Mall in Washington D.C.; at The Universe in Verse reading in Brooklyn; at the Tuscan AngloAmerican Festival in Florence, Italy; and a multinational War Memorial in Lyon, France.
Summit Artspace's main gallery is open Thursdays and Fridays, noon to 7 p.m.; and Saturdays, noon to 5 p.m. Additional hours are 5-9 p.m. during the Feb. 3rd Artwalk and Feb. 15th 3rd THURSDAY.
Summit Artspace is a non-profit community art center organization that provides studio, exhibit and programming spaces in Summit County and the surrounding area for local artists and arts organizations; and is a center for art education open to all residents. Contact Summit Artspace at 330-376-8480. On the Web at www.summitartspace.org.       Find us on Facebook, on Twitter @AkronAreaArts, Instagram and Snapchat.
These photos to the left give a glimpse into the writing workshops conducted with Wick Poetry Center's partners: The International Institute of Akron, Project Learn an Urban Vision, all Akron based organizations. The Wick Poetry Center developed a method of writing poetry in English Language classrooms to help students expand their vocabulary and connect learning English in an emotional and meaningful way to their lives. Each lesson begins by reading aloud a model poem that introduces a linguistic pattern and concrete images around a specific theme or subject, such as "Where I'm From," "My Voice," or "My Heart." We then ask participants to speak aloud the language that resonates with them, thereby charging the air with powerful words and images from the model poem. Participants choose English language flash cards with nouns, adjectives and verbs and then use those words to create their own lines. This process encourages participants to play with language. By drawing from the energized environment of the classroom, participants join words in unexpected combinations, sparking new meaning in their poems.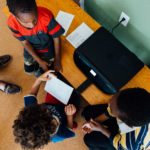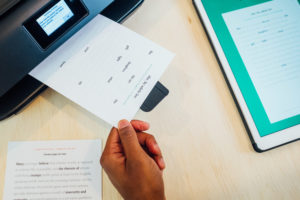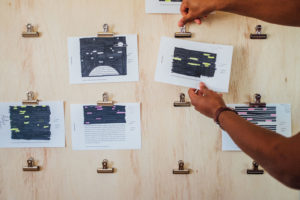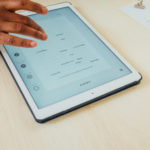 These photos above show the Emerge application that Each + Every, a creative firm in Kent,  designed in collaboration with the Wick Poetry Center for use in Traveling Stanzas exhibitions and creative writing workshops as part of a Digital Toolkit. People can create their own poems out of important or inspirations cultural texts, and can print and share them within the exhibit or workshop.