Background:
Abby Cipar has their B.F.A. from the University of Akron Myers School of Art with a concentration in painting and drawing. 
About the Artist:
Abby is working in textiles and soft sculpture at the moment, but is also a painter and printmaker, among other things. Their work borrows from commonly-accepted associations and "definitions" of urban queerness, taking cues from drag and ballroom cultures and queer nightlife. The uses of these visual references are also an attempt to understand contrasting, rural upbringings. Abby has difficulty identifying with urban queer spaces, despite having access to them in their adult life. They tend to instead identify with nature, as those were the spaces that raised them as a queer kid. So, their work also takes from natural curiosities, such as the bioluminescence and vivid color of certain types of fungi.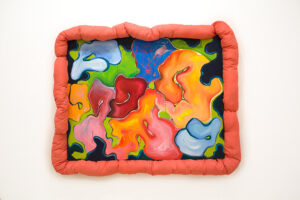 One of Abby's favorite hobbies is hiking, so they often spend time at Cuyahoga Valley National Park and the surrounding Metro Parks systems. They have been camping and hiking with their family since they were a baby, and that is something that has always stuck. Abby also loves to hit up thrift stores and antique/vintage shops. They often find materials to work with when they are out and about, and these places are huge sources of inspiration.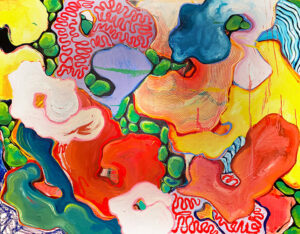 Why Summit Artspace?
"I came into the space at the beginning of the pandemic, out of a need for somewhere to make my work and complete my degree. Campus buildings were not accessible to students, and I was fortunate to have been given the opportunity to move into Summit Artspace, alongside a few of my peers. Having access to the space has allowed me to carry on working, even post-undergrad," Abby said.
Click here to view Abby featured as a Wall to Wall Artist in Winter of 2022.