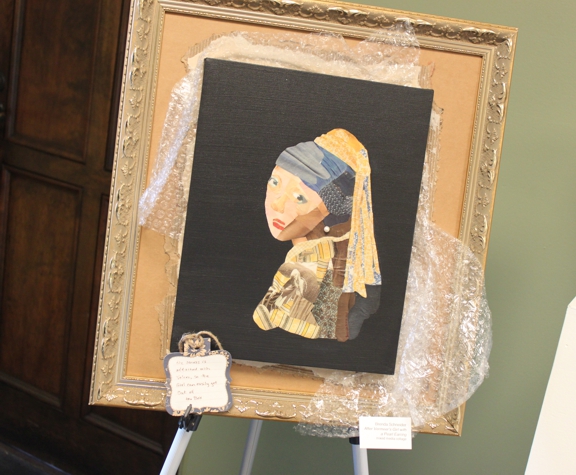 After the Girl with the Pearl Earring by Brenda Schneider
Calling All Artists to Step Out of the Box!
Deadline for submitting participation forms is May 7. Artwork due June 4.
Click here to go to commitment form.
Artists are sought to create unique box-themed artwork to donate to Summit Artspace. The boxes will be exhibited and auctioned at the Arts Alive! awards celebration, a fundraiser directly benefitting community exhibitions and art programs at Summit Artspace.
THE CONCEPT IS SIMPLE:
Donate your time and talents to create a work of art that incorporates a "box." (Sign up here to participate by May 7. Artwork due by June 4.)
Items will be sold during the silent auction during the Arts Alive Awards celebration with all proceeds directly supporting Summit Artspace, which is dedicated to showcasing work by local artists and providing opportunities for our community to experience great local art.
Think "out-of-the-box" and see where your imagination takes you! Creating a box is fun! A box is whatever you interpret it to be. Your box can be traditional or outlandish, literal or conceptual, sculptural or two-dimensional. You can showcase your signature style or try your hand at something new. Over the years, the Out-of-the-Box creations have become collector's items for Arts Alive patrons, including artists, educators, business people and community and government leaders who attend the event. Whatever your take on it, there will surely be an art enthusiast who will wish to take it home.
Out-of-the-Box donors will receive discounted admission to Arts Alive, and enjoy increased exposure, publicity and name recognition, along with the satisfaction of supporting your community art center. All materials used to create your artwork are tax-deductible, and all proceeds from auction sales will benefit Summit Artspace community exhibitions and art programming.
THE ARTS ALIVE AWARDS CELEBRATION
The Arts Alive Awards will be announced mid-May at Summit Artspace. The celebration on Tuesday, June 12, honors artists, arts leaders and arts supporters in our area. Details about the event, including past winners, can be found here.
HOW YOU CAN PARTICIPATE
Sign-up online here. Or download and complete the form and then return it via regular mail to Summit Artspace, attn.: Out-of-the-Box, 140 East Market Street, Akron, OH 44308 or via email at megan@summitartspace.org.
Thank you in advance for joining us at Out of the Box! Please call 330-376-8480 with questions. Important dates are below. Check back for more info.
IMPORTANT DATES TO REMEMBER
May 7 – Entry/commitment deadline
Jun4 – Artwork delivery deadline
June 12 – Arts Alive! celebration
CLICK HERE TO SEE THE 2016 GALLERY OF AUCTION BOXES.
Need to know more about Arts Alive 2018? Click here.