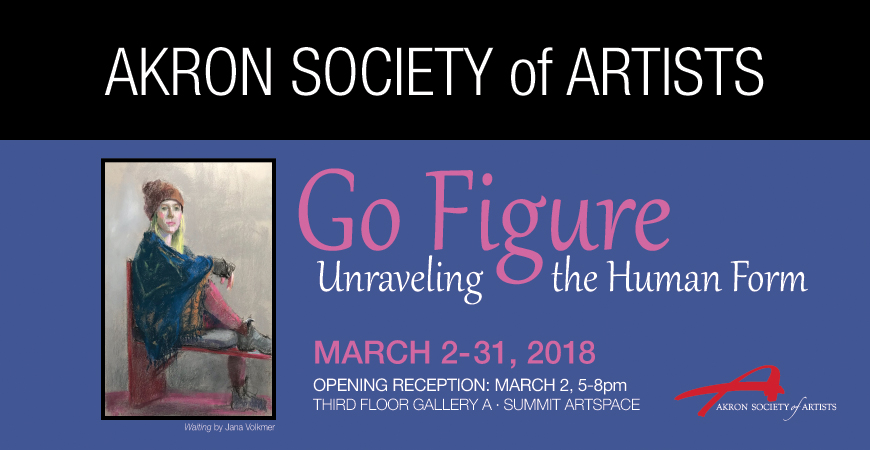 GO FIGURE: UNRAVELING THE HUMAN FORM
Gallery A
March 2 – March 31, 2018
Summit Artspace on East Market
140 E. Market St., Akron
OPENING RECEPTION
Friday, March 2, 5-8 pm
Free and open to the public.
EXHIBITION HOURS
Saturday, March 3, 12-9pm Open for Artwalk
Saturday, March 10, 12-5 pm
Thursday, March 15, 4-7 pm
Saturday, March 17, 12-5 pm
Saturday, March 24, 12-5pm
Saturday, March 31, 12-5pm
Go Figure: Unraveling the Human Form is a juried Akron Society of Artists exhibit addressing the beauty and intricacies of the human body, clothed and unclothed. Since prehistoric times, humans have recorded themselves visually, beginning with cave drawings and, ever since, the human body has never ceased to inspire artists. Akron Society of Artists offers weekly life model sessions to encourage this pursuit among its members. Go Figure: Unraveling the Human Form celebrates their best recent contributions to the genre.
More about the Akron Society of Artists at akronsocietyofartists.org.
Parking behind the building
Handicap accessible
Summit Artspace Location
140 East Market Street
Akron, Ohio 44308
Phone: 330-376-8480
Map
Mapquest Driving Directions – click here
SUMMIT ARTSPACE IS SUPPORTED BY: